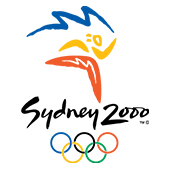 About SYDNEY 2000 Summer Olympics
The Sydney Games were the biggest with 10,651 athletes competing in 300 events but despite their size they were recognised as the best organised.
Cathy Freeman symbolised the desire to reconcile the people of Australia when she ascended to the cauldron in a cascading waterfall to light the flame.
Ten days later the Aborigine won the 400m final before an ecstatic crowd in what was to be her last major race.
Ian Thorpe has since become one of the greatest swimmers of all time but in Sydney the 17-year-old was limited to two relays golds and a silver medal in the 200m freestyle.
Dutch pair Pieter van den Hoogenband and Inge de Bruijn stole headlines in the swimming.
Van den Hoogenband won the men's 100m and 200m while de Bruijn took double gold in the 50m and 100m freestyle.
Marion Jones bettered Fanny Blankers-Koen's 1948 achievements when she became the first woman to win five medals in athletics in the same Olympics with gold medals in 100m and 200m and 4x400m relay and bronze in the long jump and 4x100m relay.
She was stripped of the lot this year and sent to jail for six months after admitting to taking banned drugs
Britain's Steven Redgrave became the first rower to win gold medals at five consecutive Olympics.
French judo great David Douillet, who had been sidelined for a year by shoulder and back problems, won his second consecutive Olympic title, beating Shinichi Shinohara of Japan in a controversial final.
Korea (South Korea) and Democratic People's Republic of Korea (North Korea) marched together under the same flag while four athletes from newly-independent East Timor took part.
Vietnam won their first medal since they began competing in 1952 when Hieu Ngan Tran captured silver in women's taekwondo.
And Susanthika Jayasinghe's 200 metres bronze made her the first Sri Lankan woman to win a medal.