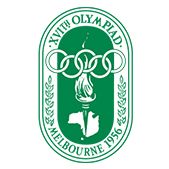 About MELBOURNE 1956 Summer Olympics
The isolation of the first southern hemisphere Games kept entries down and the Games were hit by two boycotts.
Egypt, Iraq and Lebanon withdrew to protest the Israeli-led take-over of the Suez Canal while Holland, Spain and Switzerland boycotted to protest the Soviet Union invasion of Hungary.
The equestrian events were held in Stockholm because of Australia's quarantine laws.
Soviet strongman Vladimir Kuts won the 5,000m and 10,000m and Australian swimmer Dawn Fraser won two gold medals and a silver. She went on to win a total of four gold medals and four silvers in three Games and was world record holder for the 100m for the next 15 years.
Betty Cuthbert followed Marjorie Jackson's 1952 sprint double with one of her own for Australia while Murray Rose, a vegeterian, made a lot of Australians think twice about their diet with three gold swimming medals.
Pat McCormick repeated her diving double gold medal performance of 1952. Her daughter Kelly won silver and bronze in 1984 and 1988.