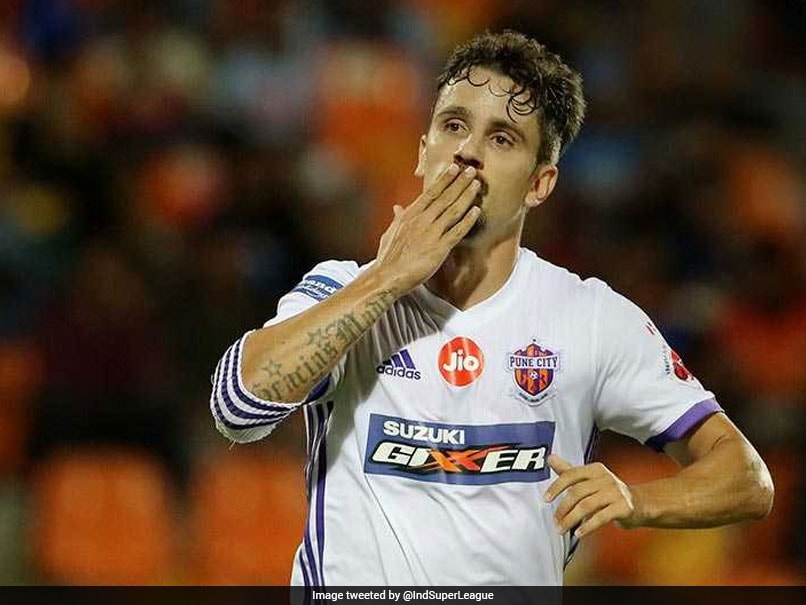 Marcelinho celebrates after scoring a goal for Pune in an Indian Super League match.
© Twitter
An erroneous deflection from Raju Gaikwad and a beautifully taken finish from Marcelinho made all the difference as FC Pune City beat Mumbai City 2-0 in an Indian Super League (ISL) match on Sunday. The win keeps Pune at the second place in the ISL standings with 28 points from 15 matches. They are three points ahead of third placed Jamshedpur FC and five behind table-toppers Bengaluru FC. Mumbai were punished for their profligacy, wasting multiple chances as they attempted to fight back after Gaikwad's own goal had given the visitors the lead. The loss is also Mumbai's fourth in a row at the Mumbai Football Arena, and they now need other results to go their way if they want to make the top four.
A cross from Pune's Sarthak Goloi in the 18th minute was missed by Diego Carlos who should have headed it in with ease. But Raju Gaikwad was next in line of the trajectory of the ball. It struck him and softly trickled into the net.
But it was a deserved lead after some excellent pressure from Pune early on.
For the second goal, Pune's Marcelinho was in a position where he found himself many times in the game. But there was a difference this time as no Mumbai defender closed him down and he poked in an effort with his left foot.
It was a classy finish for his 8th goal of the season, which came in the 83rd minute.
Mumbai attempted to hit back as they came out all guns blazing in the second half.
Balwant Singh missed a header which should have at least hit the target and then his shot from just inside the box on the right was saved by Vishal Kaith, who had a fine game himself.