Sachin, India's Bharat Ratna, and his 24-year journey in cricket
Sachin Tendulkar became the first sportsperson to receive the Bharat Ratna on February 4 2014. Here is looking back on a glorious journey over the last 24 years.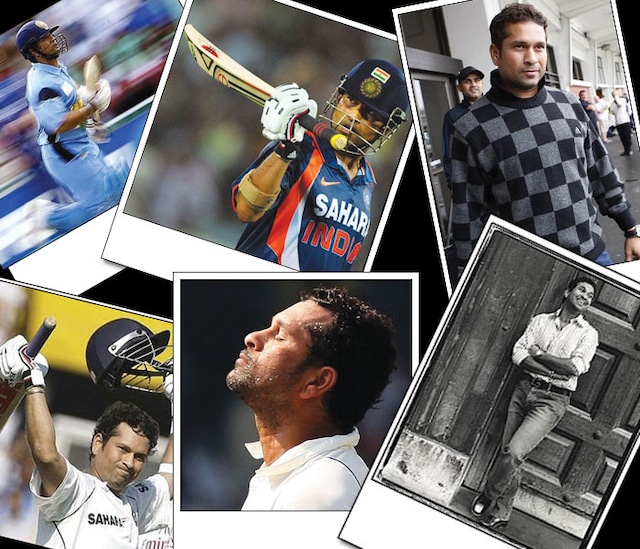 Sachin Tendulkar became the first sportsperson to receive the Bharat Ratna on February 4 2014. Here is looking back on a glorious journey over the last 24 years.
Name: Sachin Tendulkar

Age: Two and a half years

Bat used: Broomstick

Location: Sachin's Backyard

Bowler: Sachin's Nanny

Cricket,it seems, was pre-ordained for Sachin who was born and brought up in a traditional Saraswat Brahmin family in a middle class locality in Bandra, Mumbai. His father, Ramesh Tendulkar, was a Marathi novelist and his mother Rajni worked for the Life Insurance Corporation.

The cricketer whose name the entire nation cannot stop chanting was named after his father's favourite music director, Sachin Dev Burman.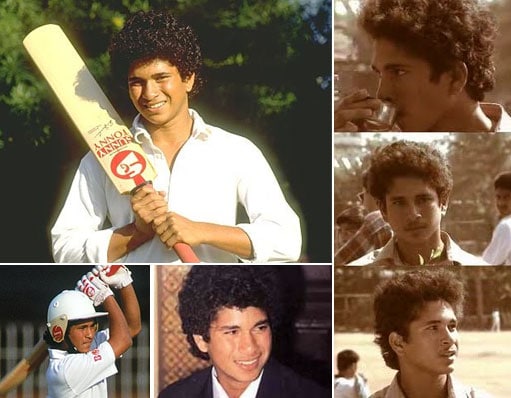 A must done for all cricketing legends - gully cricket, kept Sachin's passion for the game of cricket alive, not that it could ever fizzle out! Such was Sachin's pertinacity and doggedness that despite being left-handed, he learned to bat with his right hand as street rules required players to bat with their nonpreferred hand lest they would be eliminated.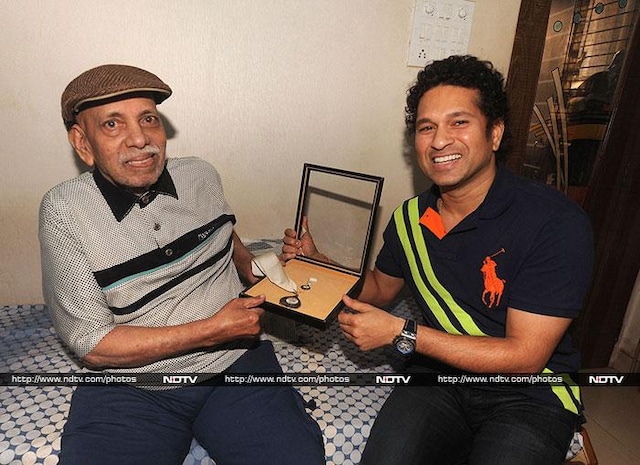 Sachin Tendulkar posing with his coach Ramakant Achrekar, the man who recognised his talent at the grassroot level.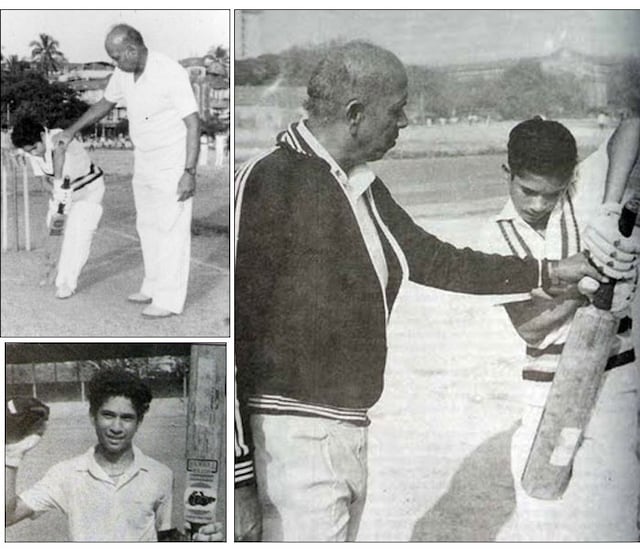 A mischievous Sachin used to roam around with his friends in hot afternoons during his summer vacations and steal mangoes from neighbourhood. To channelise his energy in the right direction, his elder brother, Ajit Tendulkar took him Mr.Ramakant Achrekar, a cricket coach. From there Sachin's sensational cricketing journey sparked off.

Sachin failed to perform in the first go which made him very nervous but his brother's persuasion led Mr. Achrekar give him another chance. That another chance did favours, more than one, to the cricketing community and the entire world by allowing them to witness such finery of the game that was previously unheard of.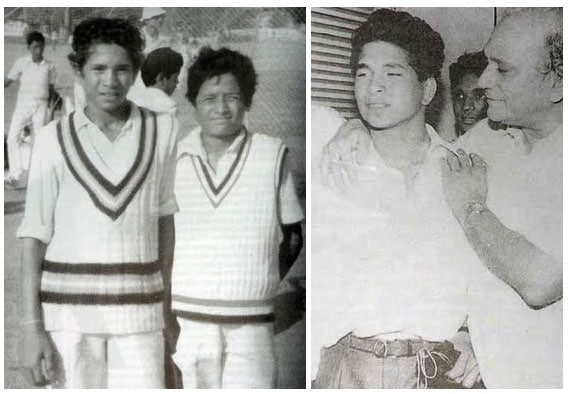 The scholar of the cricket field was no scholar in the field of education. Sachin went to Sharadashram Vidyamandir School and with some scraping and studying, he crossed his school board examination.

He went on to join Kirti College, where his father taught, for his university education but destiny had other plans. Though Sachin Tendulkar could not graduate, he mastered the world of professional cricket.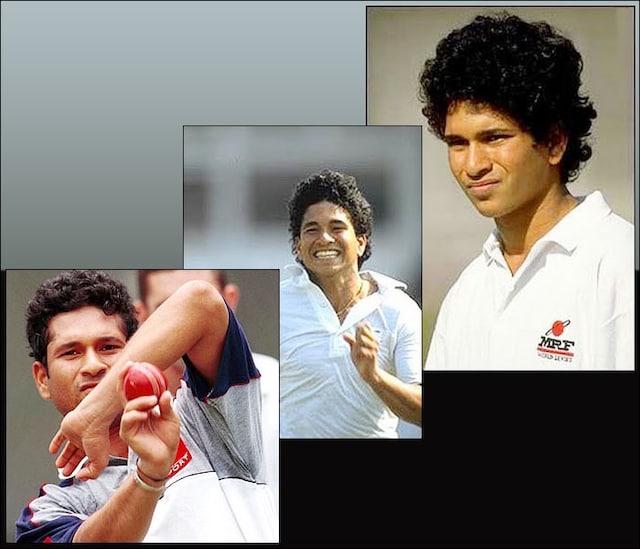 Sachin attended the MRF Pace Foundation to train as a fast bowler, but Australian fast bowler Dennis Lillee suggested the small-framed prodigy to focus on his batting instead. The suggestion further moulded the cricketing path that was undertaken by Sachin. After his family moved closer to Shivaji Park in Bombay, Sachin's game began to improve.

At the age of twelve and thirteen, he was practicing and playing school matches for a total of twelve hours a day on some days. His passion for excellence was relentless. He once played fifty-four matches in a row. When he was 14, Indian batting legend Sunil Gavaskar gave him a pair of his own ultra light pads.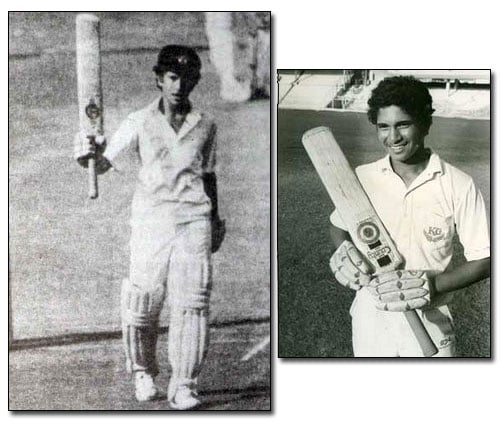 During practice sessions, Tendulkar's coach and mentor, Ramakant Achrekar used to put a one-Rupee-coin on top of the stumps, and the bowler who dismissed Tendulkar used to get the coin. If Tendulkar passed the whole session without getting dismissed, the coach used to give him the coin. The 13 coins won by Tendulakar paved way for bigger, better awards and prizes but those 13 coins are still priceless for the Master Blaster.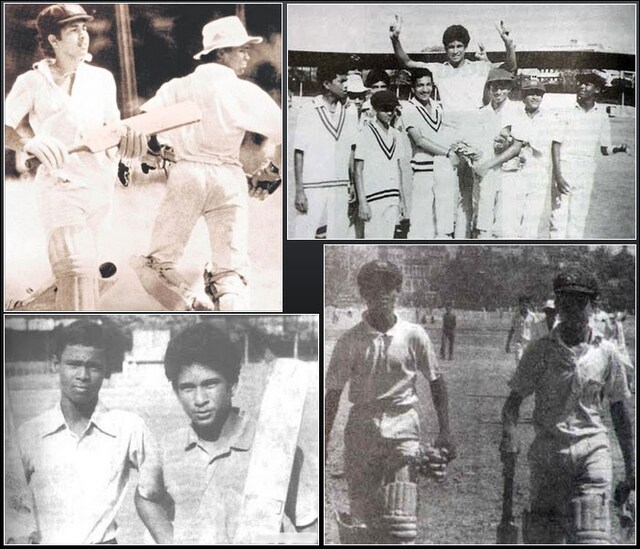 He started showing signs of what was to come in the years that followed.

Sachin Tendulkar, 14, compiled a 664-run unbroken partnership with his childhood friend Vinod Kambli for Shardashram Vidyamandir against St Xavier's at Azad Maidan. The two kept batting ignoring coach's signal. They later revealed that they got scolding of their lives after the game. Tendulkar scored an unbeaten 326 and it remained the highest partnership recorded in any form of cricket, until in November 2006 two schoolboys from Hyderabad overtook the record with an unbeaten 721-run partnership.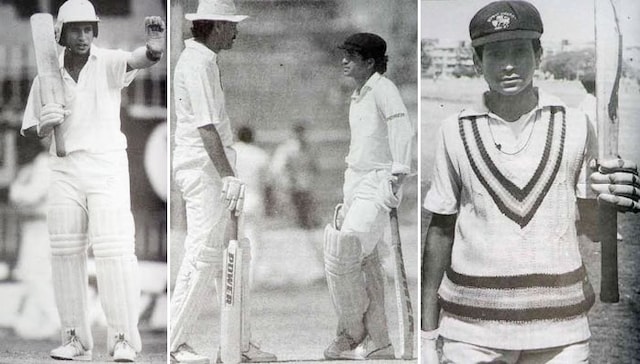 On 11 December 1988, aged just 15 years and 232 days, Tendulkar scored 100 not out in his debut first-class match for Bombay against Gujarat, making him the youngest Indian to score a century on first-class debut. He is infact the only player to score a century in all three of his Ranji Trophy, Duleep Trophy and Irani Trophy debuts.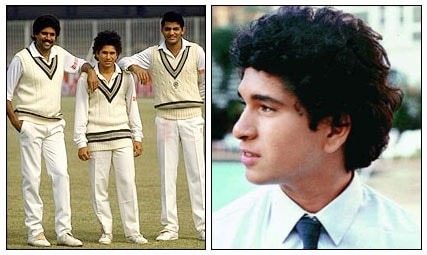 At sixteen, Sachin was picked to play his first Test match for India against Pakistan. His father signed the papers for him, because Sachin was too young.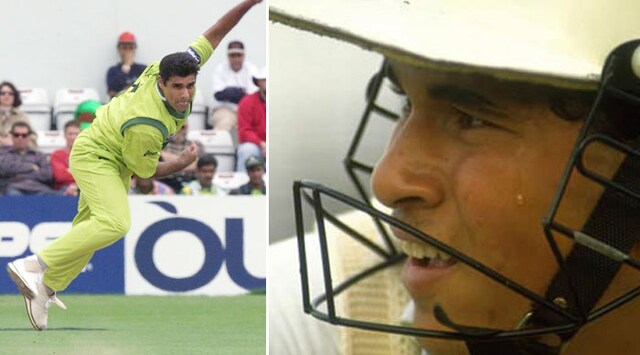 On the final day of his first Test series, he was hit on the nose by a bouncer by Waqar Younis who also made his debut in the same series. Sachin fell down but got up again to play. He declined medical assistance and continued to bat even as blood gushed from his nose. He went on to score 57 runs in the match.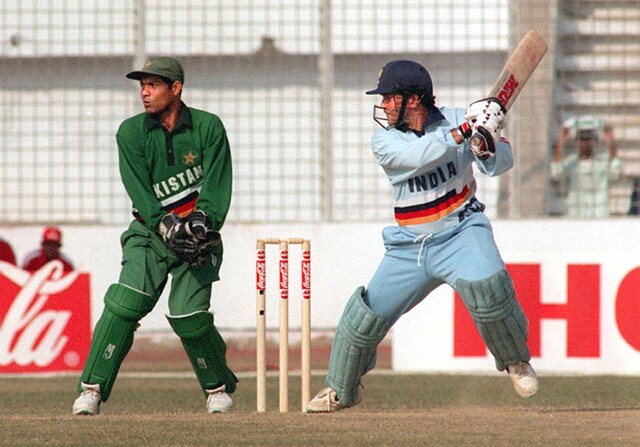 Even the world's greatest batsman started his one-day career with a cipher! In his ODI debut against Pakistan as a part of the same tour, Sachin was dismissed without scoring a single run. Incidentally, his first Test and ODI wicket was taken by the same bowler - Waqar Younis.

He scored his first ODI century on 9 September 1994 against Australia in Sri Lanka at Colombo. It took him 79 ODIs to score his first century.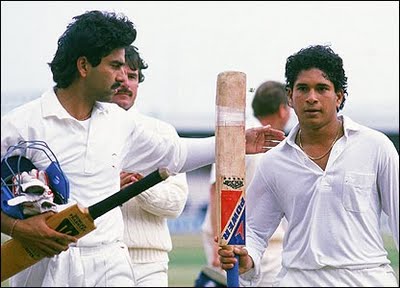 He scored his maiden Test century to become the second-youngest centurion in the Test history. His 119 not out against England at Old Trafford was a majestic rearguard action that enabled India to hang on for a draw. It still remains among his most valuable Test innings.

In 1992, at the age of 19, Tendulkar became the first overseas born player to represent Yorkshire county.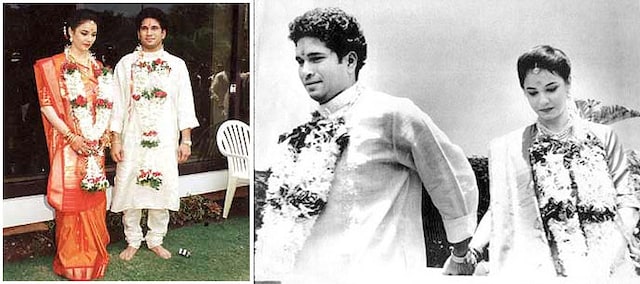 On 24 May 1995, Sachin married Anjali, a paediatrician and daughter of Gujarati industrialist Anand Mehta, elder to him by six years.

His friends say that Sachin and Anjali met through mutual friends and fell in love. The year of marriage served to be a lucky one for Tendulkar, in that very year, he signed a five-year contract worth Rs 31.5 crore with WorldTel, which made him the richest cricketer in the world.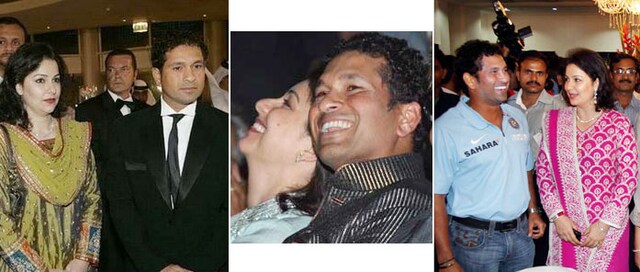 Ignorant about cricket when she first started dating Sachin, Anjali said she read up everything about the game soon after but the man himself didn't like discussing the sport with her.

During their courtship, Tendulkar had to come in disguise, wearing a beard and spectacles, to watch a movie with Anjali and her friends but the plan went haywire very soon and the couple had to leave the hall midway through the film.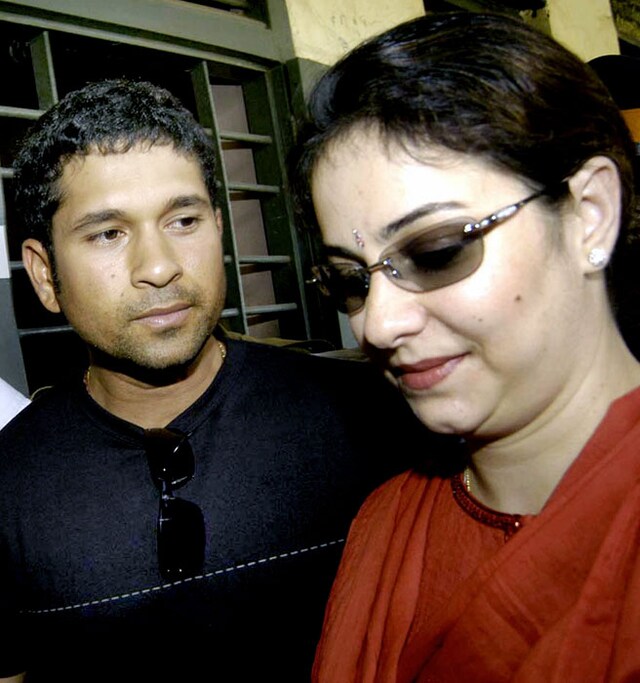 Anjali gave up her promising medical career to be Tendulkar's "biggest support". Sachin depended on her for almost everything and she knew she had to choose. After almost 20 years of marriage, she doesn't regret her decision one bit. As a doting wife, she wanted to be at home with him and make everything perfect for him. (AFP Photo)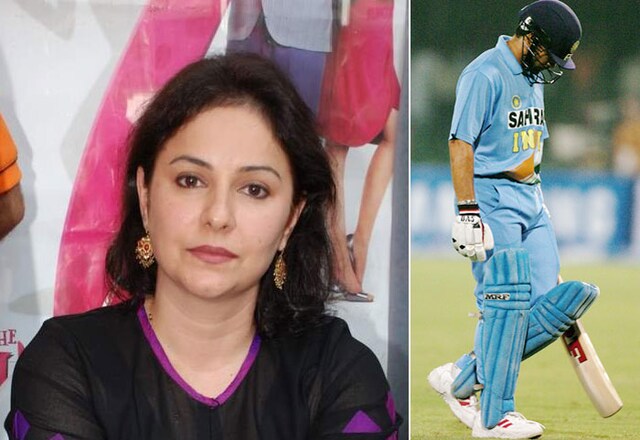 Even after so many years, Anjali can't stop herself from getting tensed whenever Tendulkar comes out to bat, so much so that she doesn't even get up to take a phone call when he is at the crease. She has one particular spot in the house from where she can watch TV and also keep an eye on her Ganpati - the ideal spot to watch her husband play. 'I don't eat. I don't answer phones. I don't drink. I don't even move. I don't reply to any sms until he's out!', Anjali says.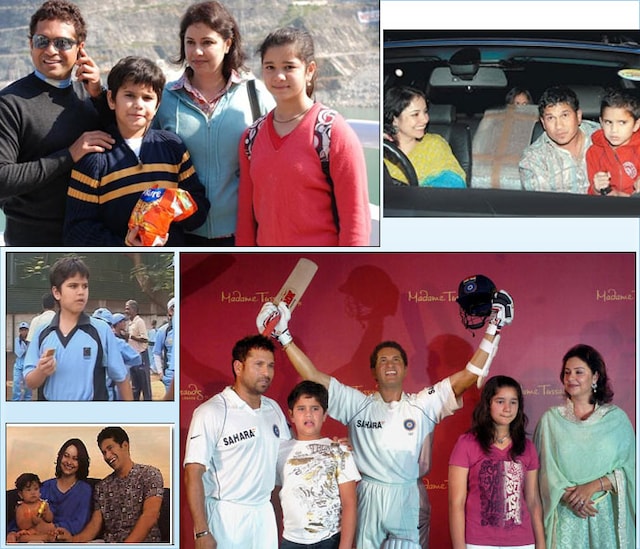 Tendulkar is blessed with two children. His daughter Sara was born on 12 October 1997 and his son, Arjun on 24 September 1999. Despite all the fame and adulations, Sachin does not allow anyone to intrude and intervene in his private life.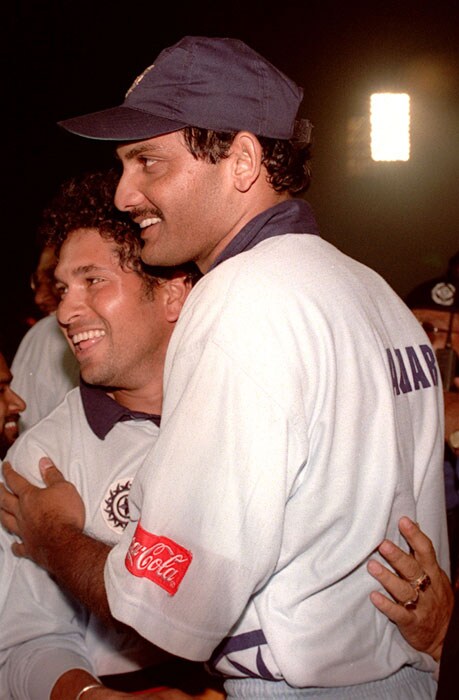 During the 1996 World Cup, Sachin scored 523 runs at an average of 87.16 making him the highest scorer of the Tournament. In the same year, Tendulkar took over the reigns of the Indian Cricket team with huge hopes and expectations. He was all of 23 then.

However, by 1997 the team was performing poorly. Azharuddin, whose ego was visibly bruised, was credited with saying "Nahin jeetega! Chote ki naseeb main jeet nahin hai!" Tendulkar was sacked from the captaincy after a 15-month tenure during which India won three out of 17 Tests. (AFP Image)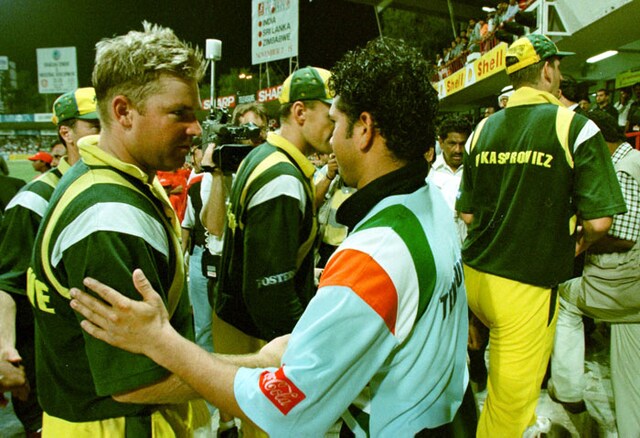 Perhaps it was the pressure of handling a team that included players elder to him in age as well as experience that got on to Sachin for immediately after his innings as the Indian captain got over, Sachin got his maiden first-class double-hundred against his favourite opposition, Australia in 1998. His bat did the talking in almost all the series that India played in the following two years, delivering scintillating knocks that literally knocked the living dayligts out of the bowlers. Warne ruefully joked that he was having nightmares about his Indian nemesis. (AFP Photo)
1998 was perhaps one of the best cricketing years for Tendulkar irrespective of how much he claims to attain more. That year he was on a roll with the ball too. The batsman who tormented bowlers also showed them how it's done! He got the first five-wicket haul under his belt against Australia, taking wickets of Michael Bevan, Steve Waugh, Darren Lehmann, Tom Moody and Damien Martyn for just 32 runs in 10 overs.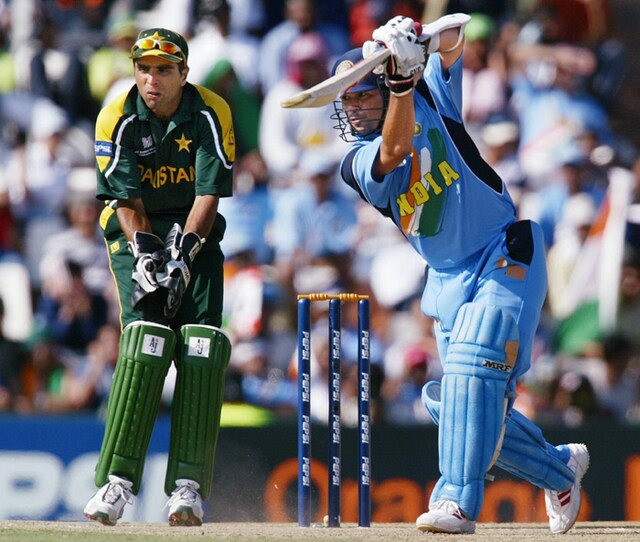 In the middle of the 1999 Cricket World Cup, Sachin's father, Ramesh Tendulkar, expired. Tendulkar flew back to India to attend the final rituals of his father. There were speculations that he might not return but the Master Blaster proved yet again that he was made from a different clay altogether. Sachin pulled himself together and proved that he was a true Indian. He returned with a bang to the World cup scoring a century (unbeaten 140 off 101 balls) in his very next match against Kenya in Bristol. He dedicated this century to his father.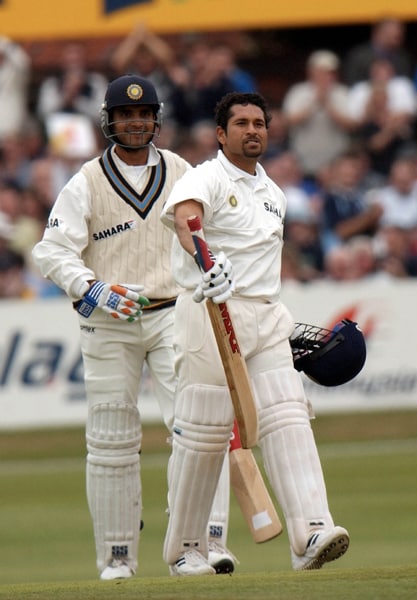 After India's disappointing stint at the 1999 World Cup, Sachin was reappointed as the Indian captain against his consent. Bowing down before the greater good of the team, Sachin had to accept the proposition. Sachin Tendulkar, the captain, salvaged the nation's pride as India defeated World Champions Australia on their own soil. However, Tendulkar resigned within a year itself in 2000 allowing Sourav Ganguly to take over. The same trend followed as immediately after stepping down, Tendulkar was his usual firey self again.
During the next world cup in 2003, despite the fact that India lost to Australia in the finals, Sachin was named the man of the tournament. He scored 673 runs at 61.18 in the World Cup. His 98 against Pakistan in an exceptionally anticipated match was one of the best knocks played by Indians at World Cups.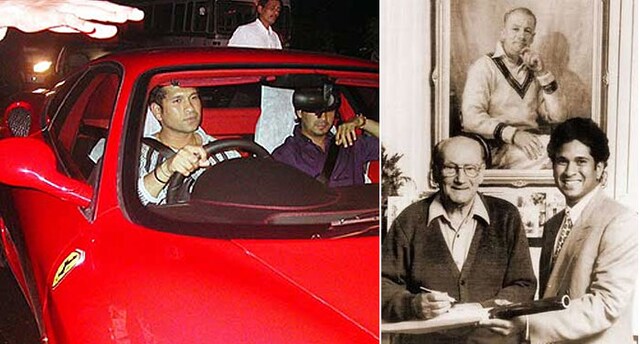 In 2002, while commemorating Sachin Tendulkar's feat of equalling Don Bradman's 29 centuries in Test Cricket, automotive giant Ferrari invited Sachin Tendulkar to its paddock in Silverstone on the eve of the British Grand Prix (23 July 2002) to receive a Ferrari 360 Modena from the legendary F1 racer Michael Schumacher. India's then finance minister Jaswant Singh said the customs duty imposed on the car as a measure to applaud his feat but political and social activists protested the waiver and filed PIL in the Delhi High Court. With the controversy snowballing, Sachin offered to pay the customs duty of Rs 1.13 Crores or 120% on the car value of Rs 75 Lakhs and the tab was finally picked up by Ferrari.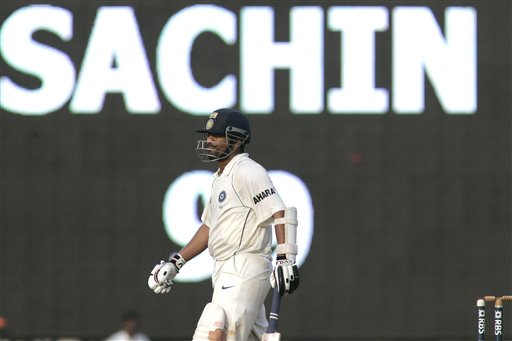 In 2001, Tendulkar became the first player to score 10,000 runs in one-day cricket in the course of his 139 against Australia in Indore. An interesting incident followed towards the end of the year as he was caught out of his crease for the first time in his Test career. Such was his agility and awareness that no wicket-keeper ever managed to catch him off-gaurd in a span of 12 years. That very year Sachin faced a suspended ban of one game, during India's tour of South Africa, in light of alleged ball tampering. The incident escalated to include allegations of racism and after a thorough investigation, the International Cricket Council revoked the official status of the match and the ban on Tendulkar was lifted.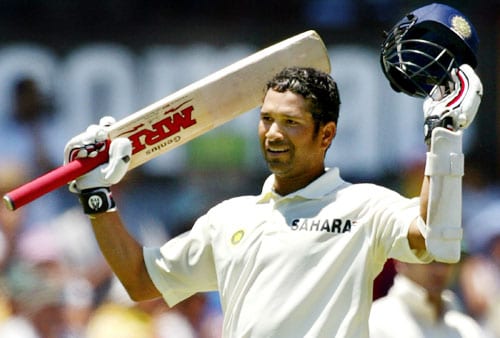 In 2004, Tendulkar played a fantabulous Test innings to score 194 against Pakistan in Multan. Tendulkar was stranded prior to reaching his double century as a result of a declaration by Rahul Dravid. A surprised Sachin Tendulkar expressed his disappointment in the press confrence that followed.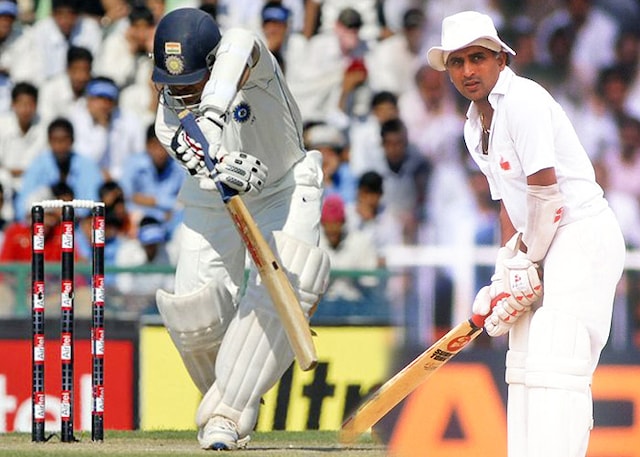 After having trouble with his health owing to his tennis elbow, Sachin missed a few matches that year but in 2005, the unassailable broke yet another record by becoming the fifth man to score 10,000 Test runs in course of his 52 against Pakistan in Kolkata. Later that year, he went for the surgery for the tennis elbow but he more than made up for the tournaments he missed by making a roaring return to the game after playing magnificently against Sri Lanka and becoming the highest centurion in Test cricket, overtaking Sunil Gavaskar's 34.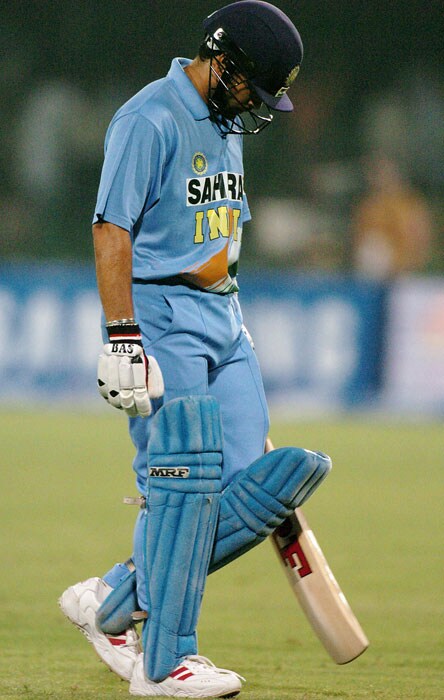 In 2006, Sachin undertook another surgery, this time on his right shoulder. However, he made a stunning comeback scoring 141 off 148 balls against West Indies in a DLF Cup ODI in Kuala Lumpur. It is interesting to note that Tendulkar was dismissed seven times in 2007 between 90 and 100, including three times at 99, leading some to suggest that he struggles to cope with nerves in this phase of his career. Till date, Tendulkar has got out 23 times between 90 and 100 in his international career.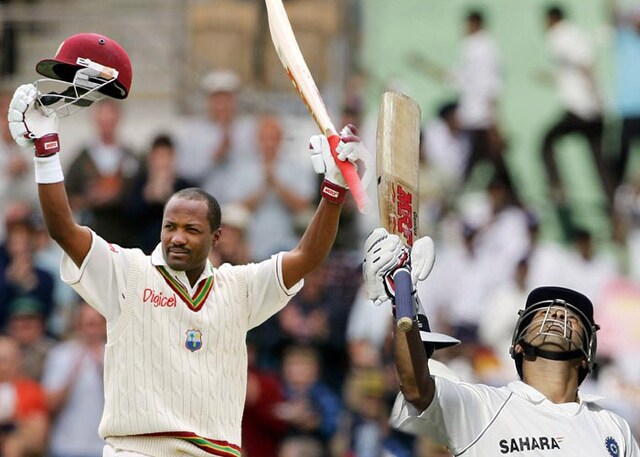 That very year, Tendulkar found himself attacked from a new front, being blamed for showing disrespect to the national flag. He reportedly cut a cake resembling the tri-colour just before the World Cup in the Caribbean islands. Then BCCI Vice President Rajeev Shukla said that Tendulkar cannot be held accountable for the incident when the event was organised by the Indian High Commission.

After a disappointing 2007, fresh hopes and more success beckoned Sachin in 2008 as he scored his first century in more than two years and 19 Tests, against opposition other than Bangladesh. He also scored his first ODI century in Australia. Later that year, he broke Brian Lara's record for most Test runs.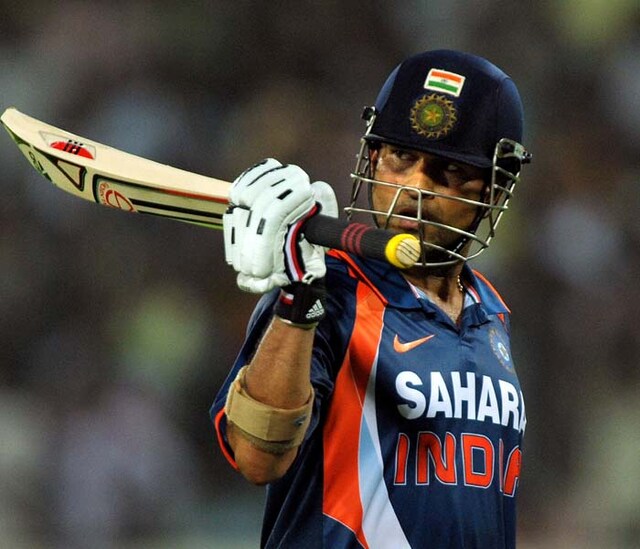 The unstoppable Sachin crossed 17,000 ODI runs in 2009 during the India-Australia ODI Series, outdoing his initial record only to re-establish himself as the highest run scorer in ODI cricket. Tendulkar also achieved his personal best against Australia and described it as one of his best innings but said it could have been better had India won the match.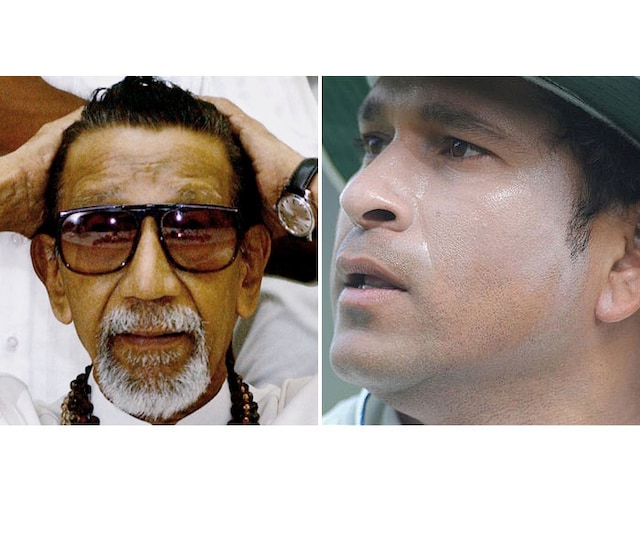 All wasn't hunky dory for the formidable batsman as he was caught off-guard by a Shiv Sena beamer. In the party's mouthpiece Saamna, Shiv Sena supremo Bal Thackeray attacked Sachin for saying that although he was a proud Maharashtrian, he was first and foremost an Indian. Sachin also added that Mumbai was for everyone. Writing in the Saamna, Shiv Sena chief Bal Thackeray slammed Sachin for his `unwanted' comments on Maharashtra. "Mind your international cricket," was the caustic comment from Thackeray.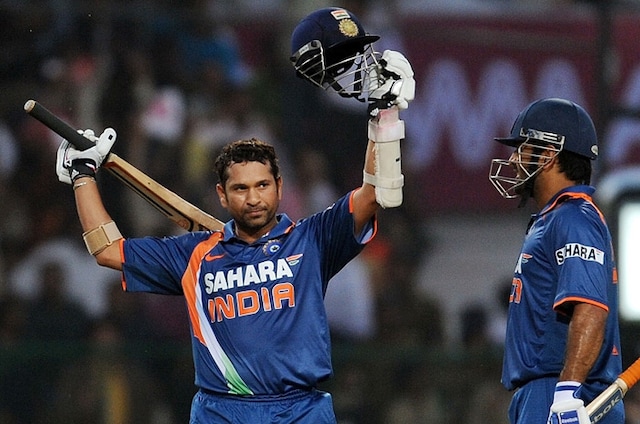 The man who gave the term perfection a new name emerged unscathed from every upheaval. Sachin Tendulkar knew best how to perfect perfection. In February 2010, in a stunning display in Gwalior Tendulkar became the first male player to score 200 in a single innings in a One-Day International. That too off just 147 deliveries. No wonder the iconic player has been referred to as God by millions of Indians.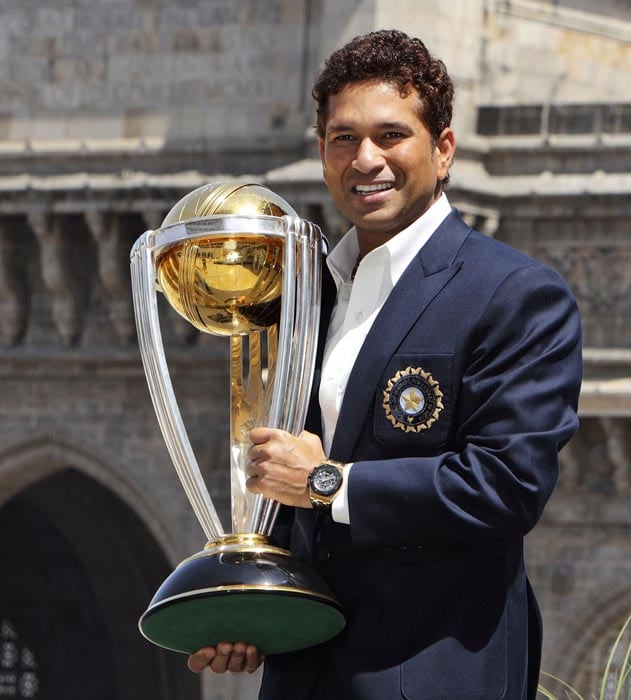 The maestro's long cherished dream finally came true when India lifted the World Cup in April 2011, after a gap of 28 years, that too at the Wankhede Stadium in Mumbai, his hometown. Sachin was once again one of the stars of the campaign after finishing as India's leading scorer and 2nd highest overall, with 482 runs.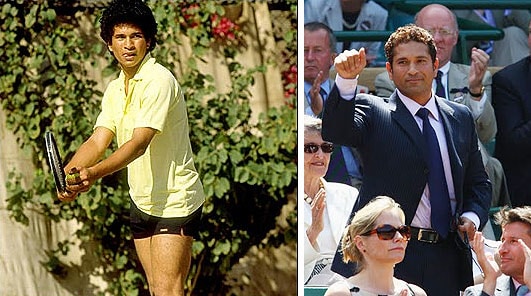 Besides cricket, Tendulkar's idol is the American Tennis superstar-John McEnore. During his young age, he argued and fought for McEnore with his colony friends who supported Swedish Bjorn Borg. Sachin sported a head-band, sweat-band and a tennis racquet showing his staunch loyalty towards his idol.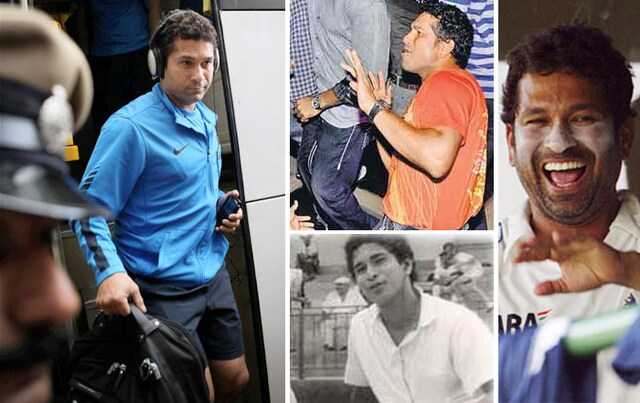 Sachin's greatest hobby, according to his close friends, is music. He has a vast collection of western pop and serious music and spends every available leisure hour listening to his favourite artists. Lata Mangeshkar and Kishore Kumar are his favourite singers.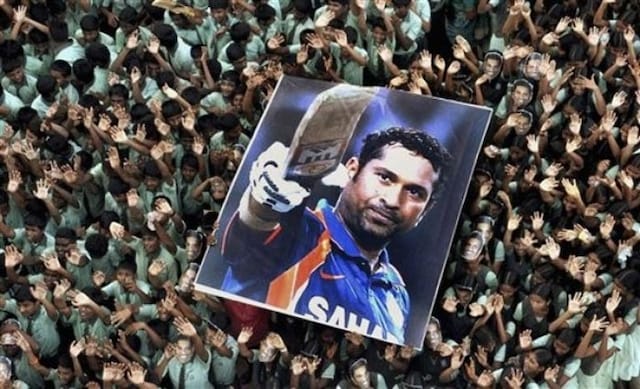 Tendulkar endorsed in a number of brands including Reynolds, Sunfeast, Luminous, Boost, Castrol India, Coca Cola, Jaypee Cements, Toshiba and others making him the highest earning cricketer in the world. Tendulkar also sponsors 200 underprivileged children every year through Apnalaya, a Mumbai-based NGO associated with his mother-in-law, Annaben Mehta.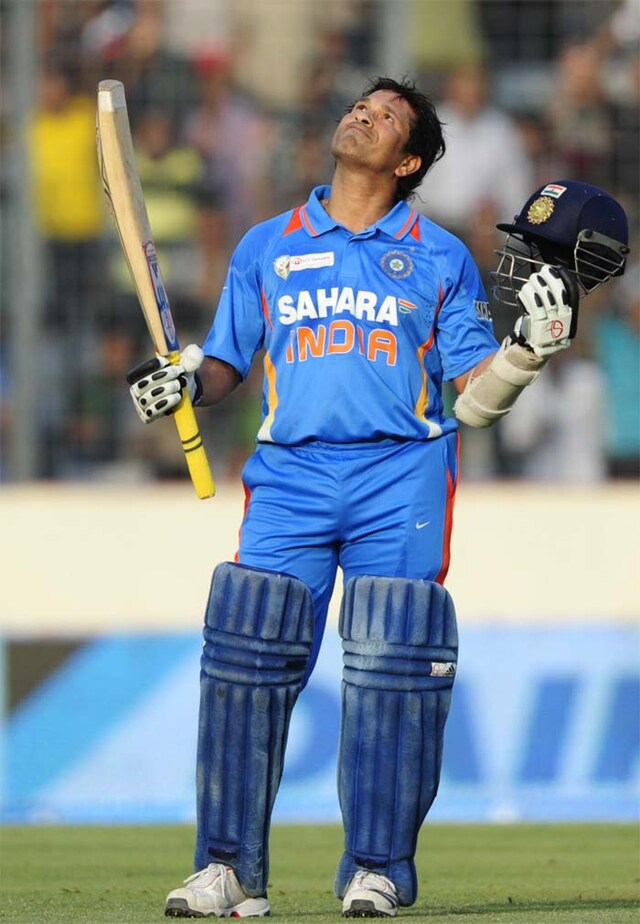 On March 16, 2012, Tendulkar became the first cricketer in the history of the game to score hundred international hundreds. He completed the much-awaited 100th ton of his career during the fourth ODI of the Asia Cup against Bangladesh.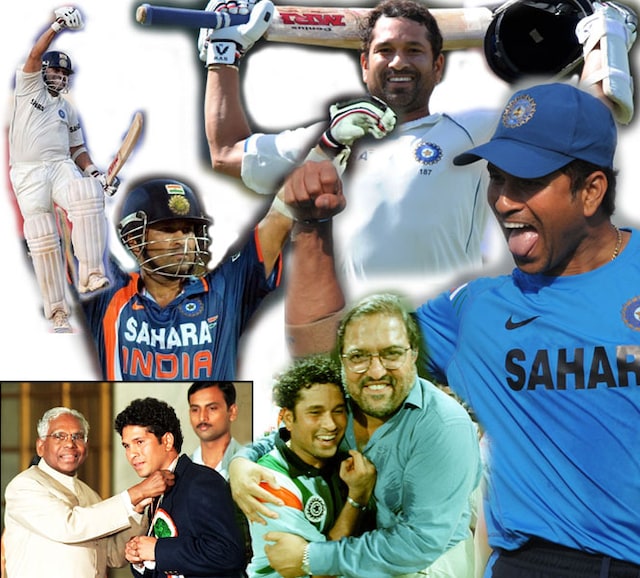 Slides and pictures will fall short in depicting what substance Sachin Tendulkar is made of. Referred to as the God of Cricket, Sachin carries with him the blessings of the world's most populous nation. Not just that, he has been shouldering the pressure of living up to their expectations for more than two decades. Kudos to the master and a very Happy Birthday!