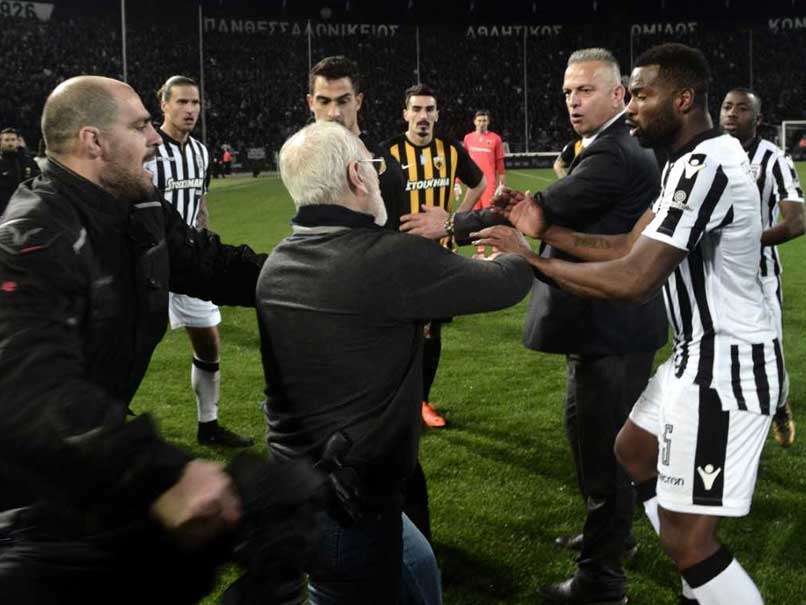 PAOK president Ivan Savvidis walked onto the pitch carrying a handgun in his waistband.
© AFP
A Greek Super League match between hosts PAOK Thessaloniki and AEK Athens had to be abandoned when the president of PAOK Thessaloniki walked onto the pitch carrying a handgun in his waistband on Sunday. The game was called-off in the 90th minute after a disputed goal by PAOK defender Fernando Varela was initially ruled offside by the referee, prompting an angry protest from the hosts that led AEK Athens to walk off the pitch. The visiting team complained that PAOK owner Ivan Savvidis not only came onto the pitch with a gun but also threatened referee Giorgos Kominos, who was reportedly told 'you are finished' by PAOK technical director Lubos Michel. Following this, the referee changed his decision and awarded the goal to PAOK -- if the 1-0 scoreline is ratified then they would grab top spot in the Greek league table from AEK.
PAOK's owner Ivan Savvidis has to be held back from attacking the ref with a gun after his team's last minute goal was disallowed pic.twitter.com/WGlpGieb1H

— ROBBRYblog (@ROBBERYblog) March 12, 2018
The referee could not convince AEK to return to the pitch to complete the final few minutes of match after they expressed concern for their safety.
The visitors also complained that Savvidis attacked AEK director Vasilis Dimitriadis.
Savvidis had asked his team to leave the pitch in protest after Kominos' call but PAOK's Portuguese captain Vieirinha refused and the team did not go to the locker rooms, unlike AEK.
Kominos will issue a match report to the Greek football federation before a decision on whether the teams or individuals will be punished.
Earlier Sunday, the Greek FA's appeals committee annulled a decision to dock three points from PAOK over the February 25 match with Olympiakos that was called off before kick-off after visiting coach Oscar Garcia was hit by an object thrown from the stands.
The committee also overturned a ruling ordering PAOK play their next two home matches behind closed doors, resulting in a sell-out crowd of 30,000 at the Toumba Stadium for the match against AEK.
However, the committee upheld the decision to award last month's match -- which was postponed after the incident -- 3-0 in favour of Olympiakos.
(With AFP Inputs)