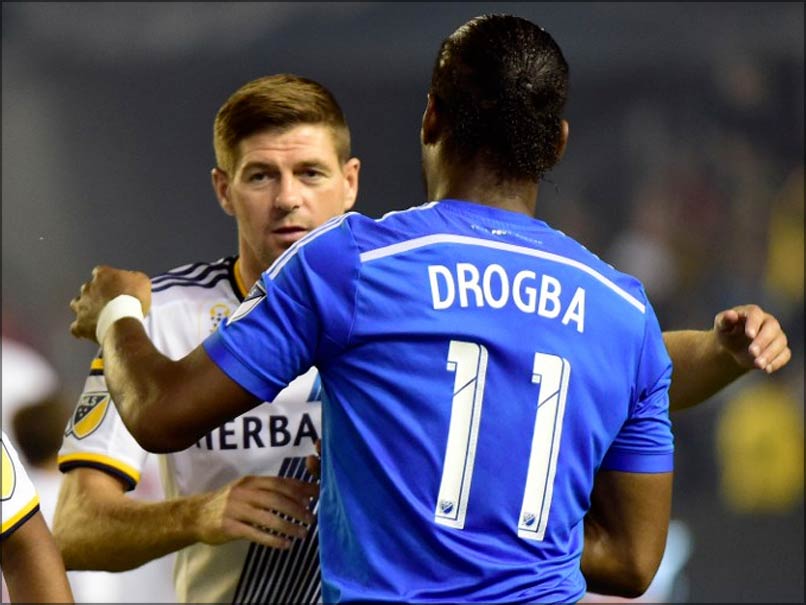 Steven Gerrard (L) spent two seasons with LA Galaxy.
© AFP
Carson:
The 36-year-old Gerrard spent his entire club career at Liverpool before moving to Los Angeles in 2015. In 34 appearances during an injury-plagued tenure with the Galaxy, Gerrard scored five goals with 14 assists.
Gerrard, who never won the Premier League with Liverpool, leaves the Galaxy without lifting the MLS Cup. The Galaxy finished ninth and sixth in the MLS table during his two seasons before losing early in the playoffs each time.
Gerrard wrote on the Galaxy website : "I am now looking forward to spending time with my family as I consider the next stage of my career."
Gerrard showed flashes of his Liverpool greatness stateside, but also dealt with numerous injuries and struggled with MLS' travel demands throughout his stay in California. He was sidelined for one month between games twice during the second half of this season, returning to play 45 minutes on Nov. 6 while the Galaxy were eliminated from the playoffs at Colorado.
Gerrard scored for the Galaxy during penalty kicks in his final game.
"He obviously dealt with some injuries here in his year and a half, but his presence was great for the club," Galaxy coach Bruce Arena said last week before Gerrard had announced his plans. "If (the playoff loss) was his last game, to finish the way he finished, with that kick and the 45 minutes he gave, was impressive after being out for close to two months. And the penalty was impressive. If that's his last kick, then we were honored to have Stevie here."
While he relished life in a rented Beverly Hills mansion with his wife and children, Gerrard made no secret of his homesickness for Merseyside. He repeatedly traveled back to England for treatment on his injuries and a broadcasting job, and he spoke fondly about his eagerness to return to Liverpool for good.
"I can look back at my time at the club with pride at what we accomplished, including two straight playoff appearances and countless memorable moments on the pitch," Gerrard said.
While Gerrard's departure was widely expected, the Galaxy haven't announced whether Irish striker Robbie Keane or American stalwart Landon Donovan will return to the club. Arena is expected to retool the Galaxy's roster in the offseason around young offensive talents Giovani Dos Santos and Gyasi Zardes.
The 36-year-old Keane, who is out of contract, has been one of MLS' top players when healthy, but injuries and international duty kept him off the field for roughly half of the Galaxy's schedule this year.