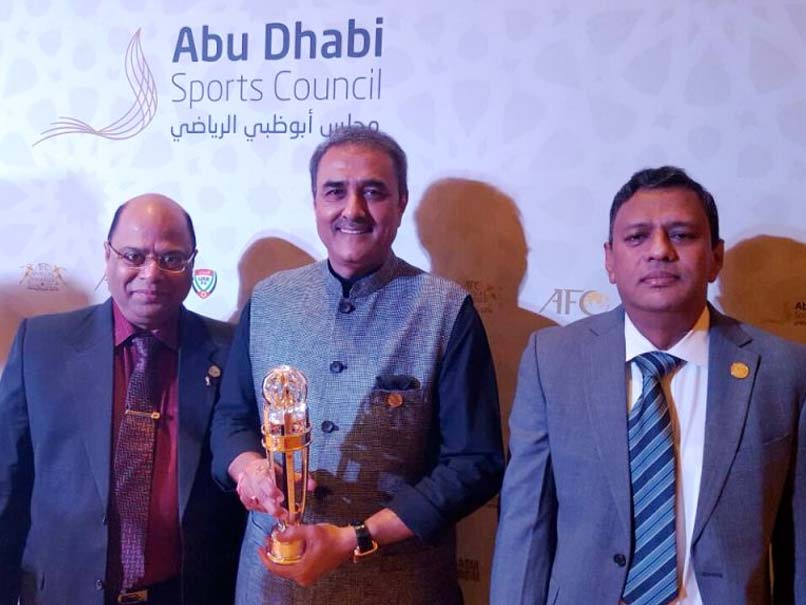 AIFF president Praful Patel with vice-president Subrata Dutta and general secretary Kushal Das.
© AIFF
Abu Dhabi:
Praful Patel, the All India Football Federation (AIFF) president, has been appointed as a senior vice-President of Asian Football Confederation (AFC).
Patel, who was serving as the vice-president of the South East Region for the Asian Football Confederation, thanked all for their support.
Under Patel's, India won rights to host the FIFA U-17 World Cup India, 2017, and hosted the AFC U-16 Championship in September, 2016.
Meanwhile, the AIFF has won the AFC Developing Member Association of the Year Award at the AFC's Annual Awards Night here.
Patel received the Award from AFC Vice-President Ali Kafashian at a glittering ceremony here last night.
"I need to thank AFC for recognising our efforts. Indian football is headed in the right direction," Patel said.
The prestigious award is given to a Member Association in recognition of its professional administration and governance as well its exceptional contribution to the development and promotion of the game at all levels within the country.
Member Associations are assessed and awarded points on various areas encompassing the association's activities such as the organisation of courses and seminars, competitions, grassroots and youth development programmes, women's programmes, social responsibility and special projects.
Points are also given for an MA's hosting of AFC qualifying and finals tournaments as well as their national and club teams' placing in AFC and FIFA competitions throughout the year.