Barcelona's road to Champions League glory
Barcelona have been the dominant team in Spain as well as Europe for sometime now. After an unexpected loss to eventual champions, Inter Milan in the semi-finals in 2010, Barca are back in title contention with Manchester United as the familiar foe waiting to spoil their party.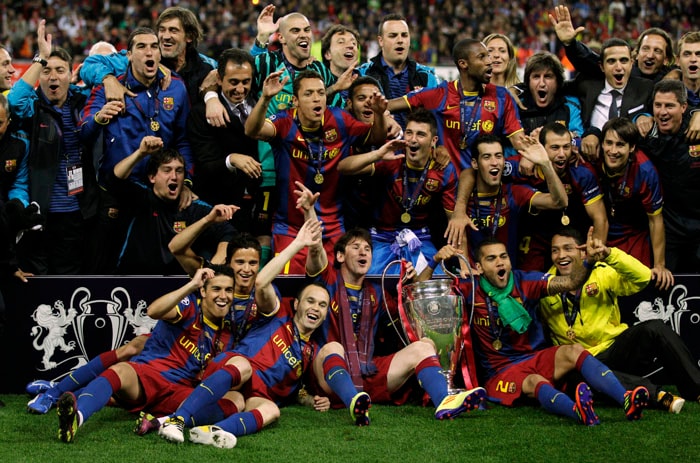 Barcelona have been the dominant team in Spain as well as Europe for sometime now. After an unexpected loss to eventual champions Inter Milan in the semi-finals in 2010, Barca took back the UEFA Champions League trophy with a convincing 3-1 win over Manchester United in the final at Wembley. Here we take a round-by-round look at Barcelona's path to the ultimate glory.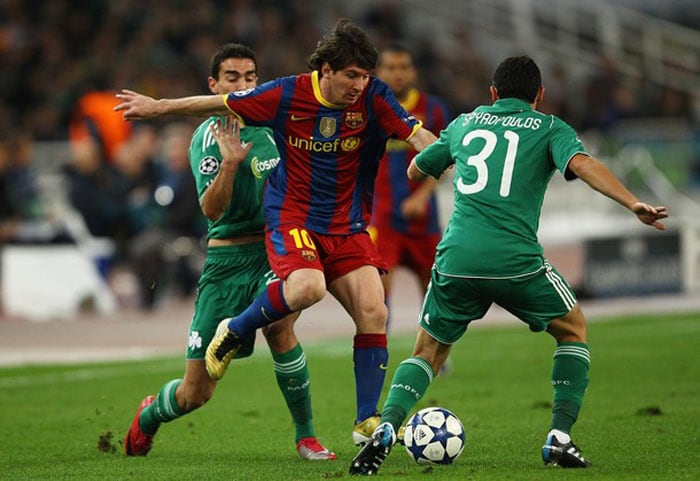 Group Stage: Advanced top of Group D ahead of FC Copenhagen, Rubin Kazan and Panathinaikos

Barcelona never looked troubled in Group D, sailing through unbeaten having clinched top spot and progressing to the next round with a game to spare. Although it conceded early in its opening match against Panathinaikos, Barcelona never allowed its opponent another shot at goal and stormed back to win 5-1 and take top spot from the opening matchday. Lionel Messi scored six times in six group matches, surpassing Rivaldo as Barcelona's leading scorer in Europe. The only area of concern was Barca's inability to make the most of overwhelming possession in 1-1 draws at Rubin Kazan and FC Copenhagen.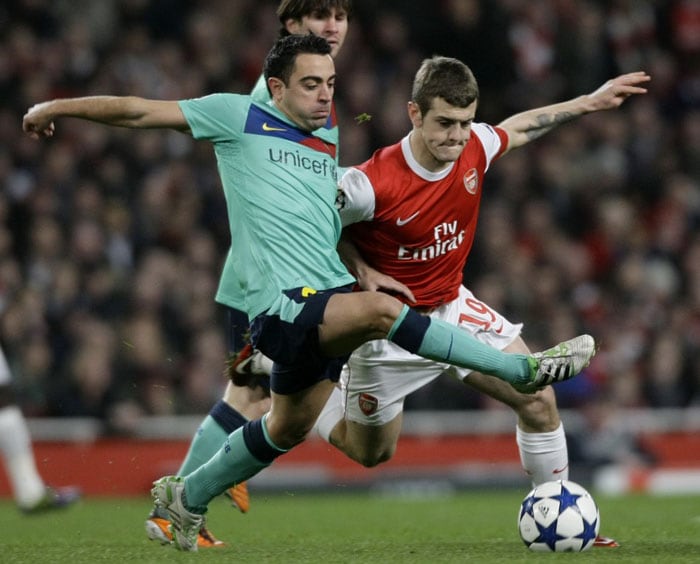 First Knockout Round: Advanced past Arsenal (England) 4-3 on aggregate

Barcelona dominated Arsenal in London for a second straight season but failed to add to David Villa's first-half opener and conceded two goals in the last 12 minutes for a surprising 2-1 loss in the first leg. Arsenal were in a position to advance when the second leg was 1-1 with 20 minutes left, but Xavi Hernandez scored his first Champions League goal of the season and Lionel Messi hit his second of the game with a penalty. Javier Mascherano's covering tackle late on denied Arsenal substitute Nicklas Bendtner a goal that would have put Arsenal through but an average of almost two-thirds possession over two matches showed that Barcelona were the much stronger side.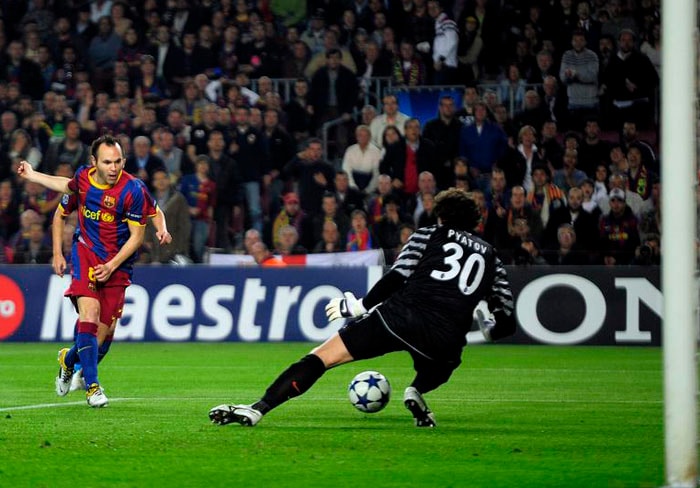 Quarterfinals: Advanced past Shakhtar Donetsk (Ukraine) 6-1 on aggregate

Andres Iniesta's second-minute opener in the first leg at Camp Nou showed Barcelona were in no mood for a repeat of their loss to the same opponent in a 2008-09 group match. Shakhtar coach Mircea Lucescu said Barcelona were "clinical" as five different players scored in a 5-1 demolition of his side. Lionel Messi then scored the only goal of the second leg to hand 2009 UEFA Cup winner Shakhtar its first ever European defeat at Donbass Arena.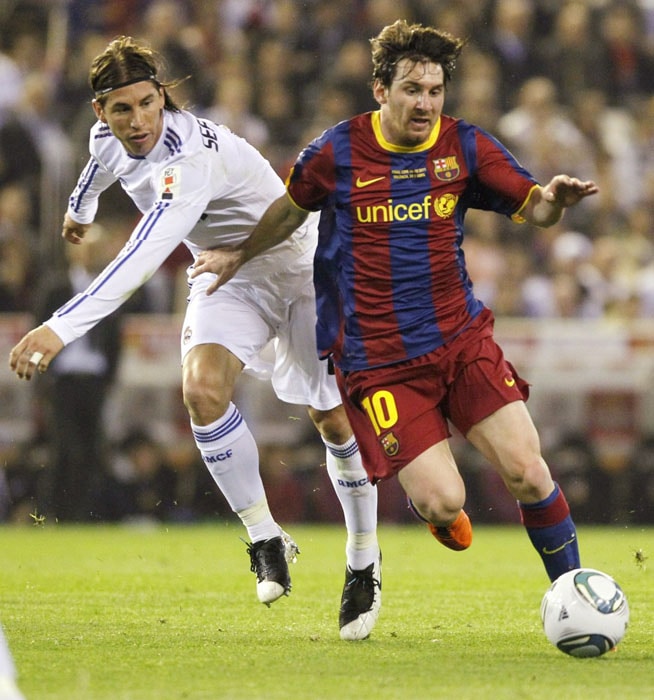 Semifinals: Advanced past Real Madrid (Spain) 3-1 on aggregate

Barcelona had by far the better of the latest chapter of arguably world football's biggest club rivalry, but only Lionel Messi's individual brilliance saved it from being entirely overshadowed by both teams' cynical play. For the first leg at the Santiago Bernabeu, Madrid coach Jose Mourinho tried the same tactics that frustrated Barcelona in the Copa del Rey final. But defender Pepe, playing in central midfield, was sent off and Messi scored two late goals — the latter a spectacular solo effort for his 11th in 11 tournament appearances — as the visitors' astonishing 72 percent possession yielded a 2-0 win. The return meeting at the Camp Nou was less eventful but Barcelona were again on top in a comfortable 1-1 draw.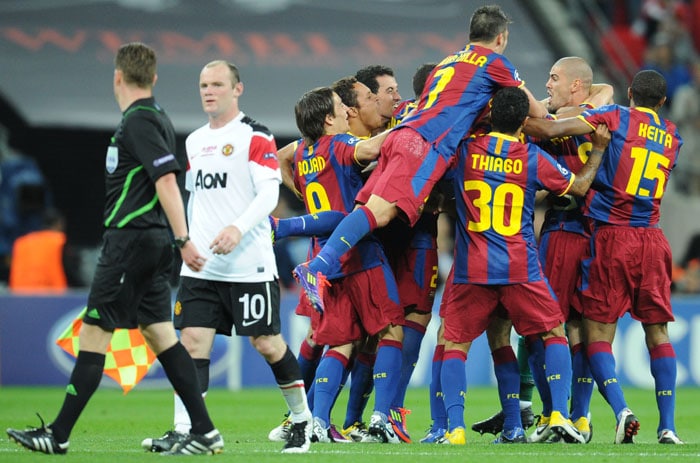 Final: Outclass Manchester United (England) 3-1

United started brightly but that lasted only a brief while. After that it was Barcelona all the way. The Catalan Giants kept the bulk of possession and created the maximum chances. Pedro Rodriguez's goal handed Barca the early advantage but United's Wayne Rooney soon cancelled it out, ensuring his team went to the break 1-1. However, an unexpected but brilliant goal from Lionel Messi in the 2nd half completely turned things Barcelona's way. David Villa's fantastic strike only added to United's woes and sealed the deal for Barcelona. The Spanish champions lifted their 2nd Champions League trophy in 3 years. They had won it in 2009 as well, even then getting the better of United in the final.