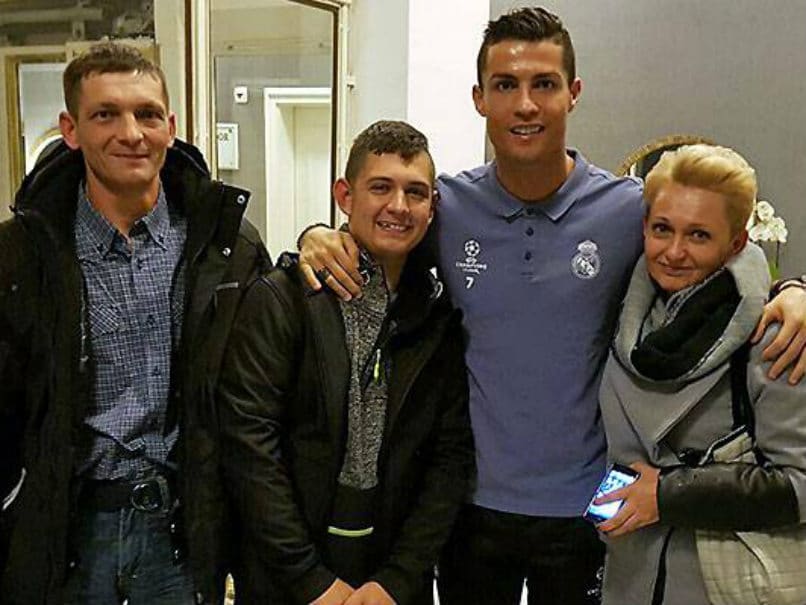 Accompanied by his parents David Pawlaczyc travelled to Warsaw to meet Cristinao Ronaldo.
© Real Madrid/Twitter
Warsaw:
Real Madrid superstar Cristiano Ronaldo was reunited with a 15-year-old Polish fan, who was awakened from a coma by listening to commentaries of the Portuguese's goals.
David Pawlaczyc fell into a coma for three months after being hit by a car when riding his bike in 2013.
However, using an experimental technique to trigger memories in coma victims, Pawlaczyc was awakened by listening to commentaries of some of Ronaldo's most famous strikes for Madrid.
Accompanied by his parents Pawlaczyc travelled to Warsaw to meet Ronaldo ahead of Real's Champions League clash with Legia Warsaw later on Wednesday.

Watch @Cristiano meet David Pawlaczyc, the Polish youngster who was roused from his coma after listening to one of the striker's goals. pic.twitter.com/p0ycEUUKKE

— Real Madrid C.F. (@realmadriden) November 2, 2016
"I am happy to see he feels good. He is healthy and he is better," Ronaldo said in a video of the meeting published on Real's official Twitter account.
Pawlaczyc was previously invited to watch Ronaldo in action at Madrid's Santiago Bernabeu stadium in a Champions League clash with Borussia Dortmund in 2014.