Story Progress
Back to home
Brazil Firm Reveals World Cup Stadium Cartel: Officials
Among the building or renovation projects involved were some on Rio de Janeiro's fabled Maracana Stadium and the Arena Pernambuco in Recife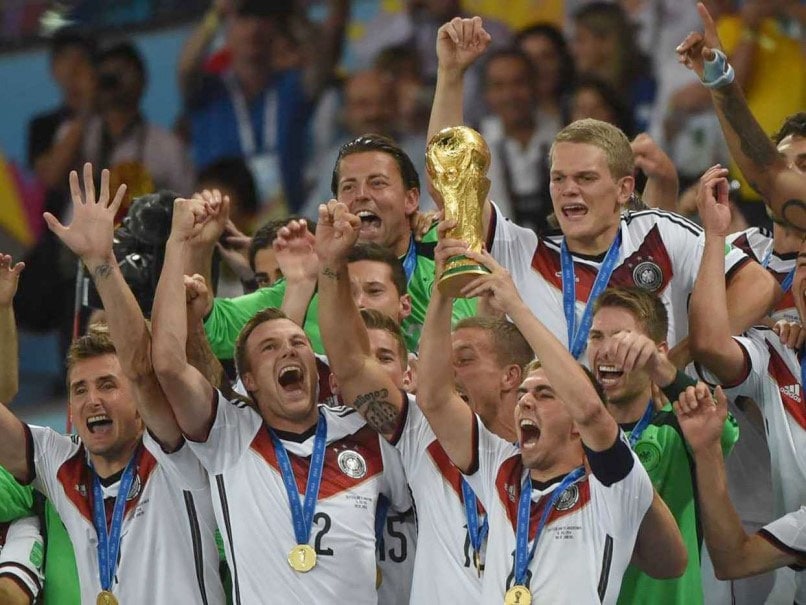 Germany are the 2014 World Cup champions.
© AFP
Highlights
Bidding for stadium work were fixed, according to a construction firm

Firms conspired to fix allocating of contracts in public tenders, it said

The probe was linked to the notorious Petrobras corruption scandal
Rio de Janeiro:
A construction firm has admitted that a "cartel" of firms fixed bidding for contracts to do work on stadiums for the 2014 football World Cup, Brazilian authorities said on Monday.
State antitrust authorities said the probe was linked to the notorious Petrobras corruption scandal that has snared numerous Brazilian politicians.
"There is evidence that at least five public calls for tender linked to work on World Cup stadiums were subject to a cartel," the Administrative Economic Defense Council (CADE), a state antitrust body, said in a statement.
It said construction firm Andrade Gutierrez had spilled the beans on the cartel activity after agreeing to cooperate with investigators in return for being spared sanctions.
Among the building or renovation projects involved were some on Rio de Janeiro's fabled Maracana Stadium and the Arena Pernambuco in Recife, it said.
Corruption probe
CADE said the probe was an offshoot of Operation Car Wash, an investigation by prosecutors into a $2 billion corruption affair at state oil firm Petrobras.
That scandal has sparked the resignation of several ministers in President Michel Temer's government.
In the World Cup stadium affair, firms conspired to fix the allocating of contracts in public tenders between 2007 and 2011, CADE said.
Andrade Gutierrez's chief executive Otavio Azevedo is among the top business figures jailed in Operation Car Wash.
Another is Marcelo Odebrecht, head of the construction firm that bears his surname.
He was reported earlier this year to have named Temer in testimony to investigators.
CADE is investigating five other companies including Odebrecht.
It suspects the firms agreed details of their bids between them and made payments to each other.
Political drama
The political drama threatening Temer deepened last week with Odebrecht suspects lining up to make more potentially explosive revelations.
A source close to the firm told AFP that 77 of its current and former executives had signed a plea deal with investigators.
They agreed to cooperate with prosecutors in return for lighter sentences, said the source, who asked not to be named.
Former Rio de Janeiro state governor Sergio Cabral was also arrested last month on bribe-taking and money laundering charges.
He was charged with membership of a group that allegedly embezzled $64 million from public works projects including the Maracana.
High-level probe
Temer was one of the leaders of the impeachment case that drove their leftist rival Dilma Rousseff from office over unrelated claims of financial wrongdoing.
Conservative Temer, 76, took over as acting head of state in May pending the impeachment proceedings.
He became full president in August after she was formally removed from office in a Senate impeachment trial.
Rousseff's predecessor and ally Luiz Inacio Lula da Silva has himself been snared by the Petrobras affair.
Prosecutors have accused him of influence peddling by helping Odebrecht win contracts after leaving office in 2010.
He has denied the claims.
The CADE antitrust court can fine companies up to a fifth of their gross earnings if it finds them guilty of fixing the bids.
Topics mentioned in this article
FIFA World Cup 2014
Football