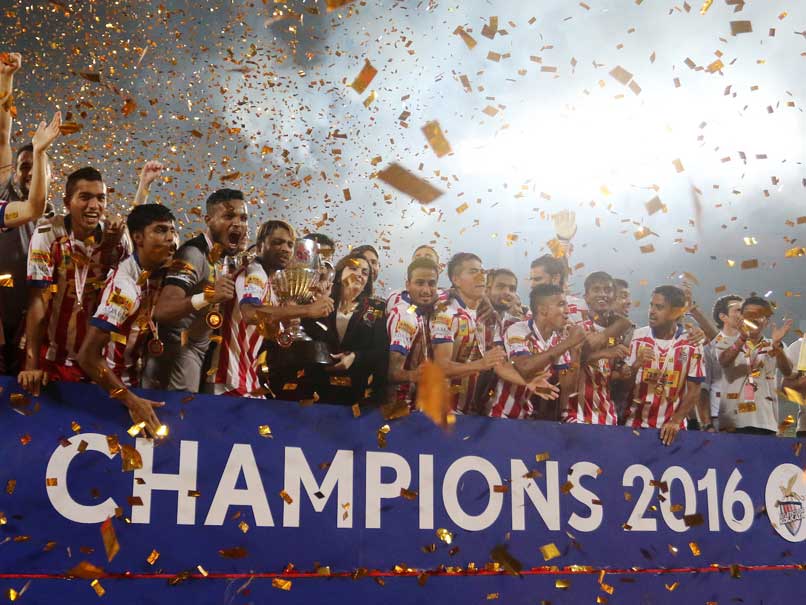 Atletico de Kolkata players celebrate with the ISL trophy after the final.
© ISL
In an exciting encounter in the finals of the Indian Super League season 3, Atletico de Kolkata defeated Kerala Blasters to clinch the title for the second time in three years.
Both the teams could not score in the extra time after the teams were levelled at 1-1 in the regulation time. Mohammad Rafi scored in the 37th minute for Kerala while Henrique Sereno equalised in the 44th minute for Kolkata.
The match had to be decided in the penalty shoot out and ATK registered the victory by 4-3
Jewel Raja turned out to be the hero for ATK after dispatching the last penalty. Sameehg Doutie, Borja Fernandez and Javi Lara all converted their spot kicks. Only Iain Hume's shot was blocked by Kerala custodian Graham Stack.

The home team took the first strike in the shootout. Antonio German, Kervens Belfort and Mohammed Rafique score while Elhadji Ndoye blasted over from 18 yards and Cedric Hengbart's shot was acrobatically saved by ATK goalkeeper Debjit Majumder.
Earlier, the final was also billed as a clash between former star cricketers Sachin Tendulkar (co-owner of Kerala) and Sourav Ganguly (co-owner of Kolkata) who formed one of the best batting partnerships in world cricket.
While cricket united the two sporting legends, the ISL final on Sunday saw them 'divided' as they try to inspire their respective teams to glory. To go by the results, Sourav Ganguly had a last laugh.