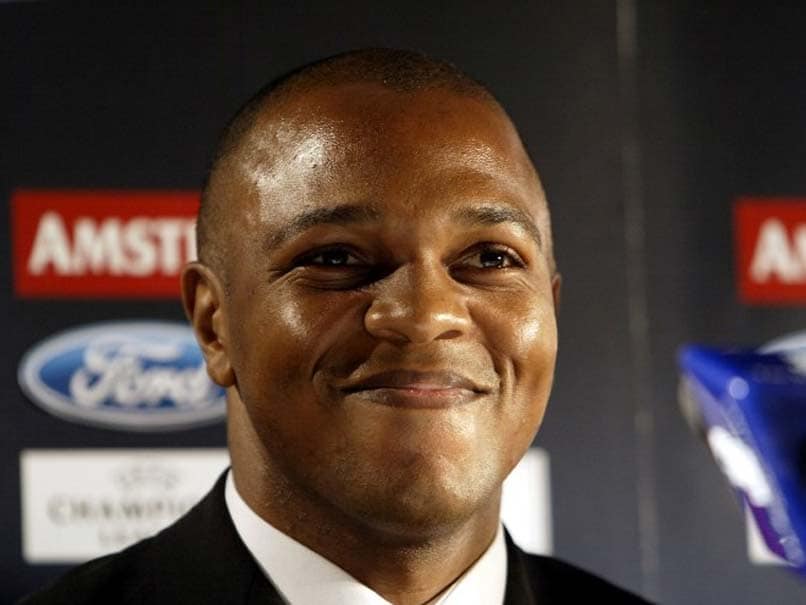 Quinton Fortune is a former Manchester United player.
© AFP
In 1999, fresh from their historic treble-winning season, Manchester United signed a 22-year-old South African footballer from Atletico Madrid. Quinton Fortune had made his mark with Atletico's 'B' side, and impressed by his performances, Sir Alex Ferguson made him his first signing of the 1999-00 season.
Fortune would go on to play for seven seasons at the club. A number of injuries throughout the period saw him feature irregularly in Ferguson's side. However, the South African's ability to play across a number of positions in midfield and in defence came in handy for United on a number of occasions.
Now retired from the sport, Fortune has been involved in a number of promotional tours for Manchester United across the globe. This month, the ex-United star will be arriving in Kolkata as part of the club's fan-focussed event called 'I Love United', slated to be held on December 11.
Ahead of his India visit, Quinton Fortune spoke to NDTV about his experiences as a footballer at United, the club's fortunes under current manager Jose Mourinho, the evolution of the Premier League and other issues surrounding the sport.
Here are the excerpts:
You were at Manchester United during one of the club's most successful phases. How was it like playing for a Sir Alex Ferguson team?
When I arrived and United had just won the treble, it amazed me that the likes of David Beckham, Ryan Giggs, Paul Scholes - that Class of '92 - were training so intensely. They had just won everything in world football but they were training like they were going for their first trophy. For me it was an honour to work with these guys, and I could only get better. When you've got the best players in the league working the hardest, that's a recipe for success.
The team of 1999 was unbelievable, strong in every single position. The forward line had Andy Cole, Dwight Yorke, Ole Gunnar Solskjaer and Teddy Sheringham; in midfield it was Beckham, Scholes, Roy Keane and Giggs, and in defence it was Denis Irwin, Jaap Stam, Ronny Johnsen and Gary Neville. All of these guys were the best in their positions in the league. So when I arrived my approach was that I would be ready to play in any role, wherever the manager wanted me to play.
What do you have to say about United in the post-Sir Alex era? Would you say the club is in the right direction at the moment?
Of course everyone talks about the success we enjoyed under Sir Alex, one of the most successful managers of all time, but Manchester United has a 138-year history and there have been ups and downs throughout this period. Sir Alex told us many times that no one player or one individual makes this club what it is.
Every time we played, we were continuing traditions that go back over many generations. In that sense, nothing has changed; United always come back, it's in our DNA. We're still developing young players such as Jesse Lingard and Marcus Rashford, and recruiting the best players from around the world.
If you look at the current team, we've got enough quality players and one of the best managers who is working out his best team. We're playing attacking football in the club's traditions. We won the FA Cup in May. If we look back to Sir Alex when he started his United career, it wasn't an overnight success for him so we need to be patient that our form will improve.
Do you think things would have been different for United had Jose Mourinho been appointed as manager in 2013?
It's easy to look back in hindsight but the point is that we have Jose with us now. It's been well-documented that he wanted to go back to Chelsea that summer so I'm not even sure he was an option for the board. But as I say we can't look back, we've just got to look forward. I definitely think we're going in the right direction under this manager.
Do you think the current United side is capable of winning the Premier League?
We won't give up on the goal we've set of winning the league; we're still focused on that objective. But it's also true that the competition is high, which makes it a very interesting season for football fans.
While there are a number of teams some points ahead of us, we've also seen every top team lose matches. When teams are taking points off each other like this, all you need to do is focus on your own game. The manager and the players will definitely be doing that.
How different do you think the Premier League is now from your playing days?
It's definitely become a quicker league since when I was playing. While it's still physical, you have to be more athletic and dynamic. It was going in that direction when I was playing, with more foreign players and coaches in the league.
Now we have some of the very best coaches here, all of whom have won league titles elsewhere, which makes it a more exciting league than ever, At 'I Love United', we'll be watching United v Spurs, who have a top manager in Mauricio Pochetino, who played for Argentina but was impressive as a coach in Spain, as well as his time with Southampton and Tottenham.
You are one of the most prominent footballers in South Africa's history. How would you rate Bafana Bafana's progress in recent years? Do you see them qualifying for the 2018 World Cup?
The first thing to say about South African football today is you have to look at Mamelodi Sundowns recently winning the African Champions League. That's an important sign of progress, but I accept you're always measured by the success of your national team.
We have some players playing abroad, but I do believe some more needs to happen at a national team level; that includes simple things like improving the organization, preparation and professionalism.
You have been to India before. What do you have to say about the state of football in the country?
The passion for football keeps growing here, you can see the difference each time you come. It's amazing to see. The ISL is becoming more popular but if you look at all levels of the game there appears to be popularity around the country. The important thing is that children are playing football, and are being encouraged to participate.
One of my abiding memories of India was looking out of the car window on my way from the airport watching children playing cricket in the street at 5.30 in the morning. I thought to myself imagine what it would be like if these kids were playing football and I'm confident that one day this will happen. We hosted the 3v3 tournament for the Mumbai event and will be doing this again for Kolkata; the skills and enthusiasm of youngsters is there for all to see!
Manchester United boast of a very strong fan-base in India. Can we expect the club to tour India for pre-season friendlies in the near future?
I'm not the best person to talk about the club's plans for pre-season friendlies, but India is clearly a very important country to Manchester United. We have 35 million followers in India - which is a very impressive figure, but having been to India on many occasions this scale of support for United is not a surprise to me.
At the last two 'I love United' events, our Indian fans created some great atmospheres. I was at Bangalore in January which was an experience I will never forget. A few weeks later Denis Irwin, David May and Louis Saha were in Mumbai and told me they couldn't believe the buzz they had experienced there. So it's a pleasure for myself, Dwight Yorke and Bojan Djordjic to be back, this time giving fans in Kolkata the chance to come face to face with Manchester United.
Fans can look forward to so much; a 3v3 tournament where fans have the chance to test their skills with the ultimate prize on offer; the trip of a lifetime to a United match at Old Trafford. This tournament will kick off in style; fans can look forward to a legends 3v3, where I will be playing with Dwight and Bojan in a head to head with three legends from East Bengal!
Finally, who would you say are the three best players in the world at the moment?
Lionel Messi, Cristiano Ronaldo and Neymar. Those three are on another level. It's great to see Paul Pogba on the (Ballon d'Or) shortlist and I'm sure one day he will be at that level too.