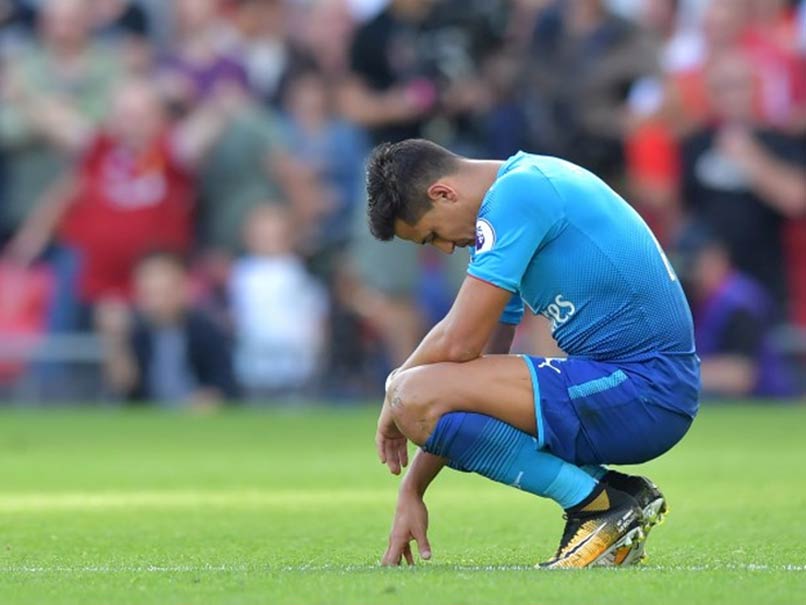 Alexis Sanchez reacts during Arsenal's match against Liverpool at Anfield.
© AFP
It's just been three games into the 2017-18 Premier League season and Arsenal already seem to be in a crisis. The London club received a sound thrashing on Sunday at the hands of rivals Liverpool at Anfield. This was Arsenal's second loss this season, following their 0-1 defeat to Stoke City. On Sunday, Arsenal were not just defeated 0-4 but completely humiliated by a Liverpool team that had played a Champions League qualification match mid-week. The loss means the Londoners languish in 16th place in the standings with just one point.
Football pundits put Arsenal players to the sword and on Monday, it was the turn of twitterati to mock the team and its supporters.
One decision that angered even Arsenal fans was manager Arsene Wenger's move to leave new signing Alexandre Lacazette on the bench.
Arsenal thought they signed a player Lacazette vs the Lacassette a player that Olympic Lyon sold to them. pic.twitter.com/zBlRHg7uuG

— Becos I'm Happy???? (@IamCreammay) August 28, 2017
Arsenal fans after 1st game of the season vs #Arsenal fans after 2nd game of the season vs Arsenal fans after 3rd game of the season... pic.twitter.com/zR8OoWd5Ix

— Alan Brazil (@SportsBreakfast) August 28, 2017
Any excuse to watch this again... Oh Arsenalpic.twitter.com/enlNyZYF1W

— Patrick Ekuwem (@rickierhymes) August 27, 2017
Somebody said Arsenal fans will make heaven because they have been through Fire, Hell & Heartbreak for supporting Arsenal while on earth ?????? pic.twitter.com/k1M4xscxzj

— #9jaWitches ?????? (@badgalmaddie_) August 28, 2017
Me: Did you watch the game yesterday?

Arsenal fans: pic.twitter.com/13cyLrCDEP

— Nav Bhogal (@NavBhogal_) August 28, 2017
Arsenal Football Club

2004: Invincible

2017: Invisible

— MANE LIKE SALAH (@TCharis_DRO) August 28, 2017
After Juventus' change of club logo, Arsenal decided to also make a change. A morale-boosting one for the players & fans #mondaymotivation pic.twitter.com/NH7C7H5Qi2

— Suz Of Humour ?? (@f1rstlayD) August 28, 2017
If u have been an Arsenal fan For At Least 5 Years, clap for yourself ?? ??
U have passed the faithfulness test..
You are free to cheat now

— ???? (@_PLICE) August 27, 2017
Signing Ronaldo or Messi won't solve Arsenal problems. It's deeper than that. Wake up

— Osman (@OsmanZtheGooner) August 28, 2017
Arsenal's defeat, their second in succession, exhibited failings that have become endemic under Wenger.
Defensive disorganisation allowed Liverpool to take control of the game and Arsenal's over-eagerness to get back into the match left them hopelessly exposed on the counter-attack.
It surely was not a good to be an Arsenal supporter, and rival fans didn't hold back to rub salt on their wounds.