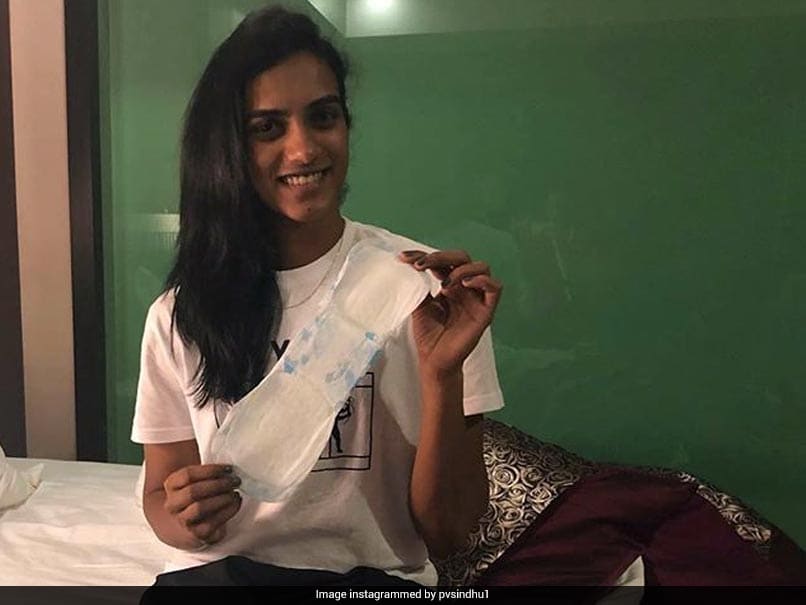 PV Sindhu joined the PadMan challenge on Monday by posing with a sanitary pad.
© Instagram
India's star shuttler PV Sindhu joined the PadMan challenge on Monday by posing with a sanitary pad and said that periods are normal and it is just another day. A lot of celebrities took up the #PadManChallenge which was a campaign started by entrepreneur Arunachalam Muruganantham, on whom the film PadMan is based. Mr Muruganantham had tagged Twinkle Khanna in his tweet. Twinkle led the challenge in Bollywood and nominated Aamir Khan and Shabana Azmi to raise awareness on menstruation and sanitation. The Akshay Kumar-starrer movie Pad Man, which is slated for release on February 9, attempts to spread awareness on menstruation and is based on the same subject.
Sindhu took to Instagram and uploaded a picture with her holding a sanitary pad and captioned the image as, "Thank you for tagging me Deepika Padukone! Yes, that's a pad in my hand. Periods are normal. Just another day...#PadManChallenge."
Sindhu, an Olympic medallist, is the first sports personality to take up the 'PadMan Challenge'. Deepika Padukone and Sindhu recently met in New Delhi during Prakash Padukone's award ceremony. Mr Padukone, an ace badminton player, was felicitated by the Badminton Association of India.
Deepika is also a badminton player like her father. Before starting a career in modelling, she used to practice the sport.
At the NDTV Indian of the Year Awards in 2014, Deepika presented The Sportsperson of the Year Award to PV Sindhu.
Also, several media reports suggested that Deepika might star in PV Sindhu's biopic, made by actor Sonu Sood.
Recently, Sindhu fell to fifth seeded Beiwen Zhang from the US in the women's singles final of the $350,000 India Open BWF World Tour Super 500 on Sunday.
The defending champion and top seed lost 18-21, 21-11, 20-22 in an hour and nine minutes to give Beiwen her "career's best moment" at the Siri Fort Sports Complex in New Delhi.