The Big Tweets On The Big Win
Celebs from various walks of life celebrate India's victory over Pakistan in Mohali. Here's what they tweet about India's superb performance…<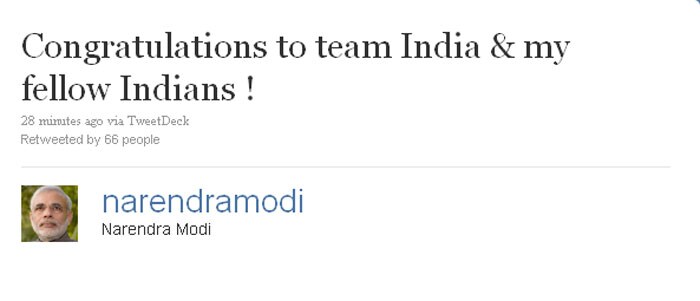 Stars, politicians, socialites all took to Twitter after India's big win. Here's what they tweeted.

Narendra Modi: Congratulations to team India & my fellow Indians !```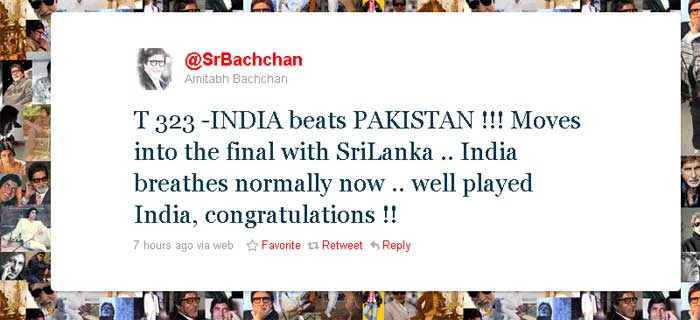 Amitabh Bachchan: T 323 - INDIA beats PAKISTAN !!! Moves into the final with SriLanka .. India breathes normally now .. well played India, congratulations !!

He later tweeted again: T 324 - On set for 'Bbuddah' ... waiting to be called for shot ... still thinking about the win last night ..and the euphoria !!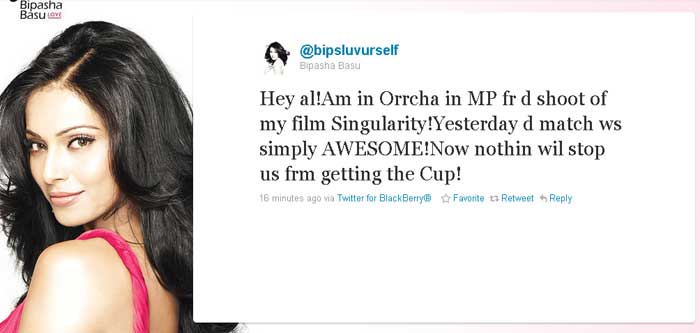 Bipasha Basu: Hey al!Am in Orrcha in MP fr d shoot of my film Singularity!Yesterday d match ws simply AWESOME!Now nothin wil stop us frm getting the Cup!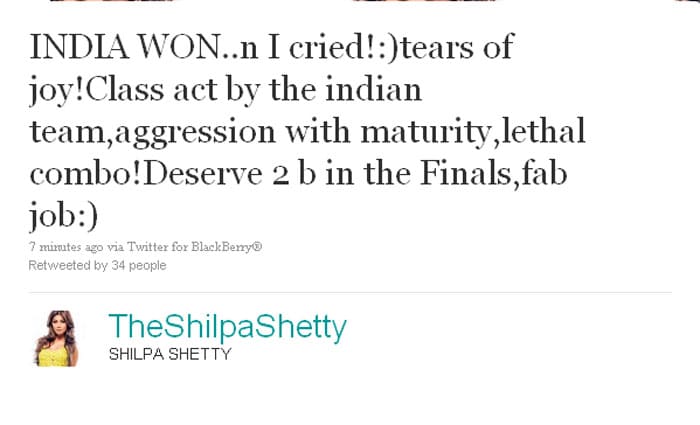 Shilpa Shetty: iNDIA WON..n I cried!:)tears of joy! Class act by the indian team, aggression with maturity, lethal combo! Deserve 2 b in the Finals,fab job:)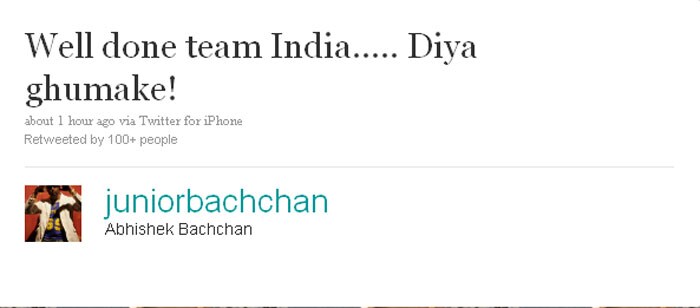 Abhishek Bachchan: Well done team India..... Diya ghumake!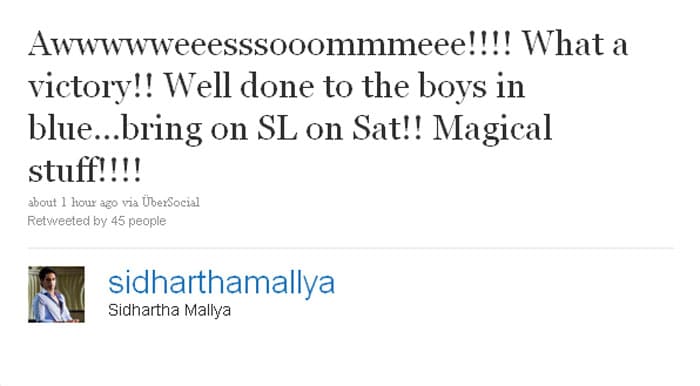 Sidhartha Mallya: Awwwwweeesssooommmeee!!!! What a victory!! Well done to the boys in blue...bring on SL on Sat!! Magical stuff!!!!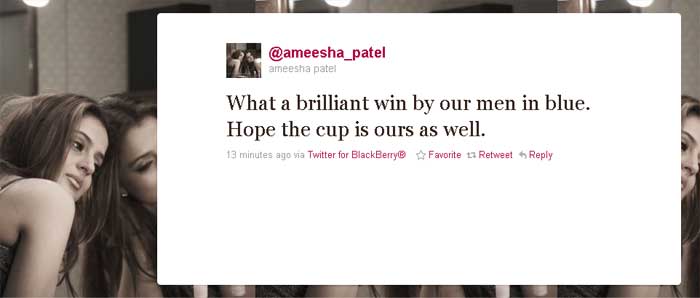 Ameesha Patel: What a brilliant win by our men in blue. Hope the cup is ours as well.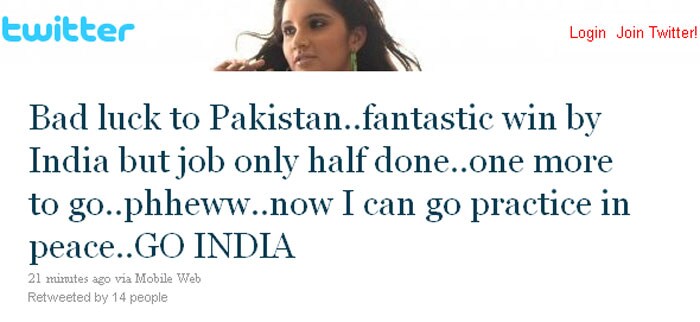 Sania Mirza: Bad luck to Pakistan..fantastic win by India but job only half done..one more to go..phheww..now I can go practice in peace..GO INDIA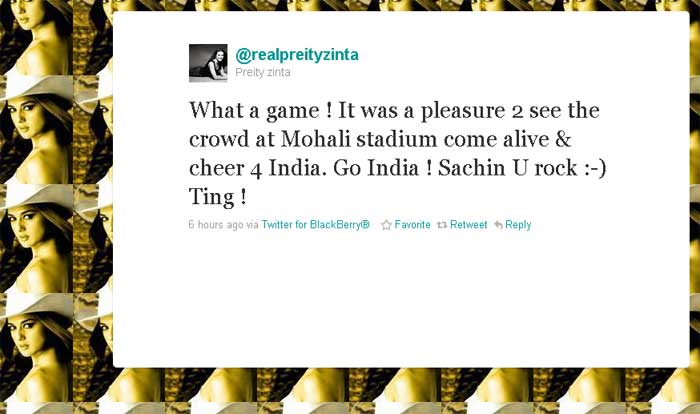 Preity Zinta: What a game ! It was a pleasure 2 see the crowd at Mohali stadium come alive & cheer 4 India. Go India ! Sachin U rock :-) Ting !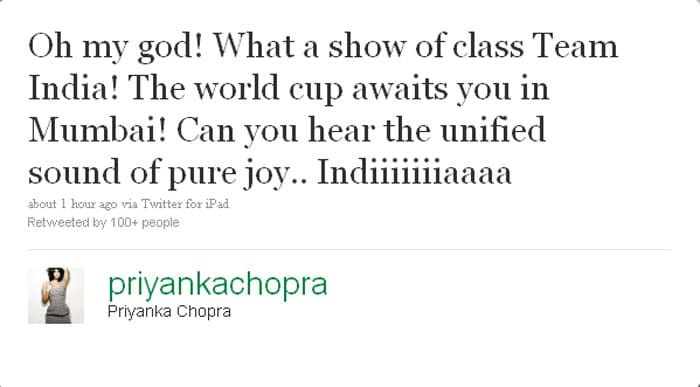 Priyanka Chopra: Oh my god! What a show of class Team India! The world cup awaits you in Mumbai! Can you hear the unified sound of pure joy.. Indiiiiiiiaaaa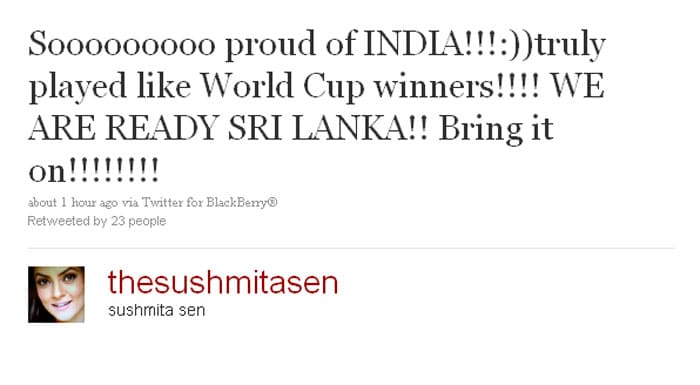 Sushmita Sen: Sooooooooo proud of INDIA!!!:))truly played like World Cup winners!!!! WE ARE READY SRI LANKA!! Bring it on!!!!!!!!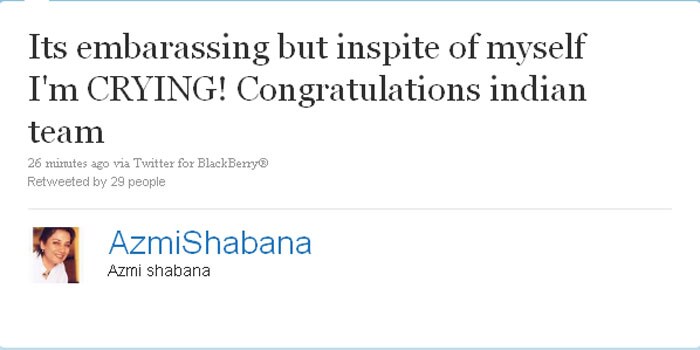 Shabana Azmi: Its embarassing but inspite of myself I'm CRYING! Congratulations indian team.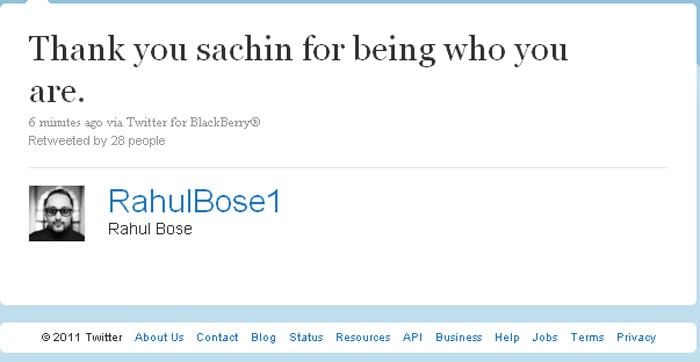 Rahul Bose: Thank you sachin for being who you are.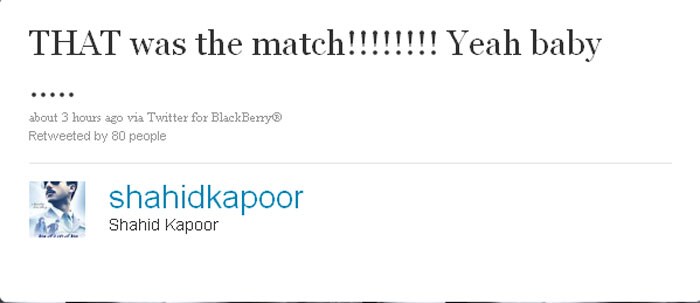 Shahid Kapoor: This is how we do it baby !!!!!!

Akshay Kumar: We are not just INCREDIBLE INDIA, We are OUTSTANDING INDIA as well:) Congrats Boyz u have put Billions of smiles across Billions of faces, more than an Actor Eva could:)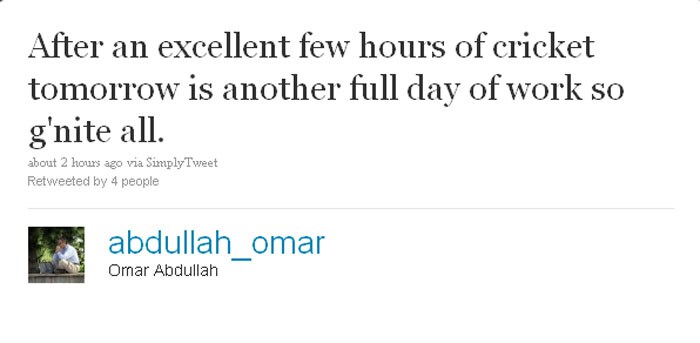 Omar Abdullah: After an excellent few hours of cricket tomorrow is another full day of work so g'nite all.
Rietesh Deshmukh: Hum jeeeeeeeeeeettttttt gayeeeeeeeeeeeMubaaaarkaaaa mubaaarkaaaaaaaa INDIA.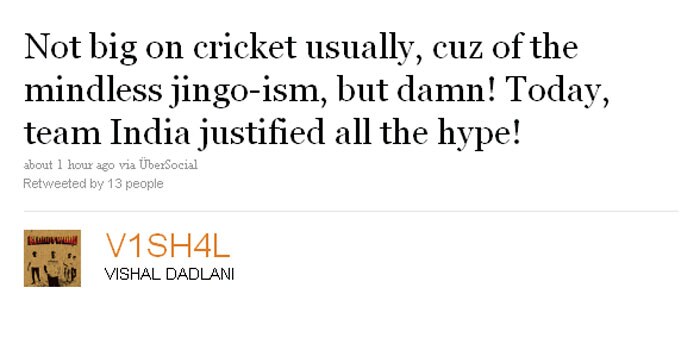 Vishal Dadlani: Not big on cricket usually, cuz of the mindless jingo-ism, but damn! Today, team India justified all the hype!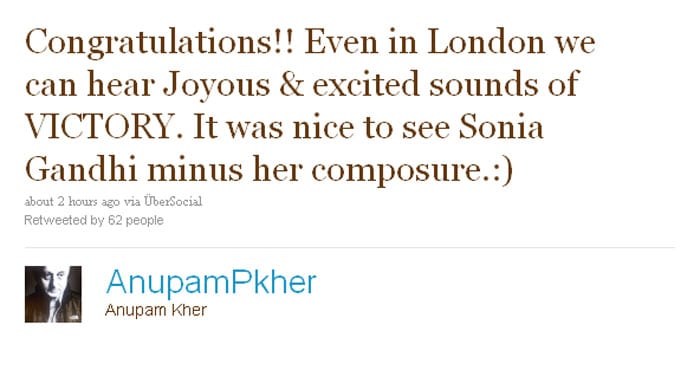 Anupam Kher : Congratulations!! Even in London we can hear Joyous & excited sounds of VICTORY. It was nice to see Sonia Gandhi minus her composure.:)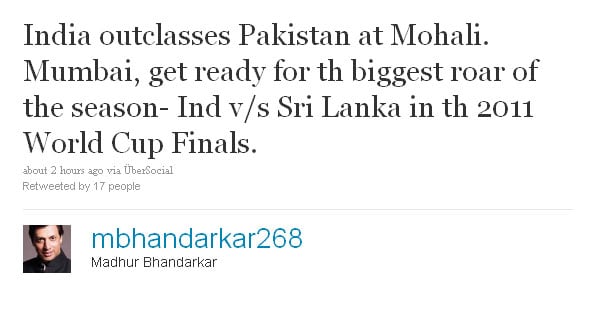 Madhur Bhandarkar: India outclasses Pakistan at Mohali. Mumbai, get ready for th biggest roar of the season- Ind v/s Sri Lanka in th 2011 World Cup Finals.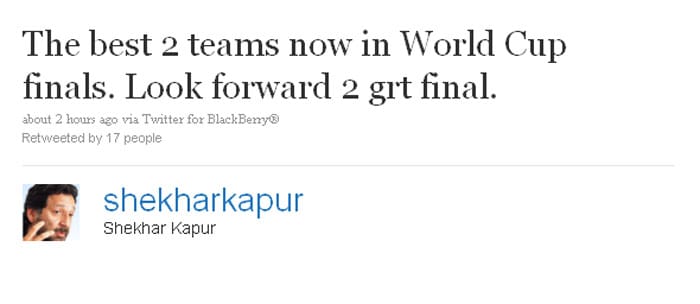 Shekhar Kapur: The best 2 teams now in World Cup finals. Look forward 2 grt final.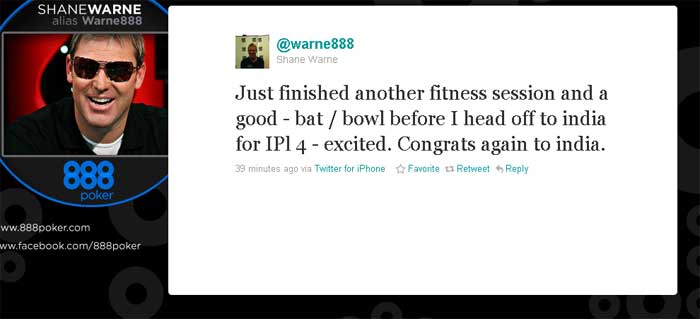 Shane Warne: Just finished another fitness session and a good - bat / bowl before I head off to india for IPl4 - excited. Congrats again to india.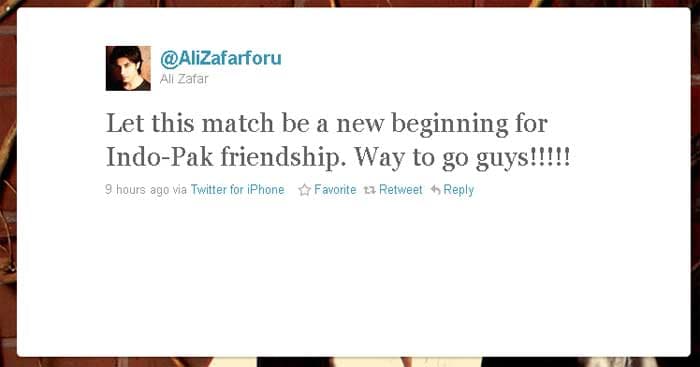 Ali Zafar: Let this match be a new beginning for Indo-Pak friendship. Way to go guys!!!!!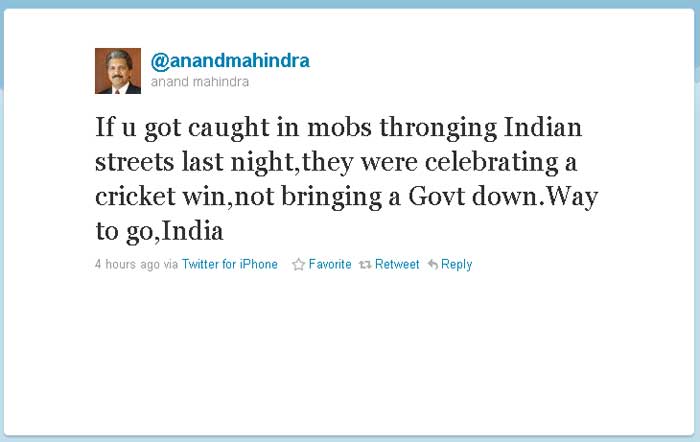 Anand Mahindra: If u got caught in mobs thronging Indian streets last night,they were celebrating a cricket win,not bringing a Govt down.Way to go,India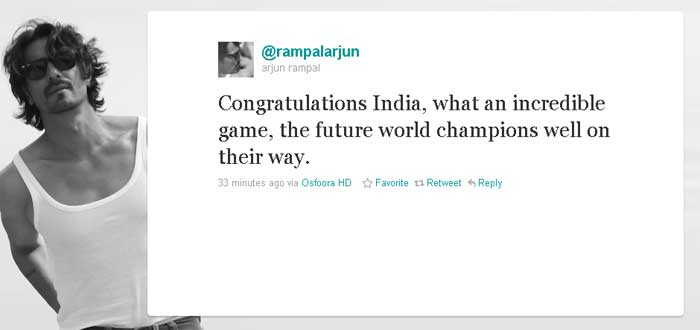 Arjun Rampal: Congratulations India, what an incredible game, the future world champions well on their way.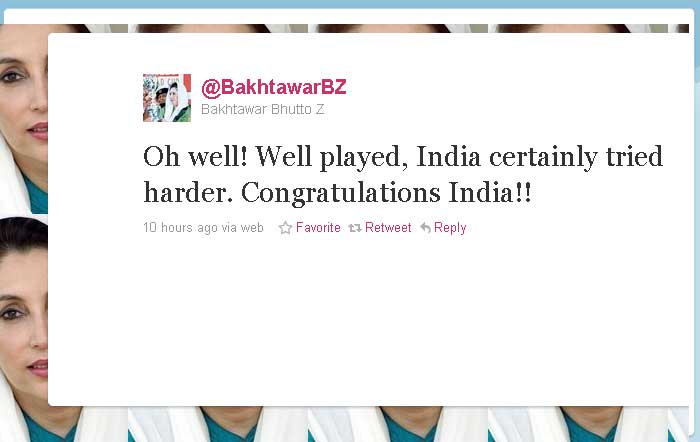 Bakhtawar Bhutto: Oh well! Well played, India certainly tried harder, Congratulations India!!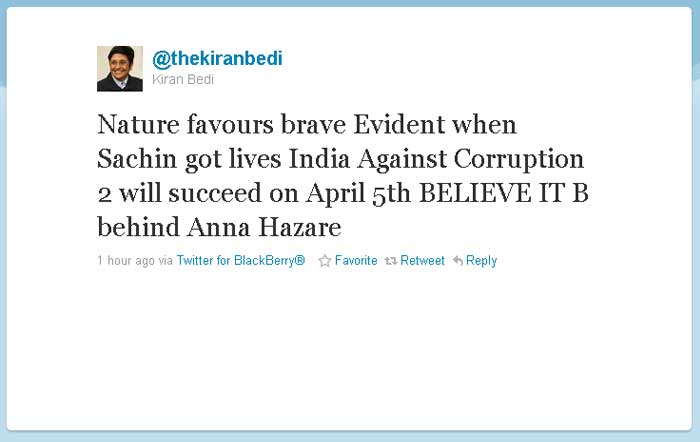 Kiran Bedi: Nature favours brave Evident when Sachin got lives India Againt Corruption 2 will succeed on Alril 5th BELIEVE IT B behind Anna Hazare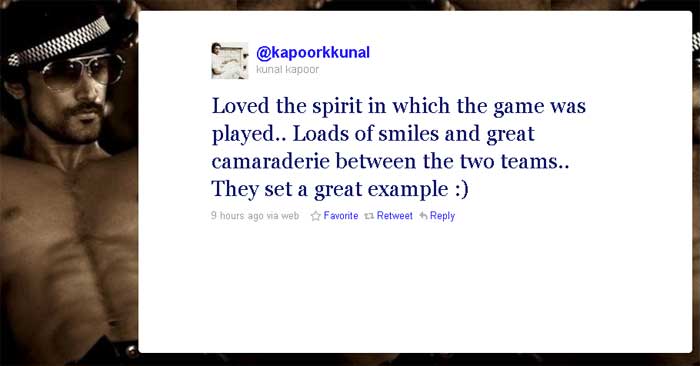 Kunal Kapoor: Loved the spirit in which the game was played.. Loads of smiles and great camaraderie between the two teams.. They set a great example :)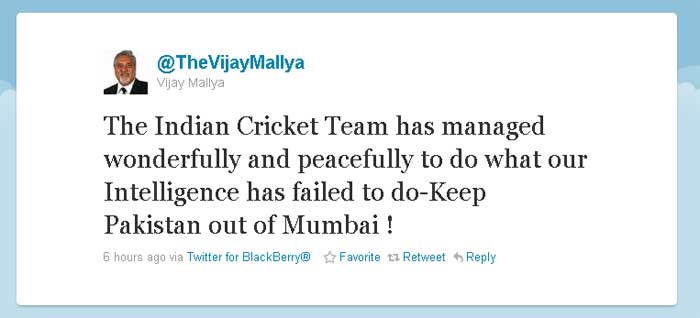 Vijay Mallya: The India Cricket Team has managed wonderfully and peacefully to do what out Intelligence has failed to do-Keep Pakistan out of Mumbai !