India vs Pakistan semi final: As the titans clash in the second semi final of World Cup 2011, here is a look at the politicians who graced the PCA stadium at Mohali.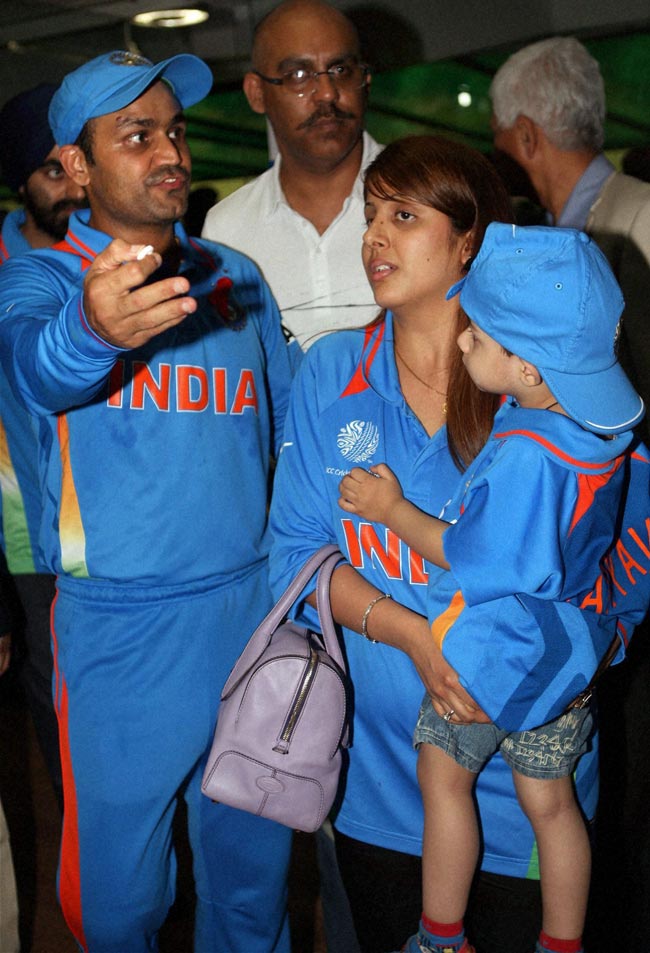 Virender Sehwag with wife Aarti and son Aryavir after the team's win over Pakistan in the World Cup 2011 semifinal match at the PCA stadium, Mohali on Wednesday night. (Photo: PTI)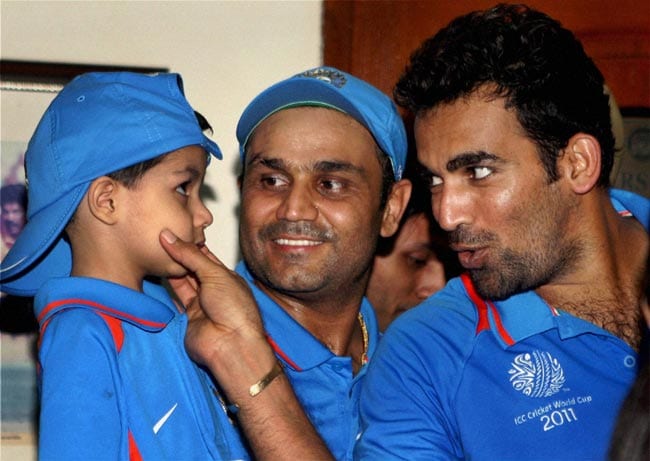 A very loved child, Aryavir is dressed to take on the cricketing world already. Here, Zaheer Khan pulls his cheeks. (Photo: PTI)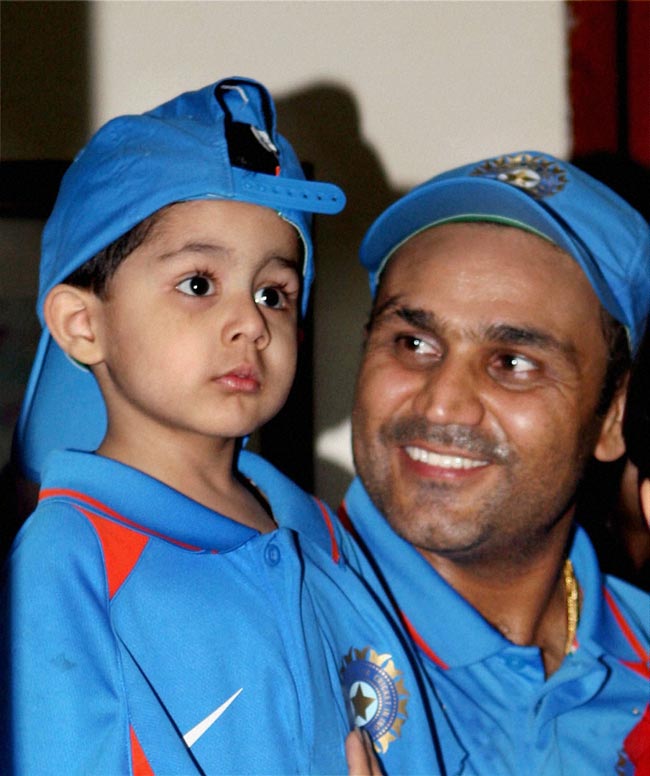 Sehwag is fascinated by his little guy. Isn't he the cutest thing ever? (Photo: PTI)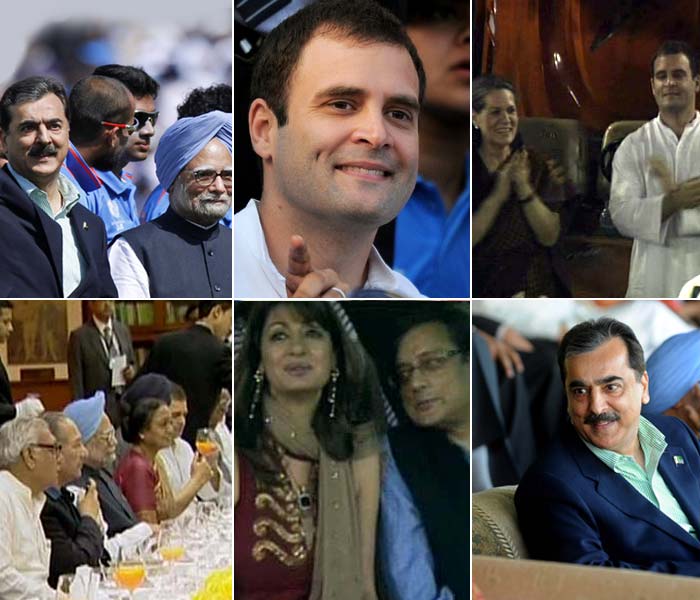 India and Pakistan, the arch rivals, had not played each other since the Mumbai terror attacks in November 2008.

Despite the strained relations, the question that everybody was asking was could sports play the healer? Well, so it seems!

Indian Prime Minister Manmohan Singh's invite to Pak Premier Yusuf Raza Gilani was called 'Aman ka chakka' by the Pak media.

So, as the titans faced each other at the World Cup semi final encounter at Mohali on Wednesday, the list of spectators included some of the biggest names from both the nations. Here is a look. (AP Photo)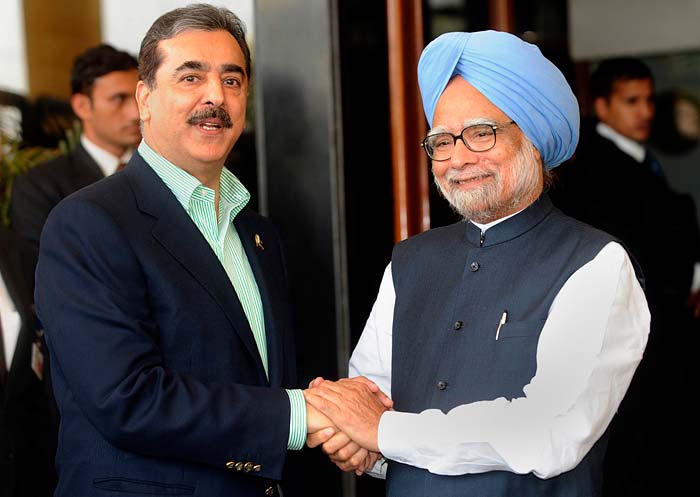 Speaking to NDTV before the match, Dr Manmohan Singh said this was a "great opportunity to take spirit of friendship forward." Mr Gilani said he was looking forward to a great game and hoped the best team won. In this pic, Yousuf Raza Gilani shakes hands with Manmohan Singh prior to the match. (AP Photo)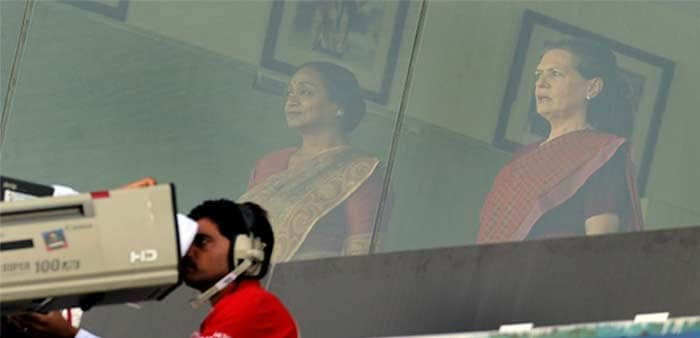 United Progress Alliance (UPA) Chairperson Sonia Gandhi (R) and Lok Sabha Speaker Meera Kumar (L) observe the national anthem from the stands prior to the start of the ICC cricket World Cup semi final match between India and Pakistan at the Punjab Cricket Association (PCA) stadium in Mohali. (AFP Photo)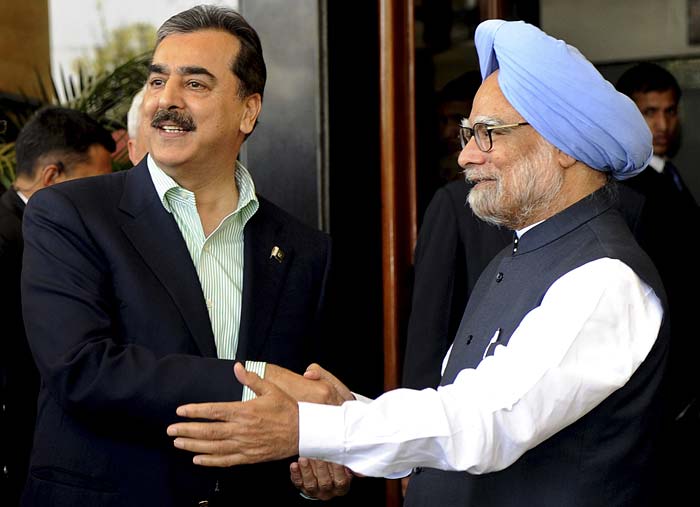 On the sidelines of the nail-biting match, Prime Minister Manmohan Singh also had a dinner meeting with his Pakistani counterpart Yousuf Raza Gilani. (AP Photo)
From stuffed meat to ghosht palak sag to shahi idly -- it was a lavish spread of North and South Indian cuisine.

For starter, the guests that included Congress President Sonia Gandhi, her son Rahul Gandhi and ICC chief and Agriculture Minister Sharad Pawar and Pakistan Interior Minister Rehman Malik had carrot soup (gajar ka shorba).
Spicy delicacies prepared by the chefs at the Taj in nearby Chandigarh included ghosht barra (stuffed meat), tandoori pink salmon, murg lazeez, ghosht palak saag, chaamp briyani, tawe ka machili(roasted fish) and Indian breads.

Vegetarian fare included subz galoti, shahi idly, kadai paneer, bindi nayantara, ghia malai kofta, subz biriyani and dal makhani.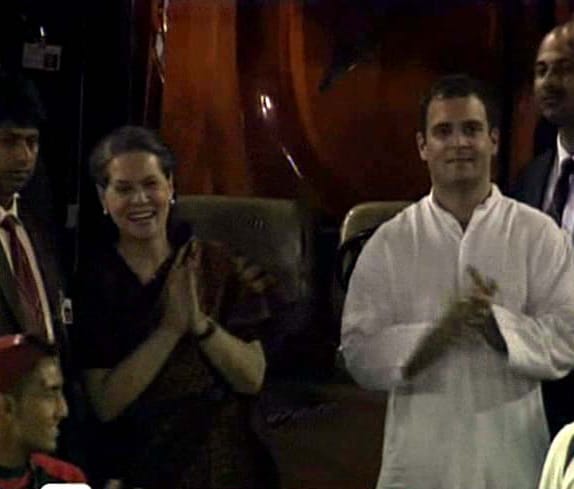 UPA chairperson Sonia Gandhi and son Rahul Gandhi cheer as team India defeat Pakistan by 29 runs in the semi final encounter of World Cup 2011.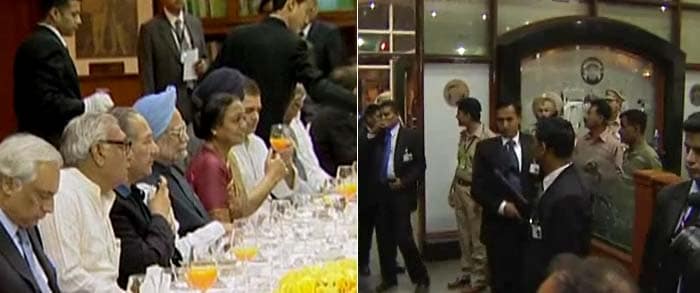 The dignitaries rounded off their dinner with apple cinnamon crumble, kesar phirni and fresh fruits. The dinner at the Club House of the Punjab Cricket Association stadium at Chandigarh saw a mixed seating of the guests with Sonia Gandhi seated in between Gilani and Rehman Malik.
Sonia Gandhi as Yusuf Raza Gilani share a lighter moment while watching the India Pakistan semi final match. (AP Photo)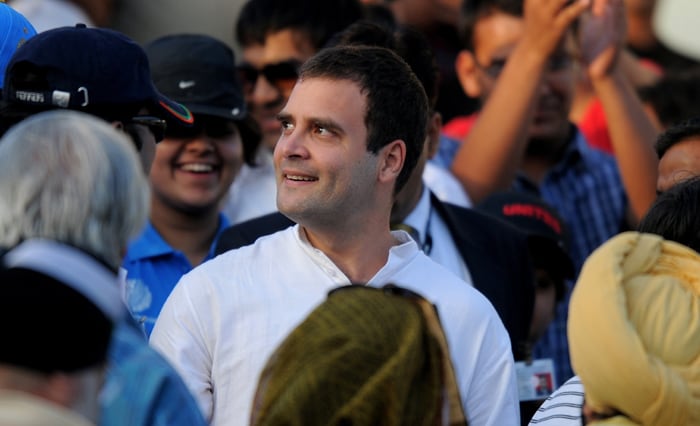 Congress Party General Secretary Rahul Gandhi watches the ICC Cricket World Cup 2011 semi-final match between India and Pakistan at Mohali. (AFP Photo)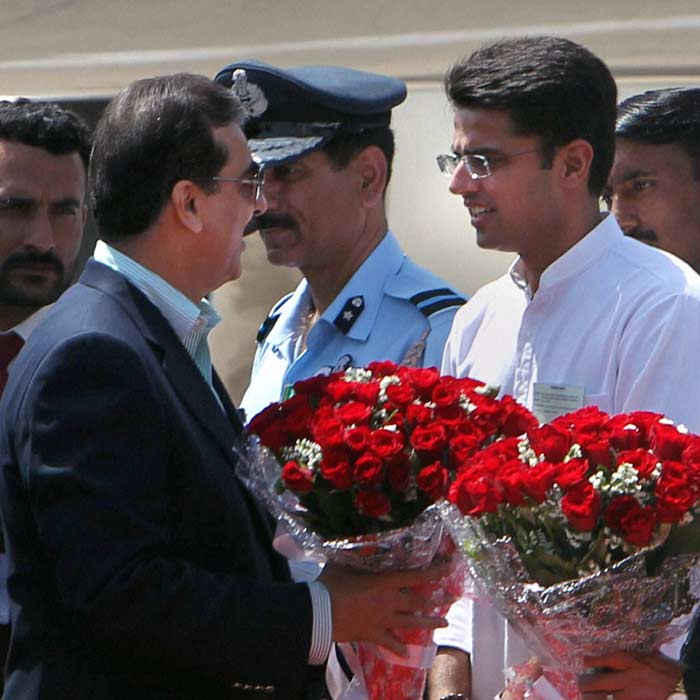 Pakistani Prime Minister Yousuf Raza Gilani being welcomed by MoS for Communications & IT Sachin Pilot after his arrival at Chandigarh Technical Airport on Wednesday. (PTI Photo)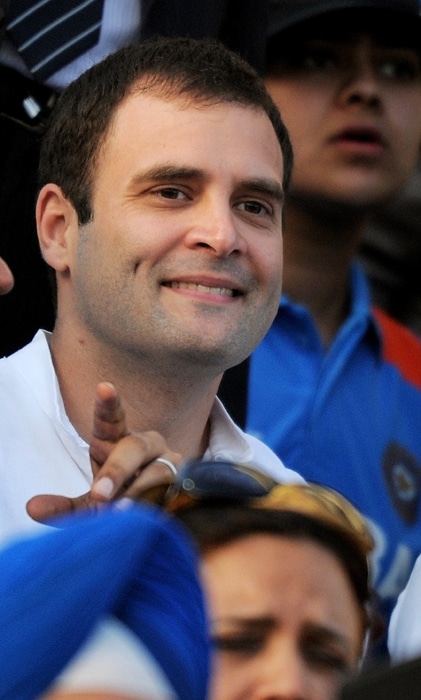 Rahul Gandhi smiles as he watches the India-Pak clash at Mohali. (AFP Photo)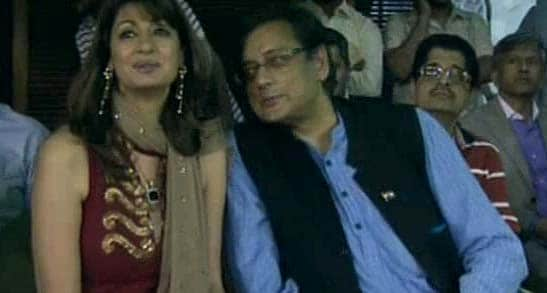 Former Minister of state for External Affairs Shashi Tharoor and wife Sunanda Pushkar Tharoor at the PCA stadium.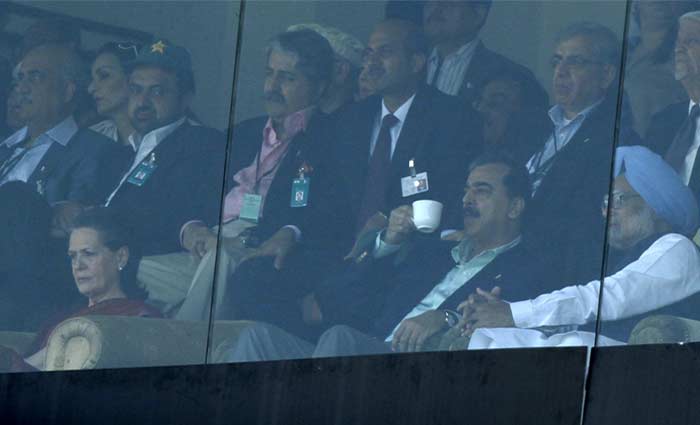 Indian Prime Minister Manmohan Singh, right, Pakistan Prime Minister Yousuf Raza Gilani, second right, and Congress Party president Sonia Gandhi, left, watch the Cricket World Cup semifinal match. (AFP Photo)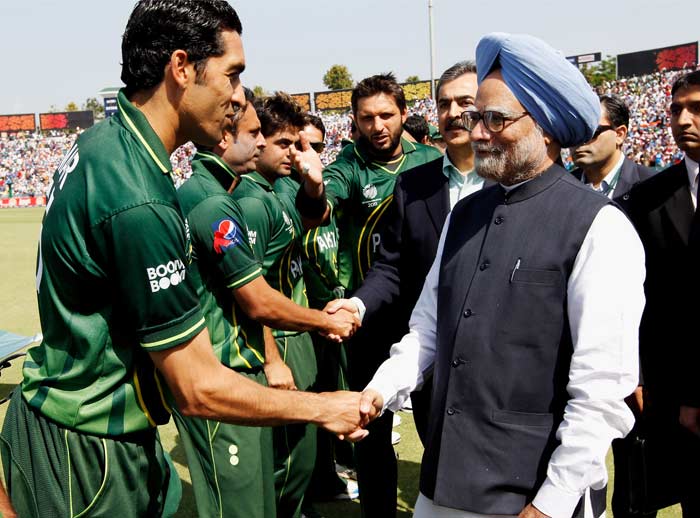 Pakistan's captain Shahid Afridi, background centre, introduces his players to Indian Prime Minister Manmohan Singh, and Pakistan Prime Minister Syed Yusuf Raza Gilani, background third right, prior to the start of the Cricket World Cup semifinal match between the arch rivals. (AP Photo)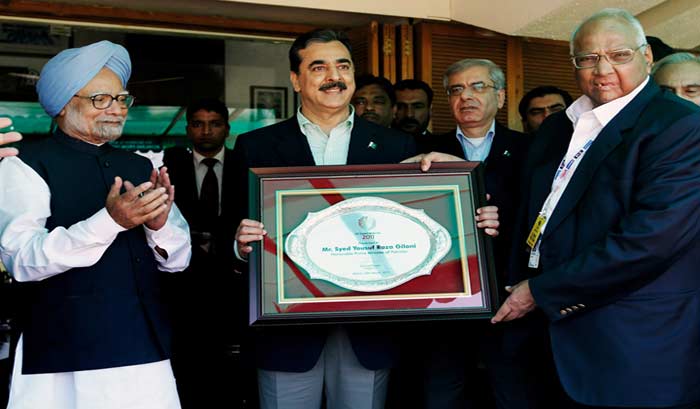 Pakistan's Prime Minister Syed Yusuf Raza Gilani is presented a memento from the International Cricket Council (ICC) by the ICC President Sharad Pawar as Indian Prime Minister Manmohan Singh applauds. (AP Photo)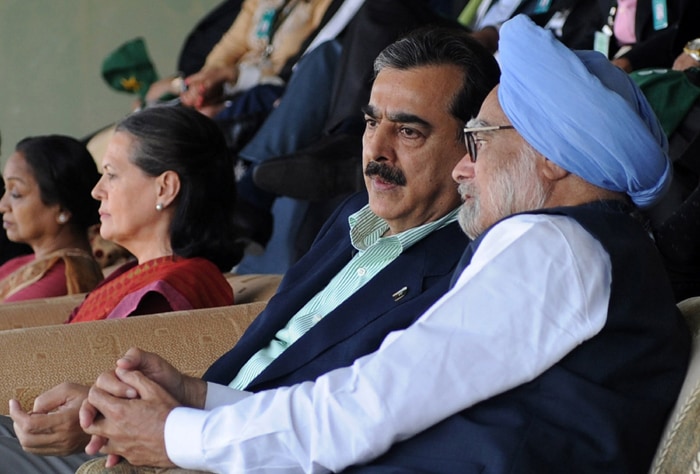 Pakistan Prime Minister Yousuf Raza Gilani speaks with Indian Prime Minister Manmohan Singh as Chairperson of India's ruling United Progressive Alliance (UPA) Sonia Gandhi watches the ICC World Cup semifinal cricket match between India and Pakistan in Mohali.

The Prime Ministers of India and Pakistan joined tens of thousands of cricket fans at the Mohali stadium to watch the key match between the arch rivals. (AP Photo)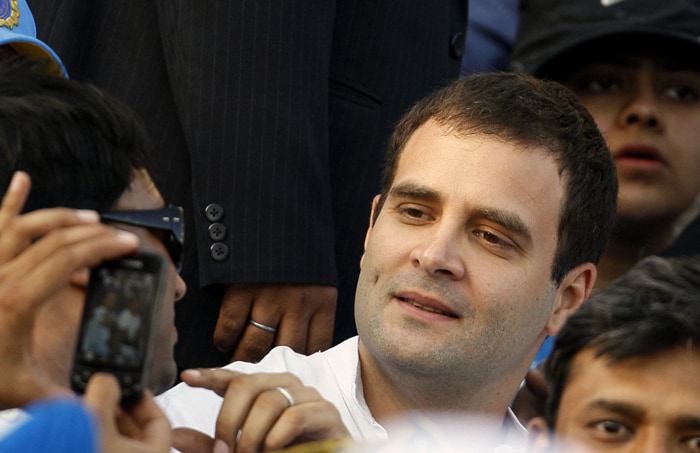 Rahul Gandhi watched the slog overs of the India innings from a non-VIP stand. (AP Photo)
Indian Prime Minister Manmohan Singh and his Pakistani counterpart stand for the National Anthems of the neighbouring countries, prior to the start of the semi final encounter. (AP Photo)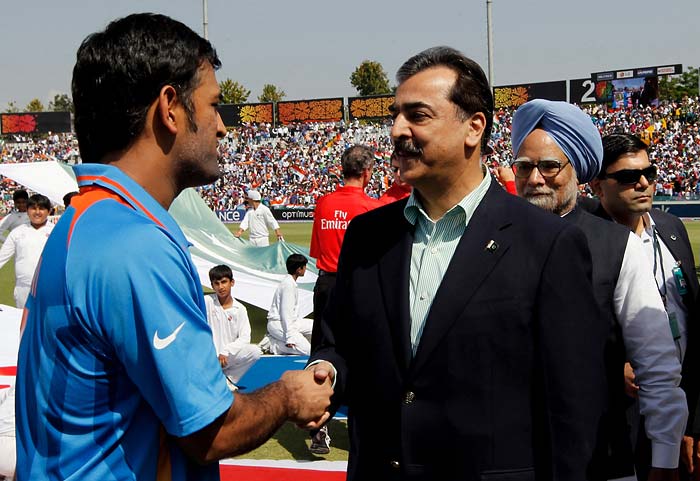 India captain Mahendra Singh Dhoni shakes hands with Pakistan's Prime Minister Syed Yusuf Raza Gilani. (AP Photo)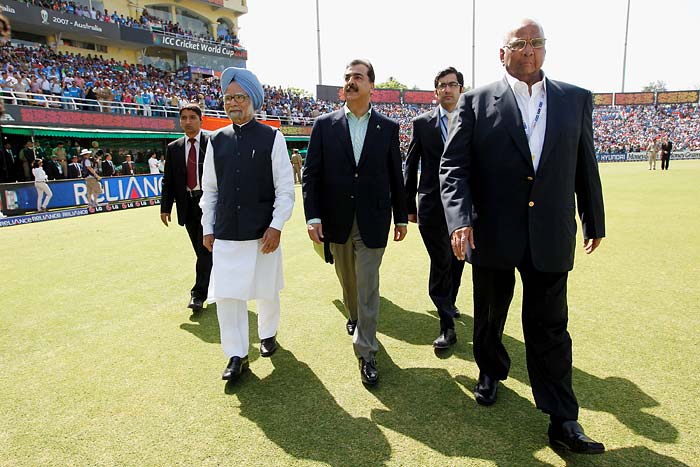 Yousuf Raza Gilani walks next to the Indian Prime Minister to greet the teams. (AP Photo)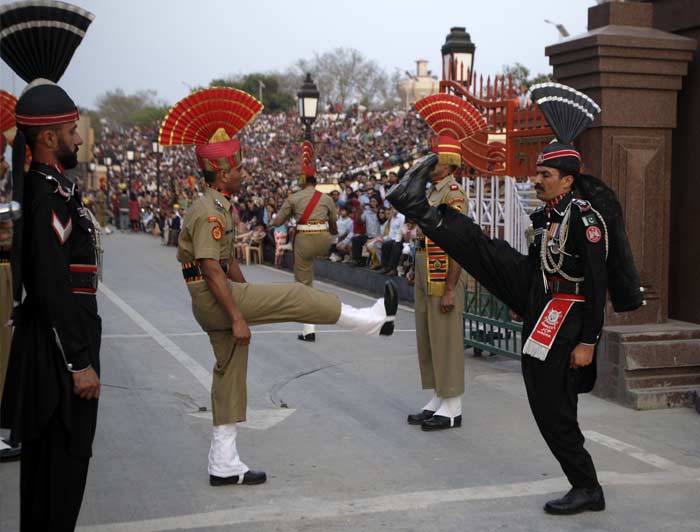 Indian Border Security Force soldiers and Pakistani Rangers, in black, are face-to-face during the daily retreat ceremony on the Pakistan-India border at Wagah near Lahore, Pakistan one day before the much-anticipated India Pakistan clash. (AP Photo)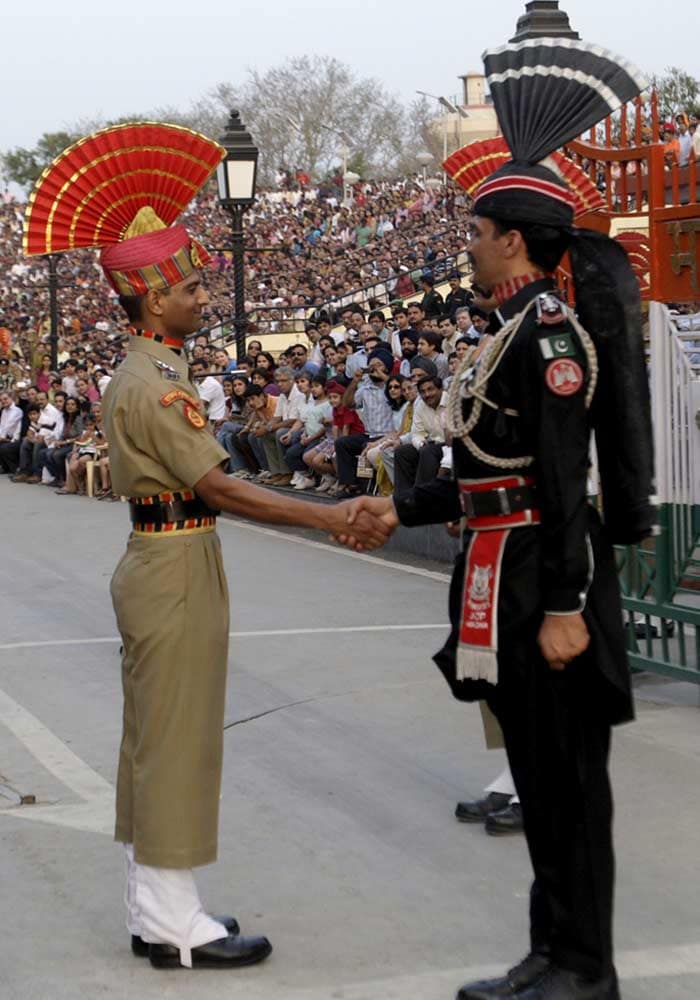 An Indian Border Security Force soldier and Pakistani Ranger, in black, shake hands during the daily retreat ceremony on the Pakistan-India border at Wagah near Lahore, Pakistan. (AP Photo)