Hopes rise, Tweets inspire
Twitter is ablaze with Celebs lending their support.

Dhoni, Dhoni- that's all that's on Omar's mind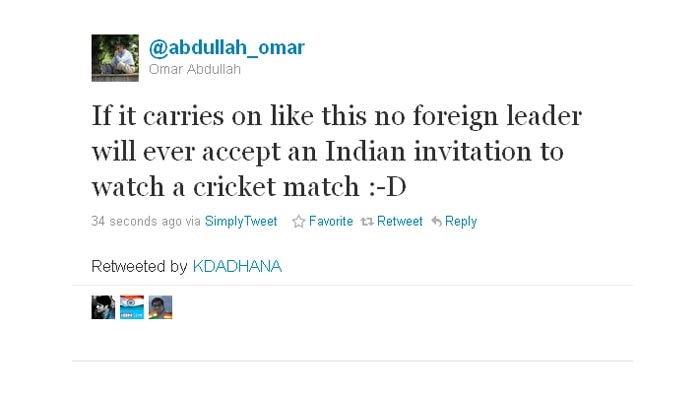 Yet again, Omar Abdullah gets serious.

Vivek Oberoi cheers for Yuvi!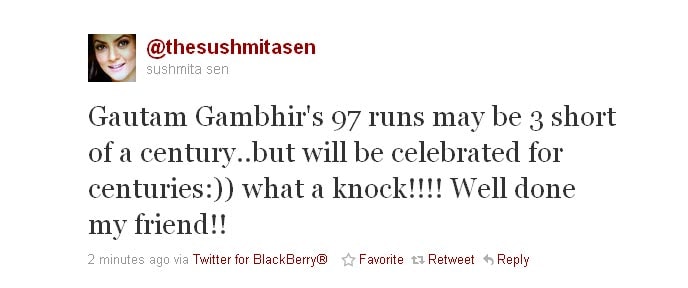 Sushmita can't help but bring a storm on Twitter.
Dia Mirza thanks Gambhir for the awesome run.

Sushmita expresses happiness in true Indian style.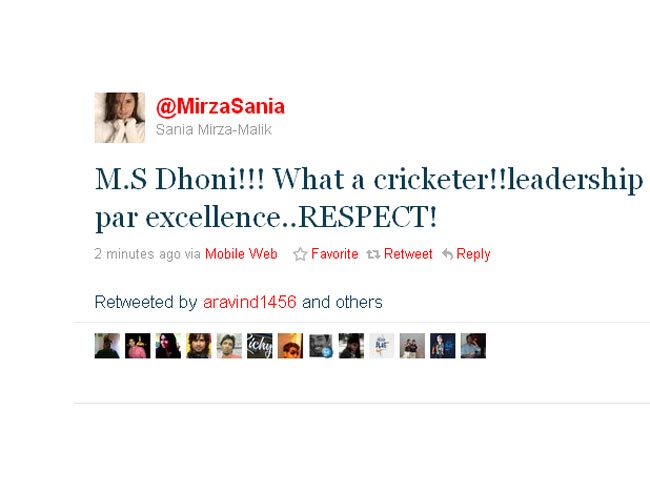 Sania Mirza expresses her respect for Dhoni.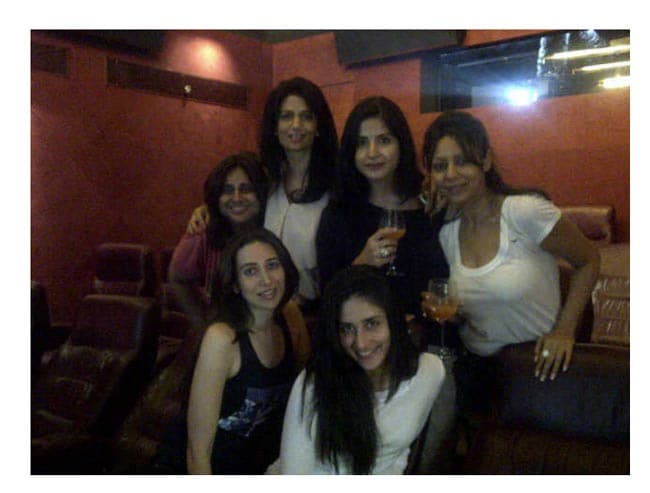 Rhea Pillai tweets a pic of her with Kareena, Karisma, Gauri, Maheep Kapoor and Kajal Anand. Seems like they are having a lot of fun watching the match at Mannat!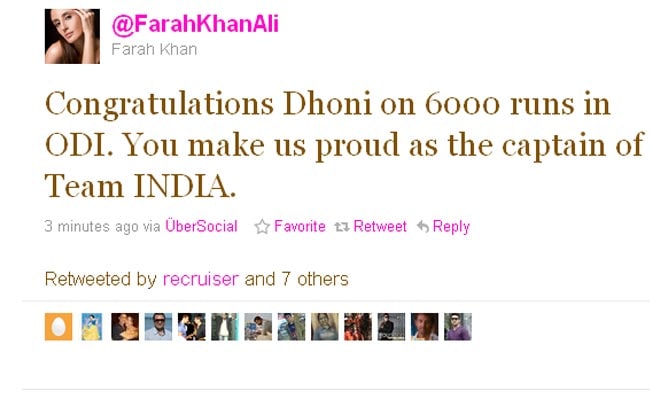 Farah congratulates Dhoni.

Arbaaz is up for cracking a few jokes.
Mahesh Bhatt is already celebrating.
Arbaaz should get his loyalties right.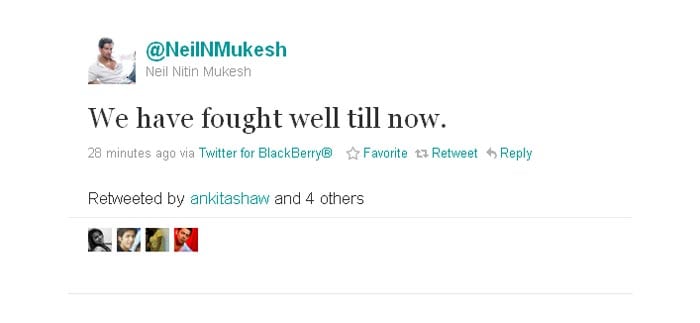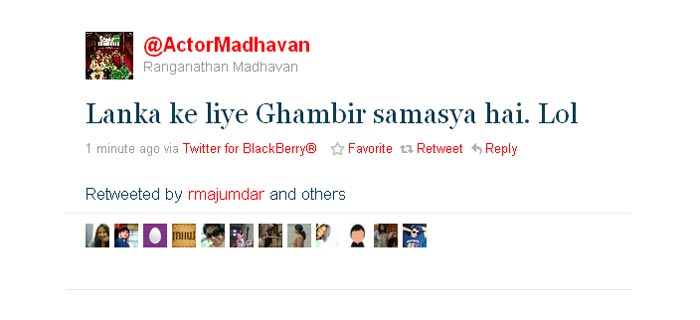 Madhavan's humour is back.
Abhishek Bachchan displays undying love for the nation.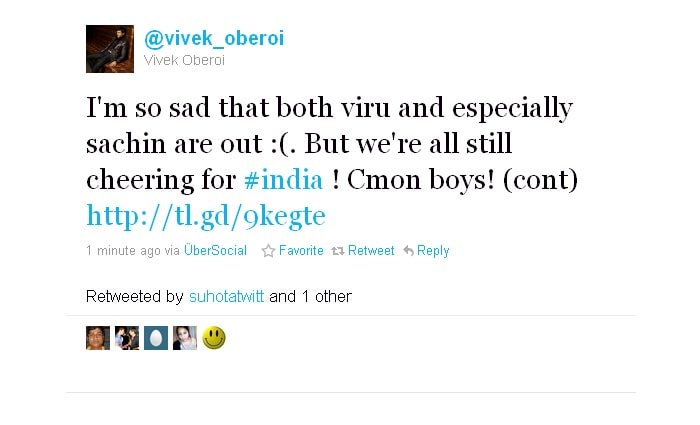 Vivek Oberoi still cheers for his team.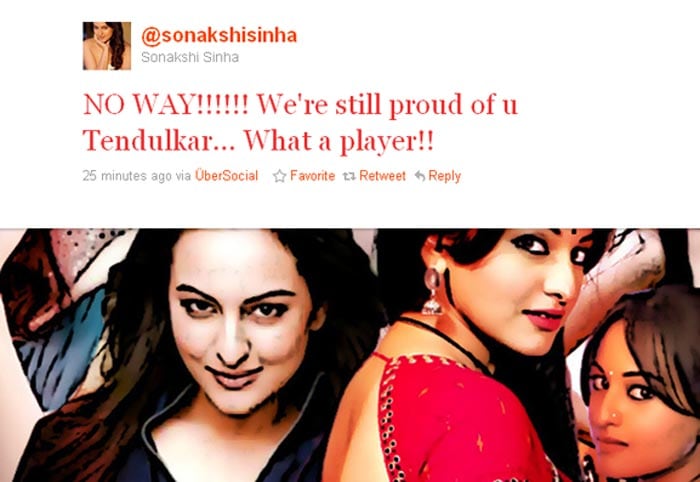 Sonakshi is a true Tendulkar fan.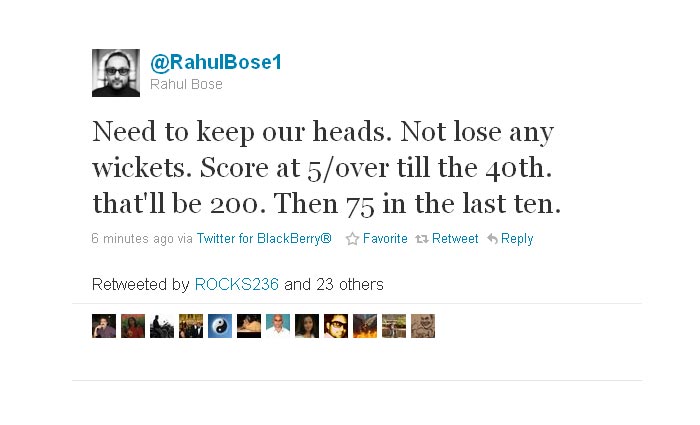 There's a responsible head on Rahul's shoulders.
Farah Khan Ali keeps things positive.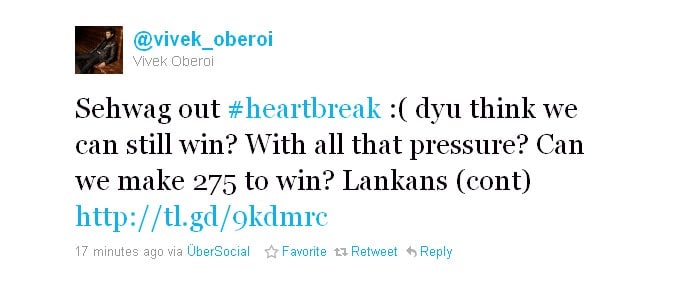 Vivek Oberoi wants some answers.

Madhavan's patriotism is unconditional.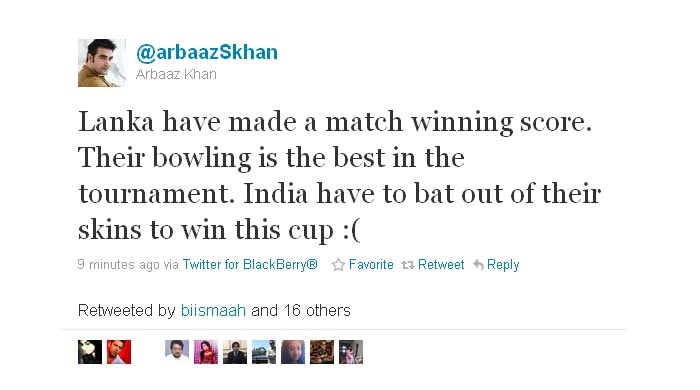 Arbaaz Khan takes time off to assess the situation.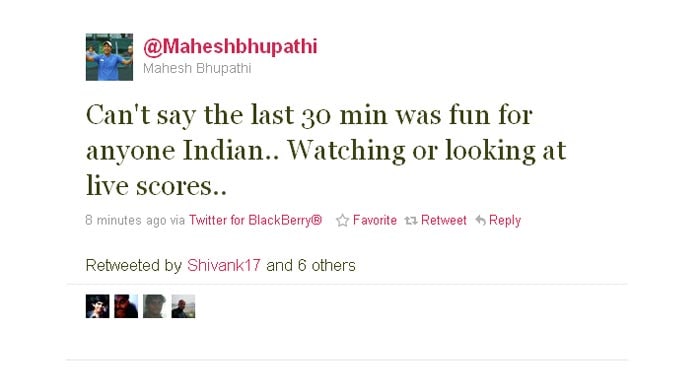 Mahesh Bhupathi's rather dismal review.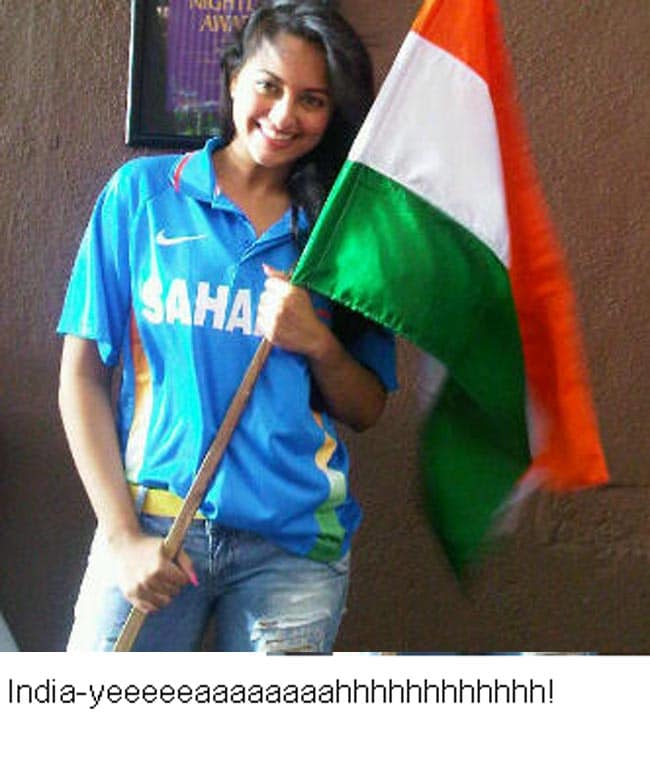 Sonakshi posted a Twitpic wearing the Blue jersey.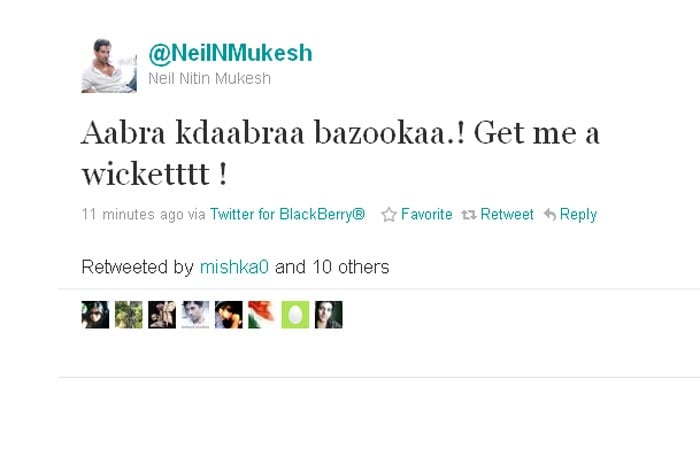 Neil Nitin Mukesh gets creative with his tweets.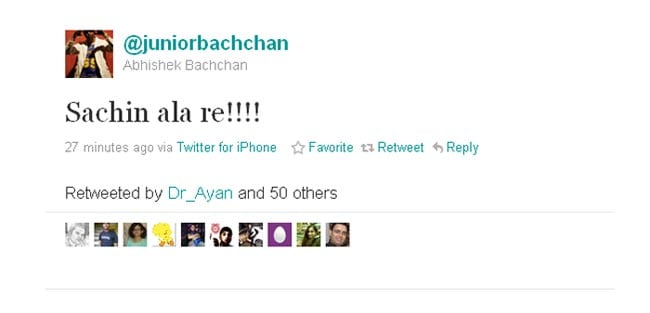 Abhishek's favourite boy is Sachin.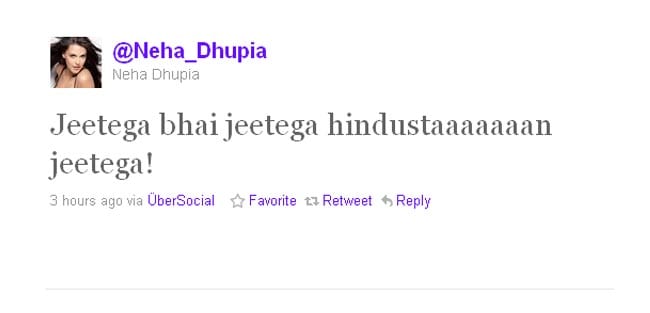 Neha Dhupia is a true cheerleader.

Madhavan has a Tanu Weds Manu joke up his sleeve.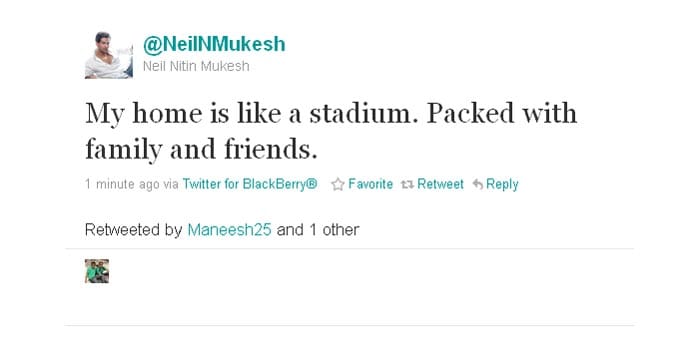 Neil Nitin Mukesh is having the time of his life.

Birthday boy Ajay Devgn has a wish of his own.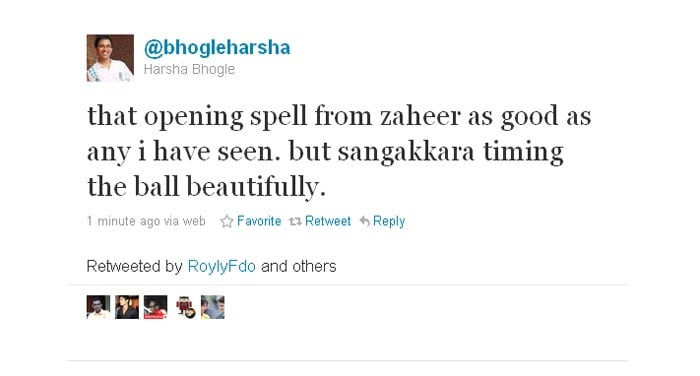 Listen to the expert- Harsha Bhogle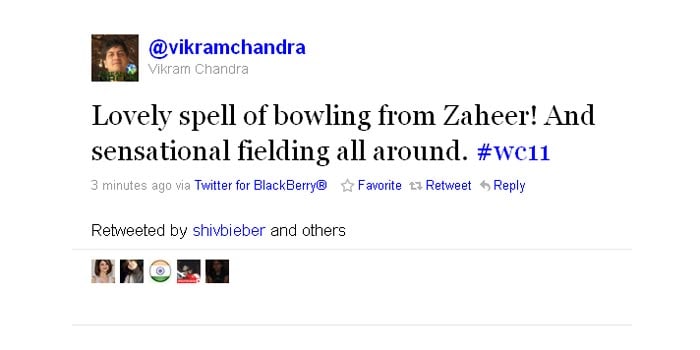 Vikram Chandra gives regular updates and opinions.
Abhishek shows enthusiasm like none other.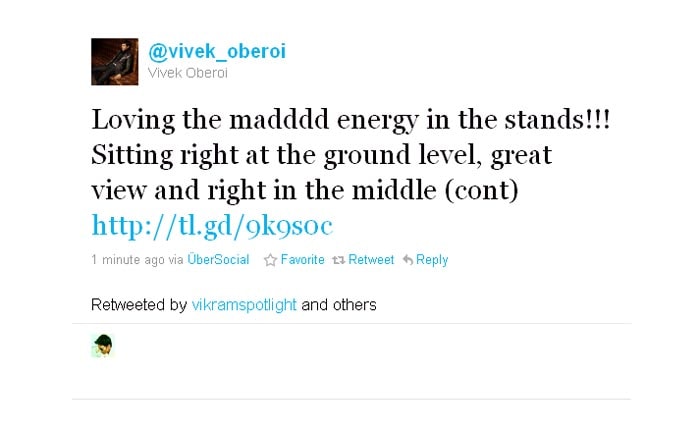 Vivek, right in the middle of things, is loving every minute of it.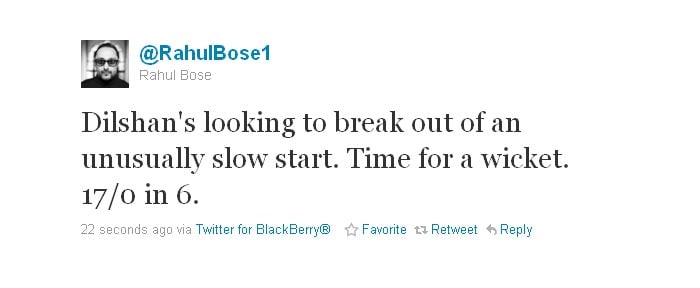 Rahul Bose's prediction came true.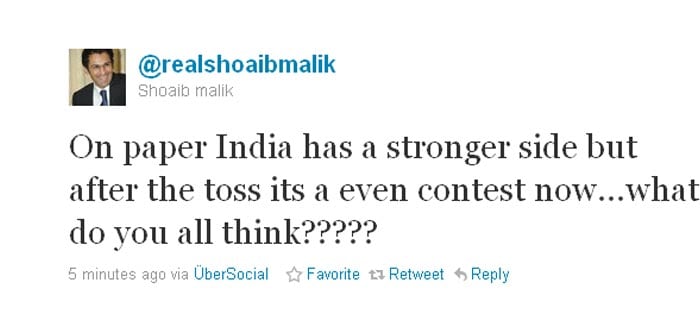 Shoaib, a cricketer himself, gives his opinion.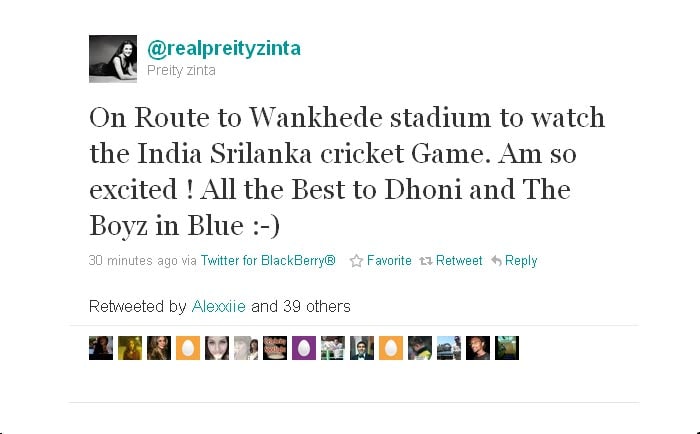 Preity is on her way to watch the action live.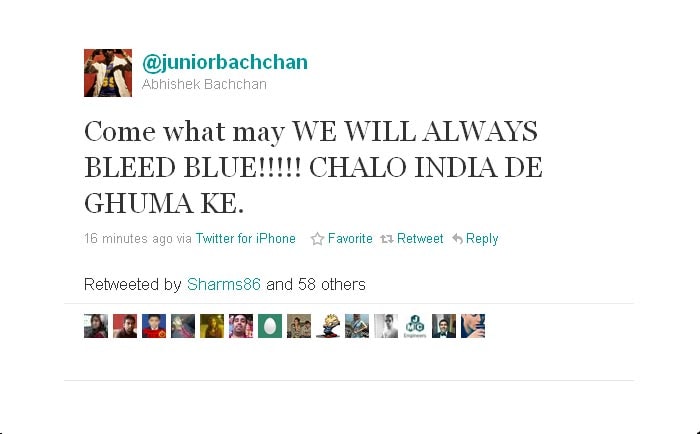 Abhishek Bachchan expresses strong sentiments and undying support.
Shoaib Malik wishes he could be in the middle of things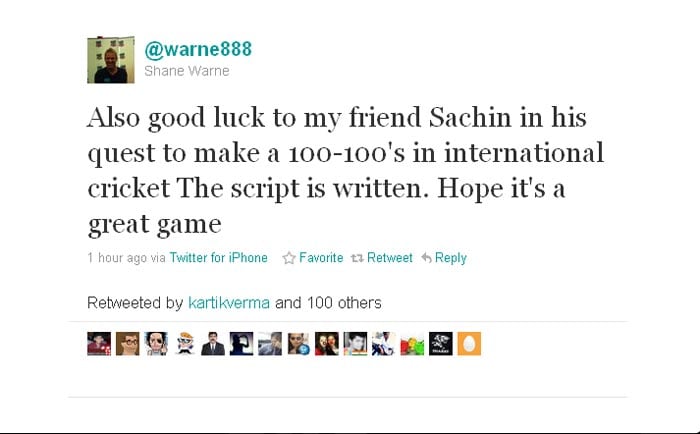 Shane Warne wishes Sachin luck, just like everyone else.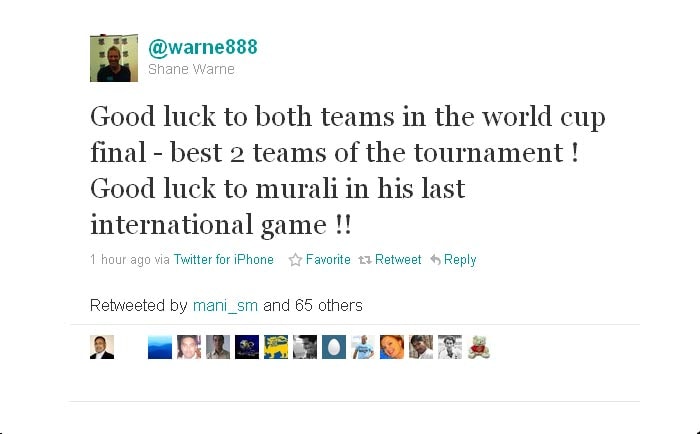 Shane also wishes Muralitharan luck in his last international game.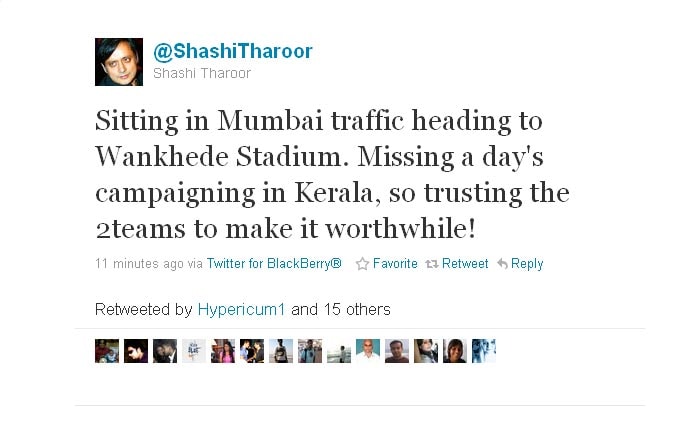 Shashi Tharoor tells us his plans for the day. It's all about the big game!
Chetan Bhagat is really using the chutney metaphor to its fullest.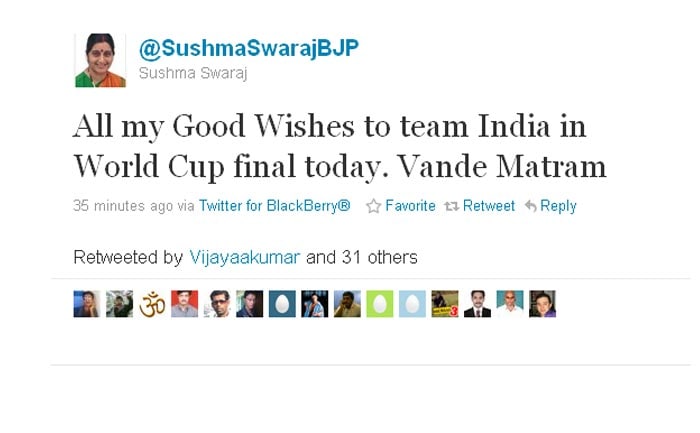 Sushma Swaraj exemplifies composed patriotism with her tweet.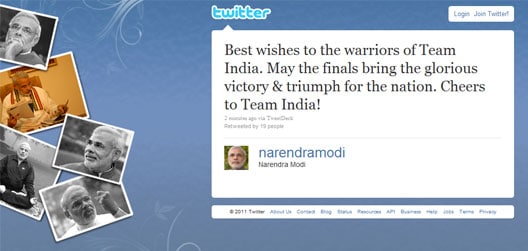 Gujarat Chief Minister Narendra Modi tweeted: "Best wishes to the warriors of Team India. May the finals bring the glorious victory & triumph for the nation. Cheers to Team India!"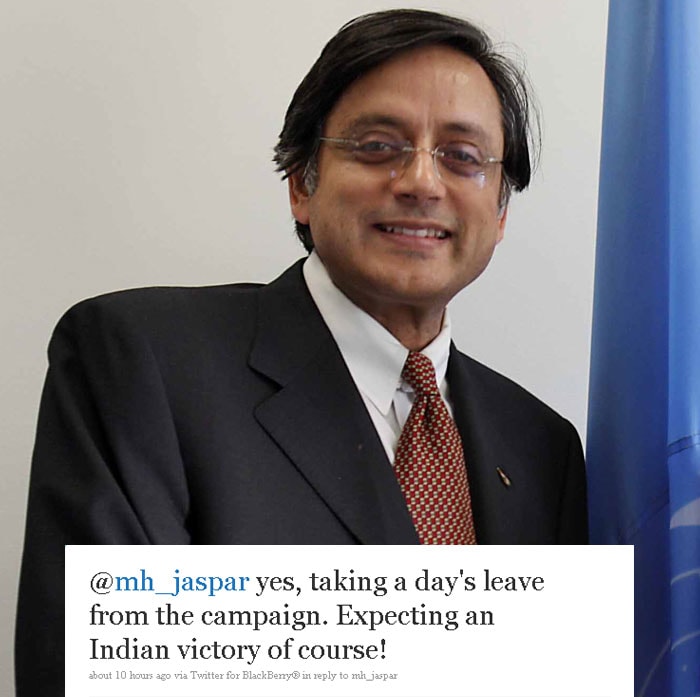 Shashi Tharoor is all for Team India.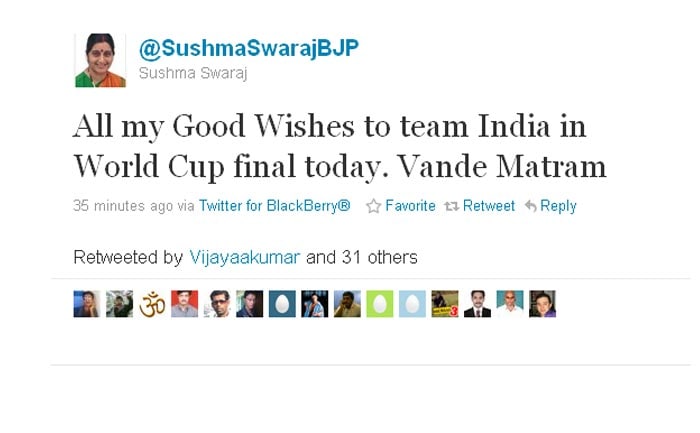 Sushma Swaraj: All my Good Wishes to team India in World Cup final today. Vande Matram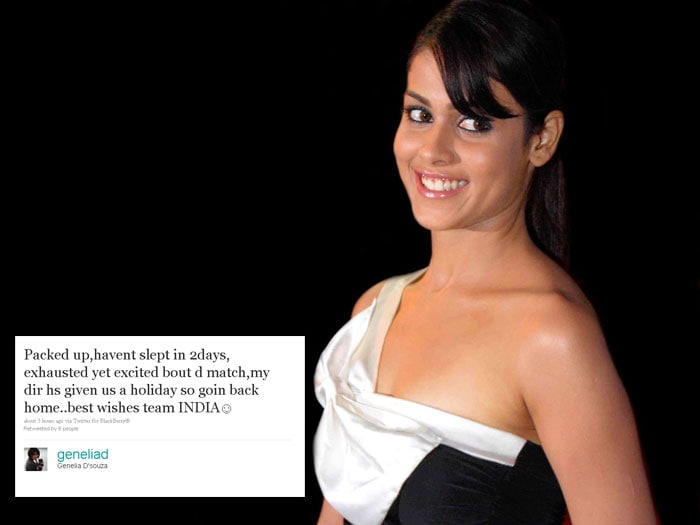 Genelia D'Souza's best wishes for Team India.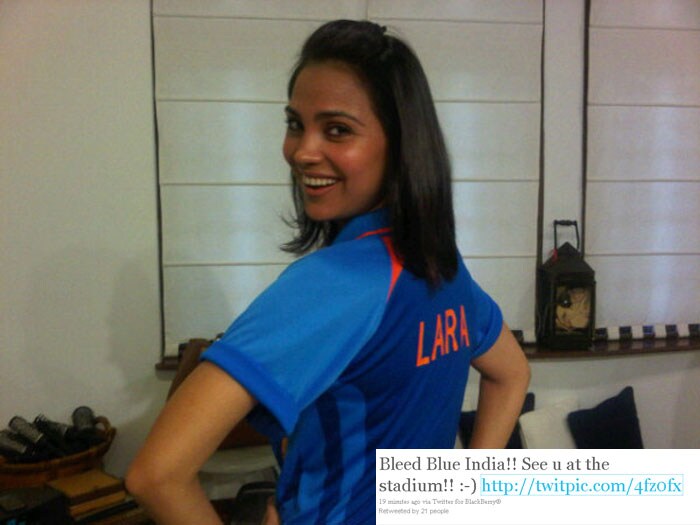 Lara Dutta has posted this picture on her twitter page with tweet: Bleed Blue India!! See u at the stadium!! :-)

'Good luck Team India' from Sania Mirza.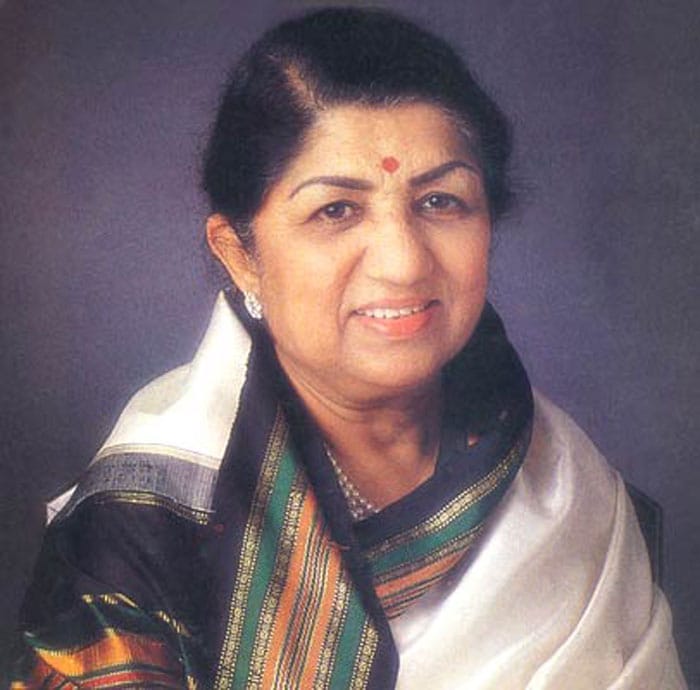 "I am eager to see India winning the cup and if Sachin scores his 100th century on his home ground in the final, it will be icing on the cake. I will pray for that," said legendary singer Lata Mangeshkar, who fasted for Team India during the World cup semifinal against arch rivals Pakistan.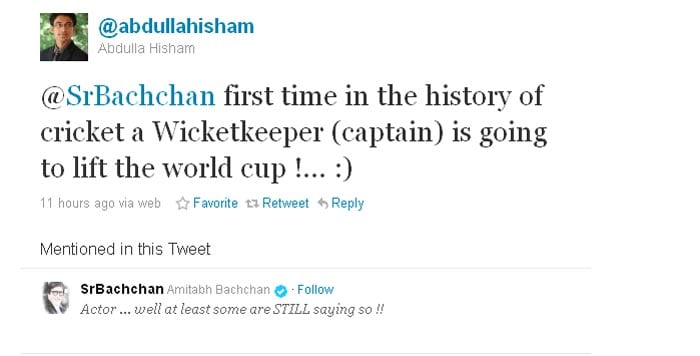 Amitabh Bachchan retweets, "@SrBachchan first time in the history of cricket a Wicketkeeper (captain) is going to lift the world cup !... :)"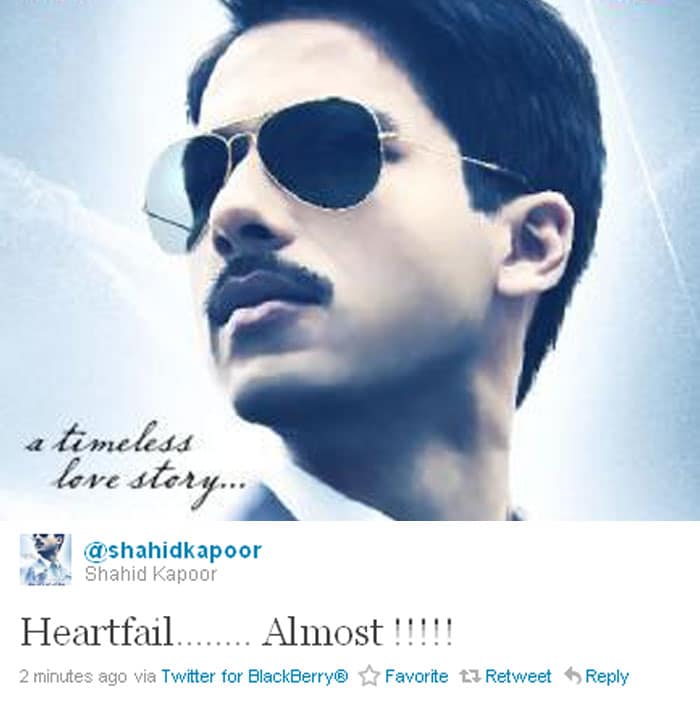 Sachin almost get's out twice, and Shahid Kapoor's heart fails... almost!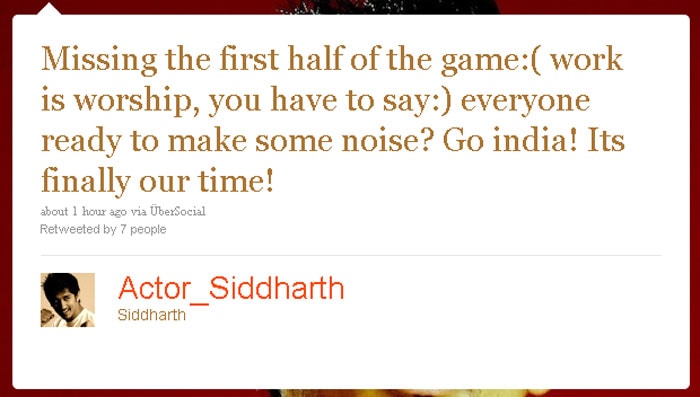 Siddharth: Missing the first half of the game:( work is worship, you have to say:) everyone ready to make some noise? Go india! Its finally our time!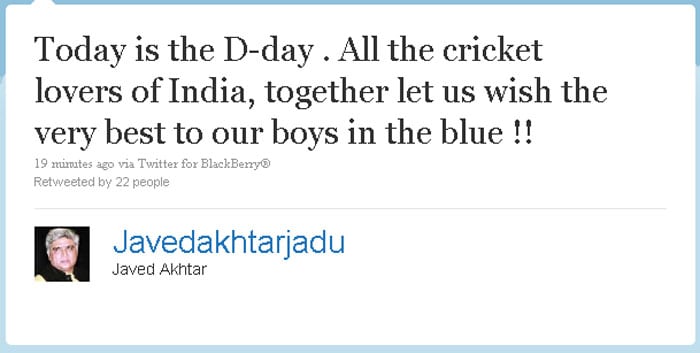 Javed Akhtar: Today is the D-day . All the cricket lovers of India, together let us wish the very best to our boys in the blue !!
Sidhartha Mallya: 6 weeks and 48 matches later, were finally here!! Best of luck MSD and the boys in (light) blue...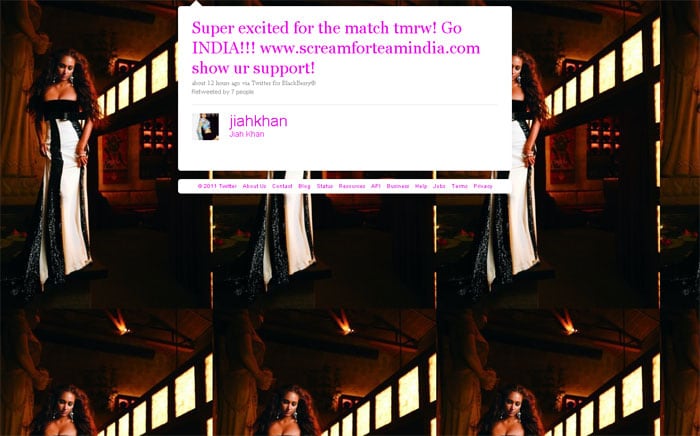 Jiah Khan: Super excited for the match tmrw! Go INDIA!!! www.screamforteamindia.com show ur support!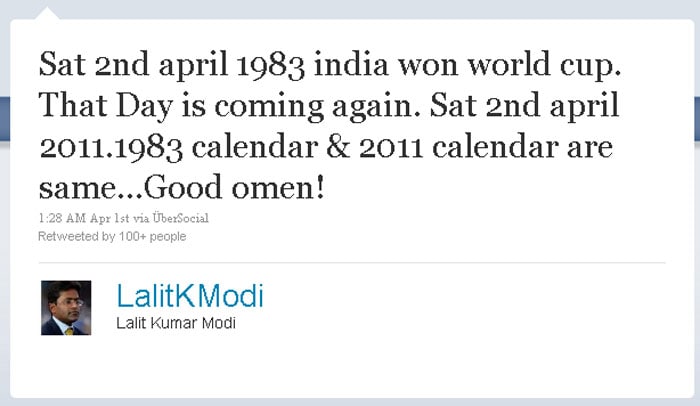 Lalit Kumar Modi: Sat 2nd april 1983 india won world cup. That Day is coming again. Sat 2nd april 2011.1983 calendar & 2011 calendar are same...Good omen!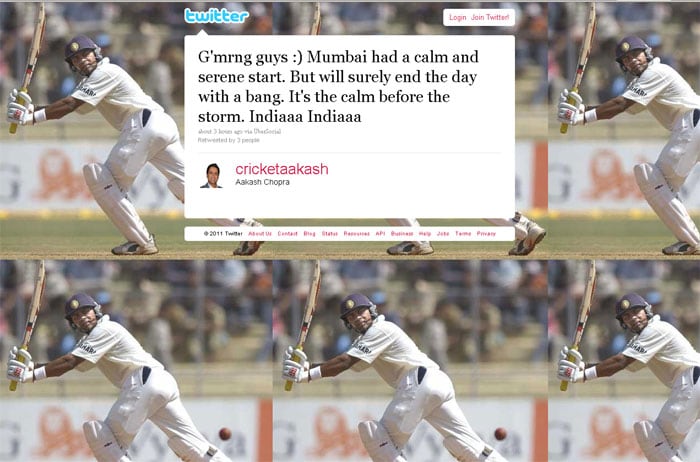 Aakash Chopra:G'mrng guys :) Mumbai had a calm and serene start. But will surely end the day with a bang. It's the calm before the storm. Indiaaa Indiaaa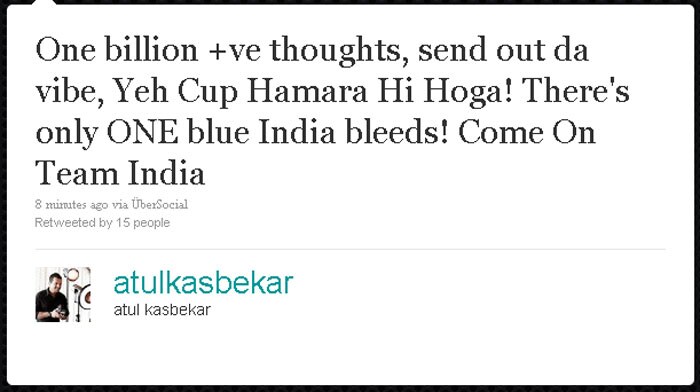 Atul Kasbekar: One billion +ve thoughts, send out da vibe, Yeh Cup Hamara Hi Hoga! There's only ONE blue India bleeds! Come On Team India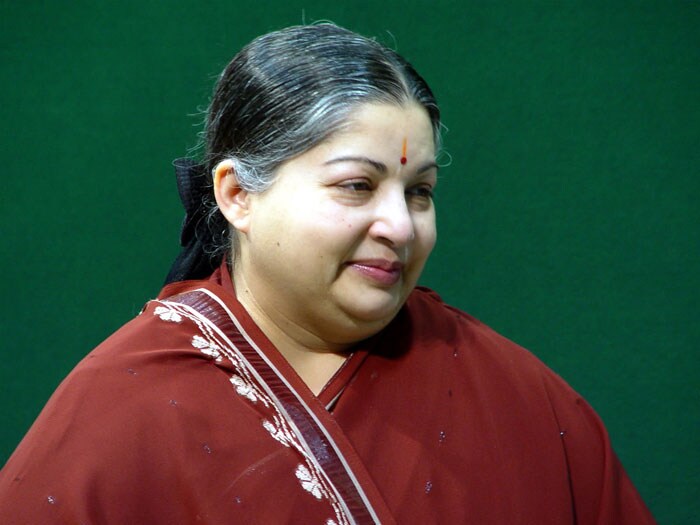 Jayalalithaa wishes the Indian team success and victory.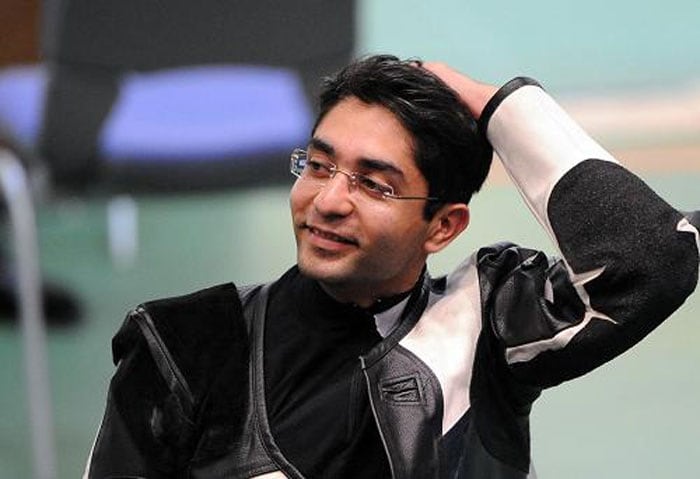 Olympic champion Abhinav Bindra said: Best Of Luck for the World Cup Finals.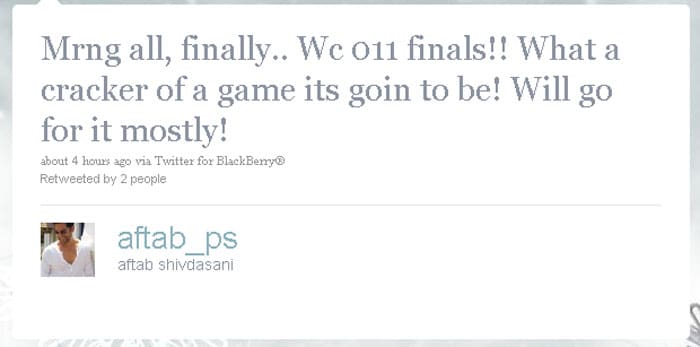 Aftab Shivdasani: Mrng all, finally.. Wc 011 finals!! What a cracker of a game its goin to be! Will go for it mostly!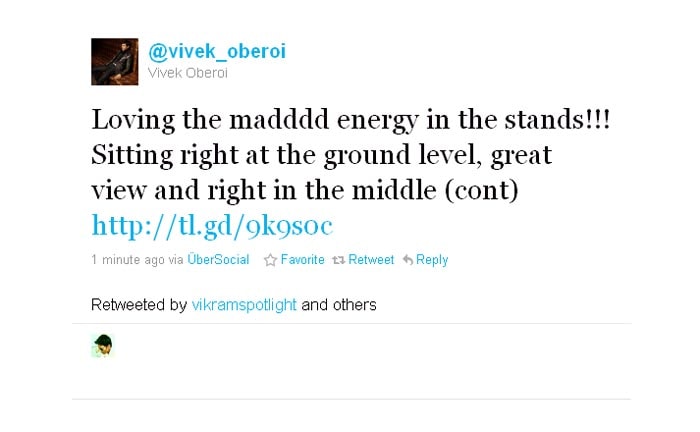 It's a manic match for Vivek.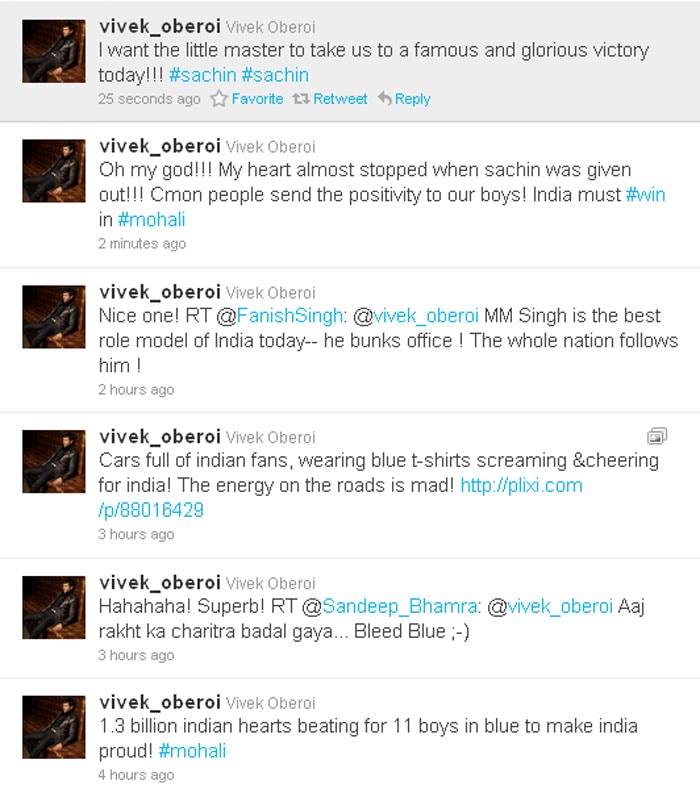 Vivek is caught up in the moment.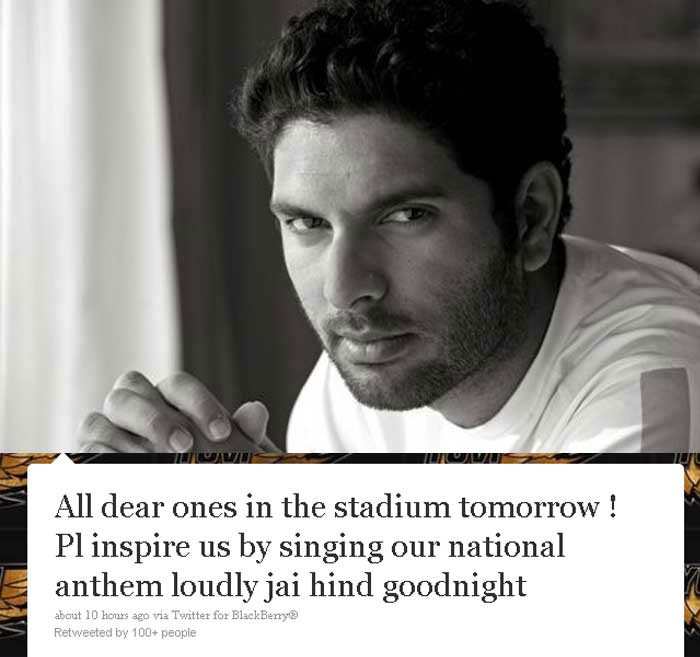 Be patriotic for Yuvraj, show your support!
Instead of words, it's all about the chutney for Chetan Bhagat.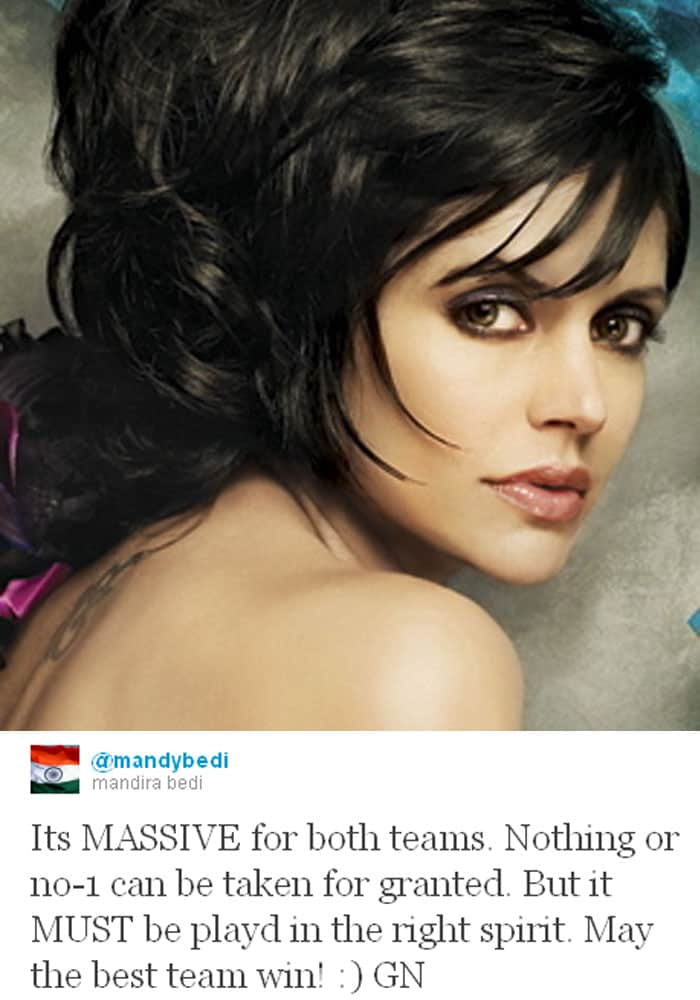 For Mandira Bedi, it's not about winning or losing - it's about how you play the game.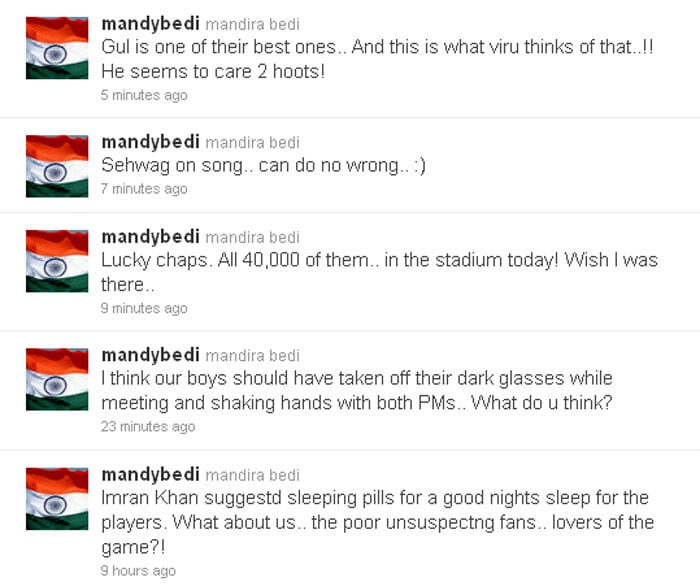 Mandira Bedi is one tweet an over, almost.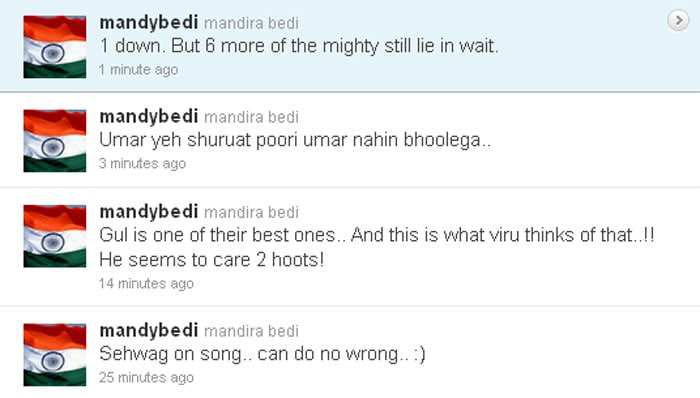 Whoops! Mandira spoke to soon about Sehwag - "Sehwag on song.. can do no wrong.. :)"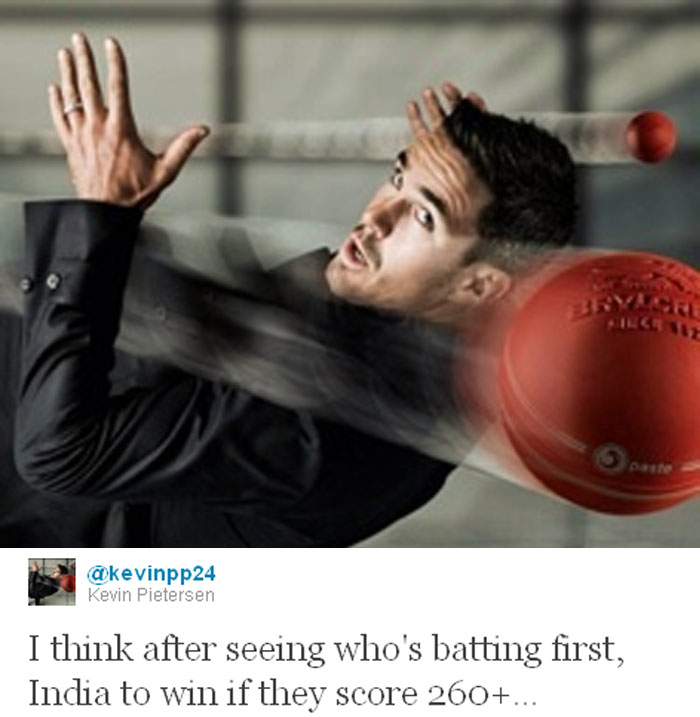 SA cricketer Kevin Pietersen roots for India too!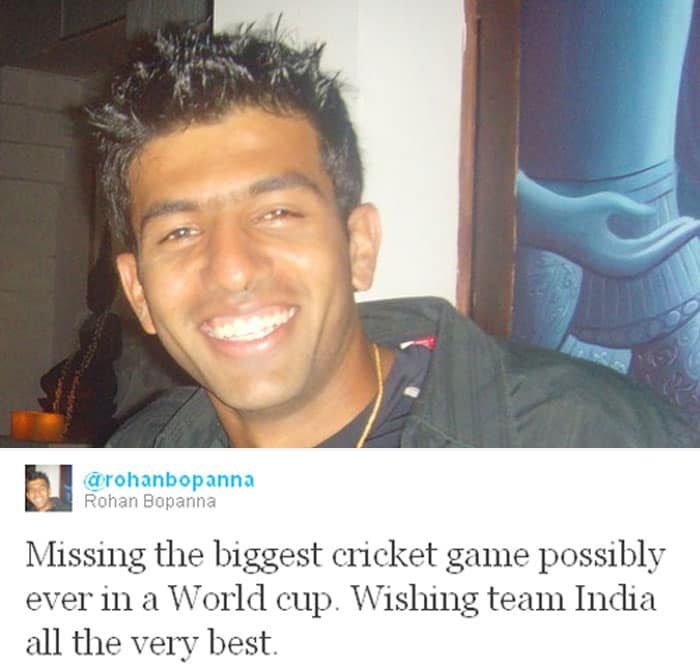 Rohan Bopanna may not be in the country, but his wishes are with the team.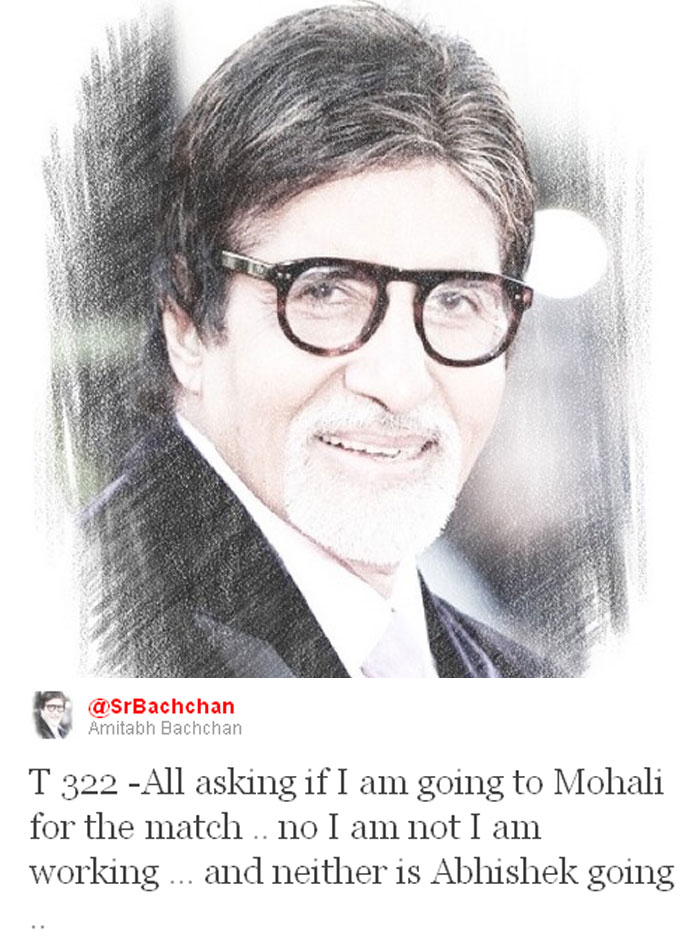 Amitabh Bachchan used Twitter to say that neither he nor Abhishek will be attending the match.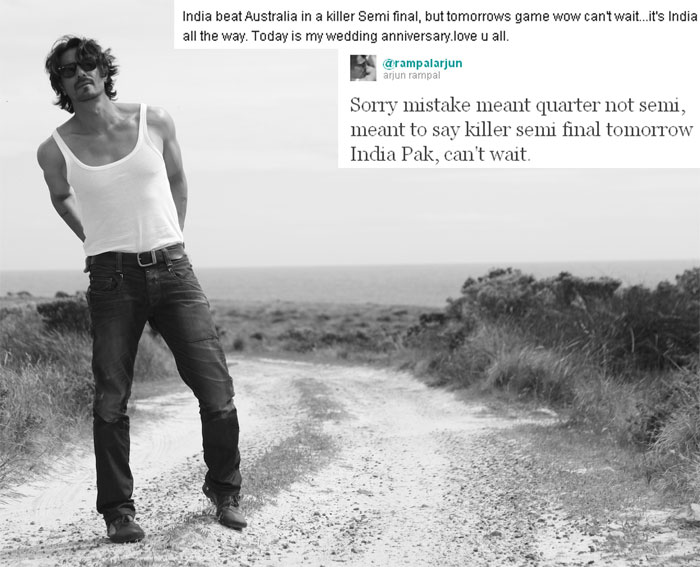 For Arjun Rampal, his wedding anniversary took a backseat to today's crucial match.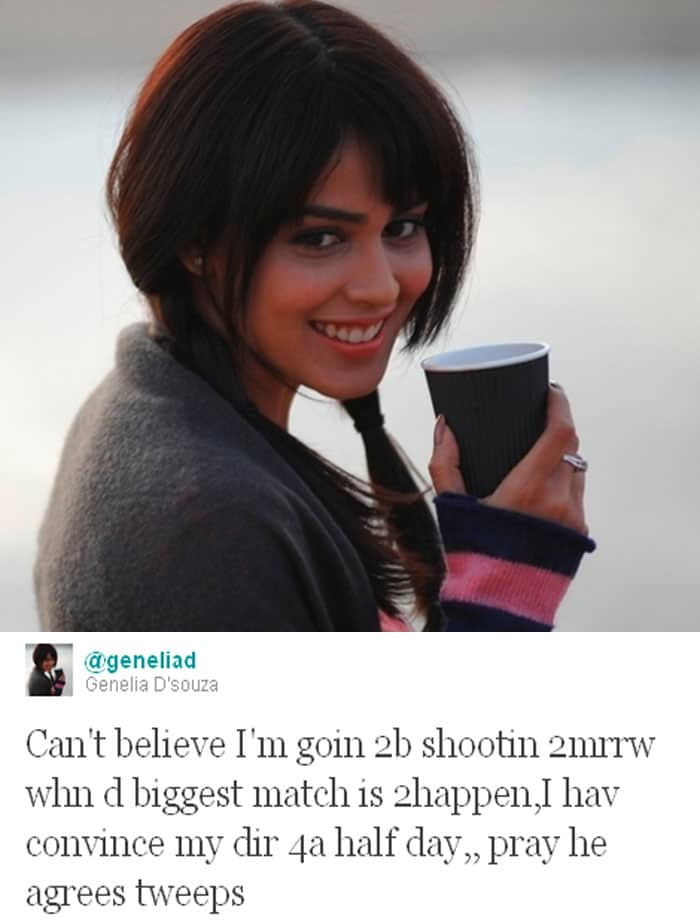 Genelia took to Twitter to gain some support to take a half-day off from her shoot.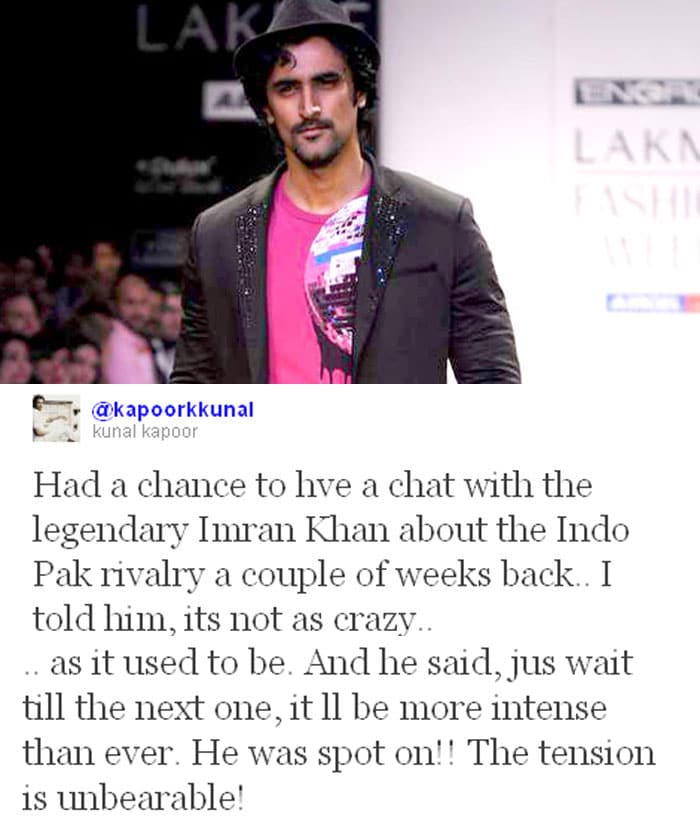 Kunal Kapoor marvels at the tension that has gripped the nation.
On his way to Mohali, Madhur Bhandarkar wishes Team India the best!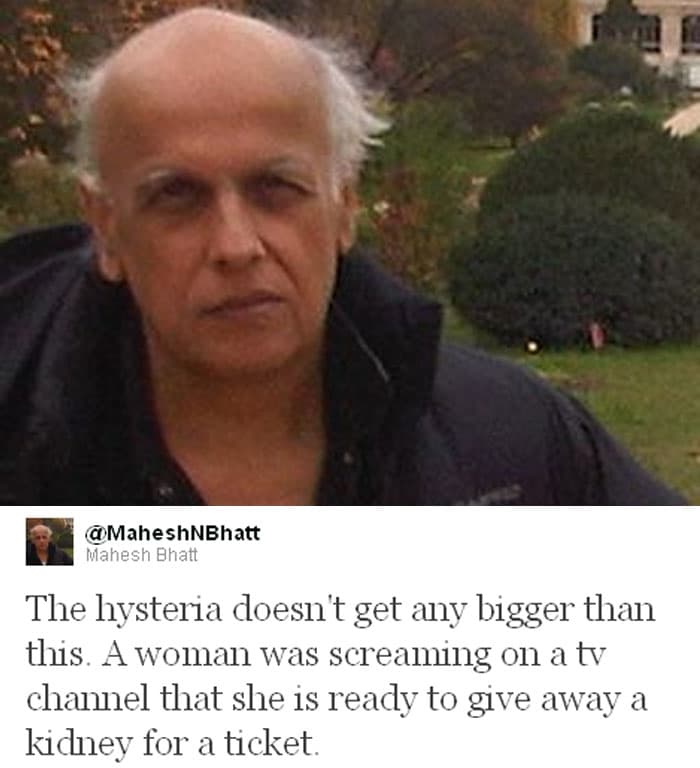 Director Mahesh Bhatt in awe of the hysteria for tickets.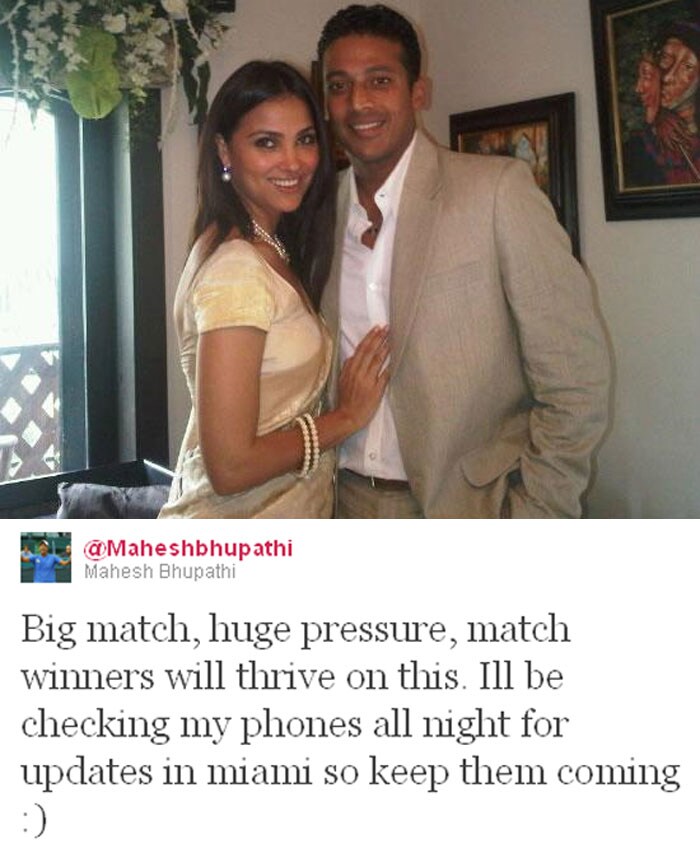 Mahesh Bhupathi knows all about pressure in sports.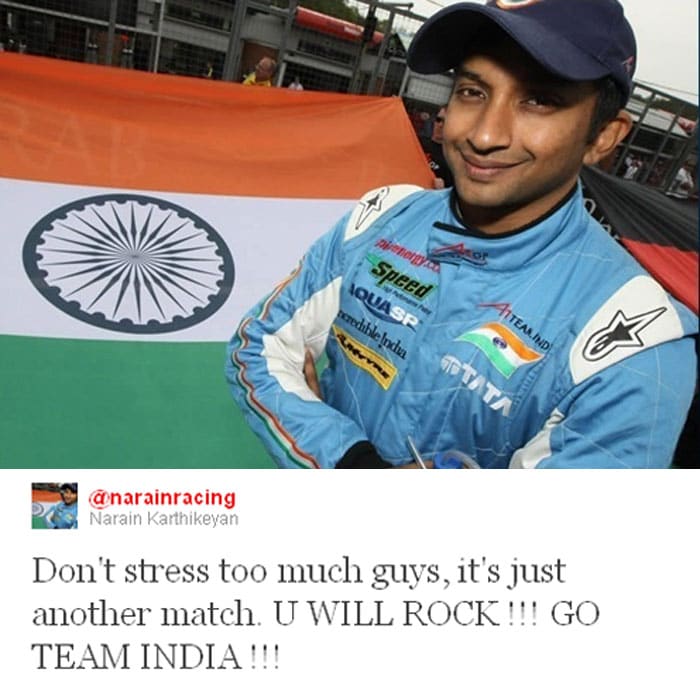 Narain Karthikeyan tries to take the edge off.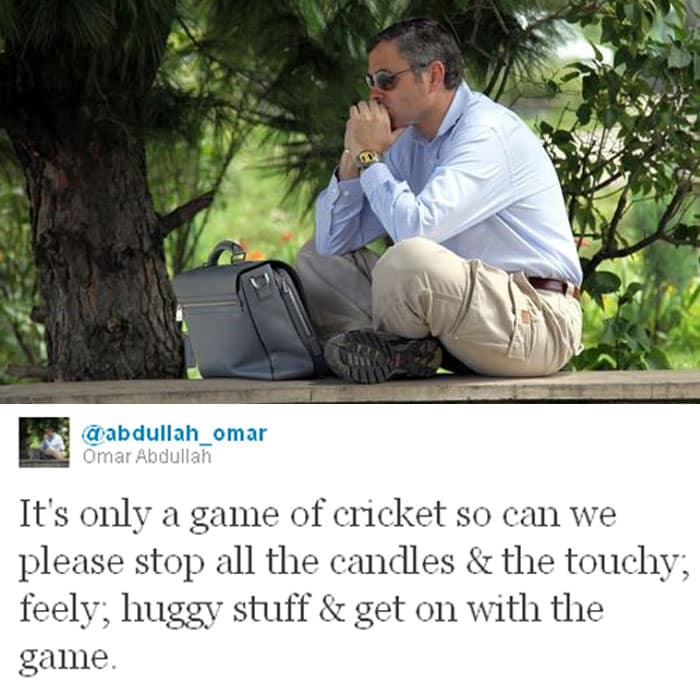 Omar Abdullah wants to get on with it!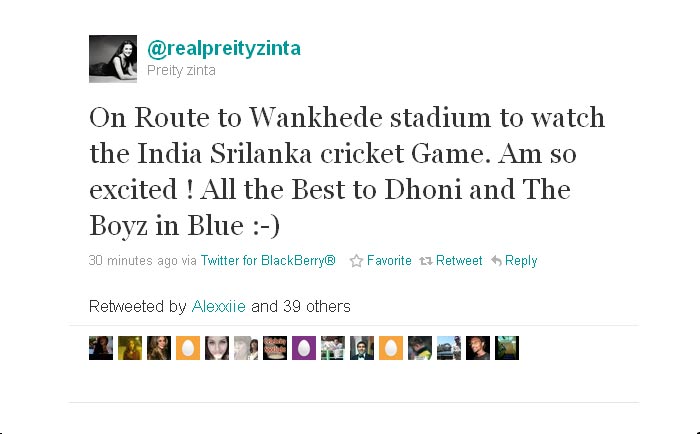 Preity Zinta showed her excitement by being one of the first celebs to arrive at Mohali.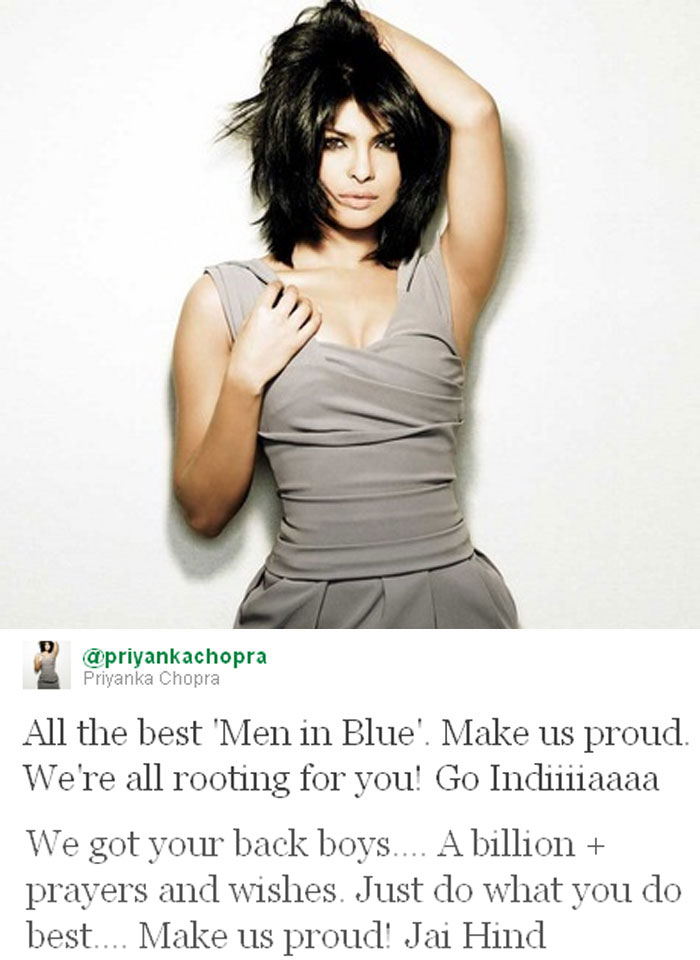 Priyanka Chopra wants Team India to do us proud.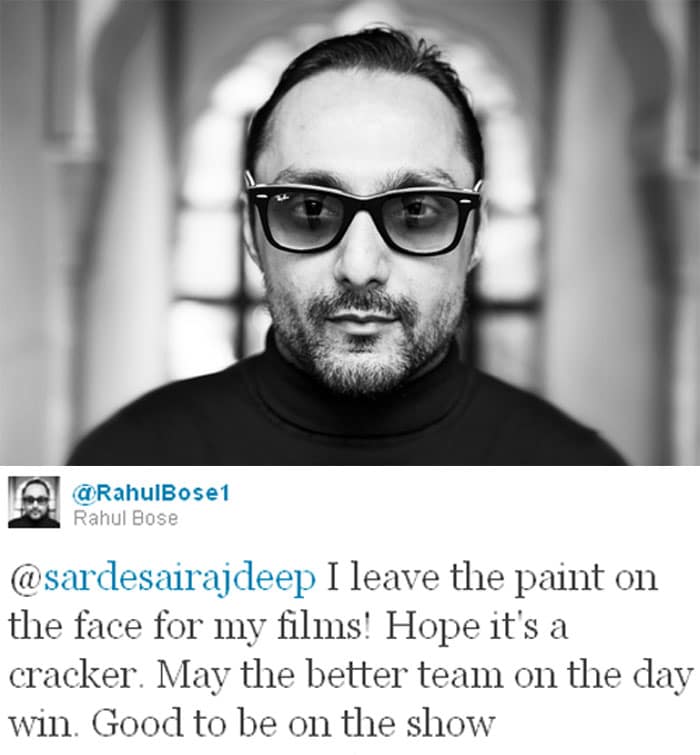 Rahul Bose forgets about the war paint - may the better man win.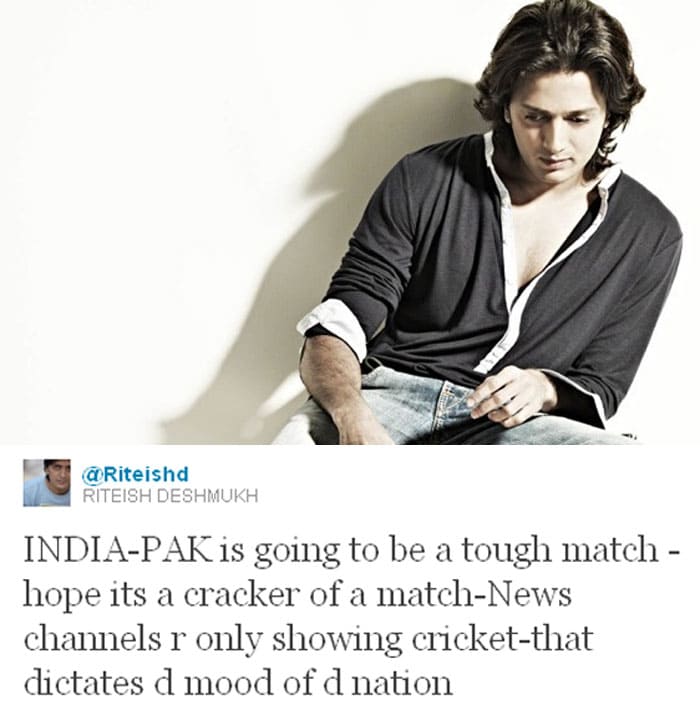 It's a cracker of a match for Ritesh Deshmukh.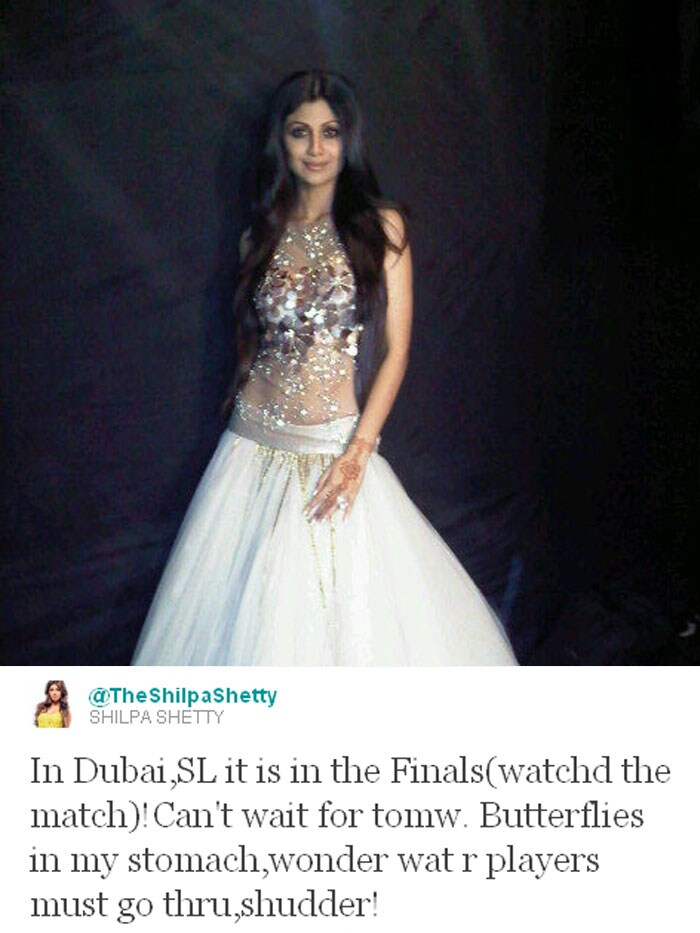 Shilpa Shetty Kundra is in Dubai, but is still feeling the Indian butterflies.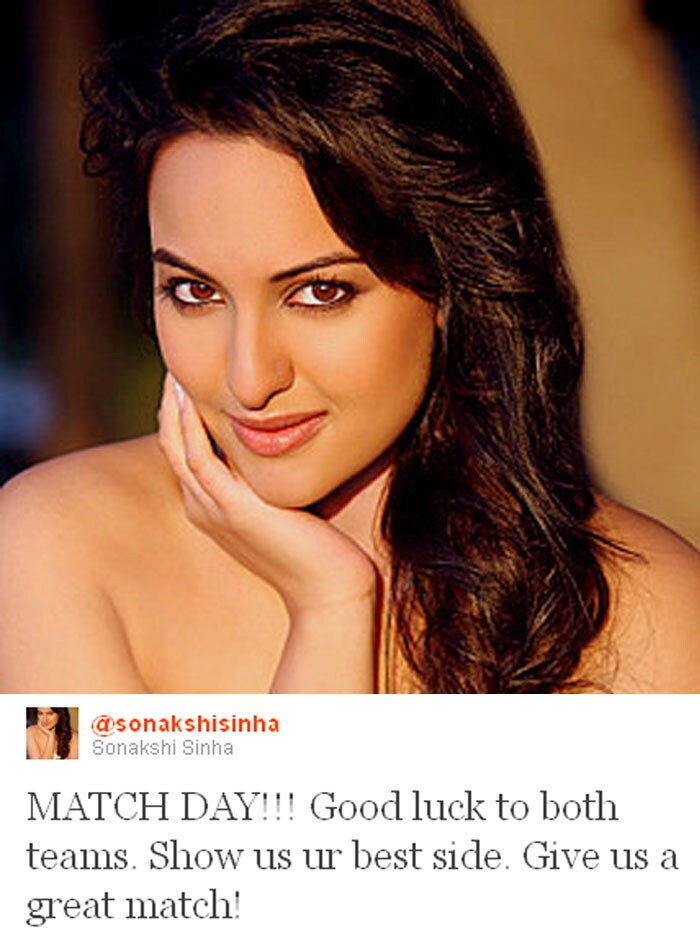 Sonakshi tries to be impartial with her wishes.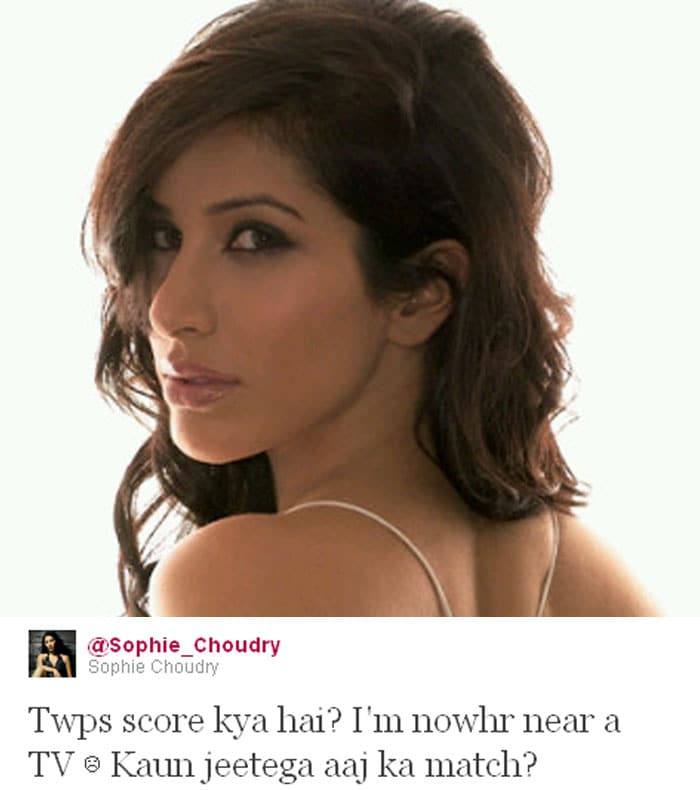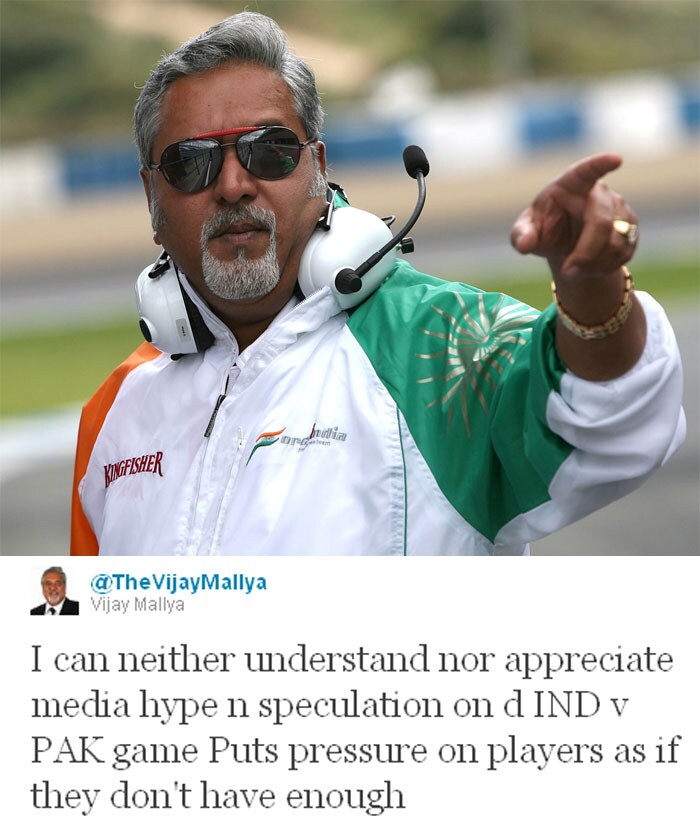 There is too much pressure - Vijay Mallya.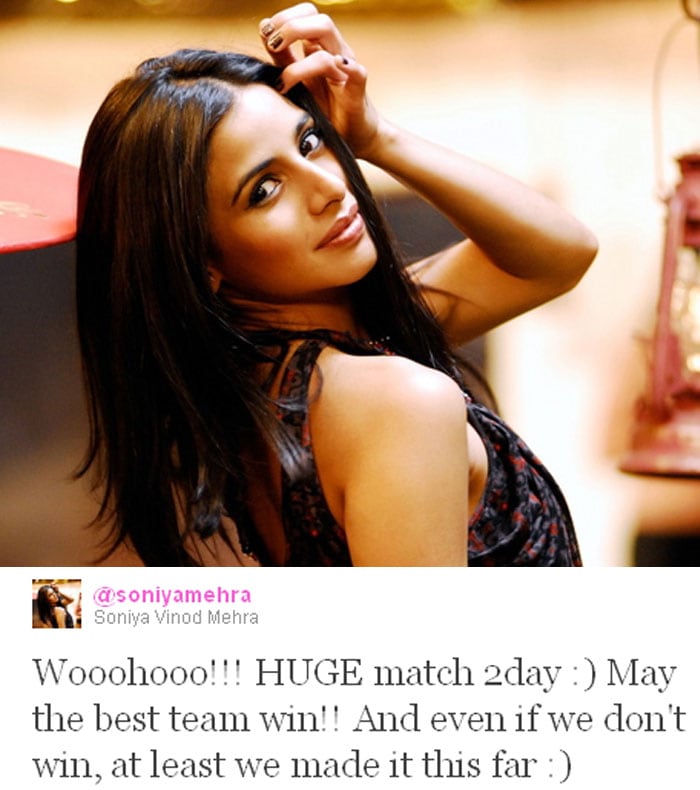 Soniya Mehra shows how a true sportsman should be.