Fans cheer for cricketers
Flying the flag for Team India.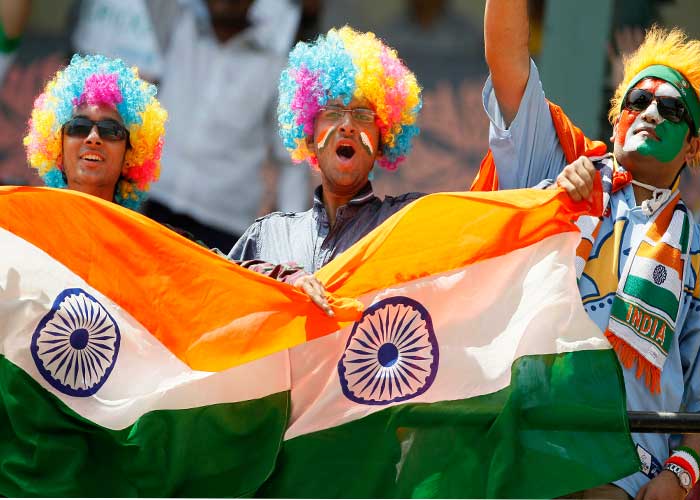 It doesn't get any bigger than India vs Pakistan in the World Cup semifinal. Ahead of the biggest game this season, Indian fans are leaving nothing to chance.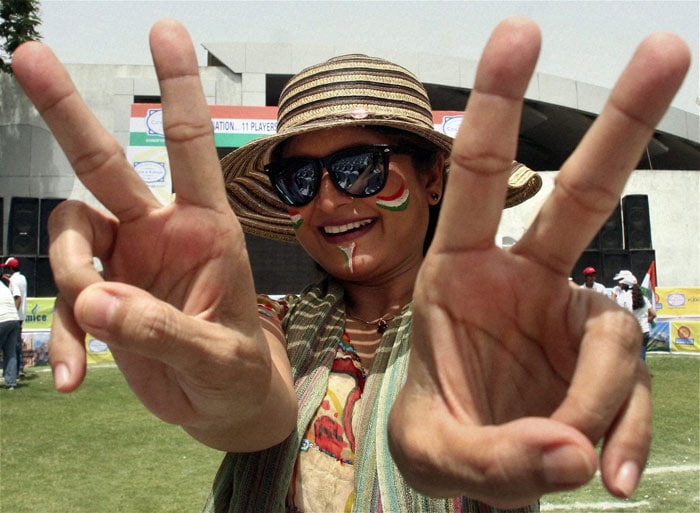 An enthusiastic woman cheers for Team India with her painted face at Ahmedabad.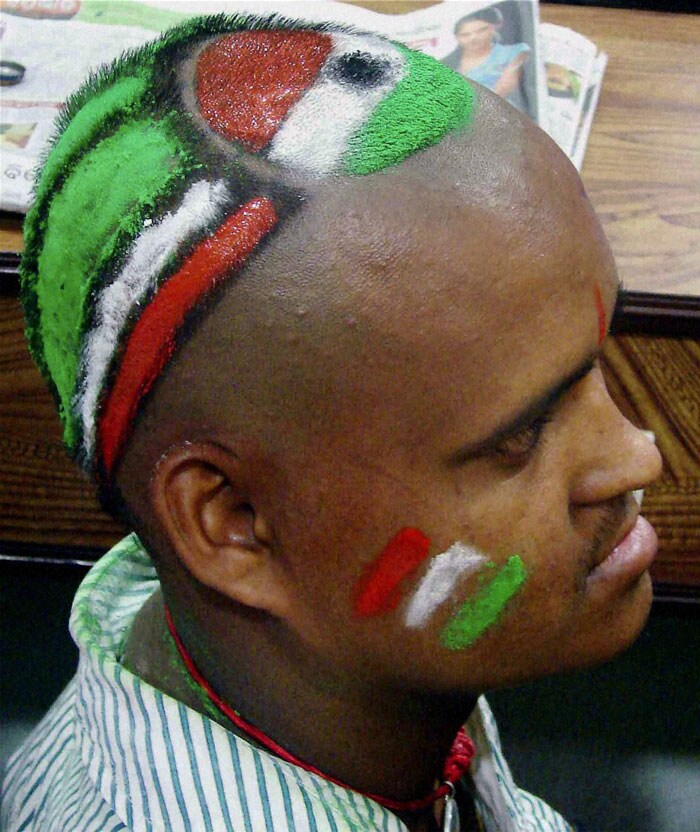 The madness has not left Cuttack behind, a man paints his shaven head.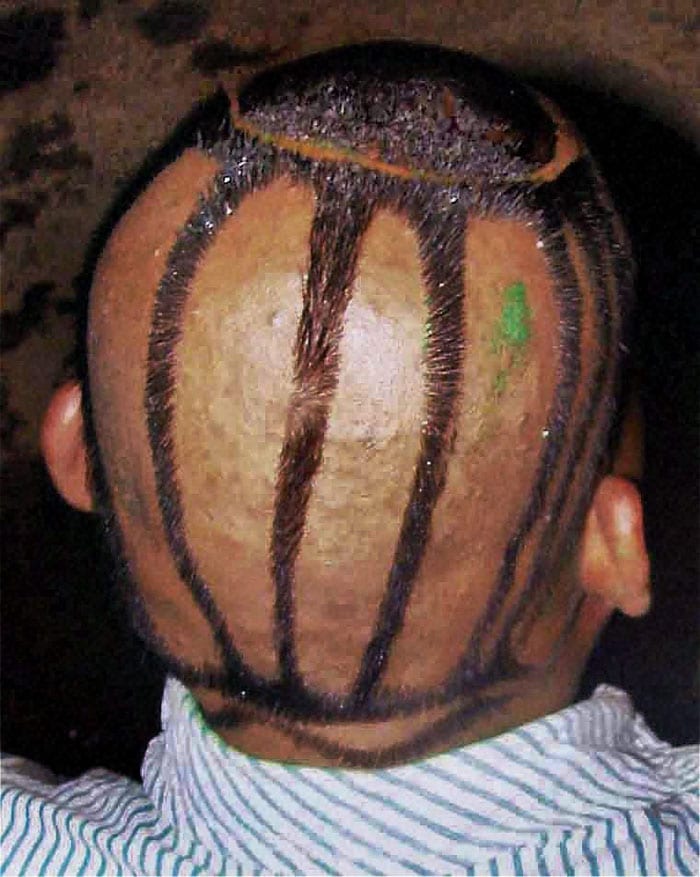 Hair cropped in style, a fan waits to don the paint.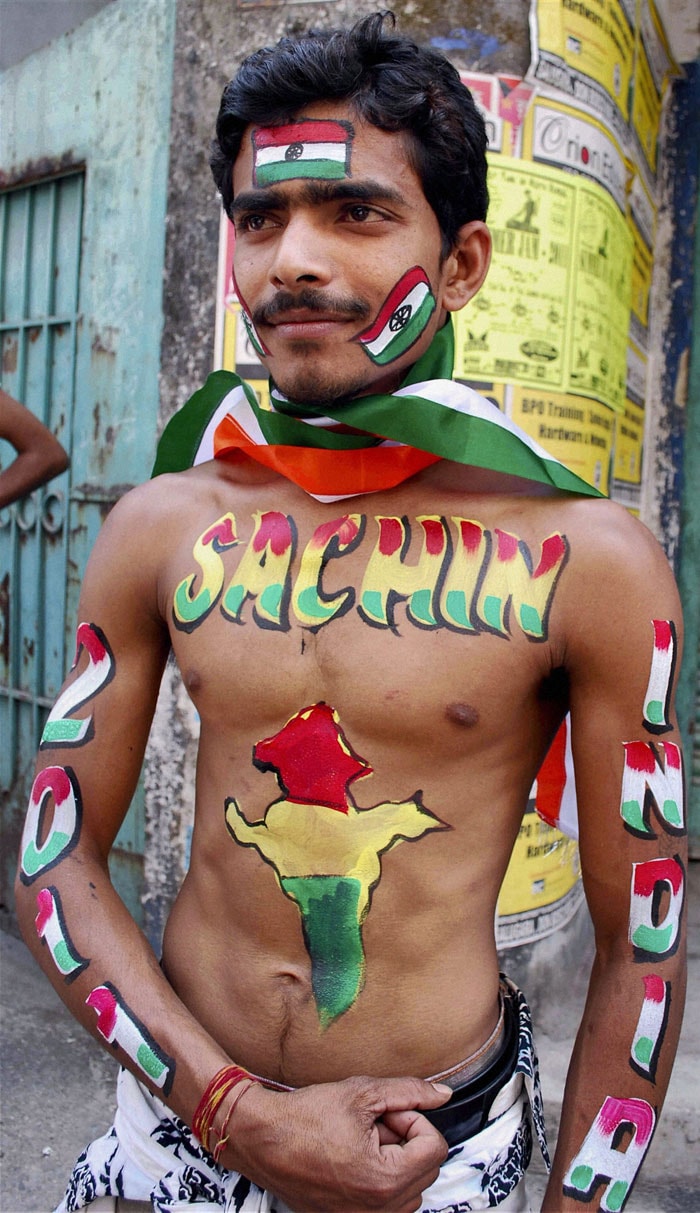 An ardent Sachin fan paints his entire body to show his love for the "God" of cricket.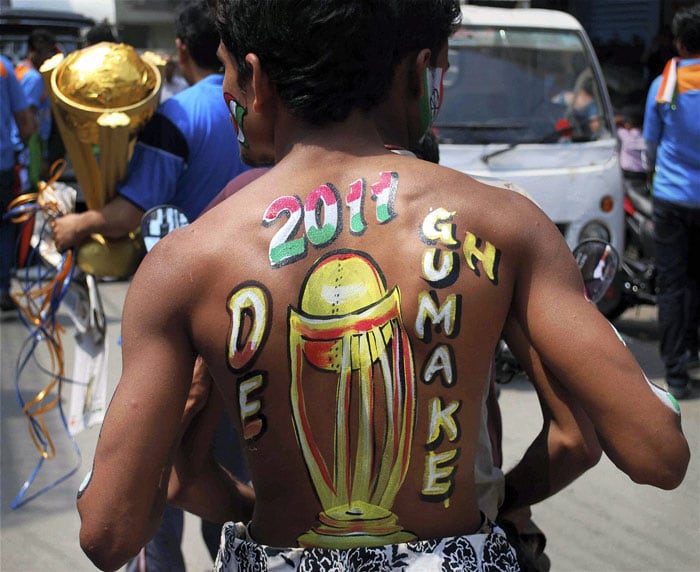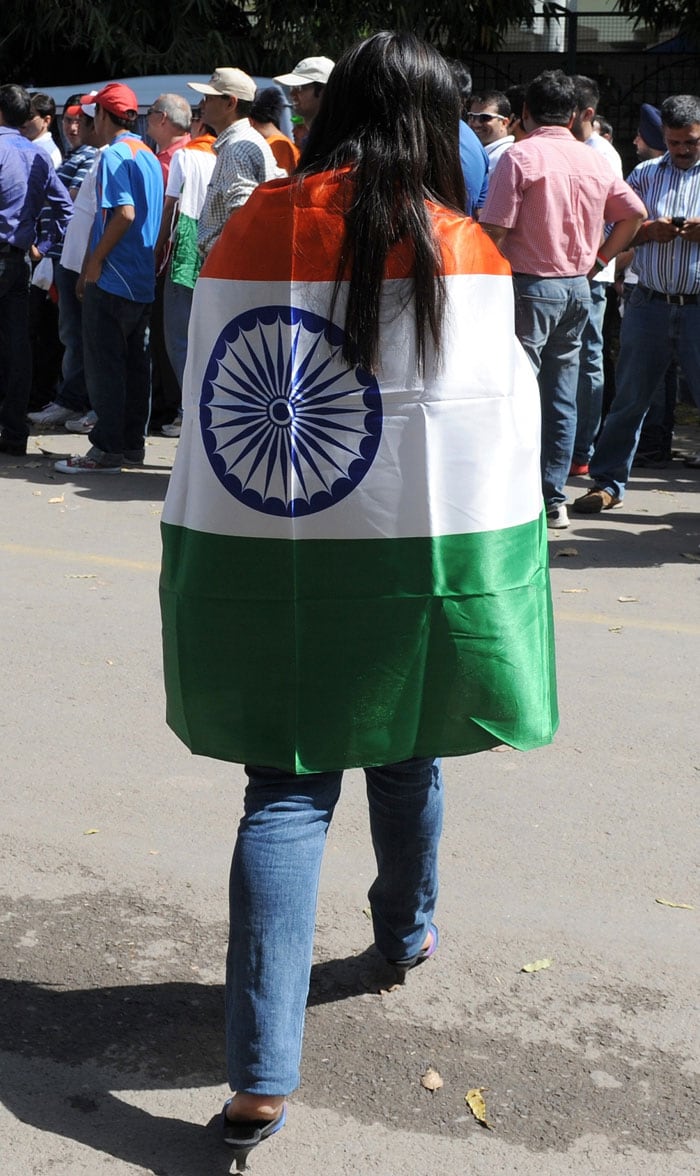 View from the back: A woman roots for India with the tricolor swathed over her.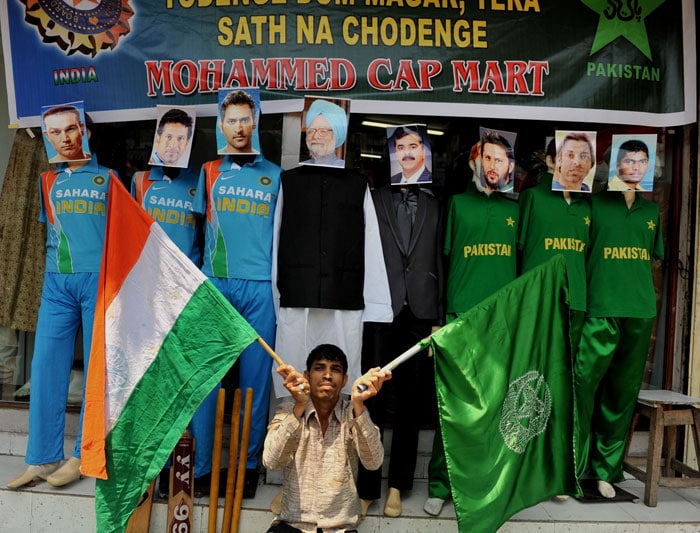 Man in the middle: A fan poses with cutouts of the Ind-Pak teams with Prime Minister Manmohan Singh's cutout in the centre.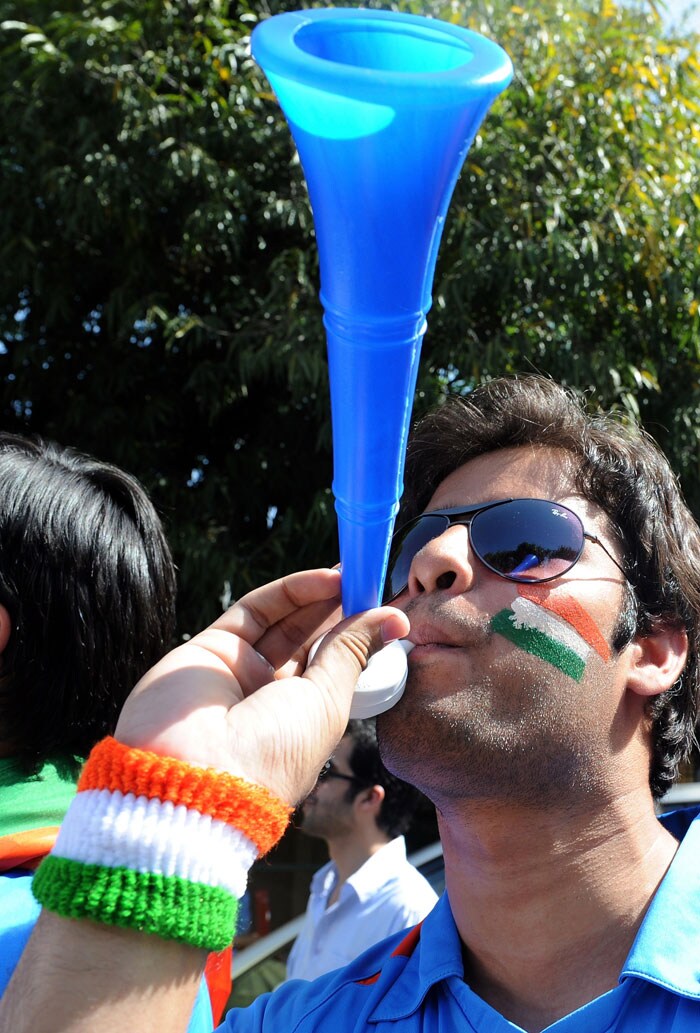 Blowing the victory horn, fingers crossed!!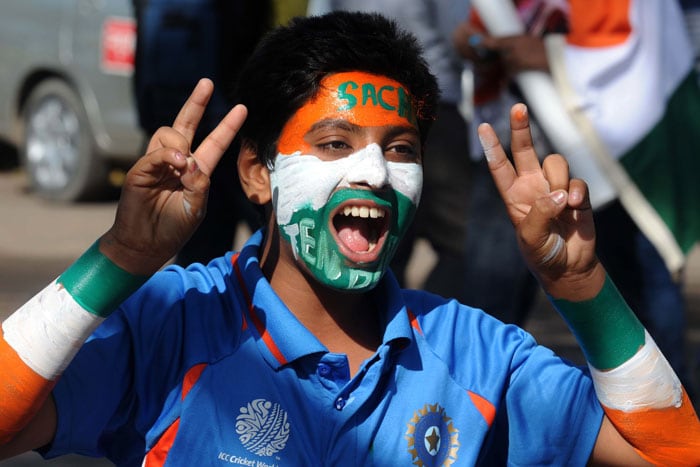 Fans lead the cheer with hands, face and hearts.
Fans of Bhajji and Gauti strike a pose.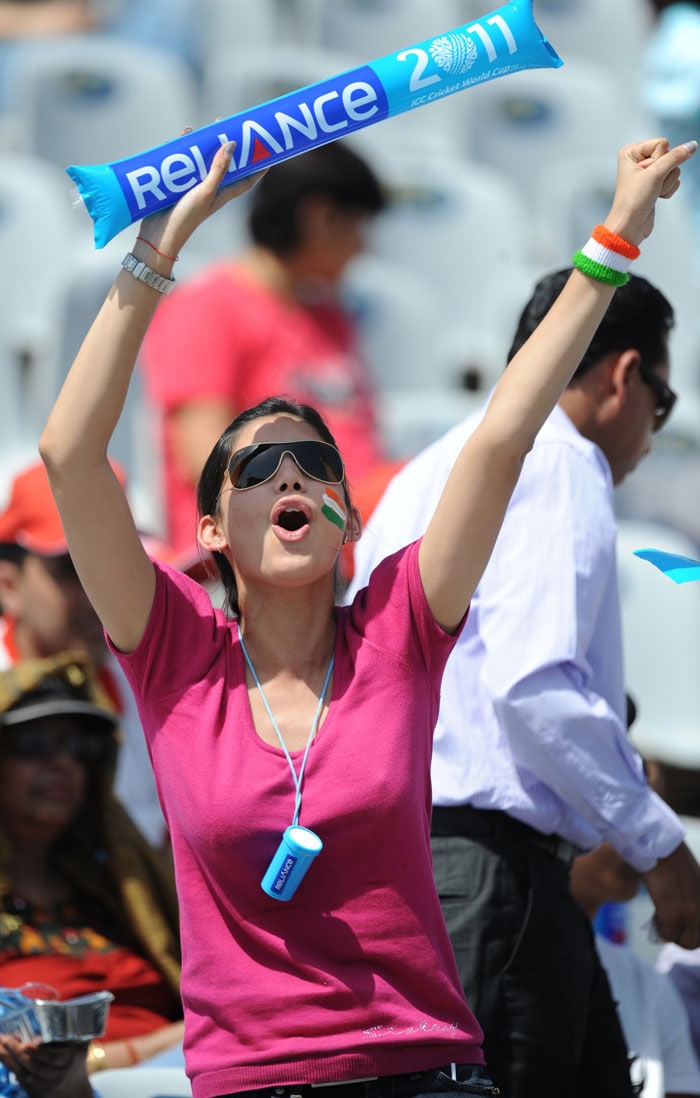 It's Team India all the way for this fan.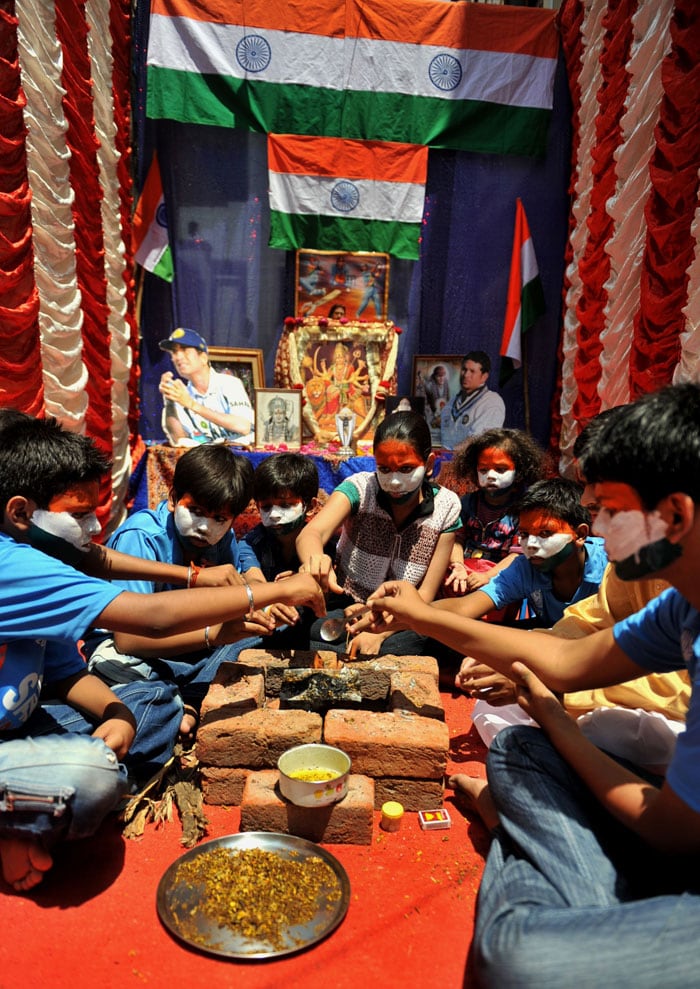 Little children offer prayers in Hyderabad.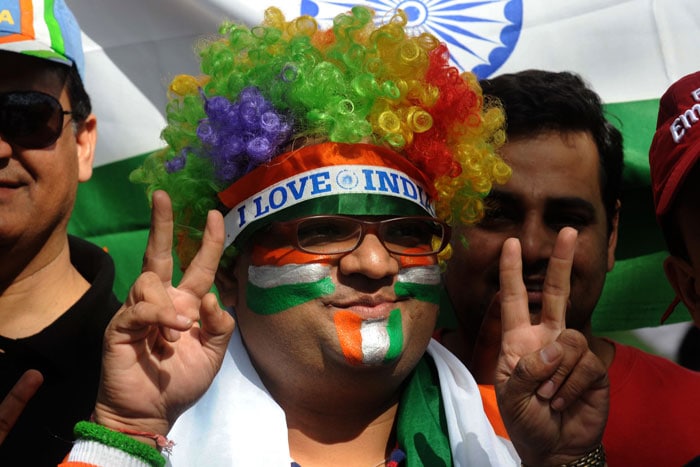 Fans make a hair-raising statement with these wigs.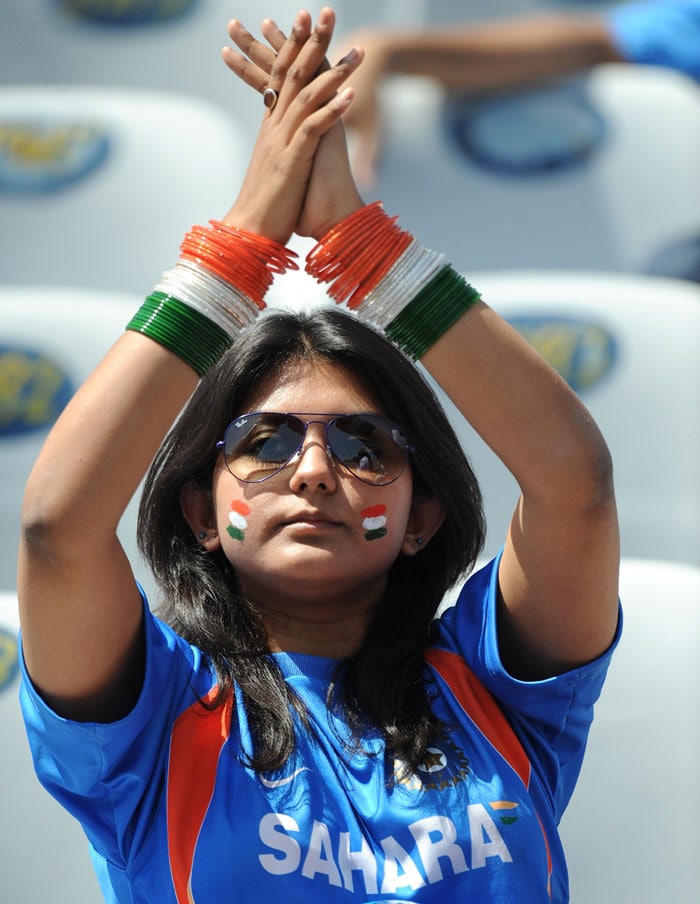 With tricolour bangles, this lady has taken fan frenzy to another level.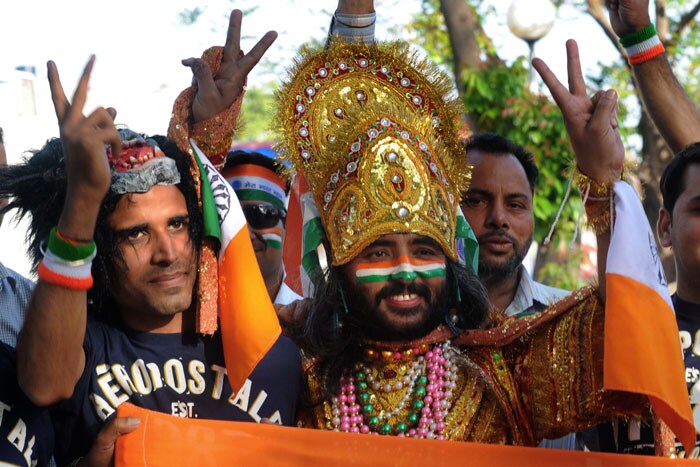 A fan hopes to invoke mystical powers.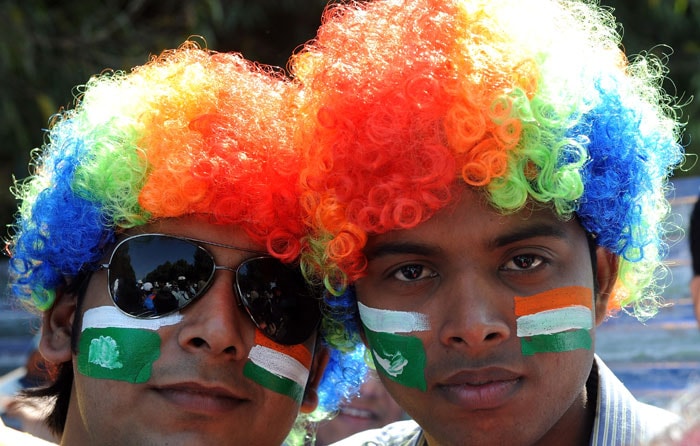 Taking craziness to another level here!!
Horns in tricolor, what next?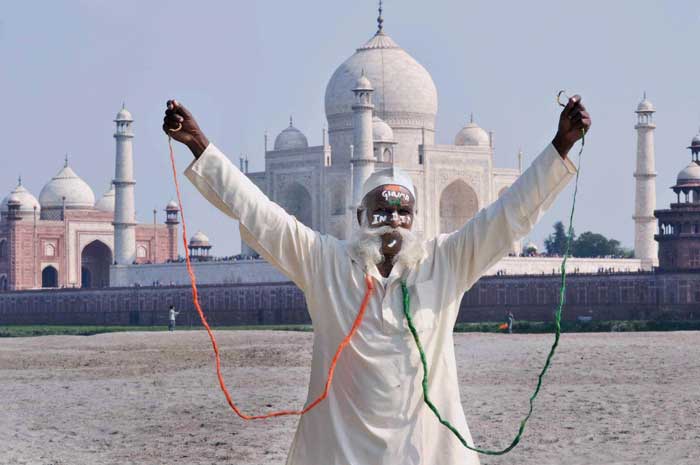 In the backdrop of the glorious Taj Mahal, a fan paints his 16 ft. long mustache in tricolours.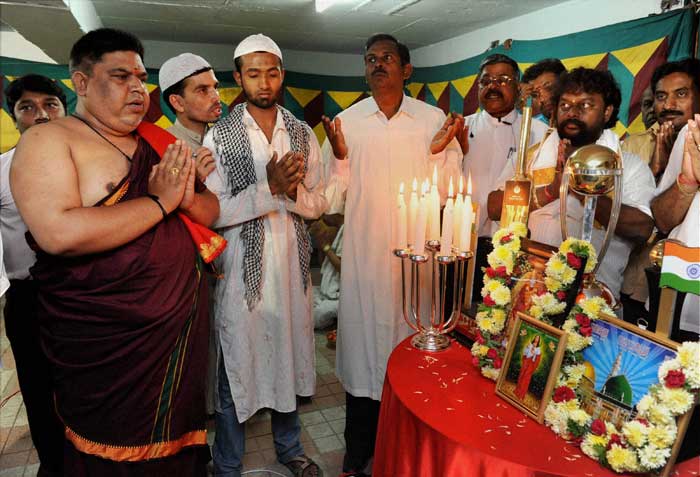 Priests of different religions offer prayers for team India.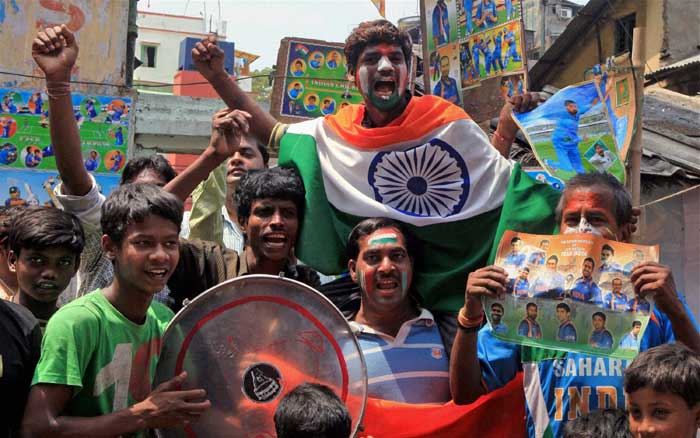 Youth power out in force in Kolkata.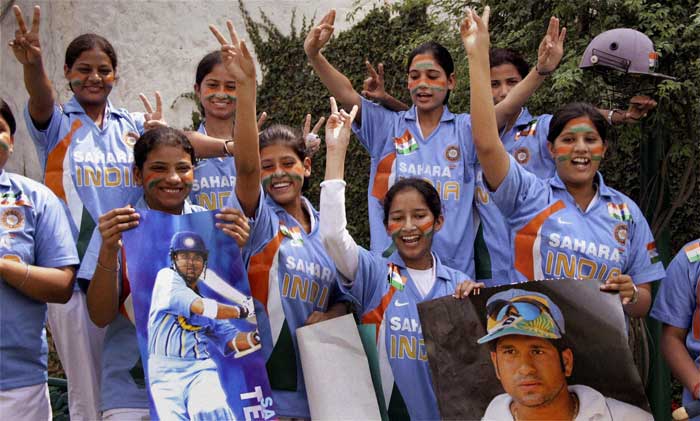 Young cricket fans in Jalandhar wearing Indian team's jersey, show their support.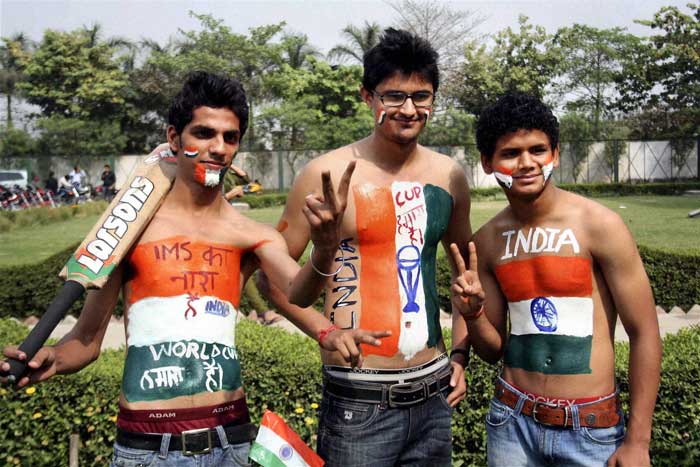 Cricket enthusiasts paint their bodies with the tricolour. The nation is extending its wishes through all ways possible.
Pakistani cricket fans hold their country's flag at the Attari-Wagah, Indo-Pak border.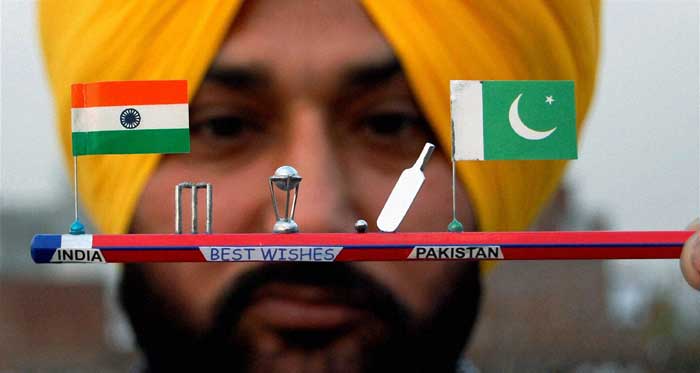 Artist H S Gill from Amritsar shows off miniature art with a miniature trophy and flags of India and Pakistan on a pencil. That's called creativity.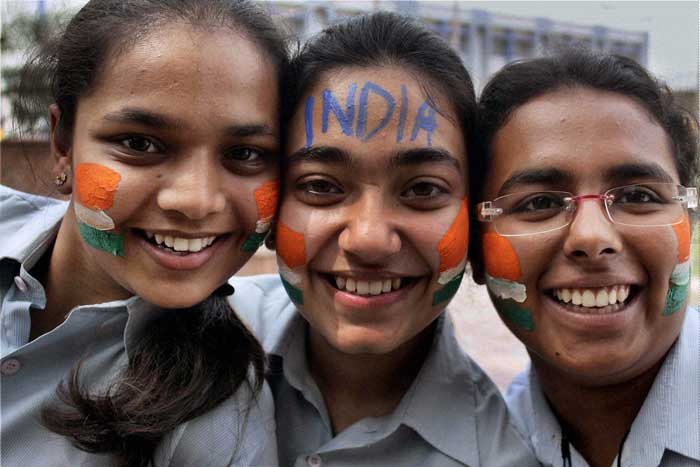 School students from Gurgaon, cheer for Team India with tri-coloured painted faces.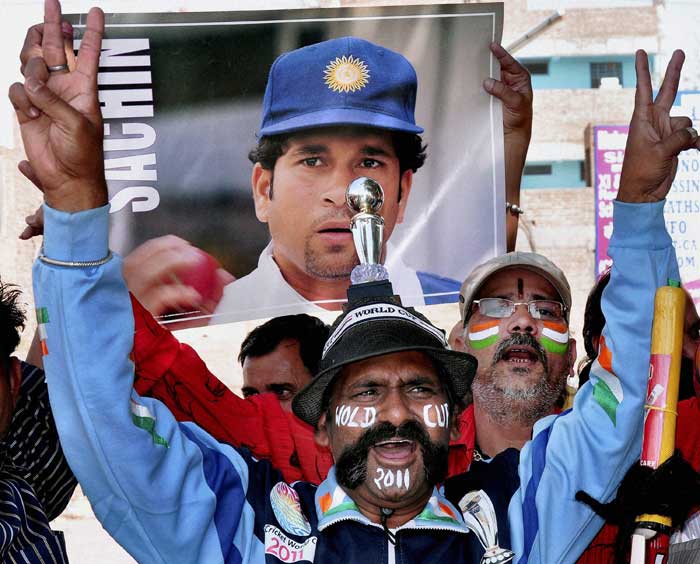 One frenzied Sachin Tendulkar fan here, balances the trophy on his head!!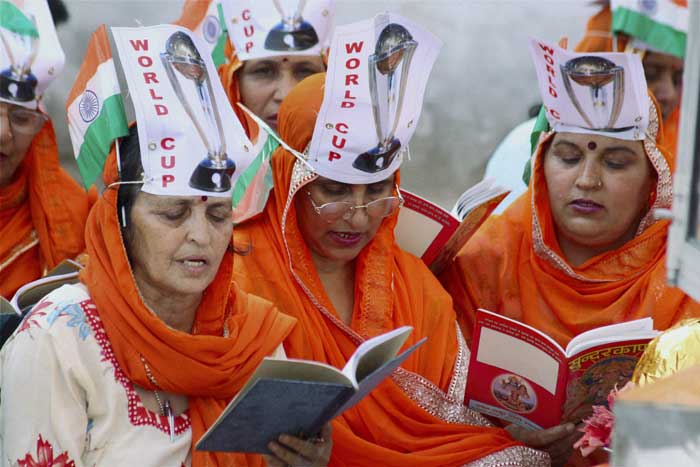 Women show their dedication, pray and chant for Team India's win in Mohali today.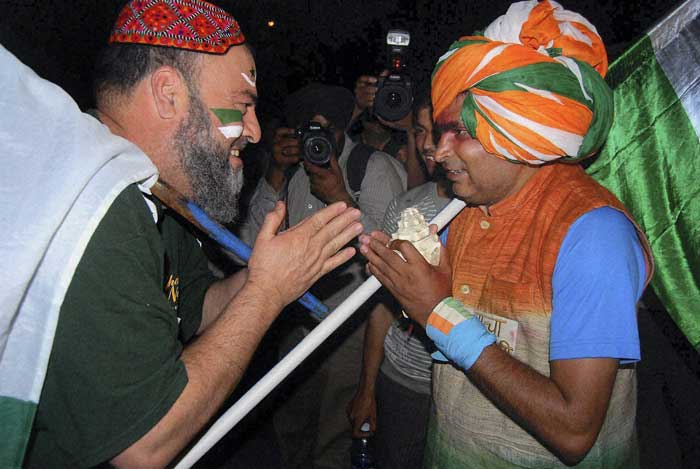 A moment worth capturing!! An Indian team supporter exchanges greetings with a Pakistani team supporter.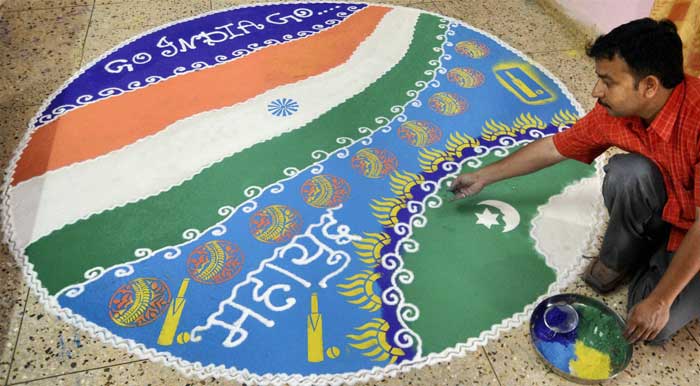 Everyone has their own way, here artist Sanjay Sethi makes a rangoli to show his support.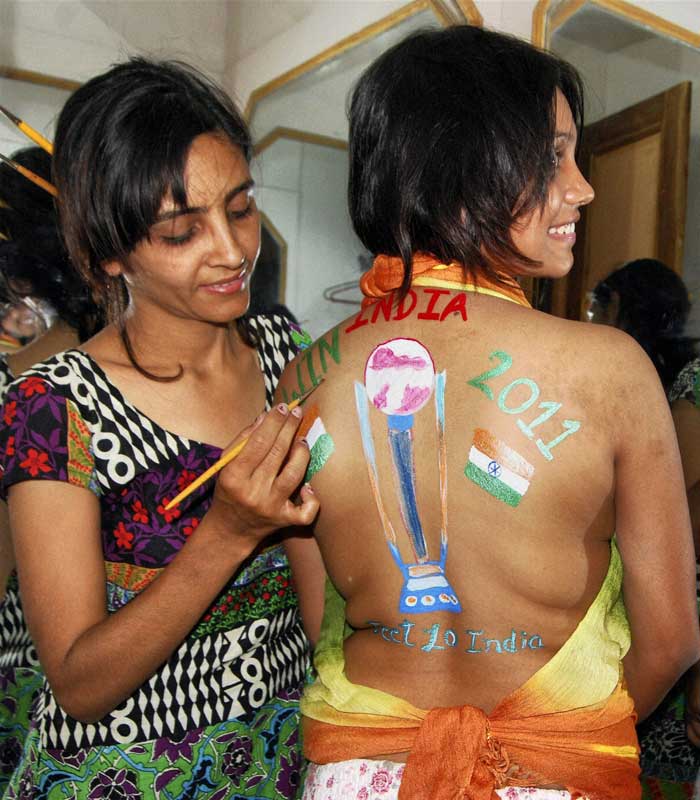 A woman gets her back painted with the trophy and flags. Craziness spreading!!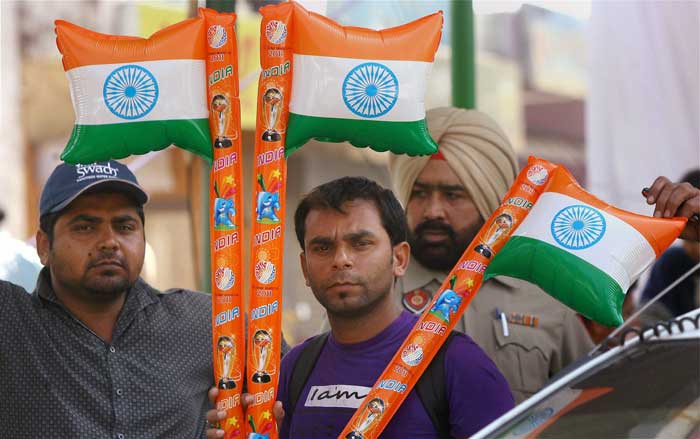 Men carry tri-coloured balloons.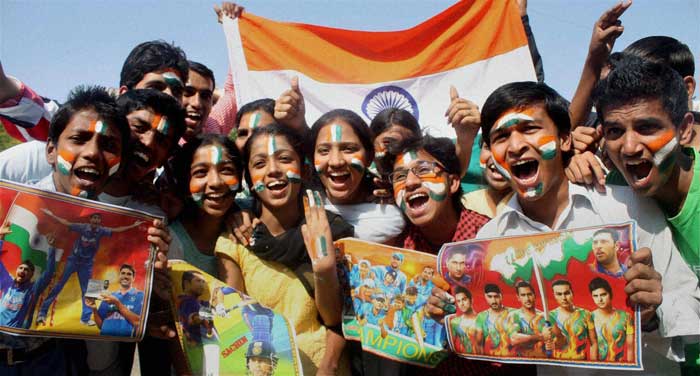 Cricket fever spreads across the nation.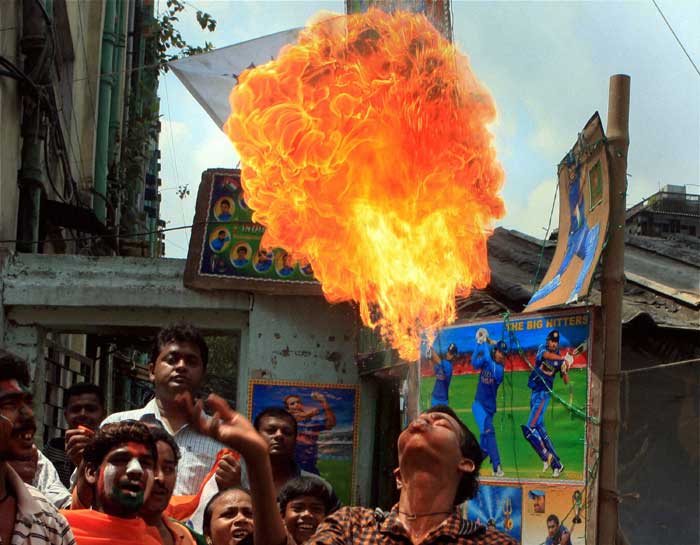 The war on the field is on: A flame thrower in action.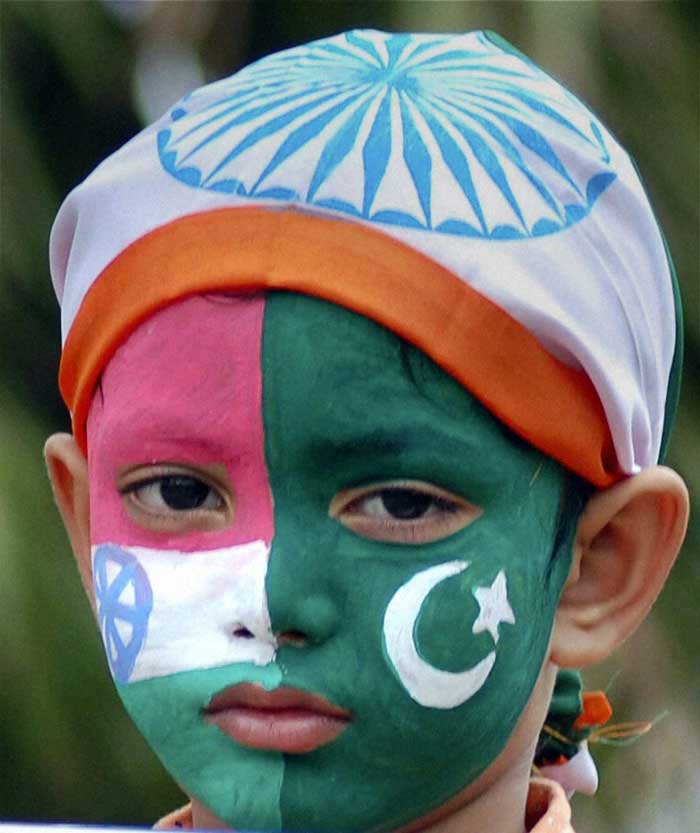 Spreading a message of peace amid the frenzy, a boy paints both Indian and Pakistani flags on his face.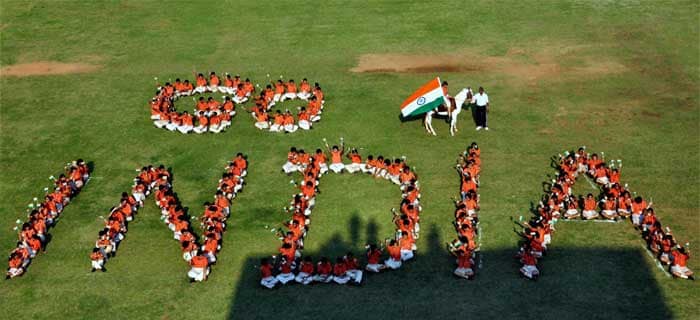 School children form a human chain that reads "Go India". Patriotism in full spirit.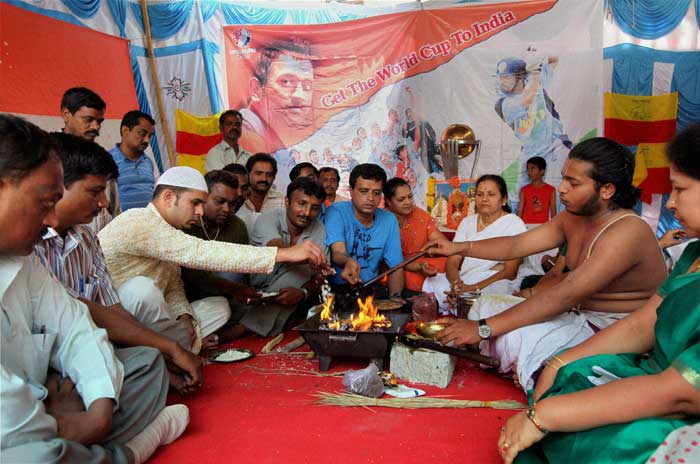 Cricket fans perform invoke the powers above to help the men in blue.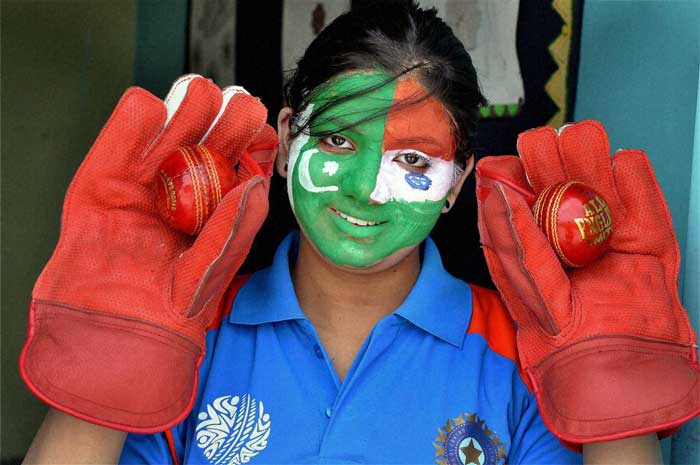 A girl paints her face with flags from India and Pakistan.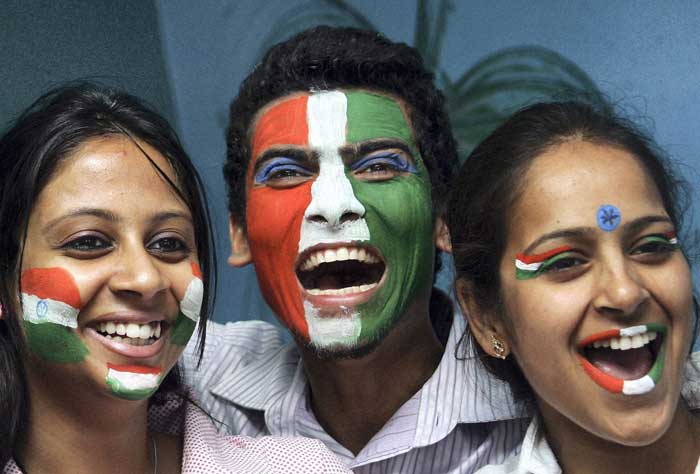 Enthusiasm reaches its zenith with the country's youth doing all they can for the team.
A Pakistani fan, wearing an Indian t-shirt, raises slogans for peace.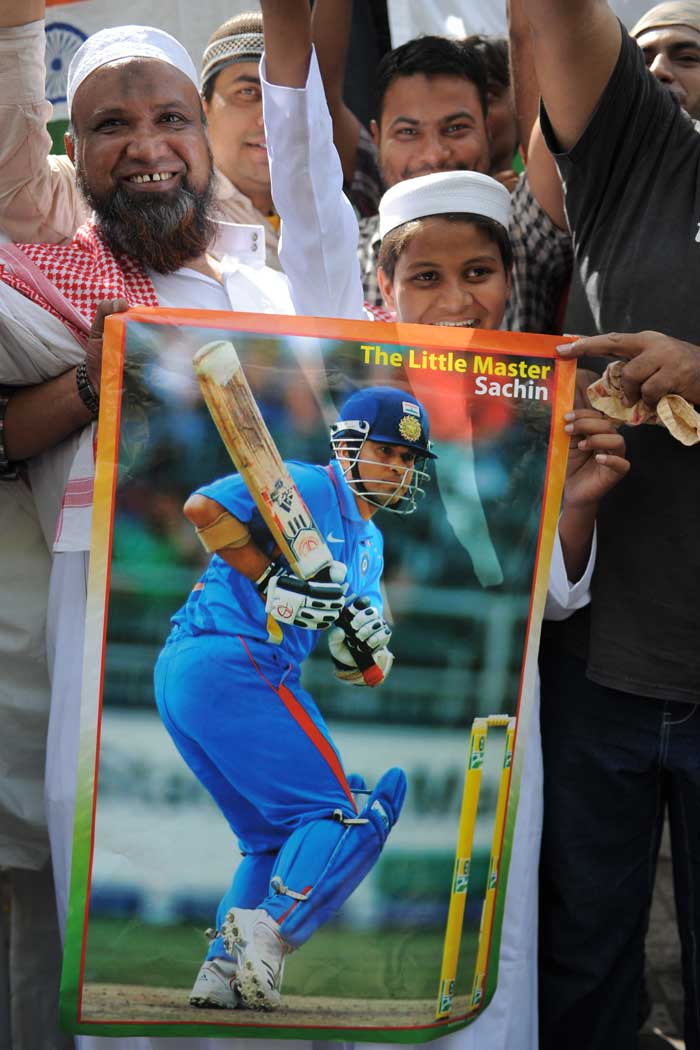 Fans wave a poster of Sachin Tendulkar at the Siddi Saiyed Jaali Mosque in Ahemedabad.(Image courtesy: AFP)
Students from Anjuman-E-Islam school pose with tri-colours for the India-Pakistan clash.(Image courtesy: AFP)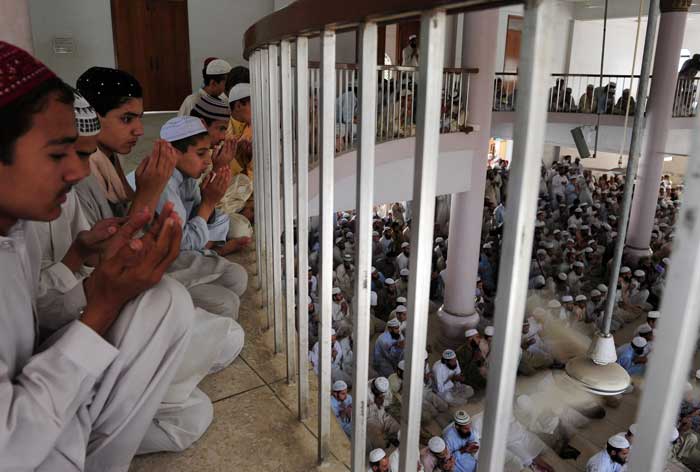 Pakistani seminary students hold a mass prayer service for victory on the other side of the border.(Image courtesy: AFP)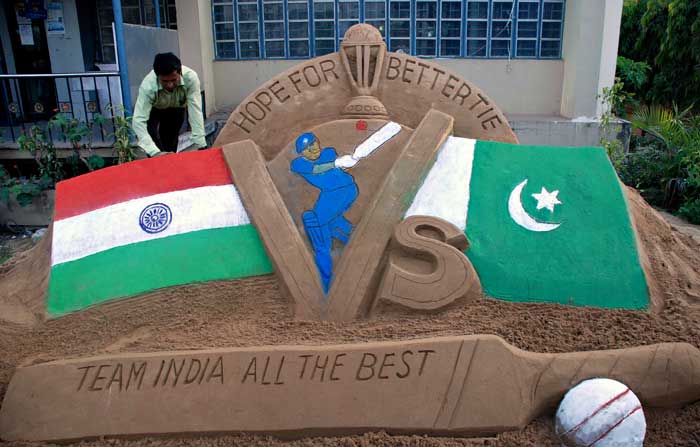 Artist Subala Moharana proves a point by building a sand sculpture and wishes India all the best!!(Image courtesy: AFP)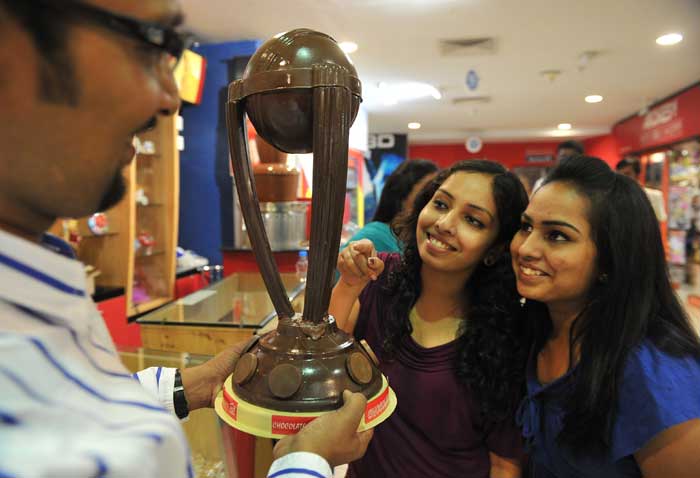 Chocolatier Konda Karthik shows off a chocolate World Cup trophy as young girls look on excitedly. Yummy!!(Image courtesy: AFP)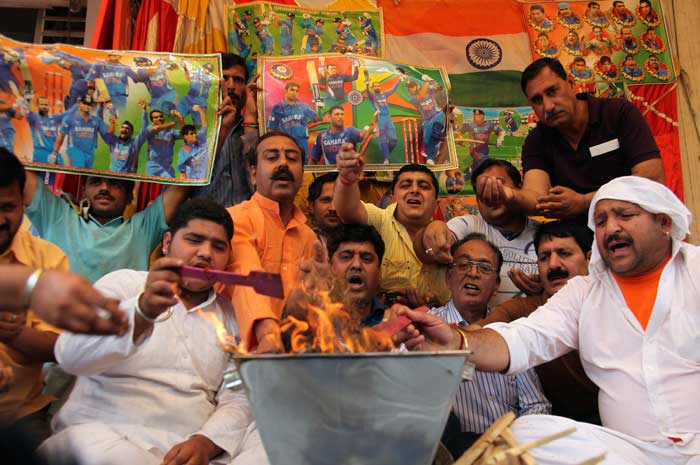 Frenzied fans perform rituals for the victory of the Indian cricket team.
Customized car designer Sudhakar Yadav sits inside a vehicle shaped in the form of the World Cup trophy. Now that's some innovation!!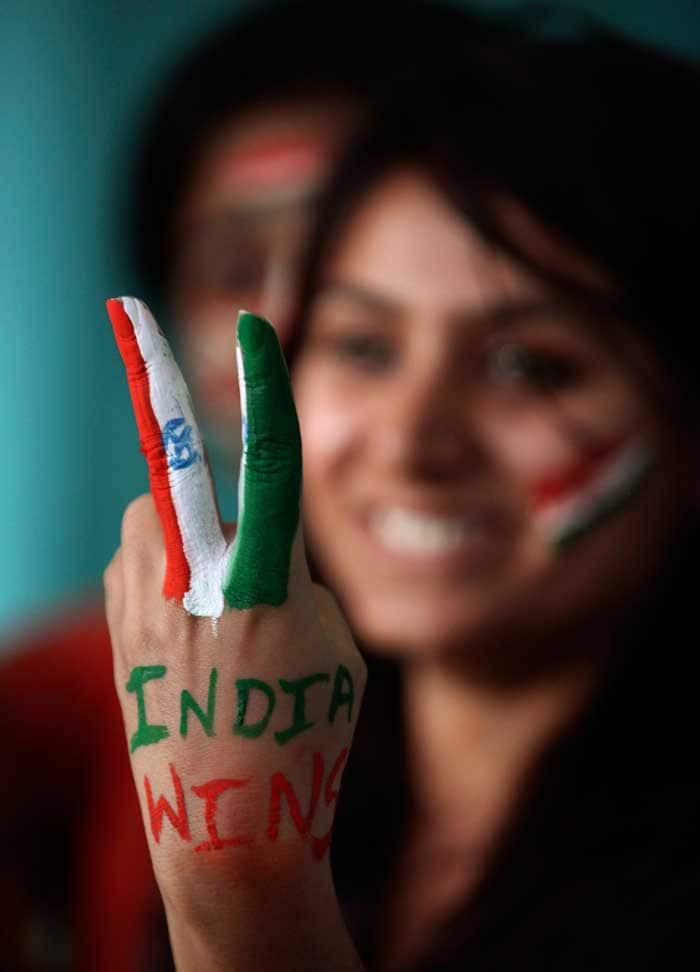 Painted faces and hands: A fan proves her patriotism by painting the Indian flag.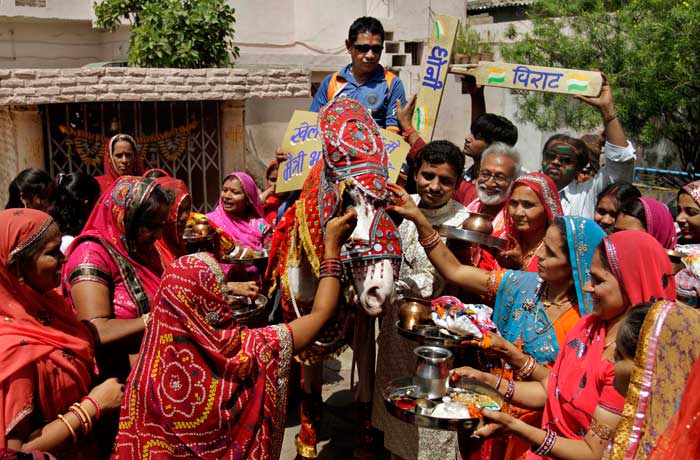 Women apply vermilion to a horse carrying Suresh Rathod, a fan who resembles Sachin Tendulkar. That is Sachin's impact on the fans.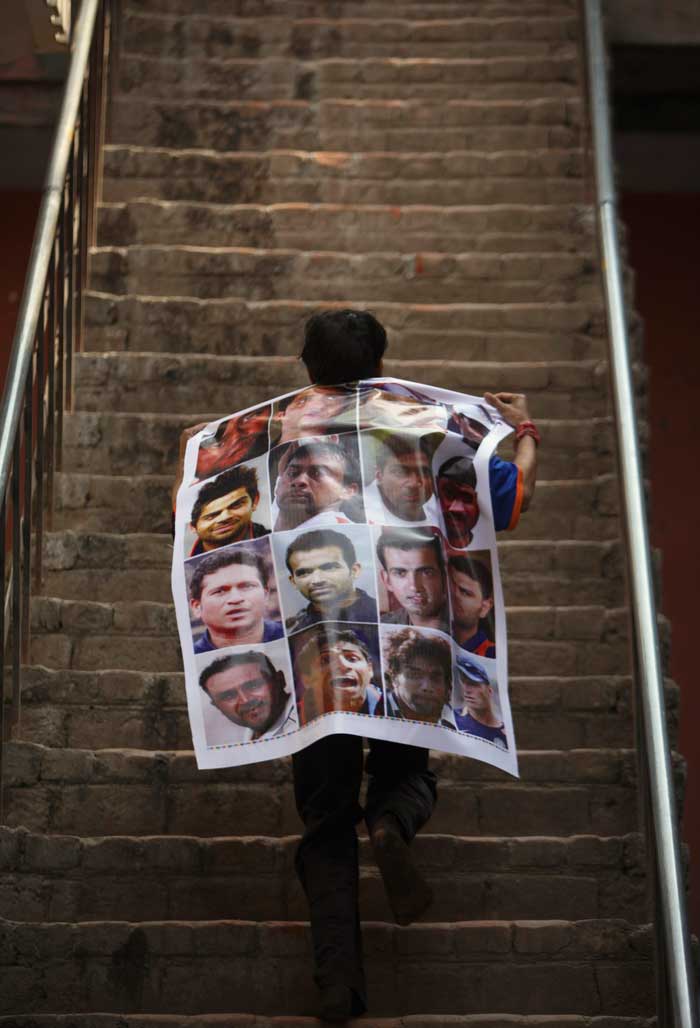 A young boy shows his craze for the sport and carries a collage of photographs of the Indian cricket team.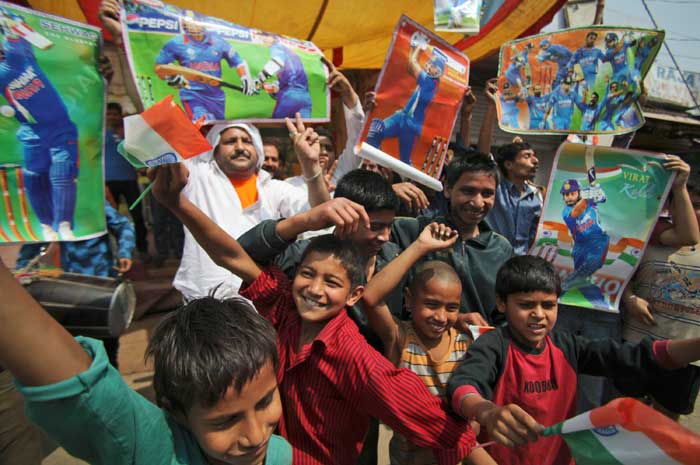 Little fans display photographs of cricket players as they cheer for the Indian team in Jammu.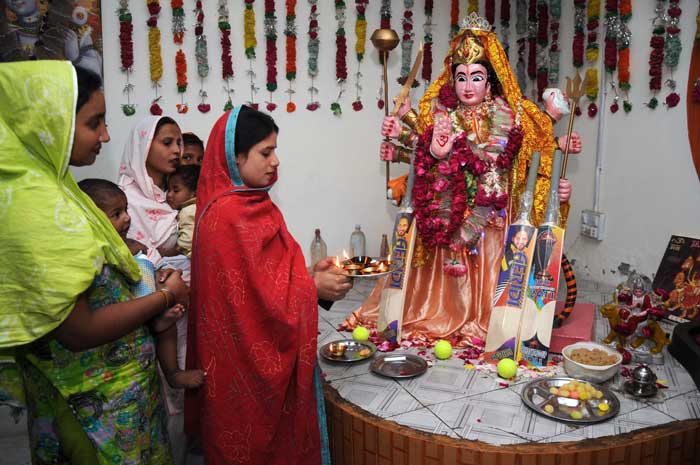 Hindus in Pakistan attend special rituals, praying for the success of the Pakistani cricket team against India, in Multan.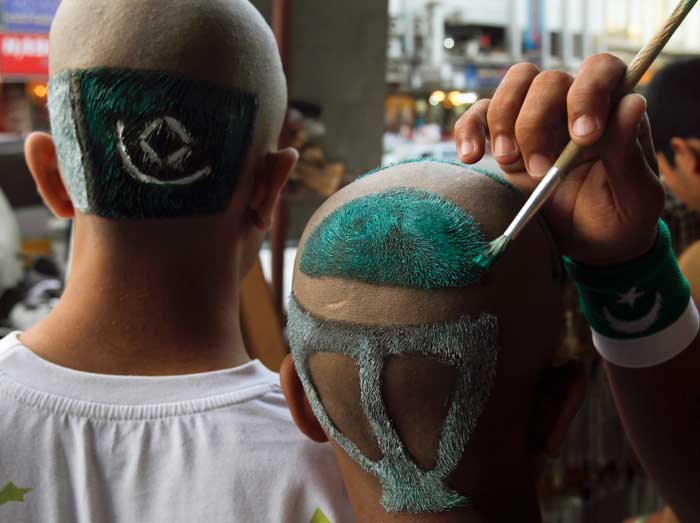 On the other side of the border, fans join the frenzy by shaving their heads and painting the Pakistani flag.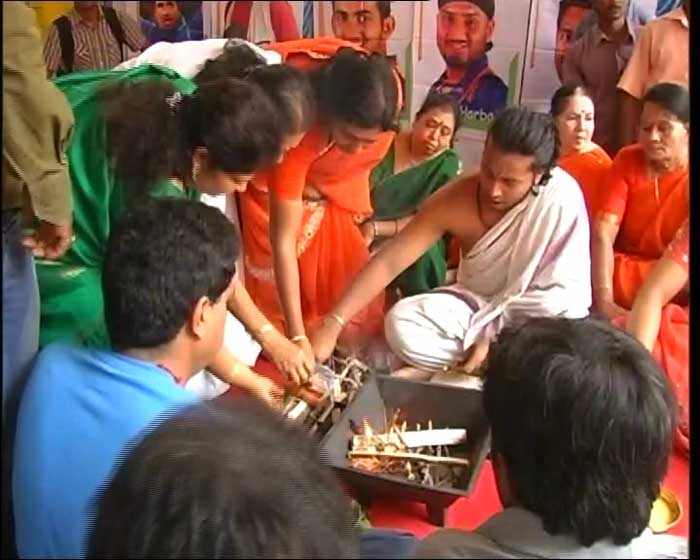 A group of 25 in Bengaluru are praying for divine intervention to ensure a performance of a lifetime from the Men in Blue.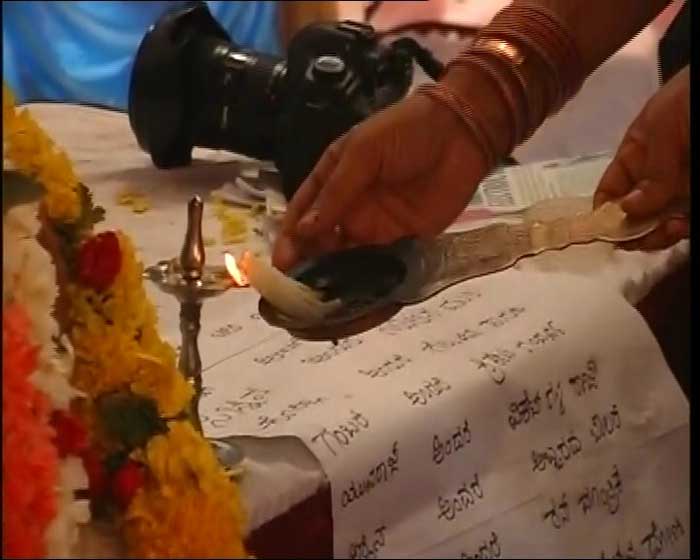 The prayer meet will cover all bases with a Ganpati havan and chants from Hindu, Muslim and Christian scripture.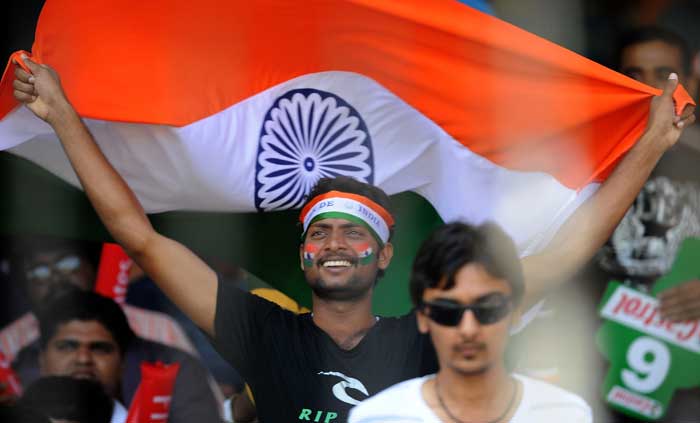 Flying the flag for Team India. And, to be tear-proof in case of victory or defeat, bring along your sunglasses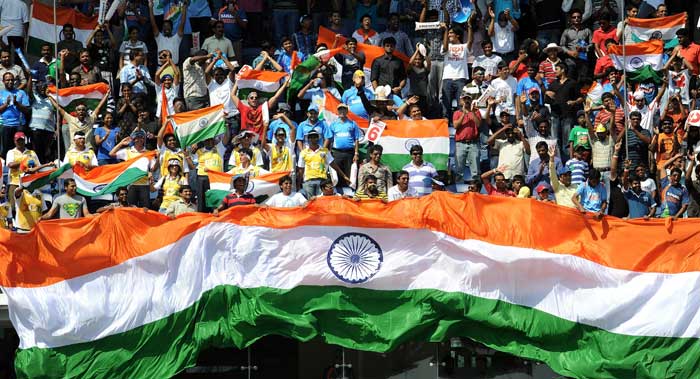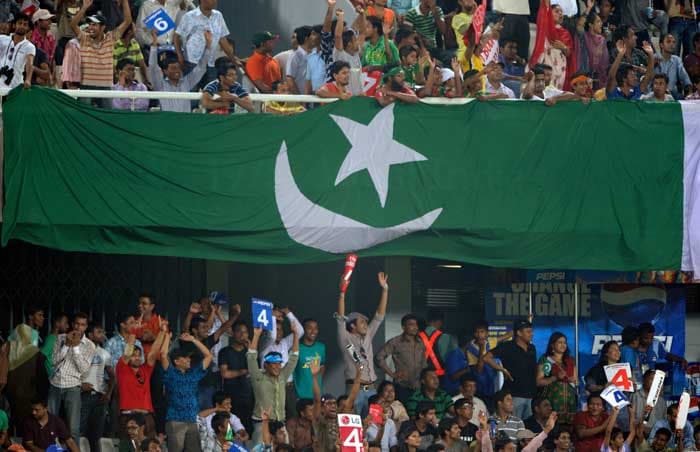 Fans from across the border will cheer Team Pakistan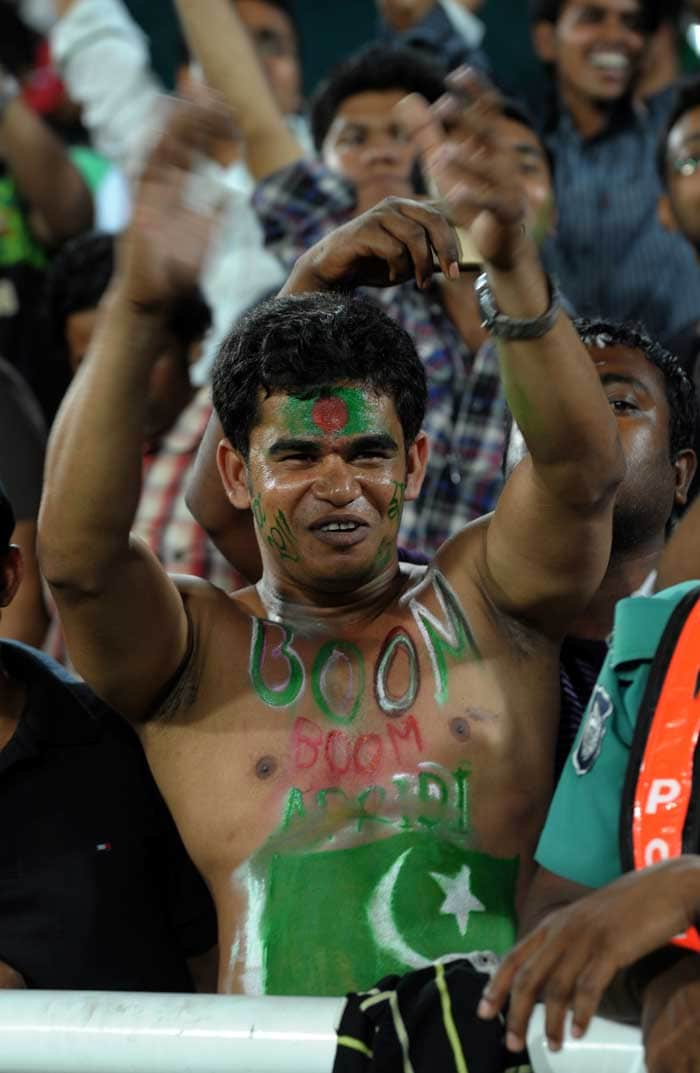 Will Afridi be the main man tomorrow? This fan thinks so.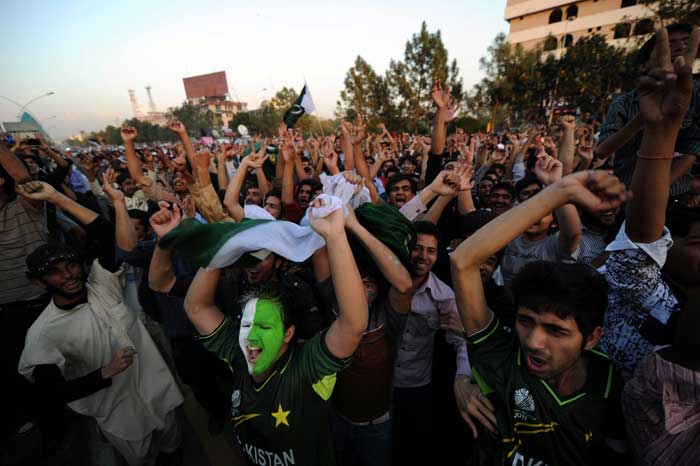 All the cricket fans, put your hands up.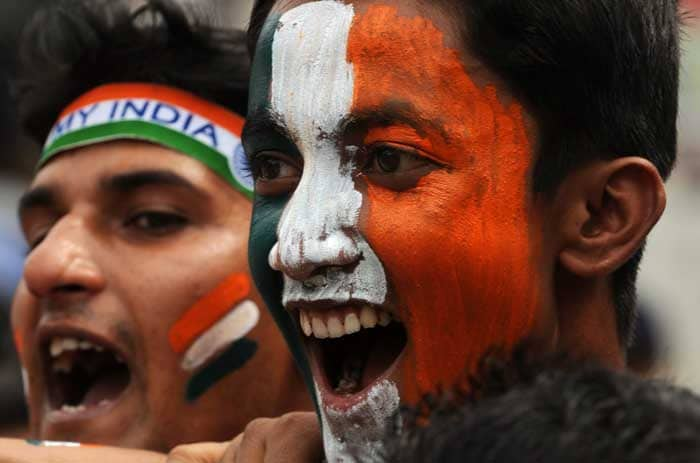 Saffron, white and green – the war paint goes on.
Clash of the Titans: India and Pakistan will go head to head in Mohali tomorrow in a monster match.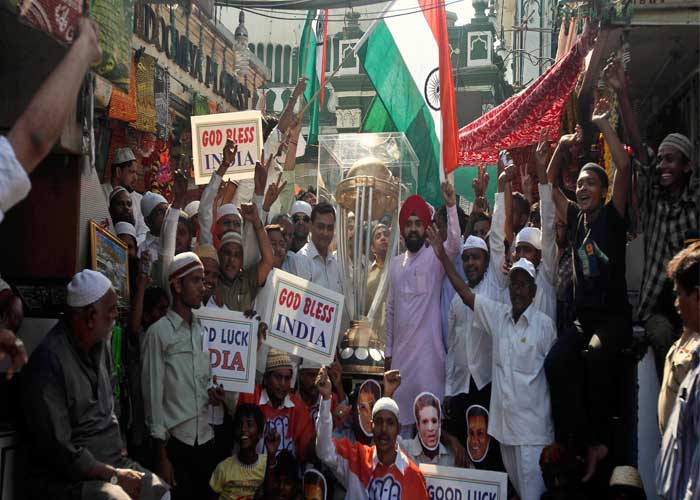 As a nation obsessed with cricket, Indian streets are spilling over with goodwill for Team India.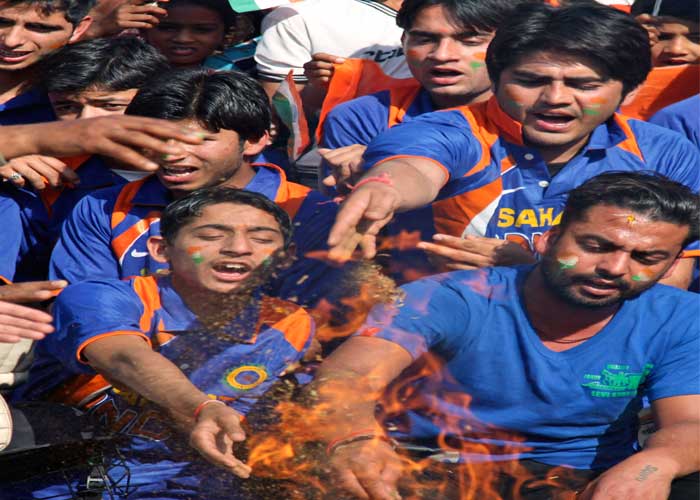 Dear God, Bleed Blue: Just in case Sachin, Dhoni and gang need some help from above.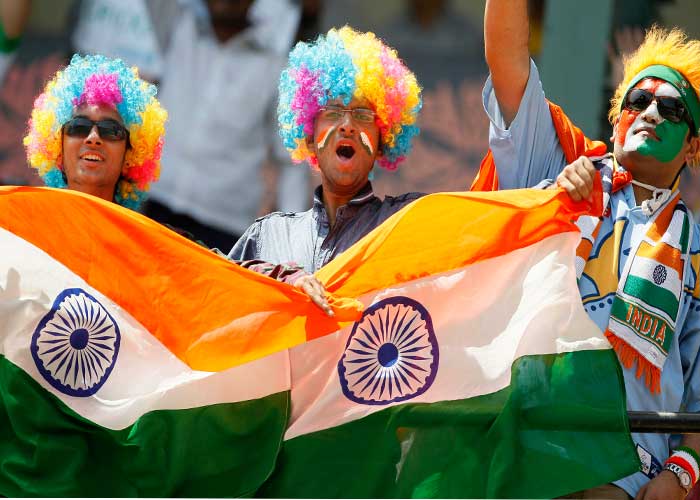 Mohali will be full to bursting tomorrow with cricket lovers, regular and non-regular. Among the VIP guests – The Ambanis and Prime Ministers from both sides of the border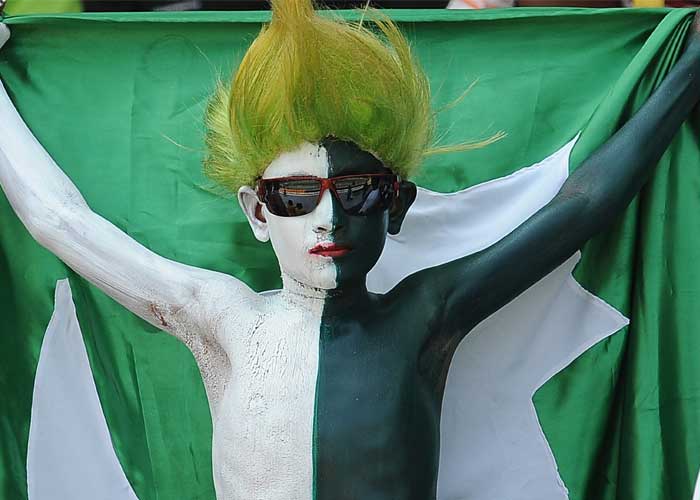 True Colours: A Pakistani fan in top to toe green and white.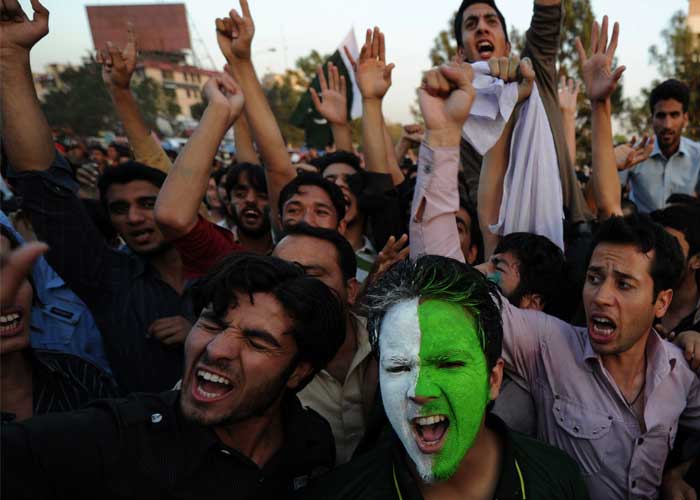 On the other side of the border, emotions are running as high as on this side.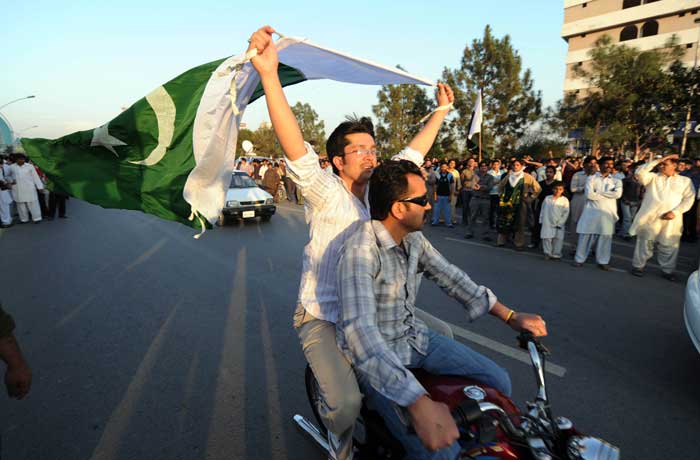 To be a true cricket fan, you must fly your country's flag from the back of a motorcycle!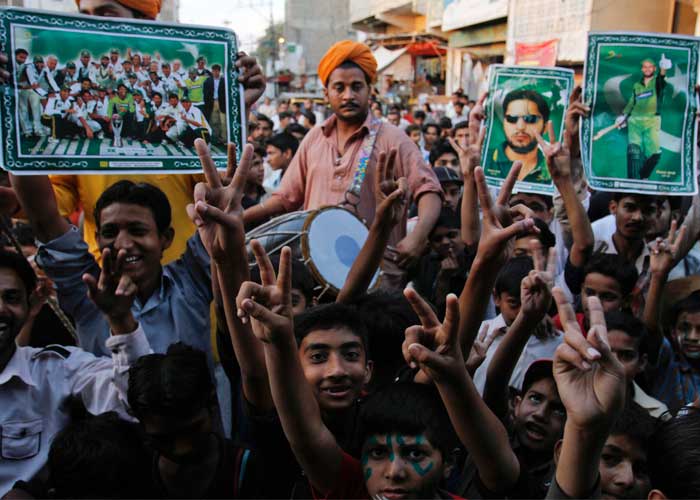 Pakistan takes to it's streets, in support of their men.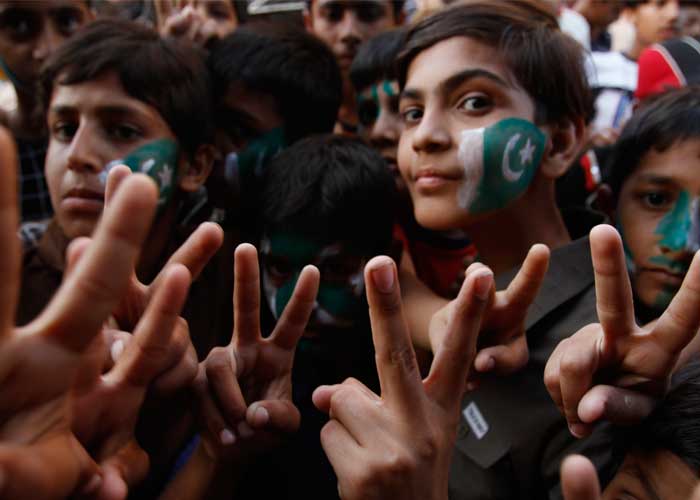 V for Victory? All eyes will be on Mohali tomorrow.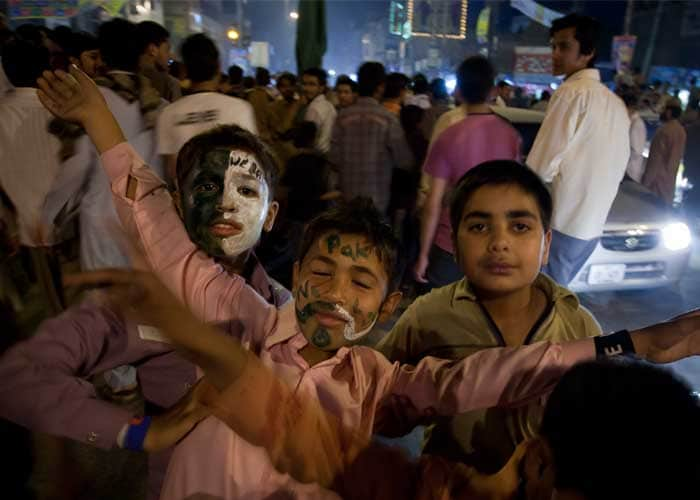 Like in India, Pakistani fans come in all shapes and sizes.