2007: Hat trick for the Aussies
Coming into the tournament as favourites, Australia lived up to the billing and became the first team to win 3 World Cups on a row.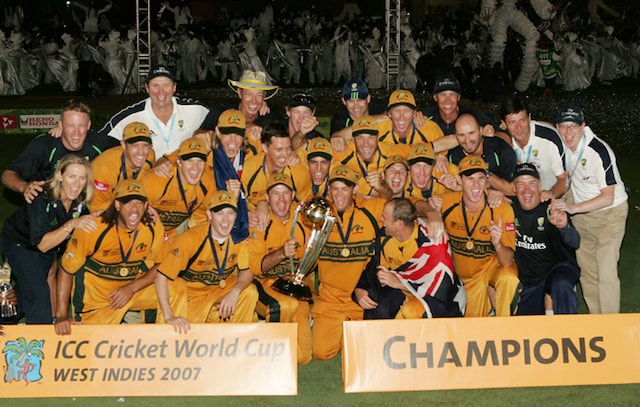 The 2007 World Cup in the Caribbean had what every glamorous event would like to avoid - the death of a coach, a final completed in darkness, early exits of favourites and only a few close matches. All these factors overshadowed Australia's hat-trick of World Cup titles.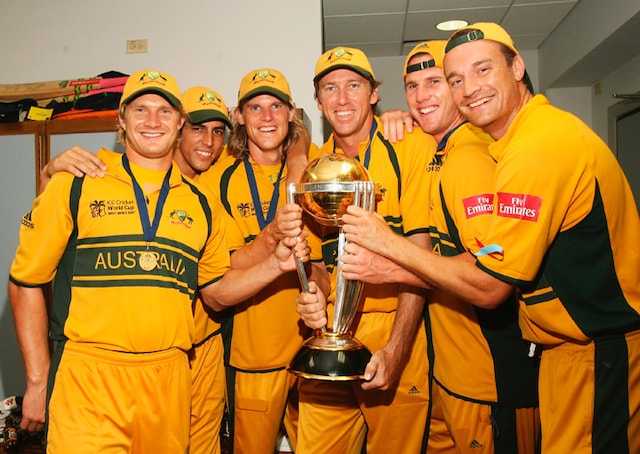 The 2007 World Cup was dominated by Australia from start to finish. They steamrolled every opposition and won the Cup almost unchallenged.

The extent of the Australian domination can be realized from the fact that there 53-run victory in the Final was the narrowest margin of victory they had throughout the tournament.

Wide comparisons were being made to the West Indian side that went undefeated in two consecutive World Cups, a feat that Australia matched quite comfortably.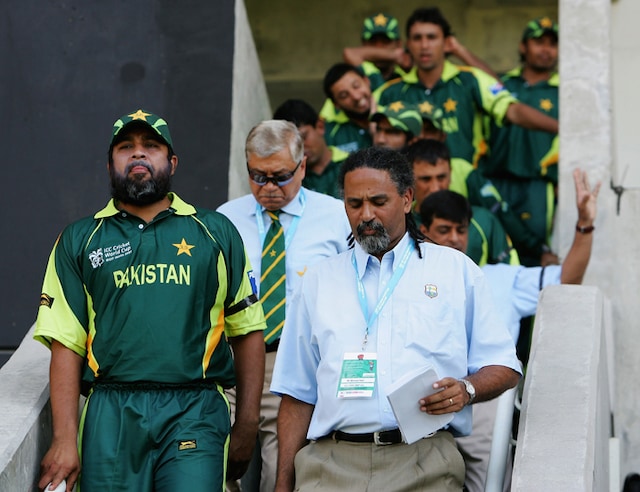 The 47-day event was not even a one-week old when Pakistan's coach Bob Woolmer was found dead in his hotel room in Jamaica. He was initially thought to have been murdered before it was announced he died of natural causes. The former England batsman's death came hours after Pakistan's shock defeat against debutants Ireland, the loss eventually leading to the exit of the 1992 champions.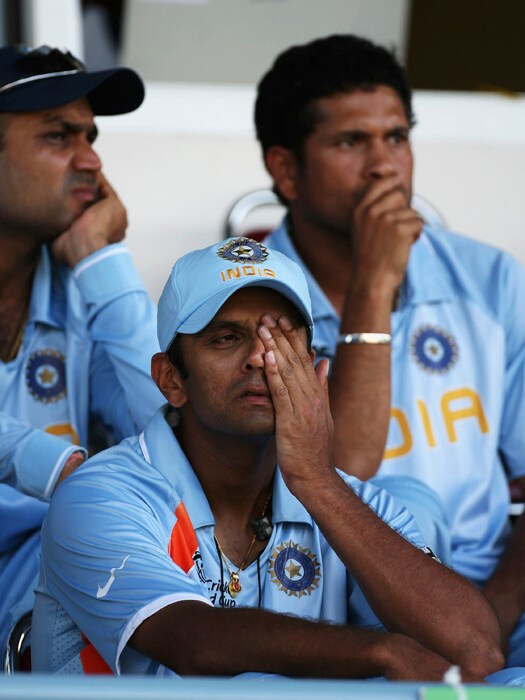 Rahul Dravid's Indians made a horror start, losing to minnows Bangladesh in their opening match despite having exciting batsmen in Sachin Tendulkar, Sourav Ganguly, Yuvraj Singh and the captain himself. It was one of the biggest upsets in the Cup history, eventually leading to India's ouster and leaving millions of fans back home disappointed.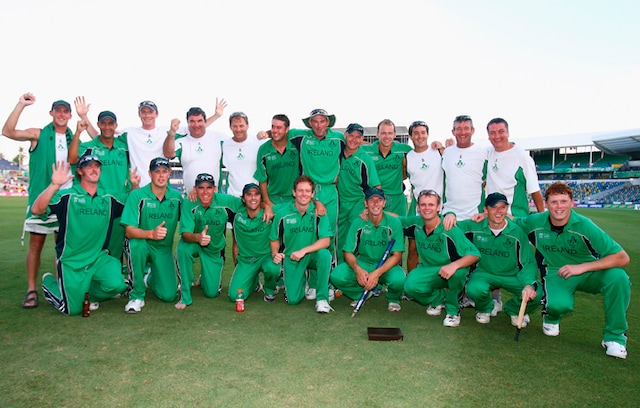 While Bangladesh and Ireland exceeded expectations by advancing to the second round, England and the West Indies failed to make the last-four. England all-rounder Andrew Flintoff was dismissed as vice-captain and banned for one match after capsizing a pedalo in the sea after his team's defeat to New Zealand.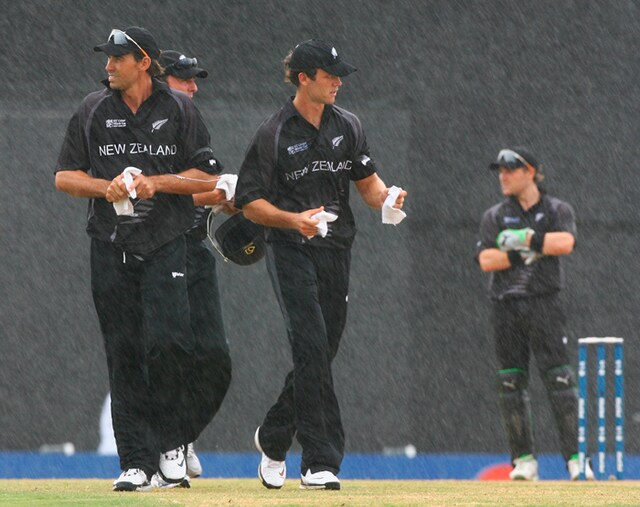 Stephen Fleming's New Zealanders impressed but yet again failed to cross the semi-final hurdle, while South Africa fell to Australia in the penultimate round.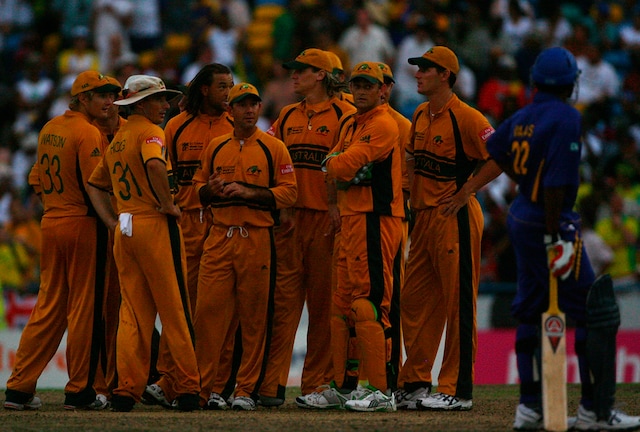 Disappointment was also in store for spectators in Bridgetown when the rain-hit final between Australia and Sri Lanka ended in semi-darkness. The officials believed that 36 overs had to be completed in Sri Lanka's innings, apparently forgetting a minimum of 20 were needed to obtain a result. "It was a mistake on our behalf," match-referee Jeff Crowe said after the match, the first of the nine Cup finals to be abbreviated. "I should've known the rules. It was a human error, I guess, at the end of the day."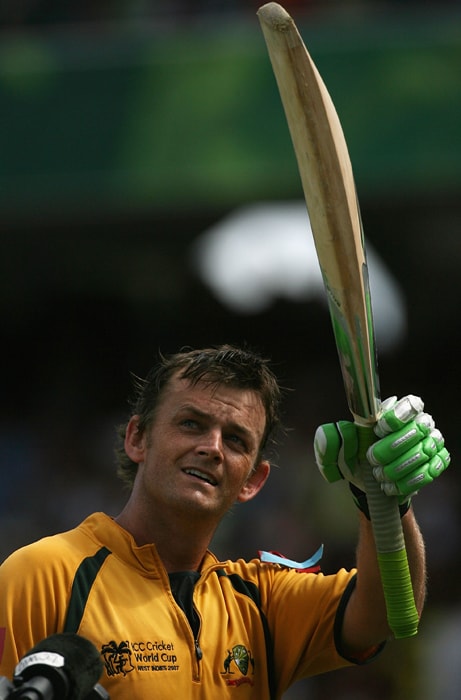 Adam Gilchrist dominated the final, hammering a 104-ball 149 with a squash ball in his left glove which seemed to help him hit straight. And Australia were virtually assured of a record third successive title after posting 281-4 off 38 overs, thanks to wicket-keeper Gilchrist's blitz which contained eight sixes and 13 fours.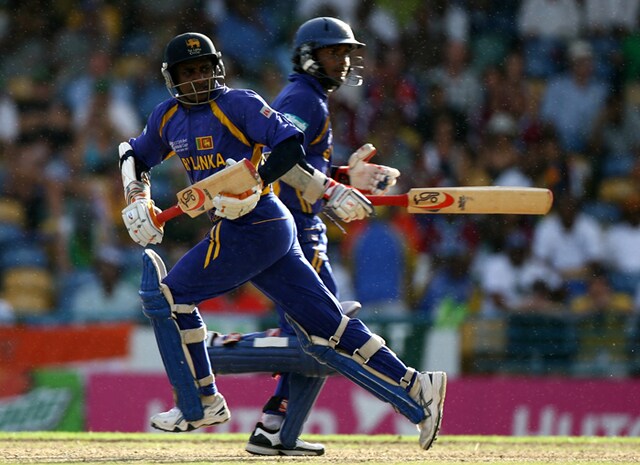 Sri Lankan veteran Sanath Jayasuriya and Kumar Sangakkara made bold half-centuries but their team finished at 215-8 as their target was revised to 269 off 36 overs following a rain interruption.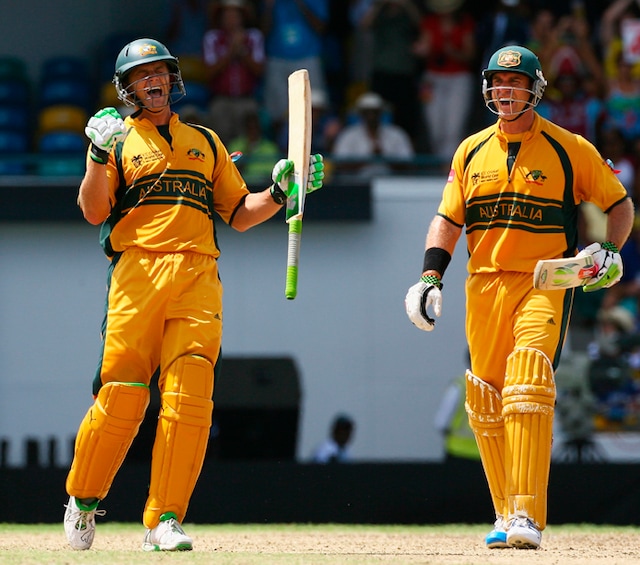 Australia were involved in a few tight matches in the 2003 tournament in South Africa, but so dominant were they in the Caribbean that they hardly gave any chance to the opposition. Four Australians - Matthew Hayden (659), skipper Ricky Ponting (539), Gilchrist (453) and Michael Clarke (436) -- were among the tournament's top 10 run-getters.
Australian pacemen Glenn McGrath (26), Shaun Tait (23), Brad Hogg (21) and Nathan Bracken (16) were among the top six bowlers. McGrath, on his last appearance, also surpassed Pakistani paceman Wasim Akram's Cup record of 55 wickets.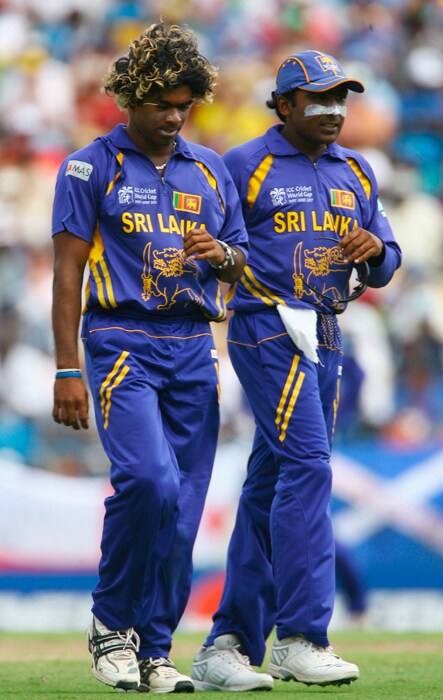 Sri Lanka deserved to be in the final for their consistency, Jayawardene (548) being the second-highest scorer after Hayden and Jayasuriya (467) the sixth. Off-spin wizard Muttiah Muralitharan was had 23 wickets and paceman Lasith Malinga was the fifth best with 18. Malinga also became the first to bag four wickets off as many balls, against South Africa.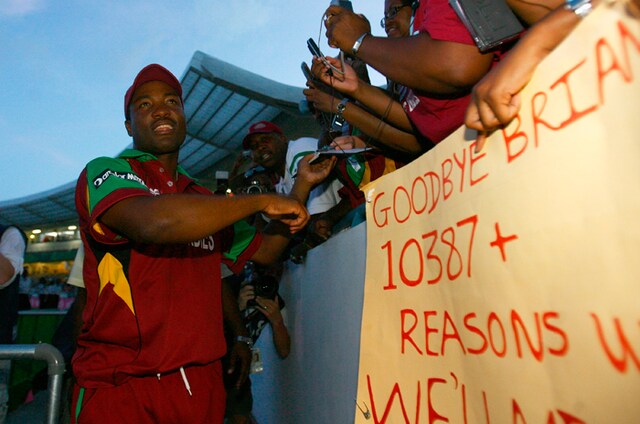 West Indies skipper Brian Lara quit after his team's campaign.