15 men who won it for India
Team India's euphoria after winning the ICC Cricket World Cup 2011 Final against Sri Lanka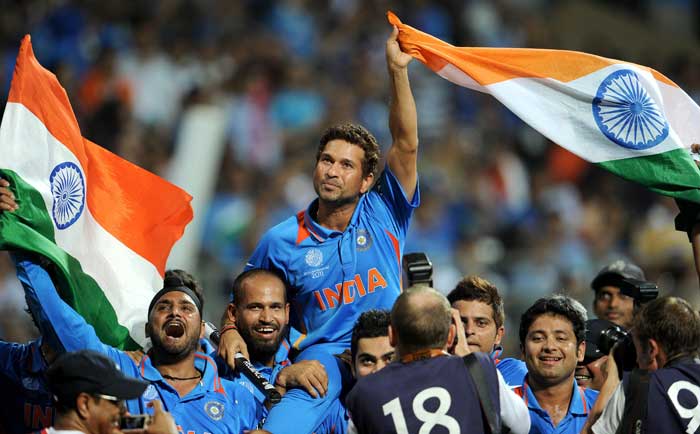 Simply, Sachin: The Indian team puts to rest all debate on whether they played to win the World Cup for Sachin Tendulkar. Here, they hoist their hero on their shoulders for the victory lap. Virat Kohli later said, "Tendulkar has carried the burden of the nation for 21 years, it is time we carried him on our shoulders". (AFP Photo)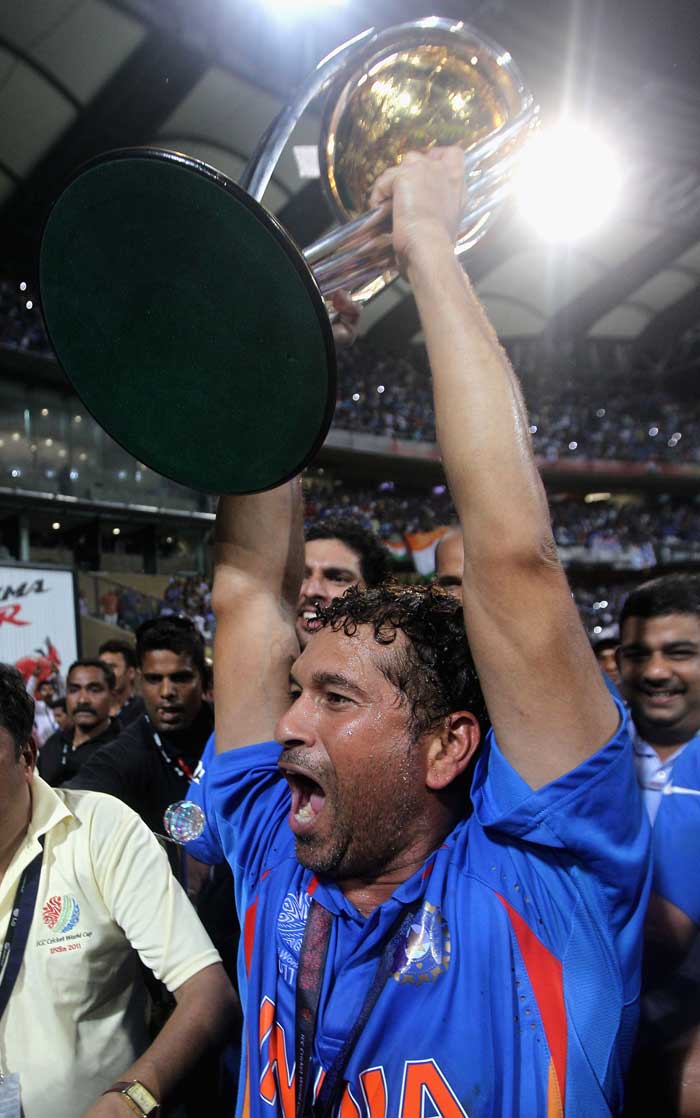 The Sachin Moment: It took him 21 years, 6 World cups and 99 hundreds to here. He will not let go of this in a hurry. (AFP Photo)
From Me to You: MS Dhoni played a Captain's knock steering India to that most coveted of prizes – the World Cup. And after winning said the team had won it for Sachin Tendulkar.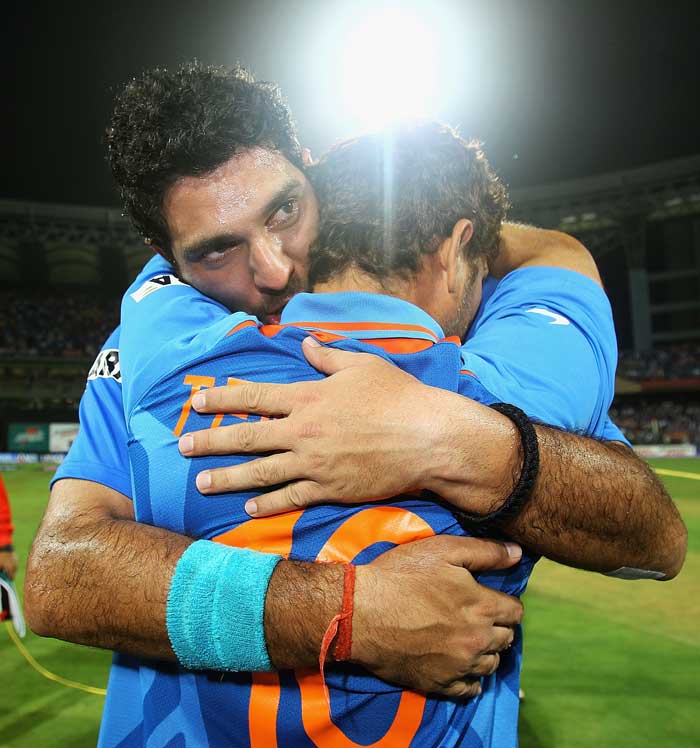 Yuvraj's Special Someone: Not for his girlfriend, said Yuvraj Singh. He went flat out to win the cup for Sachin Tendulkar. (Getty Images)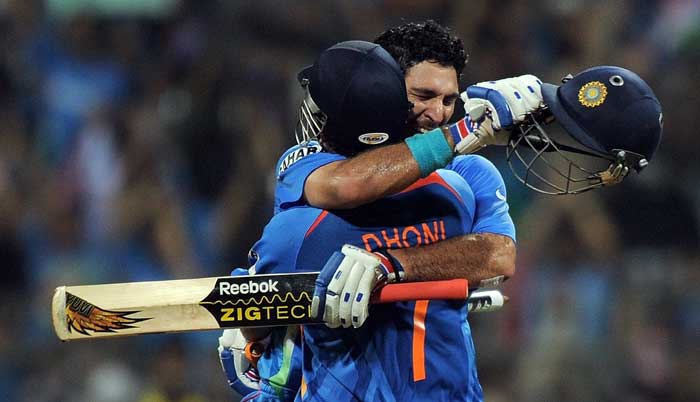 The First Celebration: Time and again during the World Cup 2011, MS Dhoni and Yuvraj Singh found themselves in the middle with the situation demanding a partnership to both steady innings and fetch runs. It was fitting that they were at the crease when India became World Champions all over again.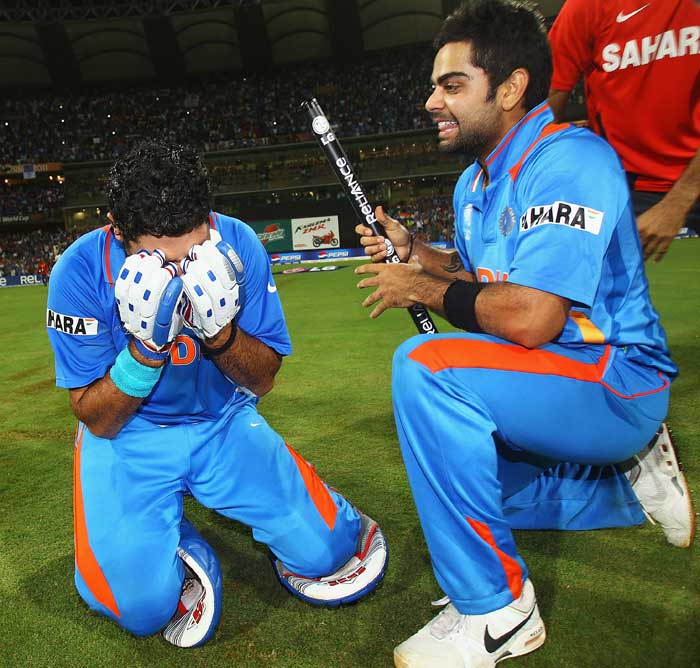 At First, Disbelief: Yuvraj Singh was super cool through the tournament. No more than pumping the air when he got breakthrough wickets, not raising his bat to mark his 50 against Australia till he had safely seen India through to the semi-finals. Not much emotion till this moment.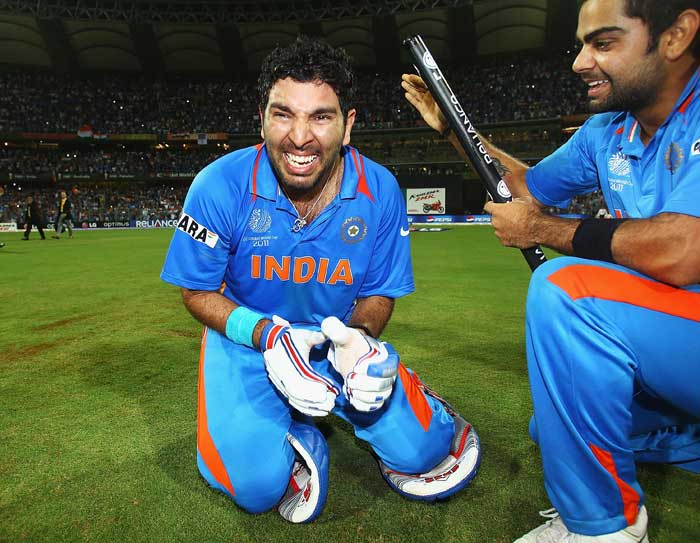 Yuvraj is back: This man began the cricket World Cup as among the players least expected to perform. But in game after game Yuvraj Singh proved he was the match winner he had always been known as till bad form and poor fitness struck him down. Here, tears of joy, relief.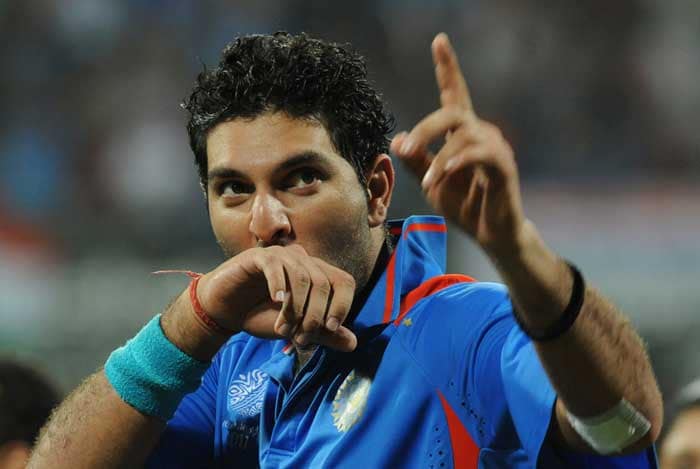 A Prince's Kiss: One for his fans as Yuvraj Singh acknowledges the crowds at Mumbai's Wankhede Stadium after being named Player of the Tournament. (AFP Photo)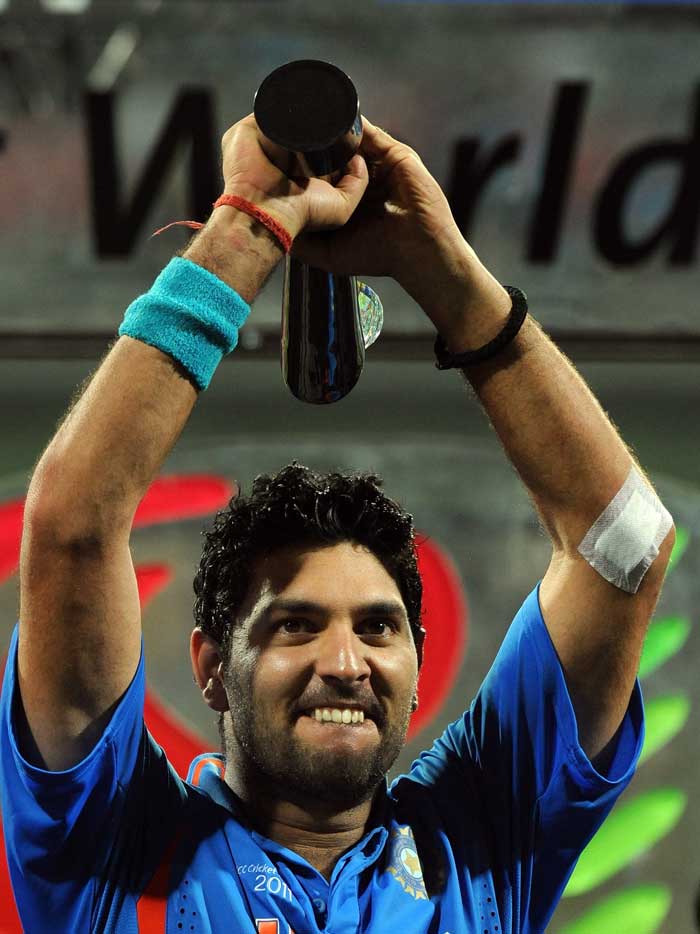 Good Times are Back: Yuvraj Singh is named Man of the Tournament. (AFP Photo)
Wrapped in Patriotism: Mahendra Singh Dhoni and Virat Kohli share a special victory moment as they walk along with the Tricolor draped around them. (AP Photo)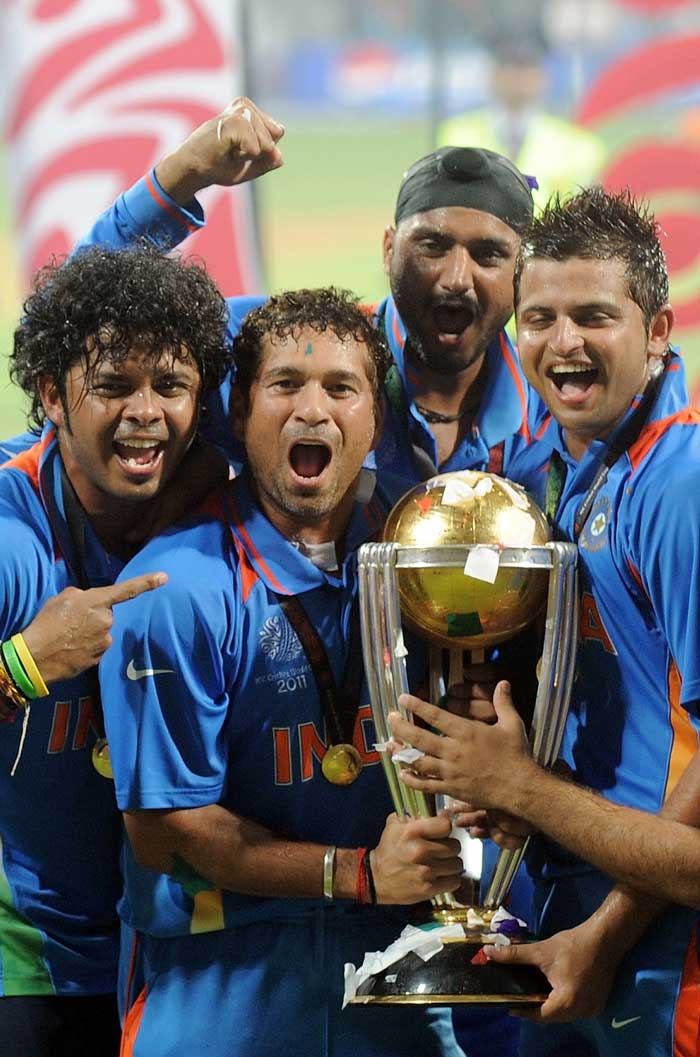 Drenched in Success: S Sreesanth, Sachin Tendulkar, Harbhajan Singh, Suresh Raina and the World Cup. Winning combination. (AFP Photo)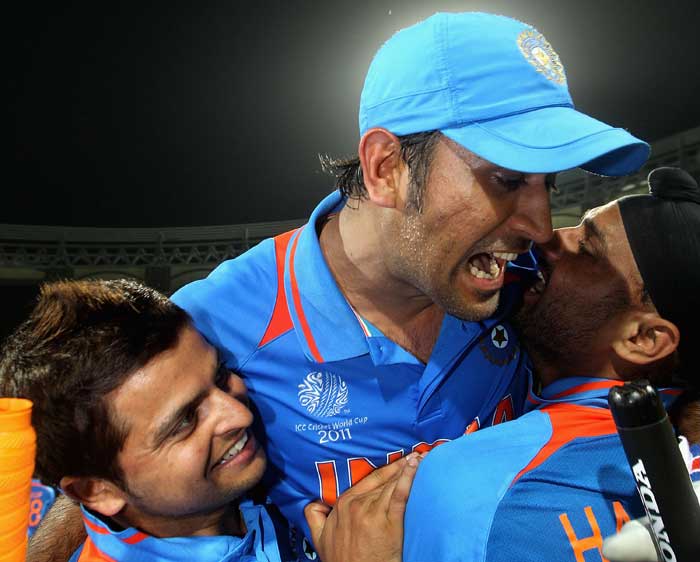 My Captain: Suresh Raina and Harbhajan Singh fete MS Dhoni, the man who has led them to some spectacular victories. And this once, straight from the front. (Getty Images)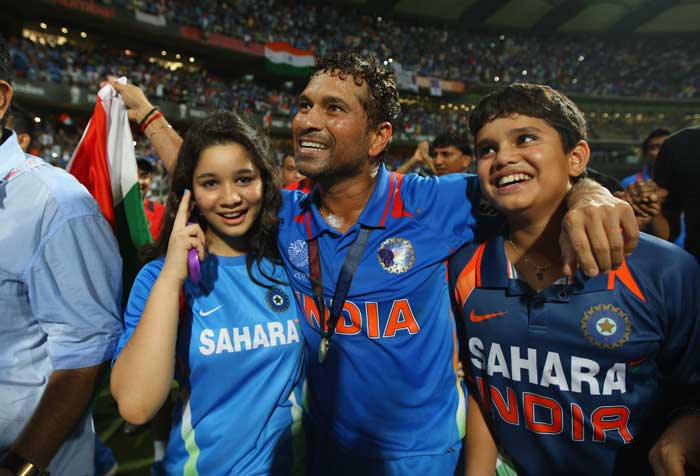 Daddy Did It: Sachin Tendulkar, the man they won it for, shares a moment of pure joy with his children, (AFP Photo)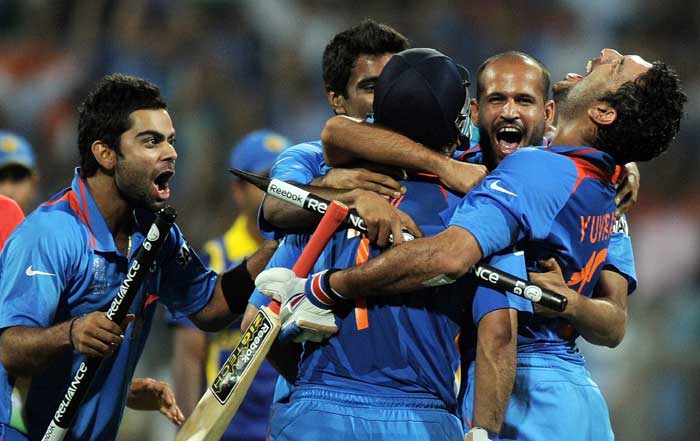 Mini Huddle: Take a good look. These men are all World Champions.
Farewell Guru Gary: The shishayas continue the parampara of giving Guru Dakshina. What better prize than this for Indian coach Gary Kirsten, who has announced that he will leave Team India after the World Cup. (AFP Photo)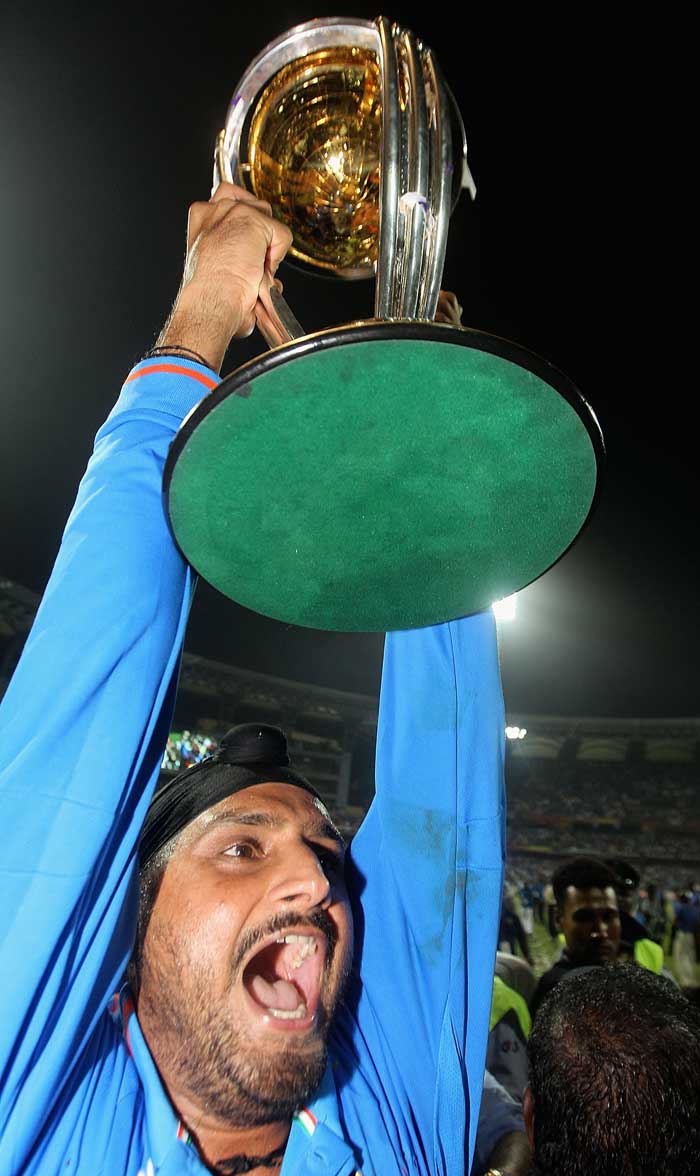 On Top of the World: Harbhajan Singh, India's king of spin, is an aggressive man. He wept and screamed for joy in that spirit on winning the World Cup. (Getty Images)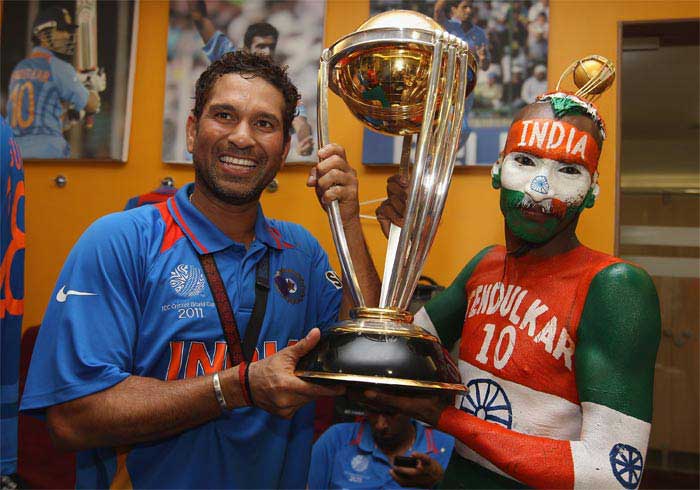 Fan's Cup of Joy Spilleth Over: Did this man know, when he donned his elaborate, patriotic make up, that he would end the day on this high note? Did all of India?