Sakshi Dhoni's many IPL moods
Many regard her as the first lady of Indian cricket. And Sakshi Dhoni makes it a point to attend husband MSD's IPL matches and support his side with full passion. Here, take a look. (BCCI image)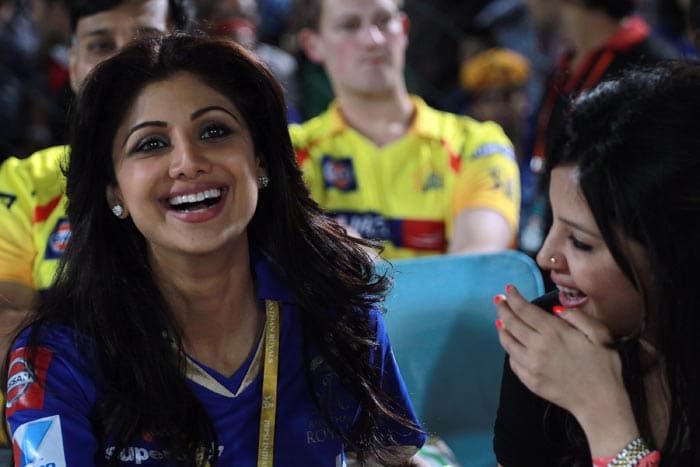 Bollywood actress Shilpa Shetty and Sakshi Dhoni make a very pretty picture together.<br><br> While Shilpa is the owner of the Rajasthan Royals, Sakshi - for the few who don't know! - is married to Chennai Super Kings skipper MSD.<BR><BR> And while the two teams were battling each other on the field, these two ladies let competition remain in the playing arena and enjoyed their time at the Sawai Man Singh Stadium in Jaipur. (BCCI image)
Shilpa, it appears, took the lead in opening up light conversation as Sakshi is seen enjoying the company. (BCCI image)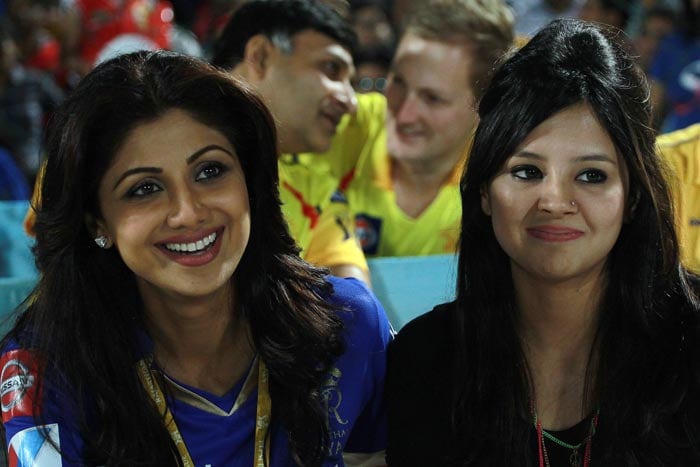 In the end though, there can only be one winner on the cricket field.<br><br>From the laugh and the sporting smile, it is quite clear whose team emerged victorious. (BCCI image)<br><br> Click on for more images of Mrs Dhoni from other IPL matches.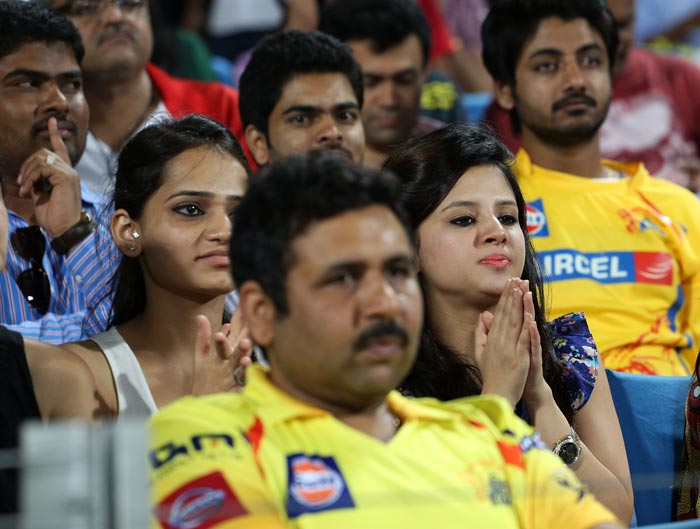 Whenever Chennai Super Kings play and Dhoni takes to the field, one fan keeps all her fingers crossed. Yes, Sakshi Dhoni (right) is an ardent admirer of the side and the skipper- her husband MS. Here she catches the team in action against Pune Warriors.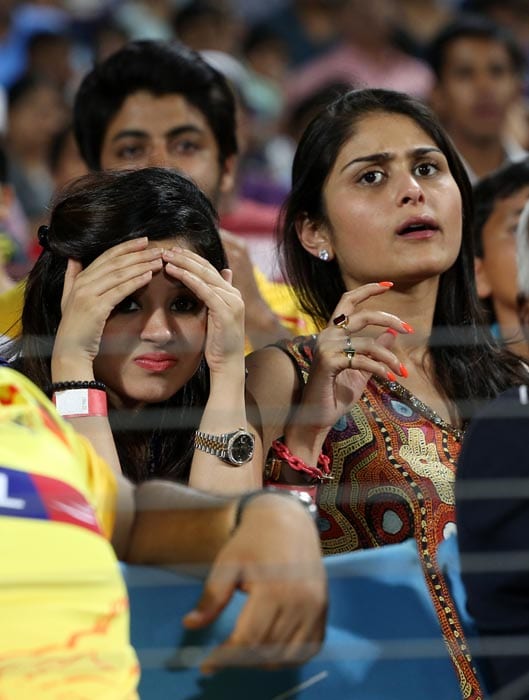 Sure, there were some tense moments in the match like in every T20 clash. (BCCI image)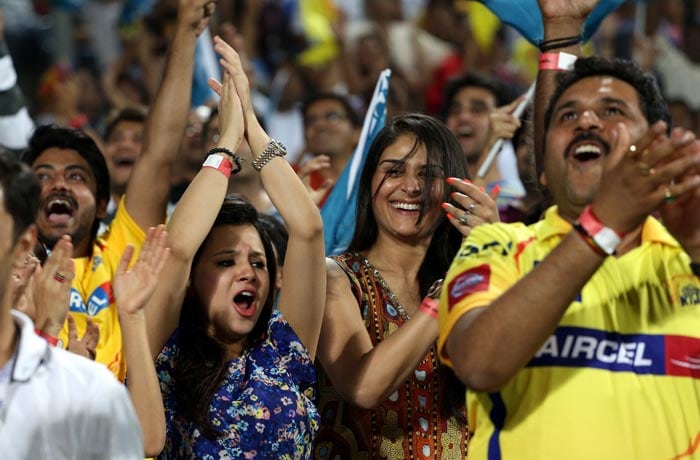 In the end though, the celebration seen here is more than enough to describe how Chennai and MS played their match. <br><br> And her at other venues...(BCCI image)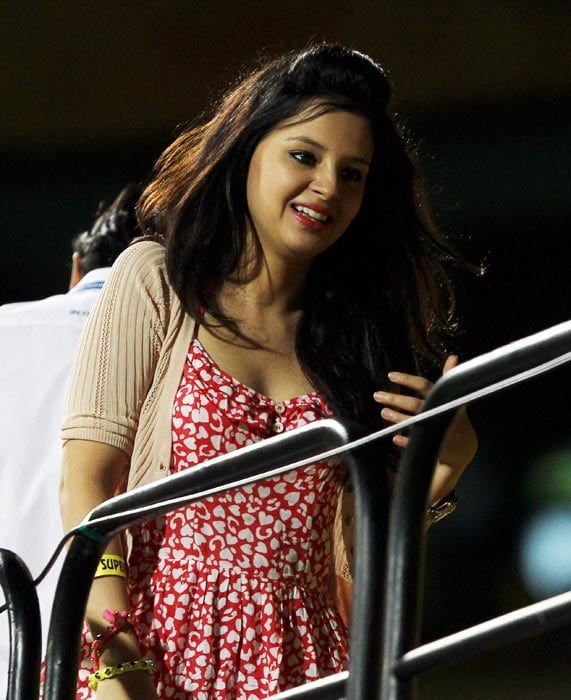 Mrs Sakshi Dhoni has been in regular attendance each time husband MS has led the Chennai Super Kings onto the field.<br>She is seen here taking a seat ahead of the match against Sunrisers Hyderabad at Chepauk. (BCCI image)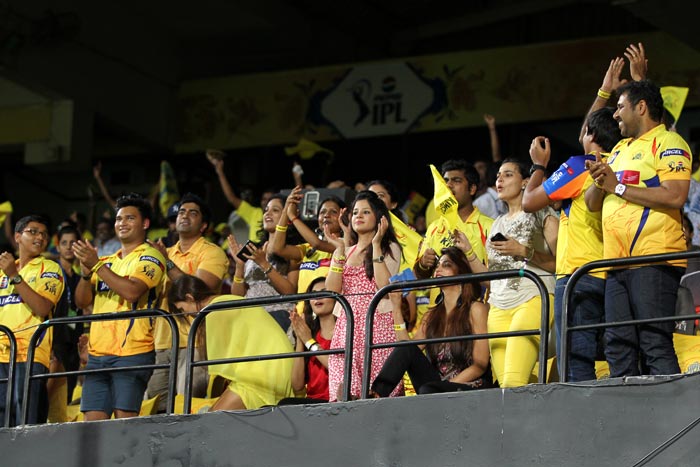 Seen here celebrating a wicket during the course of the match. Shruti Hassan (daughter of actor Kamal Hasan) is also seen here on Sakshi's left.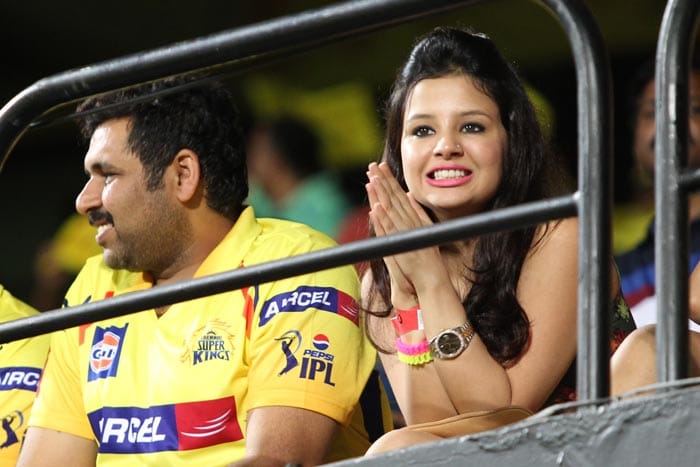 A win for Chennai Super Kings means the world for Sakshi Dhoni. Look at her wide smile after MS Dhoni's team went past Rajasthan Royals in the final over. (BCCI image)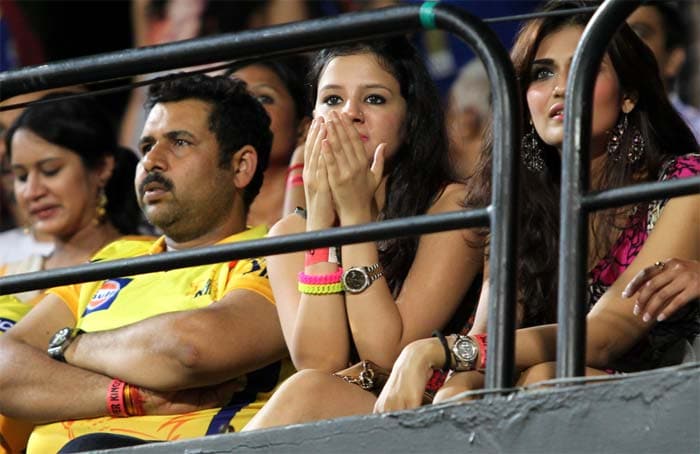 Sure there were some tense moments but Sakshi looked very pleased with the eventual result as her husband's team went up to take the top-spot in the points table. (BCCI image)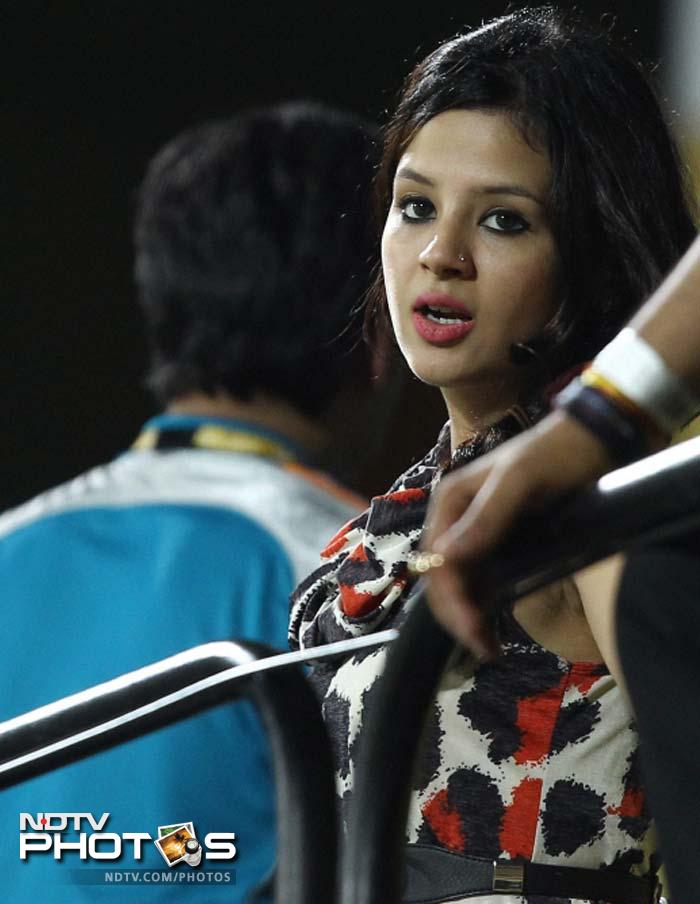 Sakshi Dhoni watching Dhoni and Co. play against Pune Warriors India at MA Chidambaram Stadium in Chennai. (PTI image)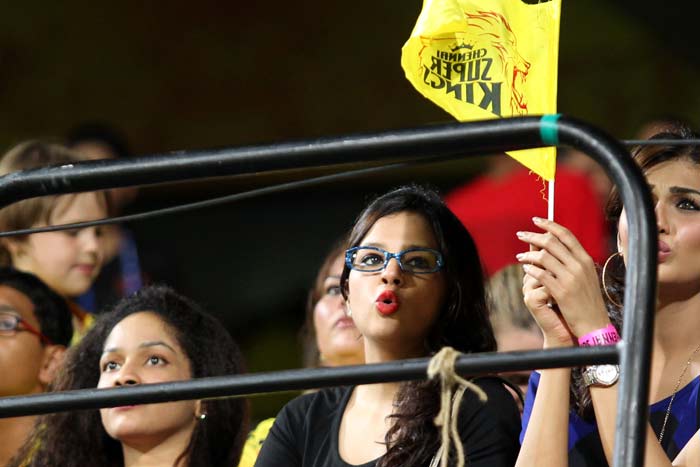 Possibly, this is the first time Sakshi Dhoni was seen wearing a pair of glasses. Although it isn't clear if they were for better vision or to protect her eyes from the stadium lights, the glasses did seem to suit her style.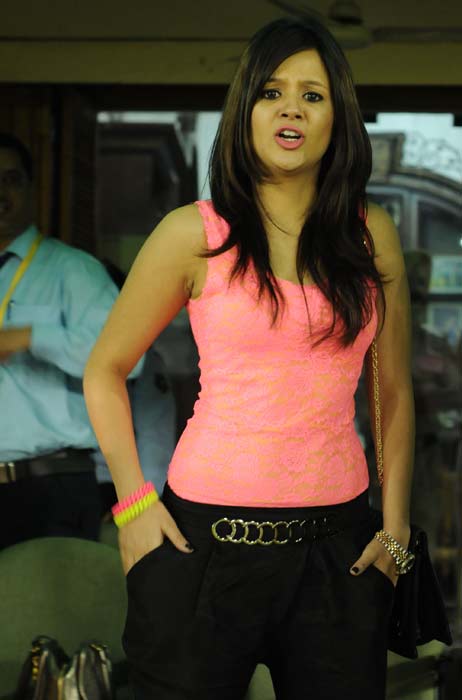 Many regard her as the first lady of Indian cricket. And Sakshi Dhoni makes it a point to attend husband MSD's IPL matches and support his side with full passion. Here, take a look. (BCCI image)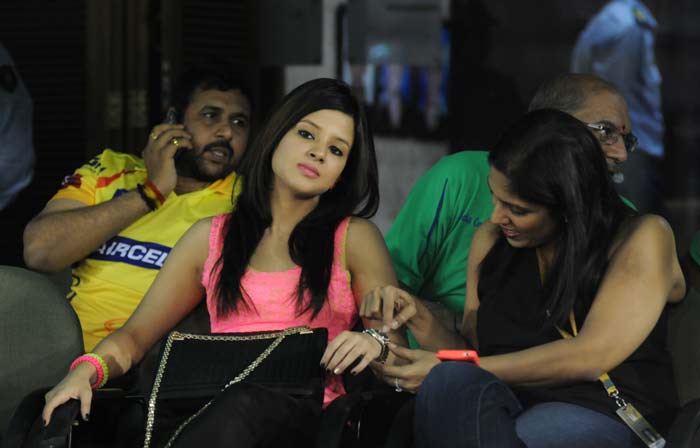 Seen here with a friend during Chennai Super Kings' match against Kings XI Punjab at Mohali. (BCCI Image)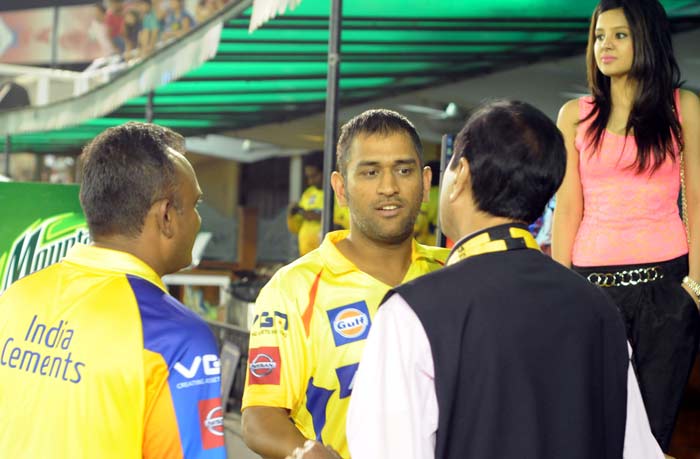 As husband Dhoni attends to serious aspects of his game, Sakshi seems to wait patiently by his side. (BCCI image)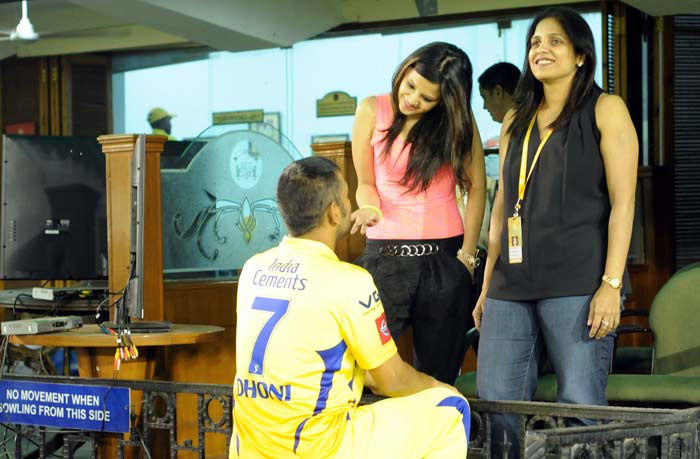 Of course, the Chennai skipper soon returned and the two are seen here sharing a candid moment. (BCCI image)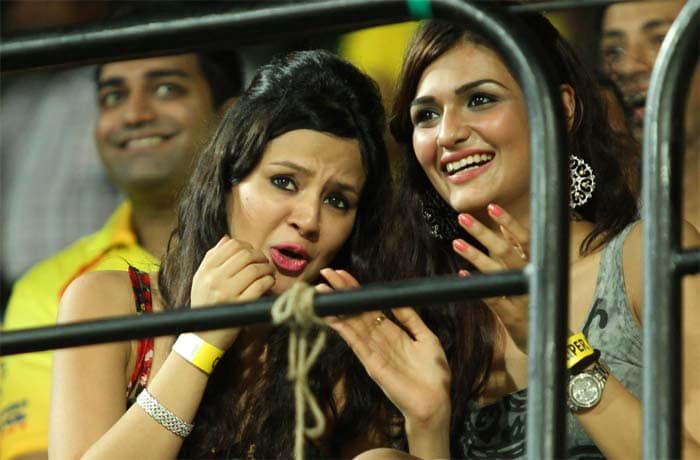 Sakshi is an avid cricket lover and is clicked on several cricketing occasions - cheering or ruing performances.(BCCI image)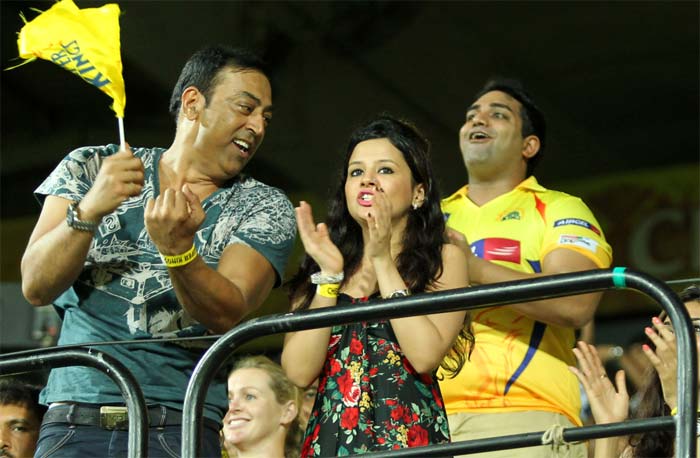 Sakshi at Chennai's opening match of Indian Premier League 2013 against Mumbai Indians. (BCCI image)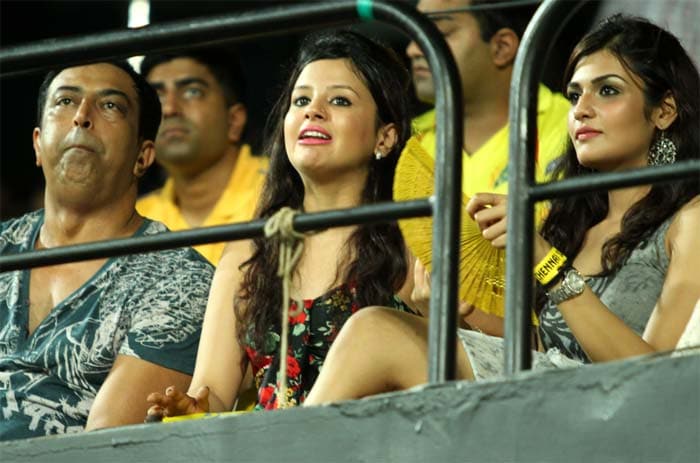 She was seen cheering every CSK player and although the team eventually lost, seemed to know that the tournament is far from over.
Hubby MS Dhoni has said that he is targeting a third IPL title for his team which should make Sakshi really happy and eager to follow him and his side through the course of the tournament. (BCCI image)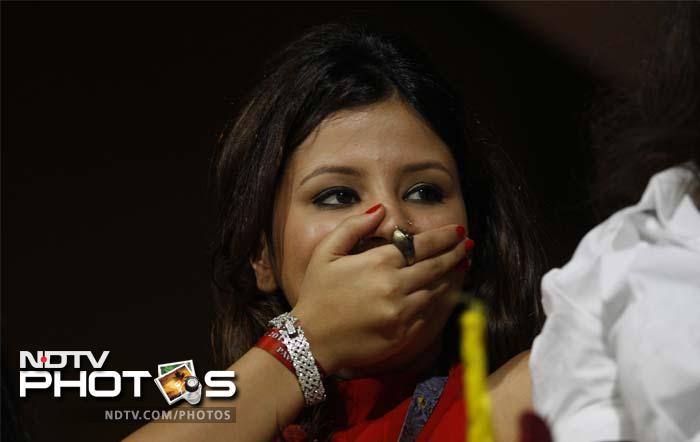 One from the archives<br><br>Sakshi has been an active and a very vocal supporter of the team even in the previous editions of IPL. (Image courtesy: AP)