In pics: The world of Rafael Nadal
The man who dared to stop the Fed-Ex. And not only stop him but also got the better of him again and again. Rafael Nadal is a true champion and we take a look into his life so far.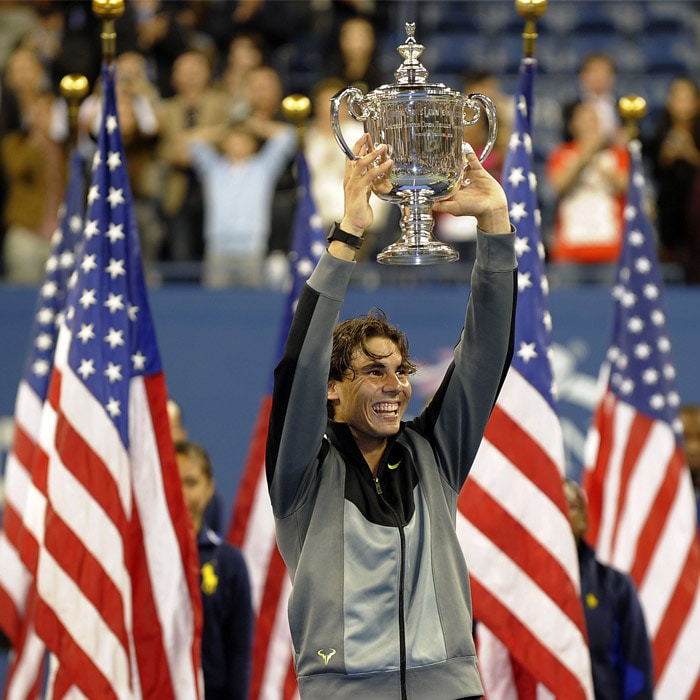 World No. 1 Rafael Nadal defeated Serbia's Novak Djokovic in the Men's Singles Final at US Open 2010 to lift the trophy and become the youngest man to complete the career Grand Slam.

This was his first ever US Open final appearance.

The 24-year-old Spaniard has so far won five French Open titles, two Wimbledons, one Australian Open and one US Open. As Nadal completes nine Grand Slam victories, we take a look at his journey so far. (AFP Photo)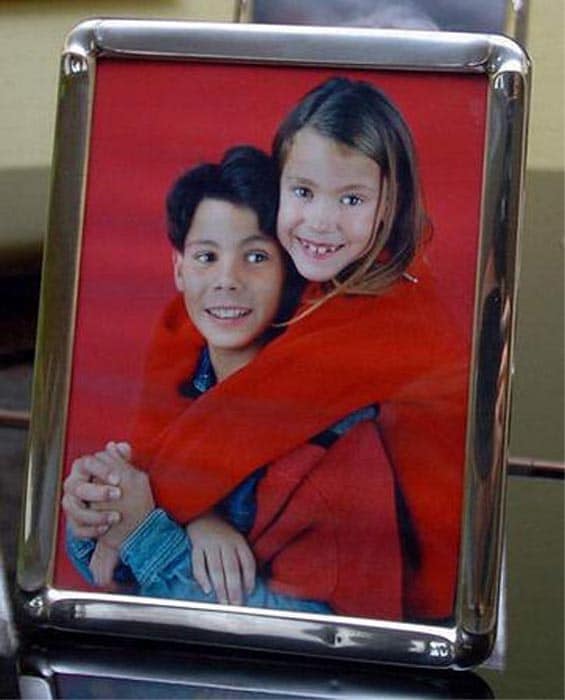 Rafael Nadal was born in the Spanish island of Mallorca in a family that boasts of a sporting lineage. His uncle Toni recognized his natural talent for tennis at a young age and introduced him to the sport when he was just 3 years old.

Toni has ever since been his coach.
Rafa's sporting lineage comes from his other uncle Miguel Angel Nadal who played professional soccer for the La Liga Clubs RCD Mallorca and FC Barcelona.

He was a regular in the Spanish national team and appeared for the La Furia Roja in 62 matches including the 1998 and 2002 World Cup.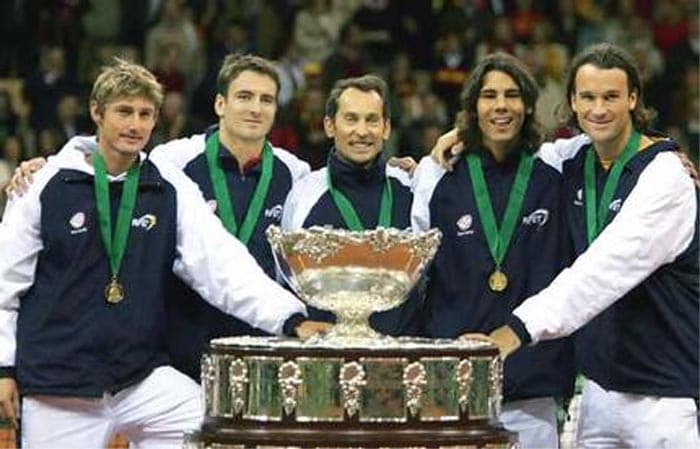 Nadal made his first mark on the international tennis scene when he defeated then World No 2 Andy Roddick in the Davis Cup in 2004 to help Spain beat the US 3-2 in the final.

He has continued to turn out for Spain in the Davis Cup despite his personal commitments on the ATP Tour and was part of the national teams that won the title again in 2008 and 2009.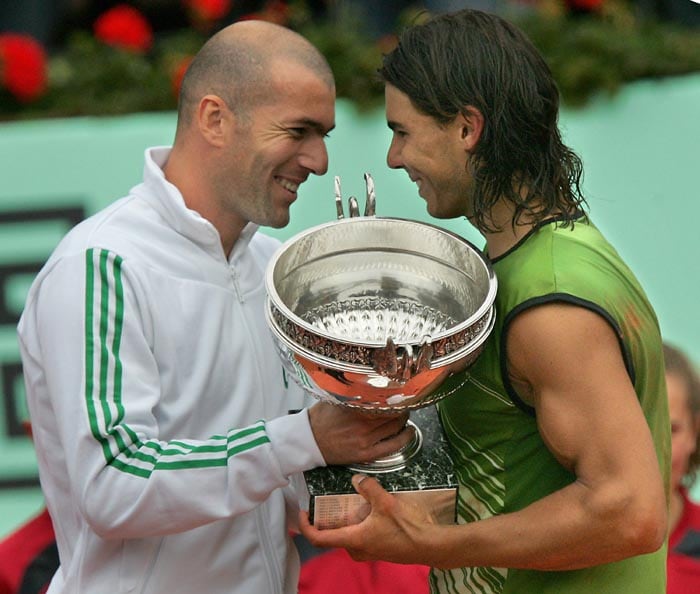 Rafa's first big success came in 2005 when he beat Argentinian Mariano Puerta 6-7(6) 6-3 6-1 7-5 in the final of the French Open to win his first Grand Slam title.

A self confessed soccer fan, Rafa was delighted when the trophy was handed over to him by soccer legend Zinedine Zidane.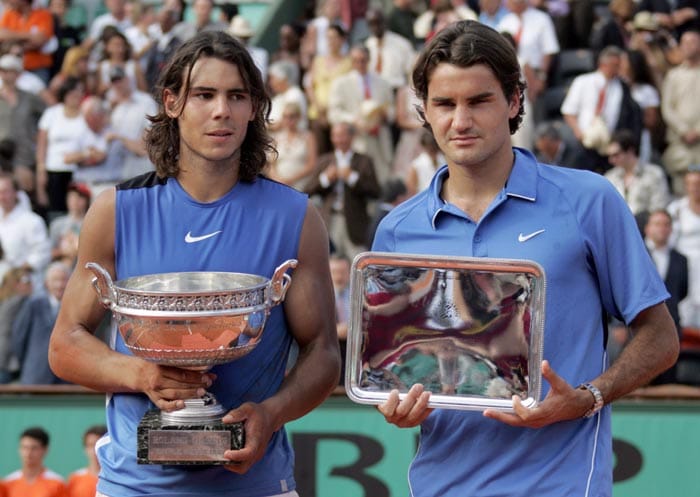 Nadal came back to the scene of his first success in 2006 and made it two in a row at the Roland Garros when he got the better of World No 1 Roger Federer 1-6, 6-1, 6-4, 7-6 in a comeback win.

This was the beginning of a great rivalry that has enthralled tennis fans since then. The same year Nadal reached the final of the Wimbledon and became the first Spaniard to do so since Manuel Santana in 1966, but lost to Roger Federer in four sets.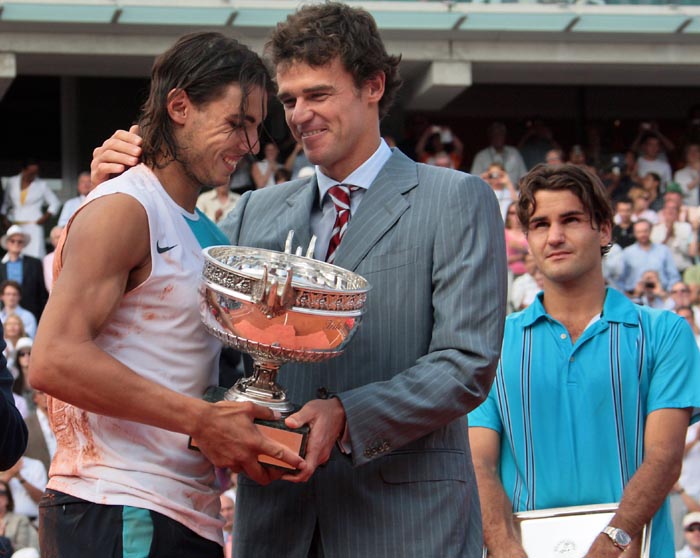 The story was same a year later as Nadal once again foiled Federer's attempt to complete a career Slam by beating the Swiss 6-3, 4-6, 6-2, 6-4 in the final of the French Open.

Here he is seen with Brazilian clay court specialist Gustavo Kuerten who was also a three-time champion at Roland Garros, handing over the trophy to him.
Rafael Nadal is seen posing on Alexander III's bridge in Paris, one day after winning the 2008 French tennis Open final match against Swiss Roger Federer.

Nadal, who won 6-1, 6-3, 6-0, took his place alongside Bjorn Borg as the only man to achieve four successive Roland Garros titles.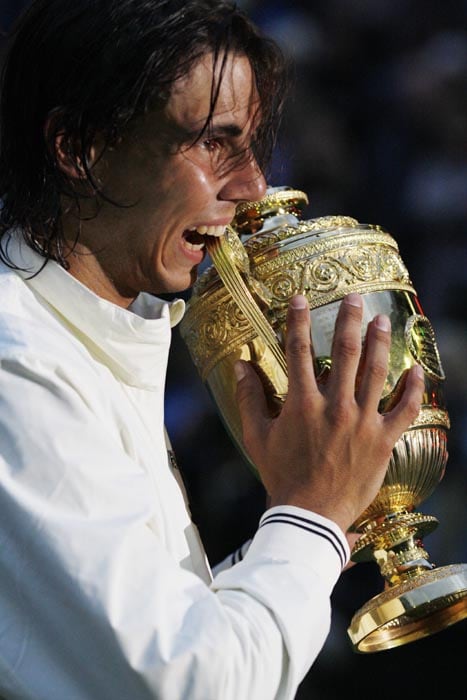 Nadal finally achieved the impossible when he defeated Roger Federer 6-4, 6-4, 6-7, 6-7, 9-7 in the final of the 2008 Wimbledon championships.

This was Federer's first defeat at Wimbledon after winning the coveted trophy for 5 continuous years since 2003.

This triumph gave Rafa the edge over Federer as he had now beaten him both on clay as well as grass and ensured that he was no more called a single surface champion.

He went on to take over as the world's top ranked tennis player from Federer the same year in August.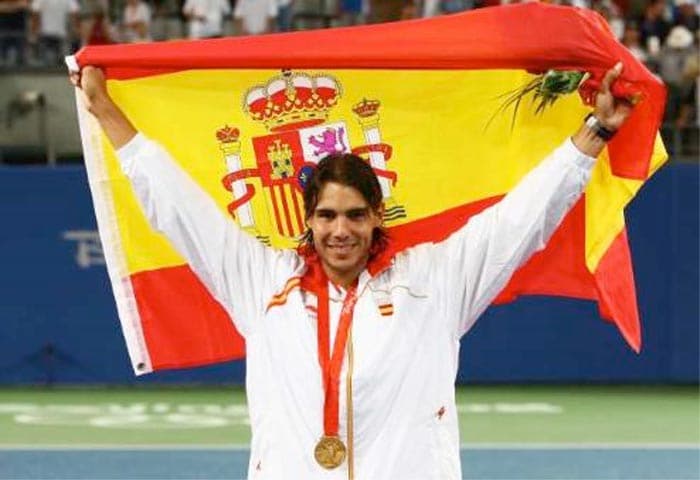 Nadal once again stamped his authority on international tennis as he went on to win the Gold medal in the 2008 Beijing Olympics.

He won the Olympic gold medal beating Chile's Fernando Gonzalez, 6-3, 7-6 (2), 6-3.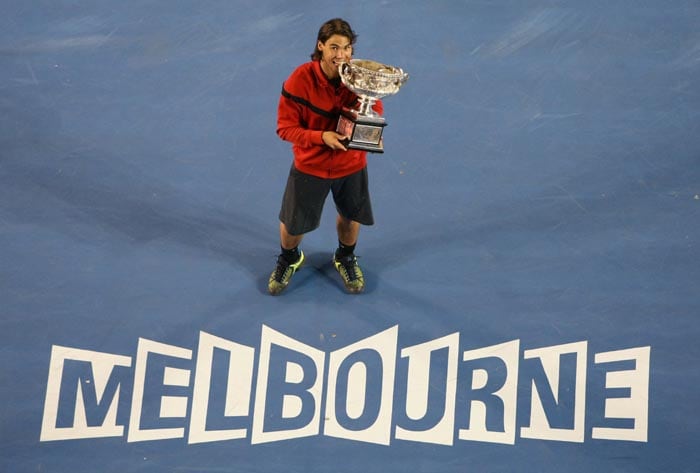 Nadal started the year 2009 in top form and went on to win his first Australian Open crown by beating Roger Federer 7-5, 3-6, 7-6 (7/3), 3-6, 6-2

He secured his first hard-court Grand Slam and stopped the Swiss from equalling the all-time Majors record.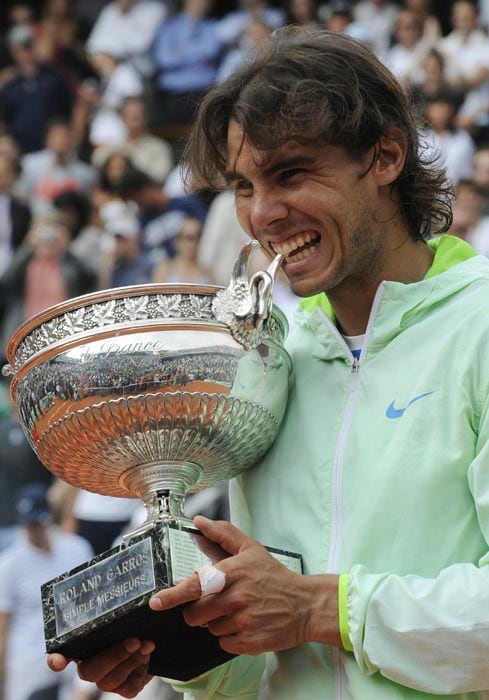 After a shock 4th round exit to Robin Soderling in the 2009 French Open and a pull-out from Wimbledon due to injury which saw him lose his World No 1 status, Rafael Nadal bounced back to win his 5th title at Roland Garros as he avenged his loss against Soderling by beating him 6-4, 6-2, 6-4 in the final in 2010.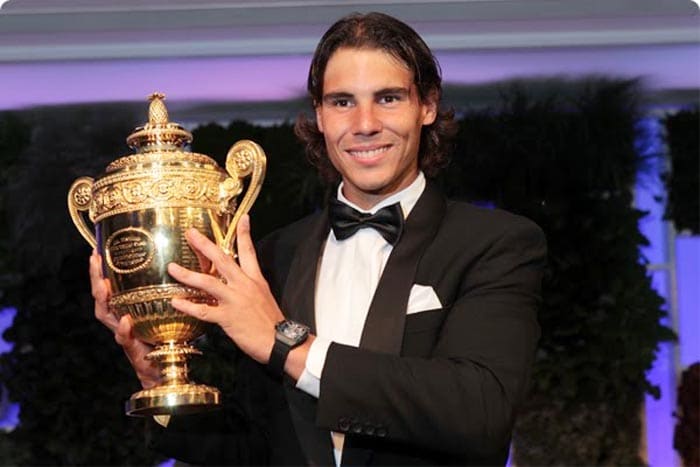 Nadal won the 2010 Wimbledon men's title by defeating Tomas Berdych in straight sets 6–3 7–5 6–4.

After the win Rafa thanked the crowd for being kind and supportive to him and his adversary during his semi-final win over British hope Andy Murray.

As a result of this win, Nadal reclaimed the No 1 position from Roger Federer in the ATP rankings.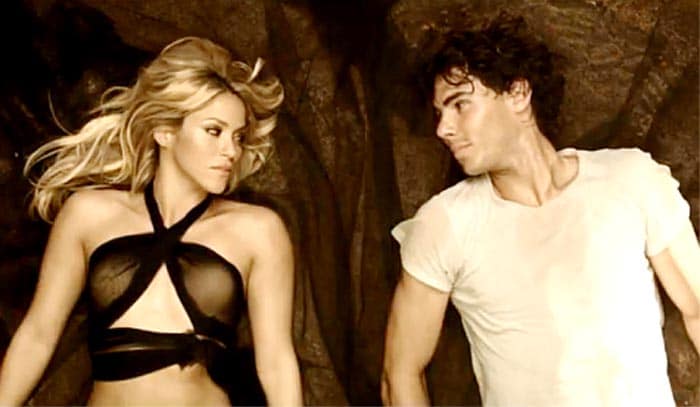 Rafael Nadal was linked with musical prodigy Shakira after the two featured in a steamy video for Shakira's song Gypsy which was released in early 2010.

Shakira said that she chose Nadal for the song because she could identify with him as both the superstars had started their careers at a very young age and both were very dedicated in their respective fields.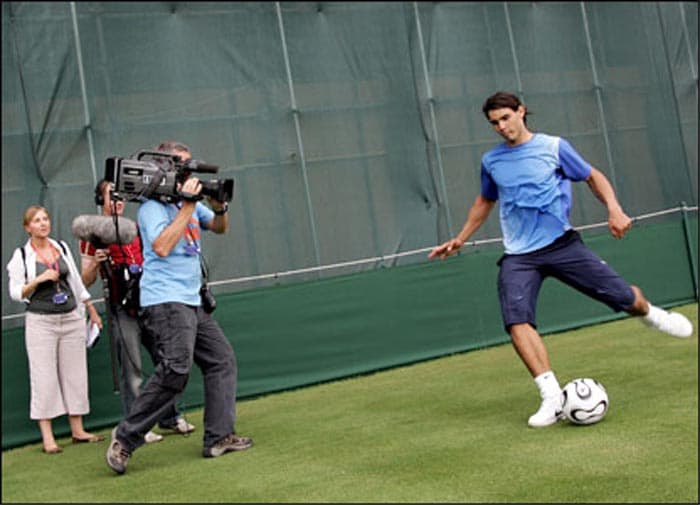 A self confessed soccer fan, Rafael Nadal supports the club Real Madrid from Spain along with his home club RCD Mallorca.

He rallied behind the Spanish national team ahead of the 2010 FIFA World Cup which they eventually won.
Rafael Nadal's personal life is equally happening as he dates 20 year-old Francesca "Xisca" Perello, who belongs to his native town.

Xisca is believed to be a friend of Nadal's sister and they have known each other for a long time.