Speedway star Lee Richardson killed in Poland
British speedway motorcycle rider Lee Richardson has died of severe injuries suffered in a crash during a race in Poland. He was 33.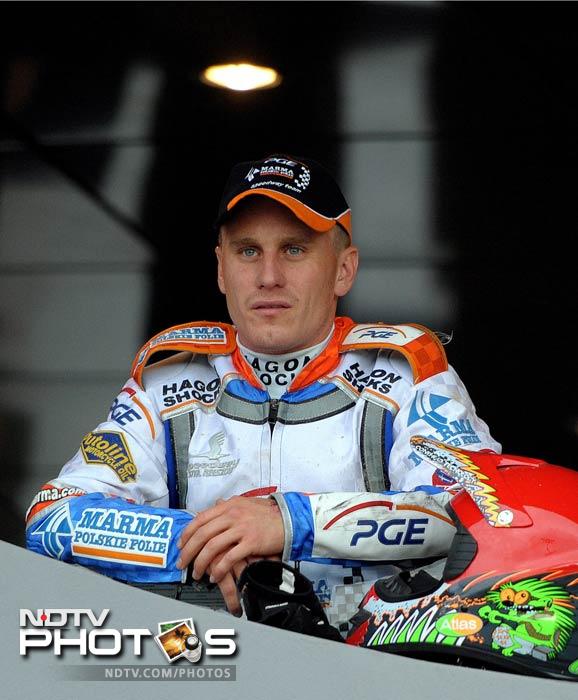 British speedway motorcycle rider Lee Richardson has died of severe injuries suffered in a crash during a race in Poland. He was 33.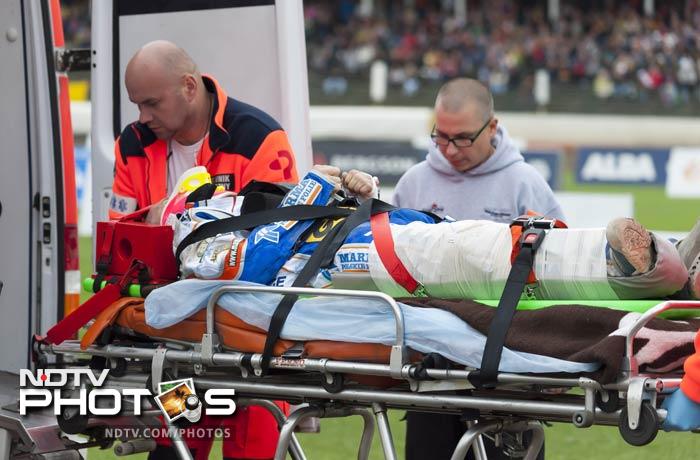 Richardson's British team Lakeside Hammers confirmed the death on its website on Sunday.

TVP said he was taken to a hospital with several internal bleeding and other injuries, and that doctors operated but were unable to save him.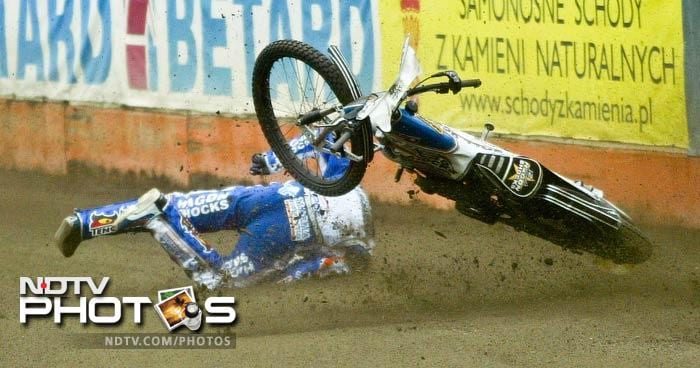 The crash took place in the western Polish city of Wroclaw. Richardson, who had competed in Poland over the past 13 years, was racing for PGE Marma Rzeszow against Betard Sparta Wroclaw when the accident happened.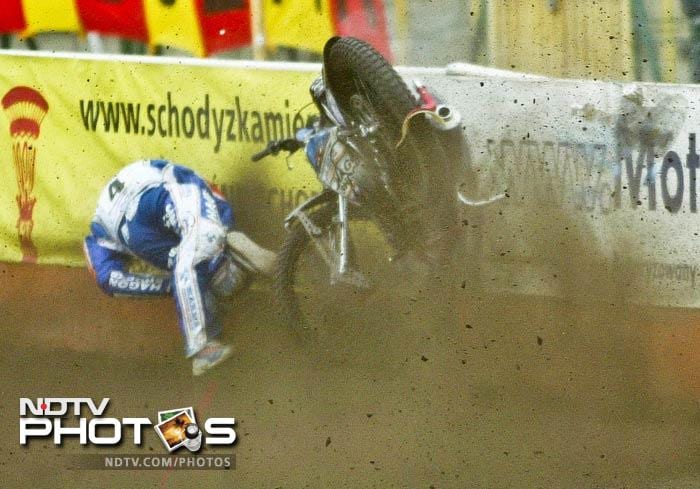 Polish state broadcaster TVP showed images of his motorcycle flipping and Richardson being thrown off onto the track, apparently after he had collided into a safety fence.

Unfortunate accidents however, have taken lives in the past as well. A tragic look: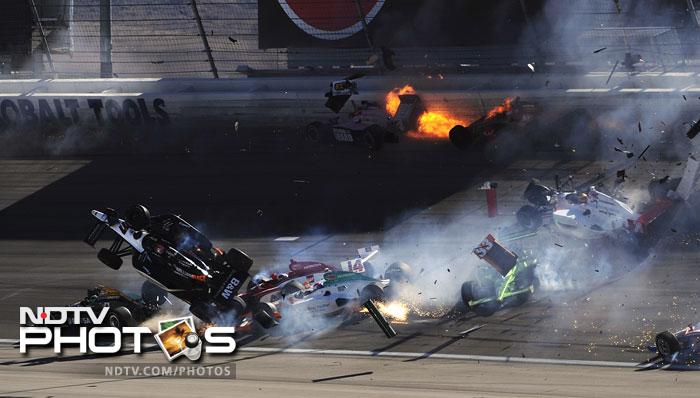 Dan Whaldon's tragic death left the world shocked last year.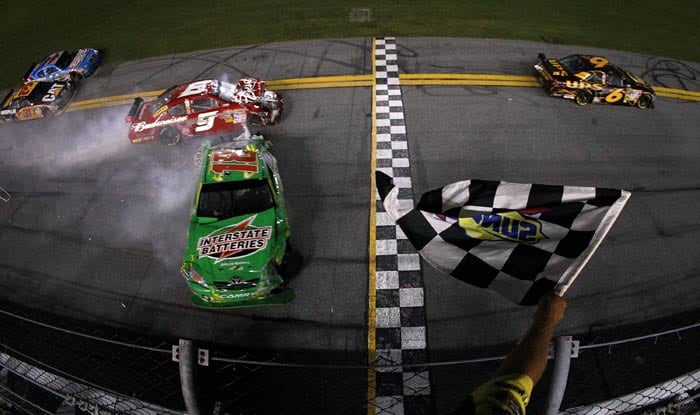 Kyle Busch finishes a race in the most dramatic fashion as he crosses the finish line only to keep going and eventually ending up on a wall.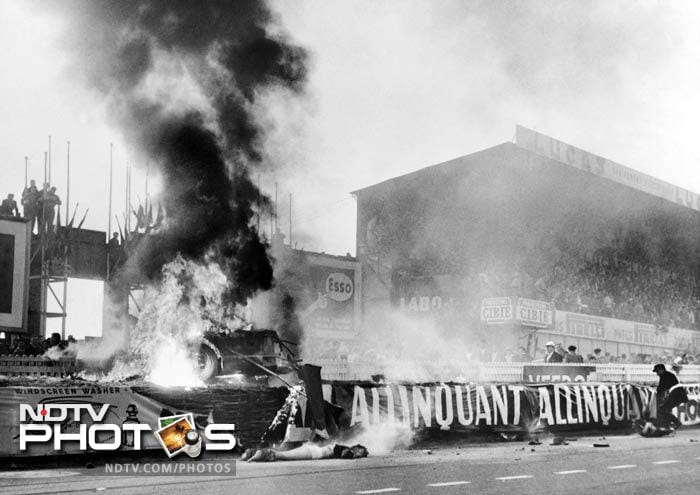 Pierre Levegh's crash at La Mans in 1955 is remembered with tremendous horror. This crash left him and 83 spectators dead during the Le Mans 24 hours race.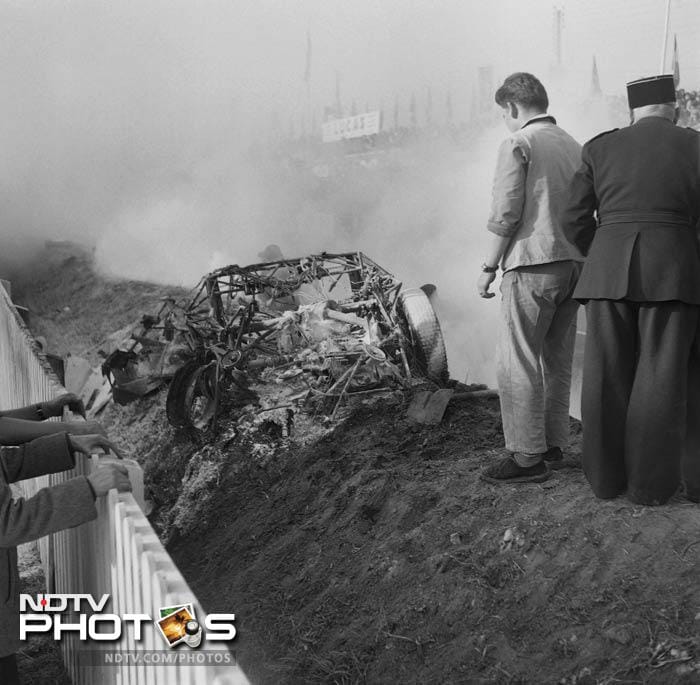 He was driving a Mercedes-Benz 300 SLR. The car was charred beyond recognition.
Fast forward 56 years and the risk remains the same. Sebastian Vettel was the latest to crash when he rammed his Red Bull into the wall during practice at the Japanese Grand Prix.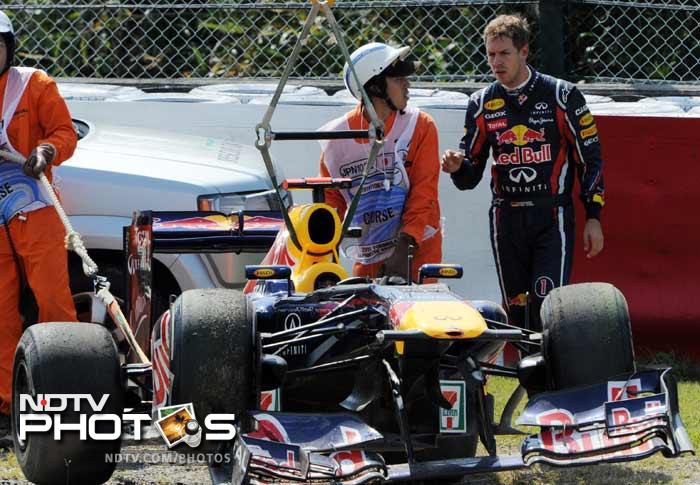 With just a point needed to seal back to back titles, Vettel looked set to post a good time and get the feel of the Suzuka circuit.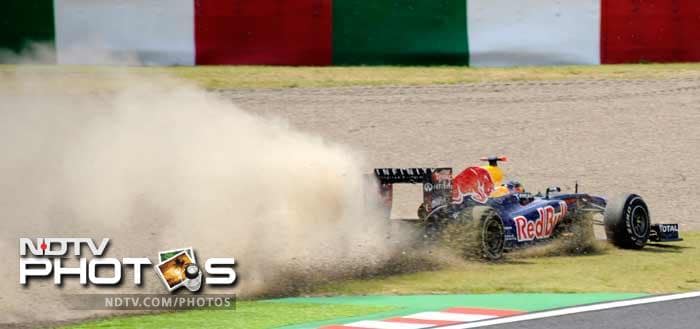 The start however was not as was expected of the Red Bull driver as he steered off the tarmac on turn nine here.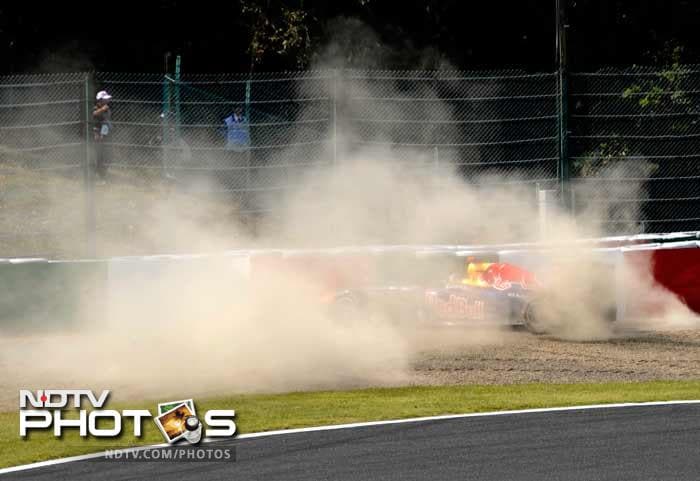 Vettel's car slammed against the wall after raising a cloud of dust.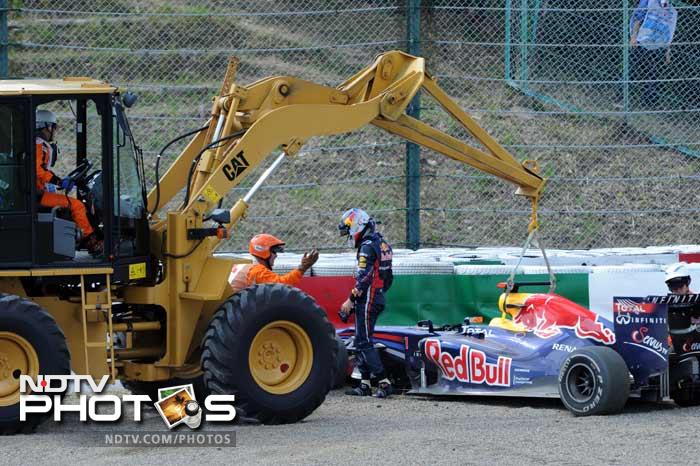 Heavy machinery had to be used by marshals here to take the car back to the pit lane. Click on for more dramatic crashes from the history books of F1 racing.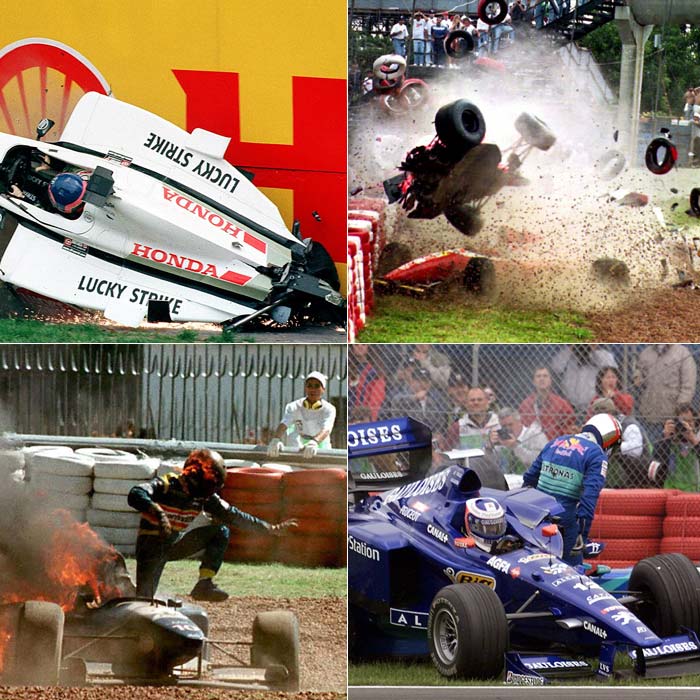 In fact disaster has always struck when least expected. Click on for a re-cap of some.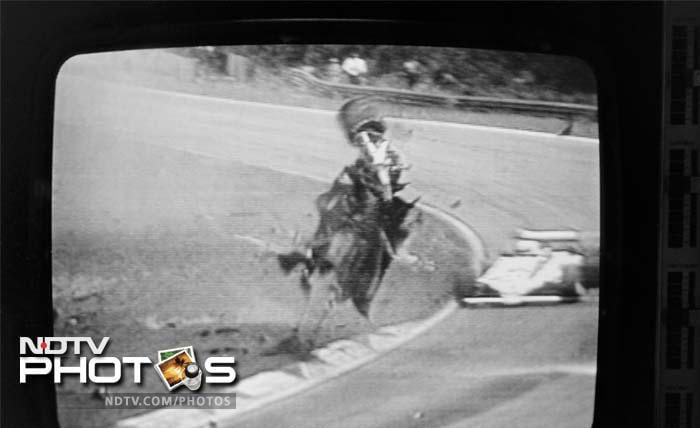 Gilles Villeneuve, Canadian Formula One racing driver, crashes during the Belgian F1 Grand Prix at Zolder, on May 08, 1982.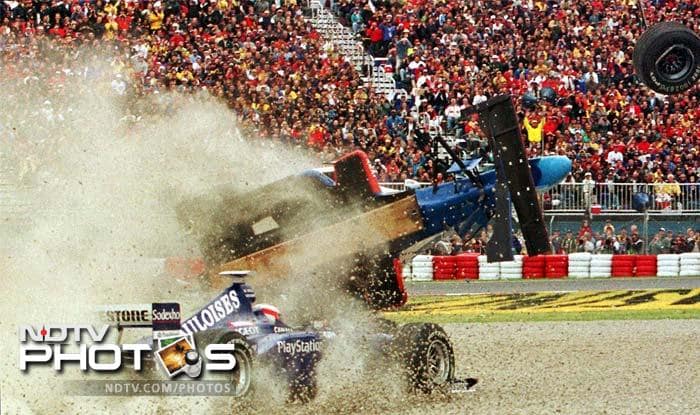 The car of Austrian F1 driver Alexander Wurz of the Benetton team flies through the air after crashing with Italian driver Jarno Trulli of the Prost Peugeot team in the Canadian Grand Prix.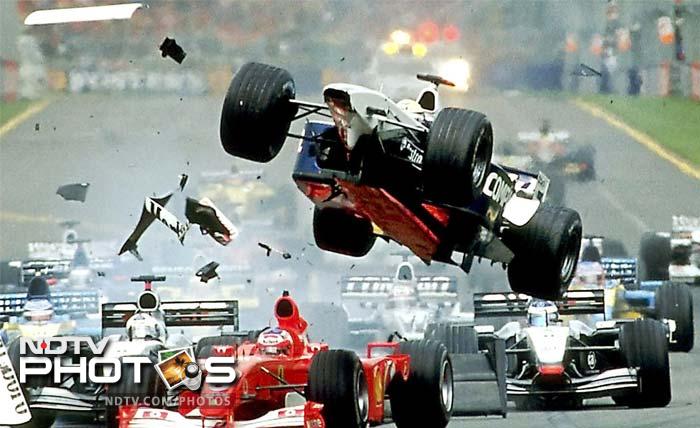 Williams driver Ralf Schumacher (C) is launched in the air over Ferrari driver Rubens Barrichello of Brazil (front red) in a dramatic Australian F1 Grand Prix, at the Albert Park Circuit in Melbourne, 03 March 2002.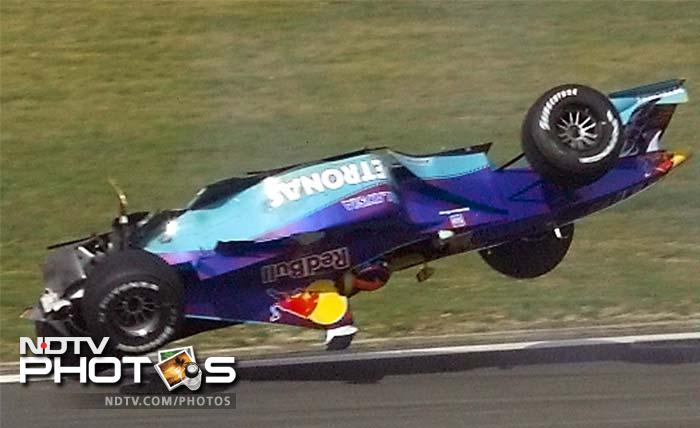 Brazilian Sauber-Petronas driver Pedro Diniz crashes, 26 September 1999 on the Nurburgring racetrack in Germany.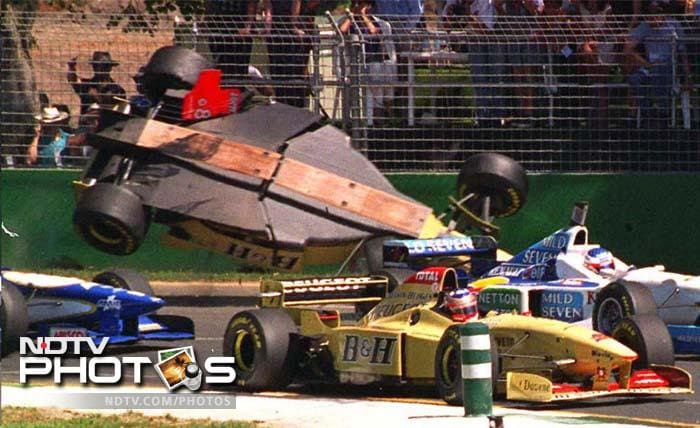 Great Britain's Martin Brundle's Jordon-Peugeot becomes airborne after hitting the rear of Johnny Herbert's Sauber-Ford during the first lap of the Australian Formula One Grand Prix in Melbourne. Brundle walked away from the accident and restarted the race in the spare car which he then spun and retired on the same corner.
McLaren Mercedes' British driver Lewis Hamilton crashes at the Spa-Francorchamps circuit on August 28, 2011 in Spa during the Belgium Formula One Grand Prix.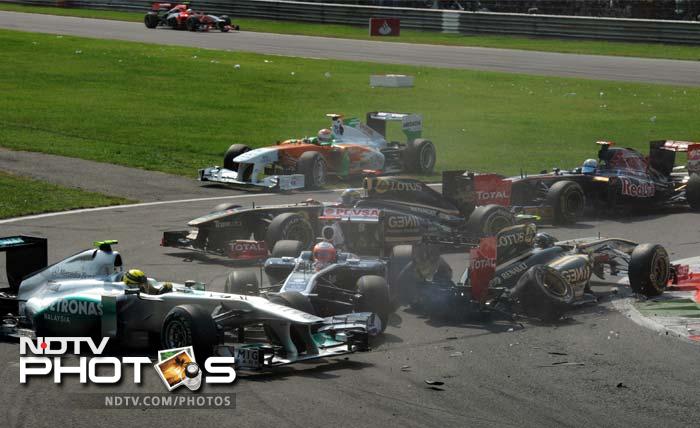 HRT F1 Team's Italian driver Vitantonio Liuzzi, HRT F1 Team's Australian driver Daniel Ricciardo, Lotus Renault GP's Russian driver Vitaly Petrov and Mercedes' German driver Nico Rosberg crash at the start at the Autodromo Nazionale circuit on September 11, 2011 in Monza.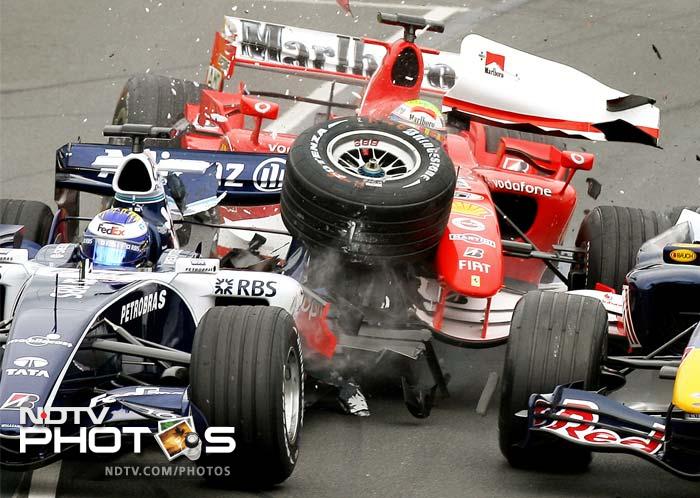 Ferrari driver Felipe Massa of Brazil (C) crashes into the back of Williams driver Nico Rosberg (L) of Germany and Austrian Christian Klien (R) in a Red Bull during the first lap of the Australian Formula One Grand Prix in Melbourne, 02 April 2006.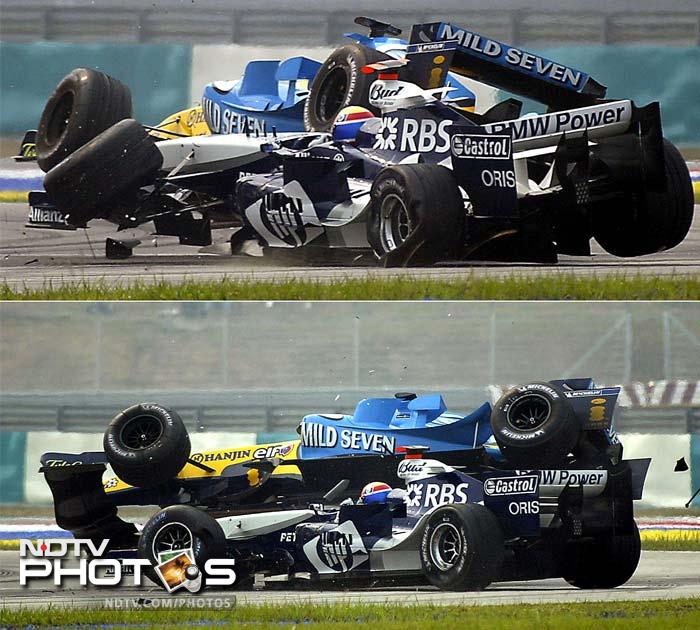 This combo shows the crash between Australian Mark Webber's Williams-BMW (top-front) and Italian Giancario Fisichella's Renault (blue and yellow) during the Formula One Malaysian Grand Prix at the Sepang International Circuit, 20 March 2005.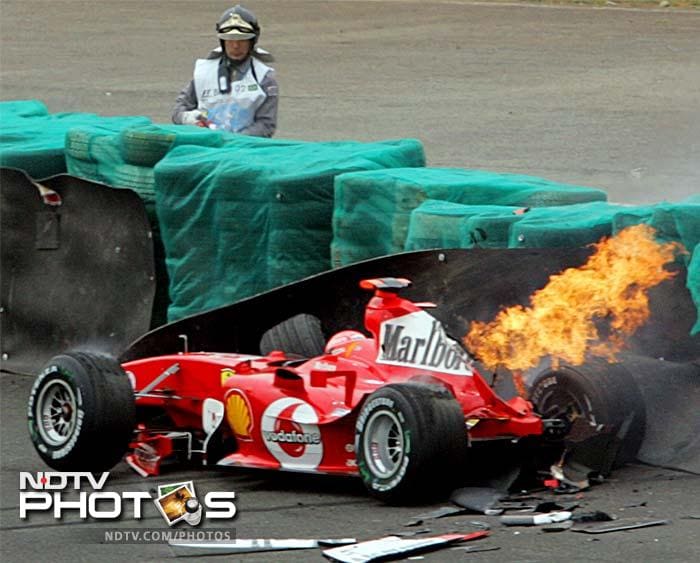 German F1 driver and seven times World Champion Michael Schumacher prepares to bail out from his burning Ferrari after crashing against the safty barrier 23 October 2004.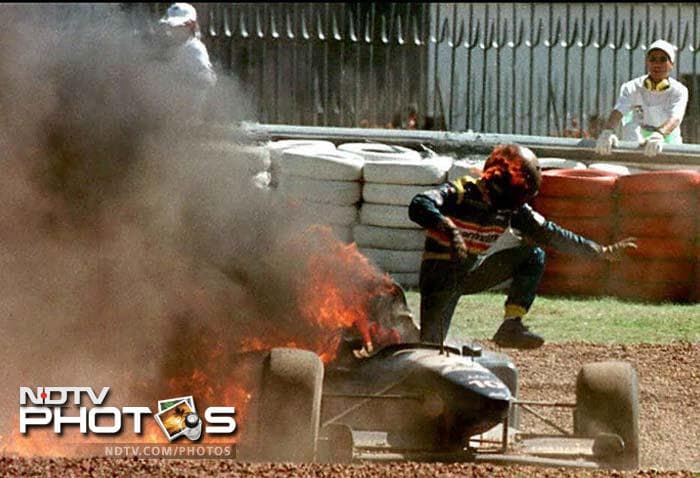 Brazilian Formula One driver Pedro Diniz jumps out of his flaming Ligier-Honda after skidding off the track in the early laps of the the Argentine F-1 Grand Prix.
Austrian Formula One driver Roland Ratzenberger in his car just after his spectacular crash during the second practice on Imola track 30 April 1994 for San Marino Grand Prix.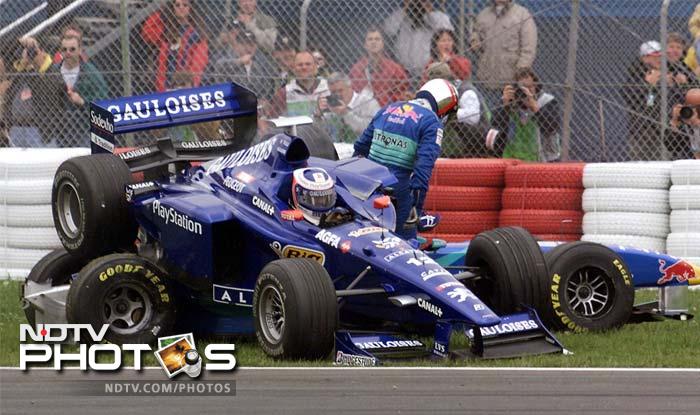 Italian Formula One driver Jarno Trulli of the Prost Peugeot Team (L) and French driver Jean Alesi (R) of the Sauber Petronas Team exit their cars after a crash.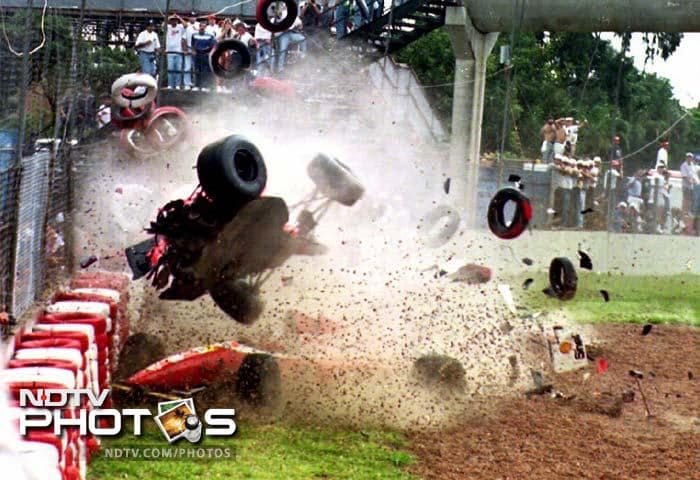 U.S. Formula One driver Michael Andretti goes airborne in his McLaren 28 March 1993 as Austrian driver Gerard Berger hits the retaining in his Ferrari.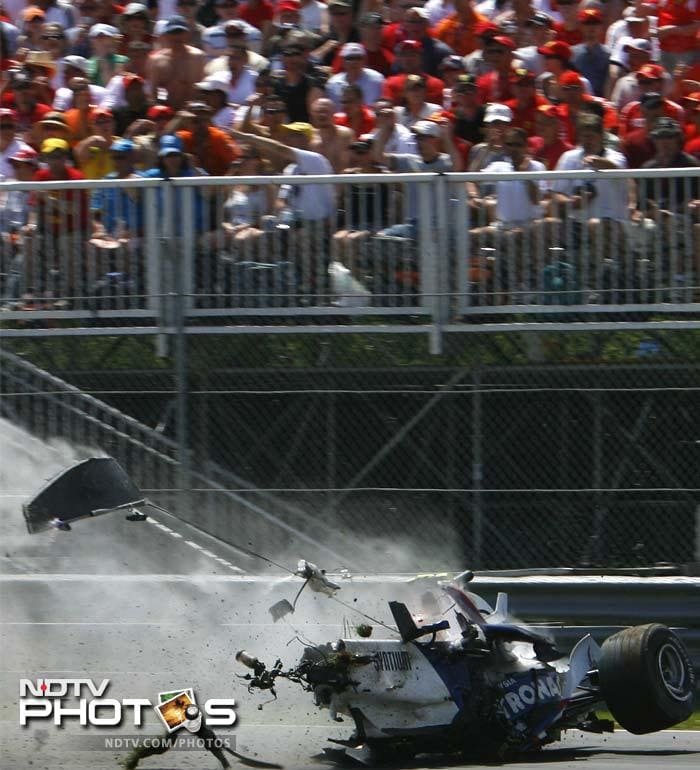 BMW Sauber driver, Robert Kubica of Poland crashes hard at the hairpin turn during the Formula One Grand Prix of Canada 10 June 2007 in Montreal, Quebec, Canada.