Yuvraj Singh 'excited' ahead of India return
'I am free', tweeted cricketer Yuvraj Singh after he was discharged from hospital after completing the third and final cycle of chemotherapy he has been undergoing to recover from a rare germ cell cancer in Boston, USA.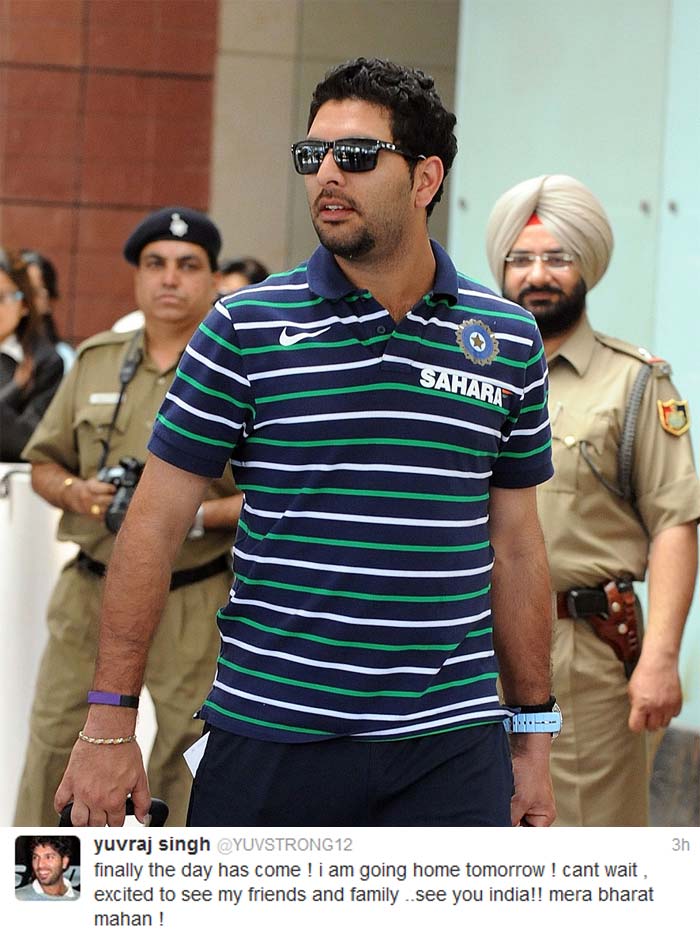 Yuvraj Singh will return to India on Monday. He tweeted his excitement to be back in the country after close to two months of treatment for a rare germ cell cancer.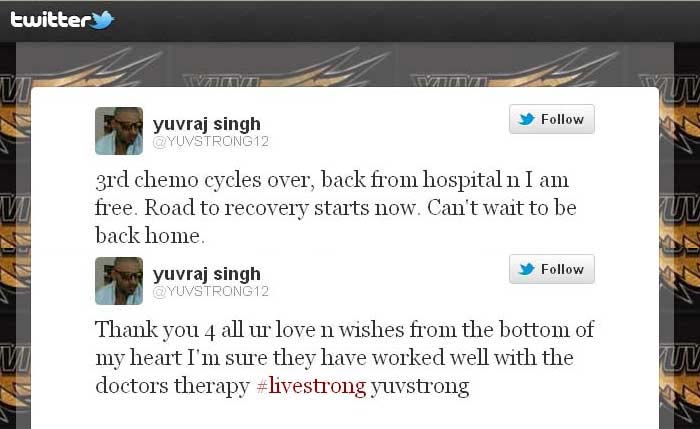 'I am free', tweeted cricketer Yuvraj Singh after he was discharged from hospital after completing the third and final cycle of chemotherapy he has been undergoing to recover from a rare germ cell cancer in Boston, USA.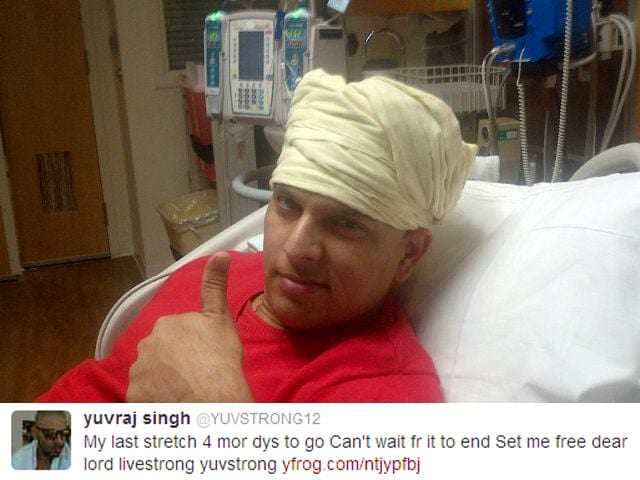 Yuvraj had earlier tweeted that only four days are left of his chemotherapy. "My last stretch 4 mor dys to go Can't wait fr it to end Set me free dear lord livestrong yuvstrong," he posted on Twitter.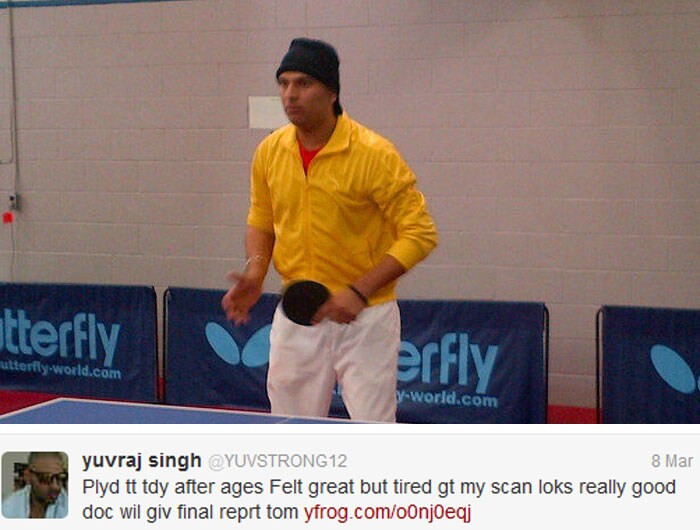 A few days back Yuvraj showed positive signs during his recovery from lung cancer as he geared up for a game of Table Tennis.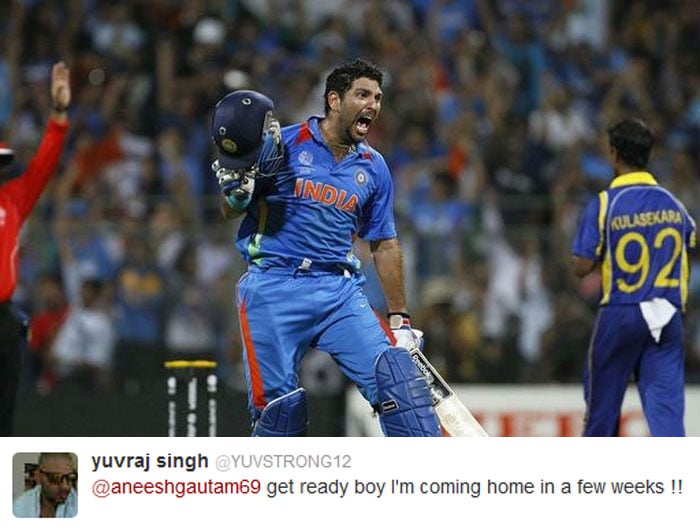 Yuvraj indicated that he could return home in a few weeks after reports of successful chemotherapy in the US.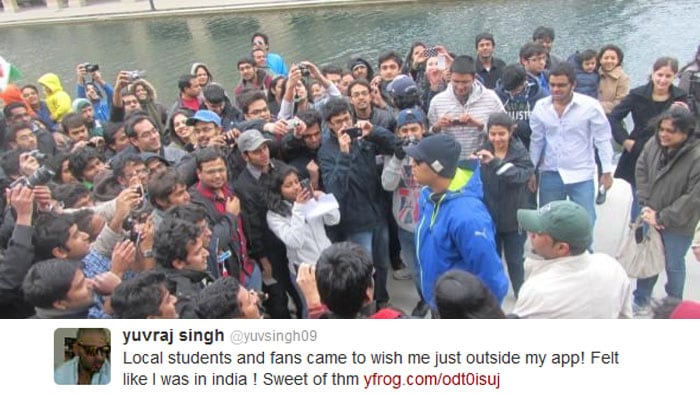 Yuvraj had also got a surprise visit from students and fans outside his apartment. The south-paw expressed his feelings on twitter after meeting the reasonably large group.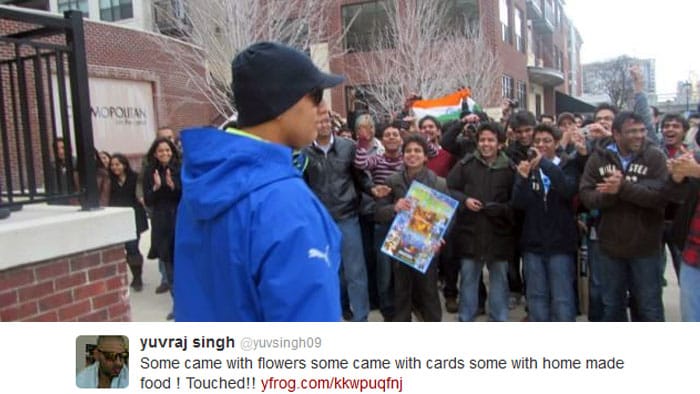 Yuvraj Singh meets his supporters outside his apartment.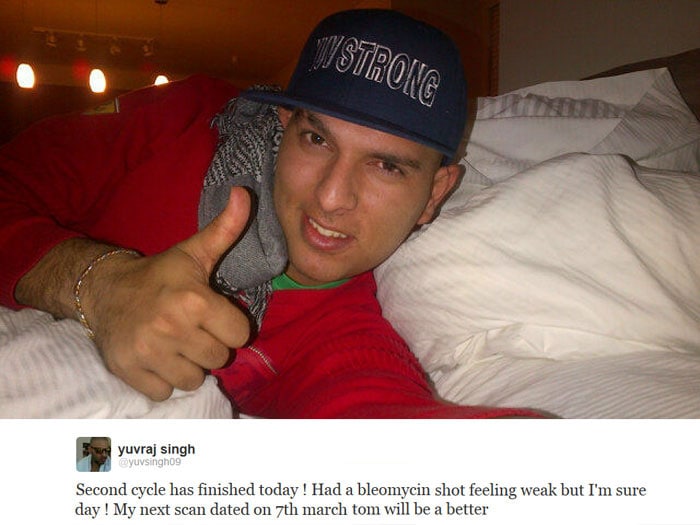 Yuvraj Singh tweeted to indicate that he has completed the second round of chemotherapy. The south paw expressed weakness inflicted by the medication he is under.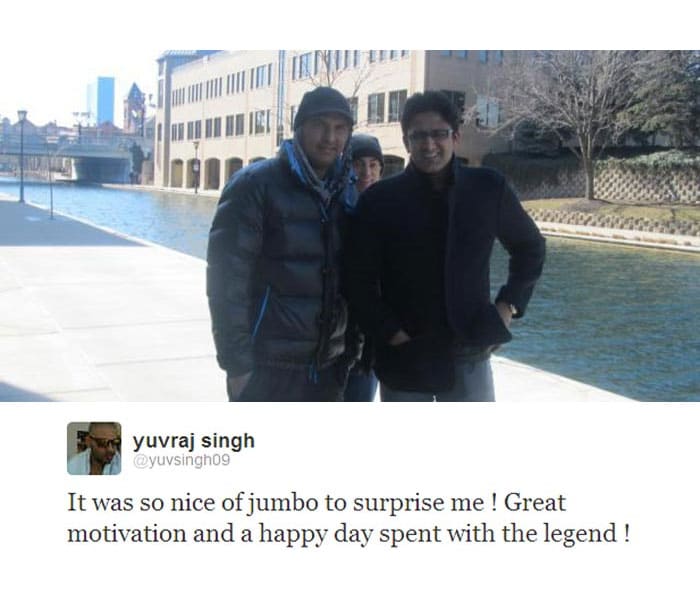 Yuvraj Singh got a pleasant surprise when former India captain and leg-spin legend Anil Kumble went to meet him.<br><br>Yuvraj, who is away from the cricket field but very much active on Twitter, posted a pic and said: "It was so nice of jumbo to surprise me ! Great motivation and a happy day spent with the legend!"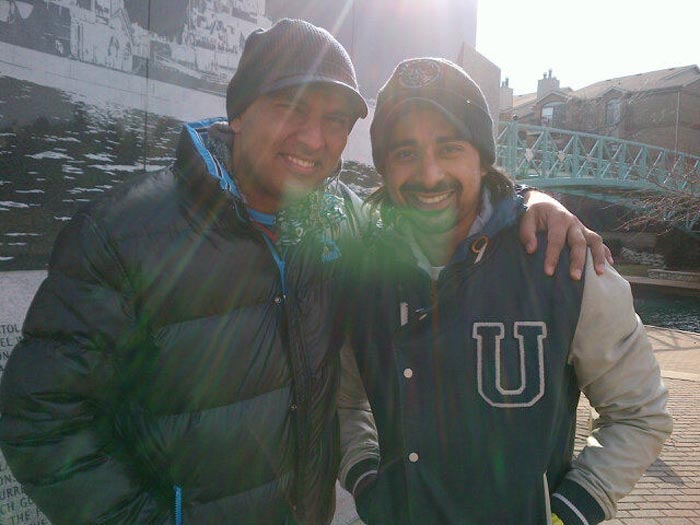 MTV-VJ, actor and Yuvraj's good friend Ranvijay Singh also went to meet the cricketer.<br><br>Yuvi tweeted: "@RannvijaySingha came all the way to see me ! Means a lot !"<br><br>They later watched comedy film Andaz Apna Apna together.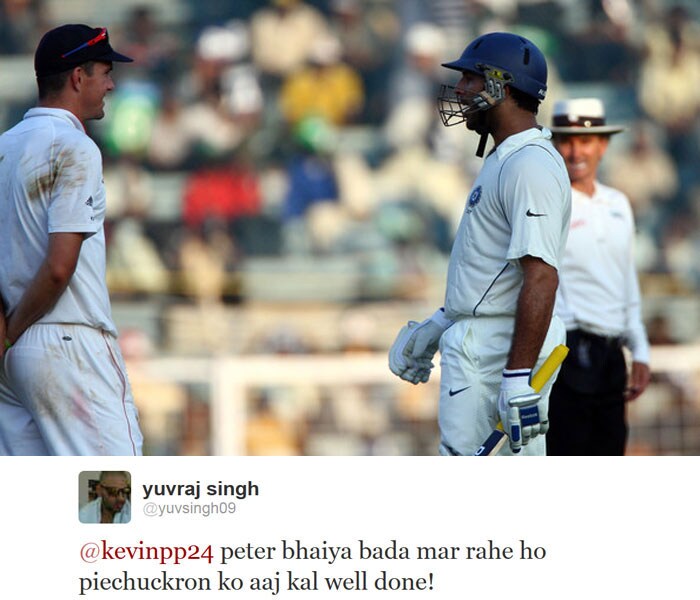 Yuvraj Singh may be out of action from the field but he always seems to have a couple of tricks up his sleeve. The south-paw teased his competitor-turned-buddy Kevin Pietersen on Twitter after the latter's match-winning knock against Pakistan.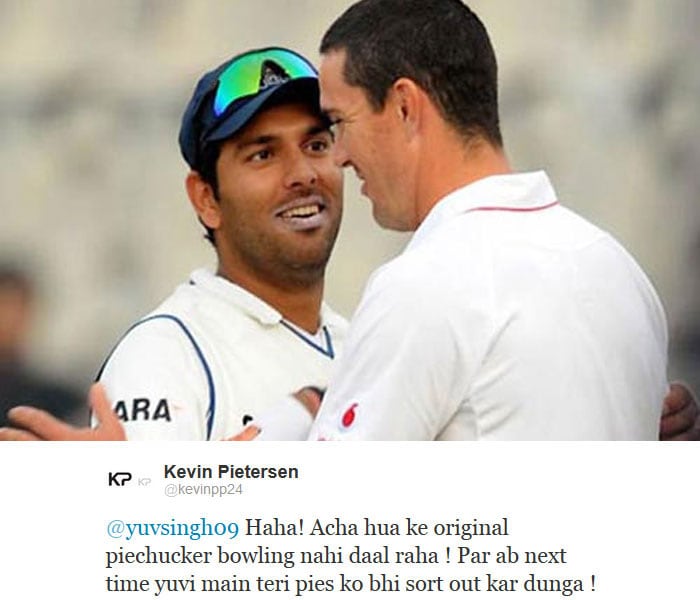 Kevin Pietersen pulled out a surprise tweet in Hindi.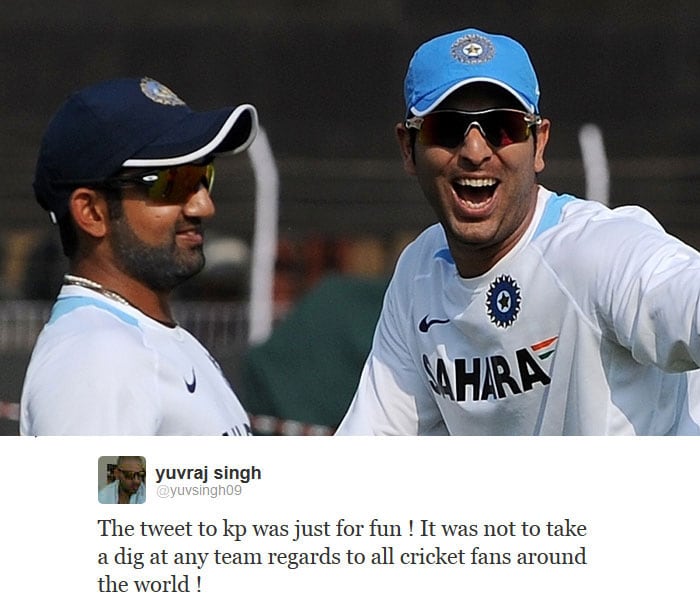 In the era of controversies, Yuvraj was quick to realise that his comment could eventually be taken as offence and made up for the same.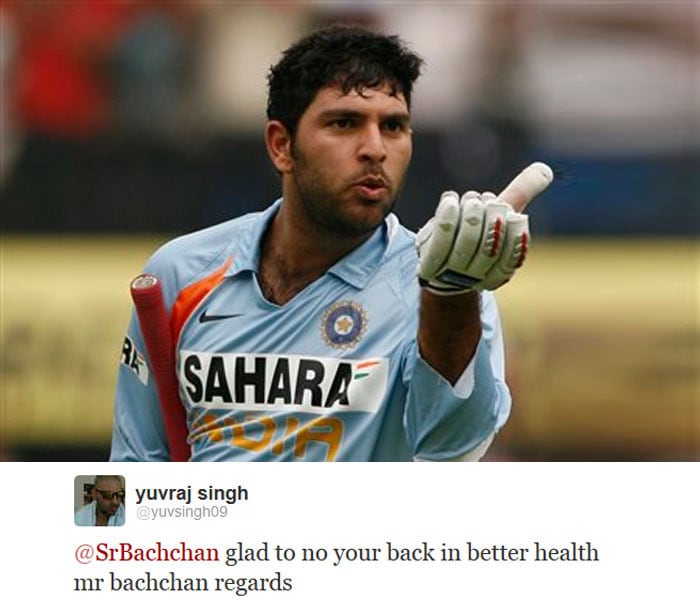 Yuvraj Singh tweeted to express his greetings to film star Amitabh Bachchan who was finally discharged after an abdominal surgery.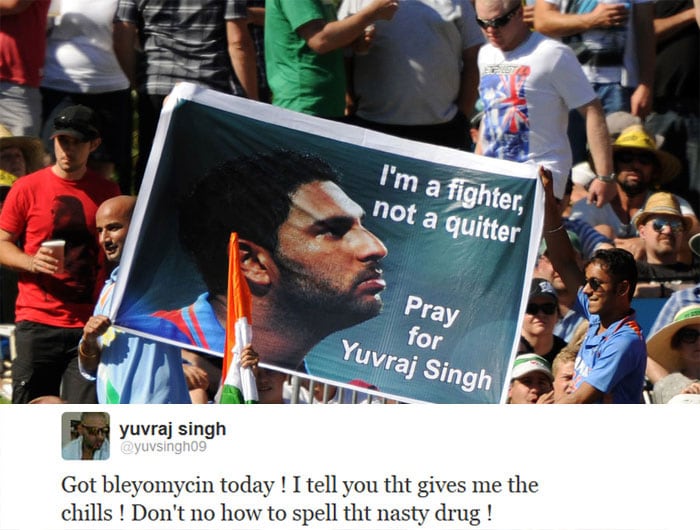 Yuvraj Singh, who has been sidelined due to lung cancer, has continued to use social networking site Twitter as a medium to stay connected to his fans.
Yuvraj Singh, tweeted in support of the out-of-form Virender Sehwag saying that the swashbuckling opener was already a great of Indian cricket and expressed confidence in his ability to answer all the criticism with the bat.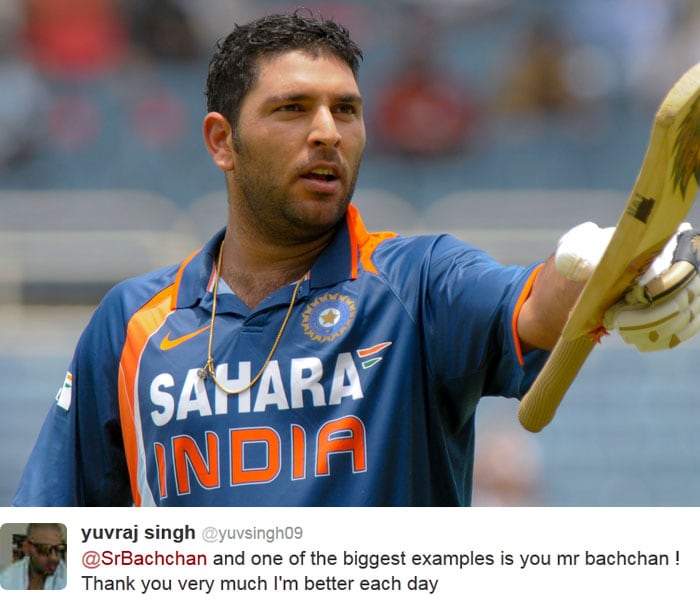 While Yuvraj is undergoing chemotherapy, Big B underwent a couple of abdominal surgeries.<br><br>On February 16, both the stalwarts wished each other quick recovery on Twitter.<br><br>Yuvraj tweeted: "Out of suffering have emerged the strongest souls. The most massive characters are seamed with scars..."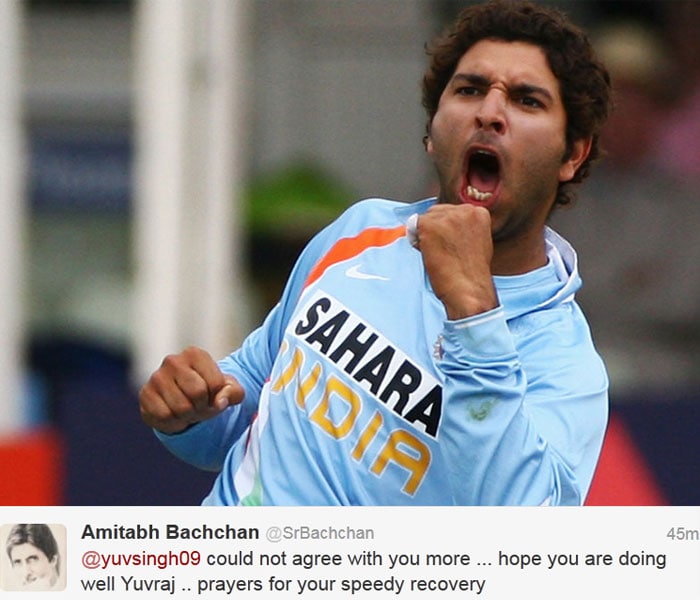 Mr Bachchan replied: @yuvsingh09 could not agree with you more ... hope you are doing well Yuvraj .. prayers for your speedy recovery.<br><br> Yuvi thanked him for his wishes and said: "and one of the biggest examples is you mr bachchan ! Thank you very much I'm better each day."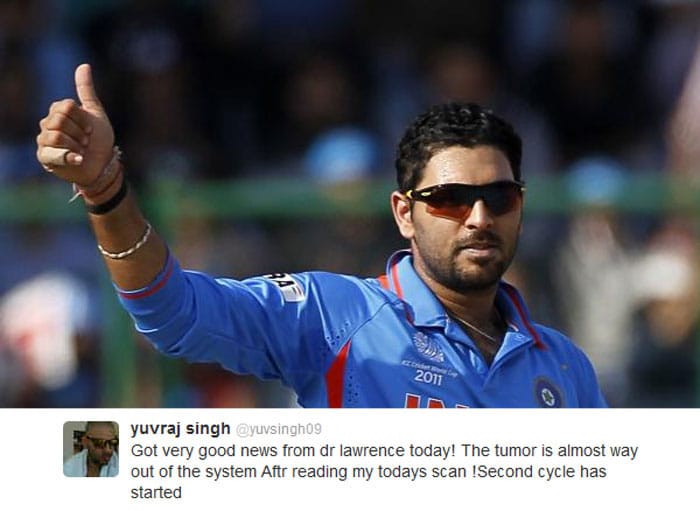 On February 14, Yuvraj gave a great piece of news to all his fans as a Valentine's Day gift. He tweeted that his tumour was almost out of his system.<br><br>"Got very good news from dr lawrence today! The tumor is almost way out of the system Aftr reading my todays scan !Second cycle has started."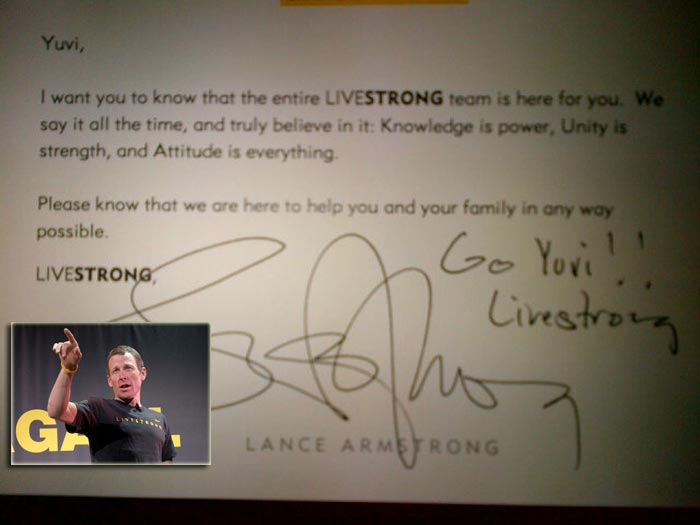 Yuvraj was ecstatic when he received a message from legendary cyclist Lance Armstrong. Yuvraj tweeted on Tuesday: "Message from @lancearmstrong makes me feel better ! Thank you lance means a lot hope we can meet!" Yuvi has been reading Lance Armstrong's autobiography for inspiration as he too battled testicular cancer and emerged victorious.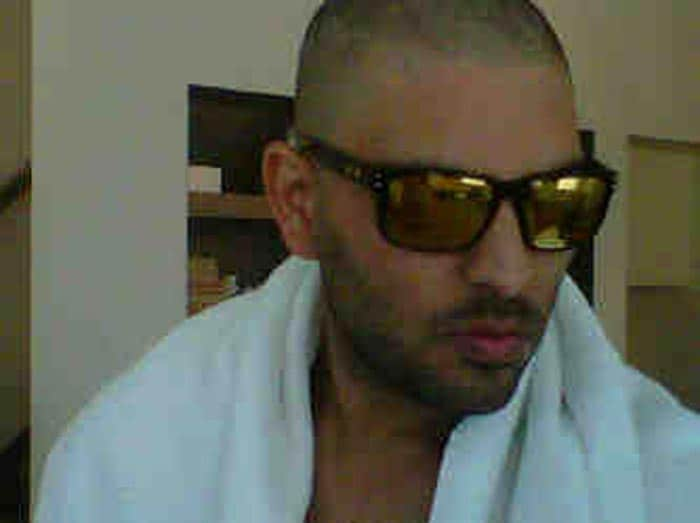 Last week, Yuvraj Singh posted a picture on Twitter that showed him without hair. Yuvraj tweeted to say, "finally the hair has gone! But #livstrong #yuvstrong". The left hander had also tweeted that he was recovering well, and couldn't wait to be back in his India colours.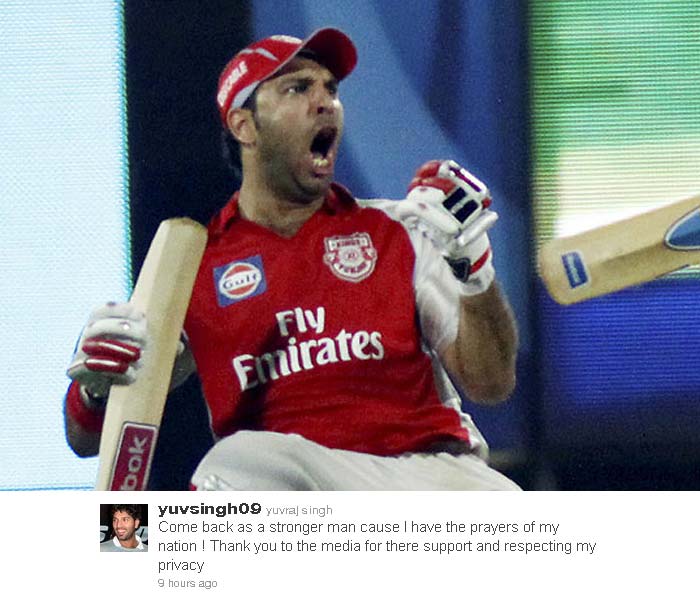 Yuvraj has promised that he would come back stronger than ever as he tweeted to thank his well-wishers.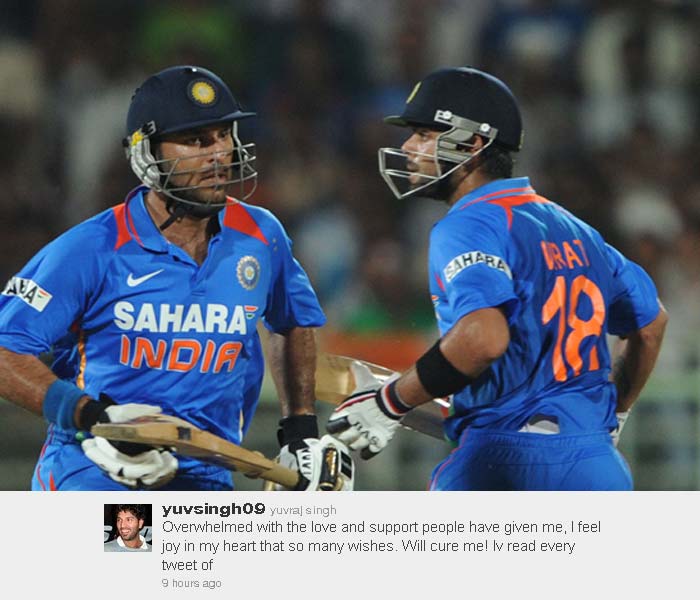 Yuvraj is undergoing treatment in the US for his ailment.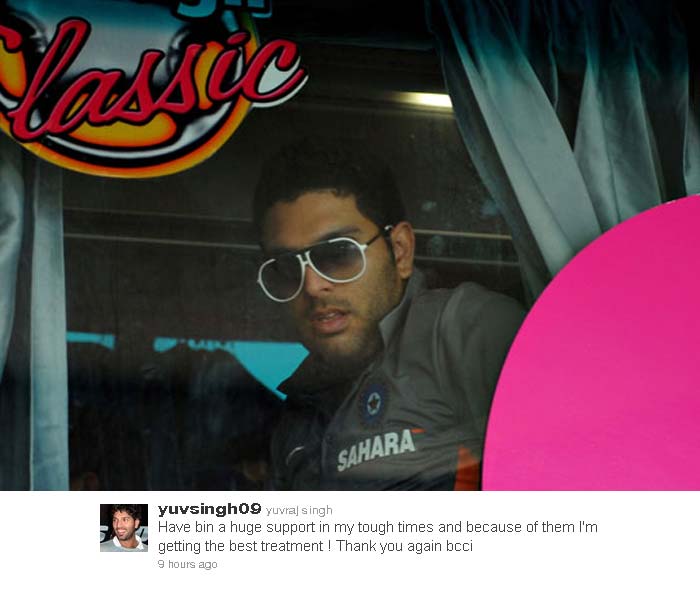 Yuvraj's illness which has denied him a chance to feature in Australia, would keep him out for another 10 weeks, as predicted by doctors.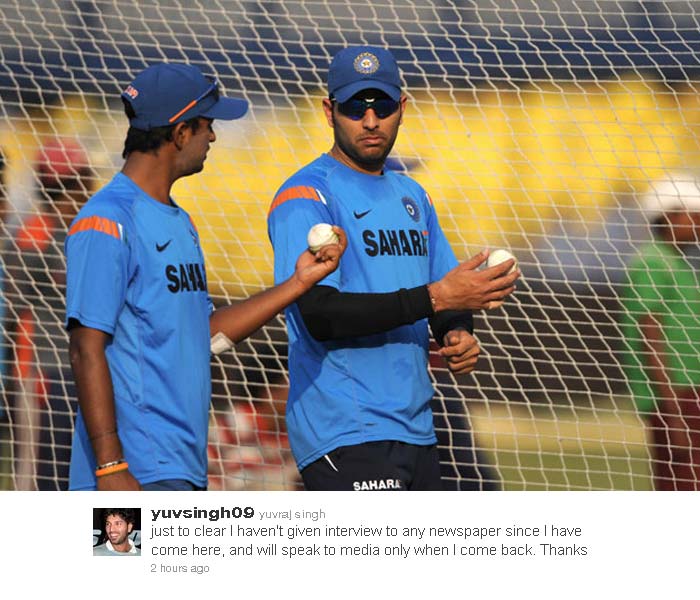 In the midst of shock and concern, Yuvraj made it clear that he had not indulged in media interaction yet.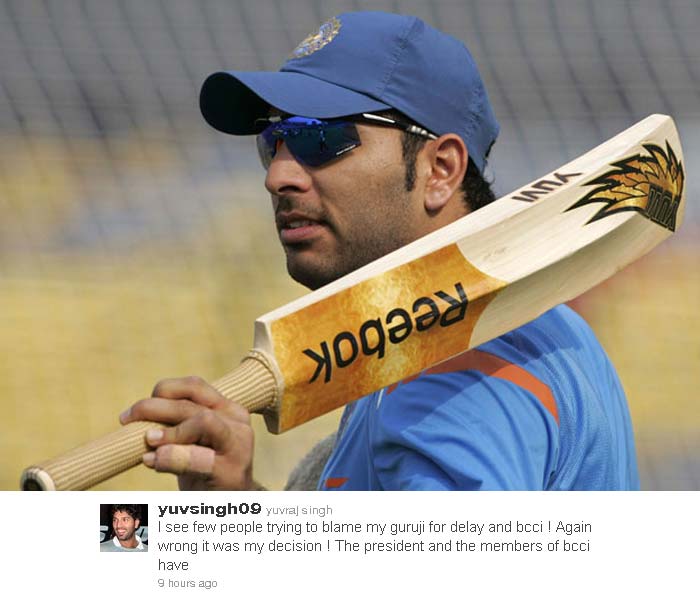 Yuvraj wrote that it was unfair to blame anyone after reports of BCCI's involvement in the issue.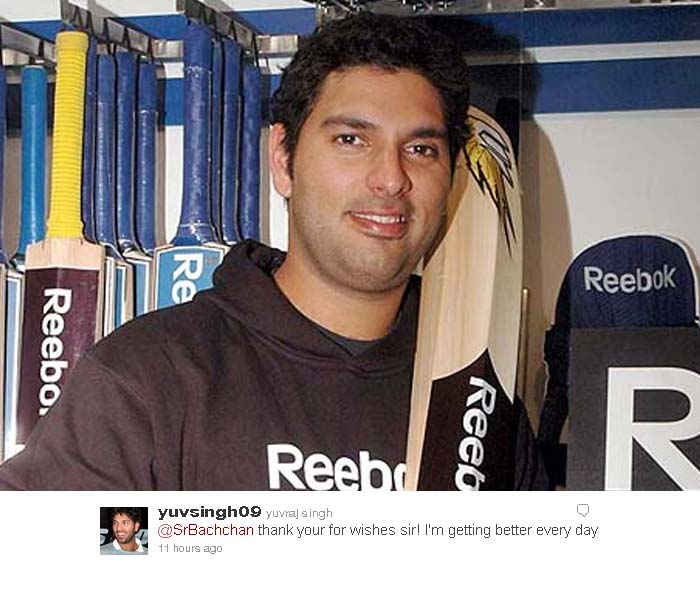 Yuvraj thanks veteran actor Amitabh Bachchan for his wishes.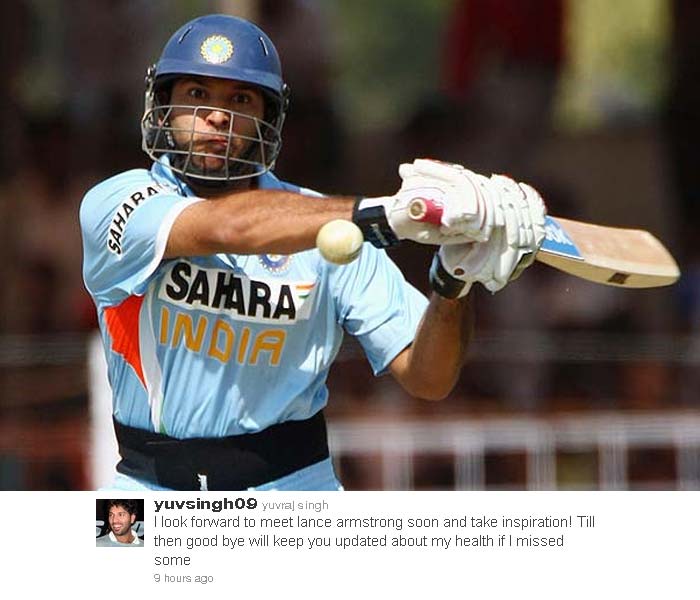 Lance Armstrong, another victim of cancer, battled against the odds to have a successful career in cycling.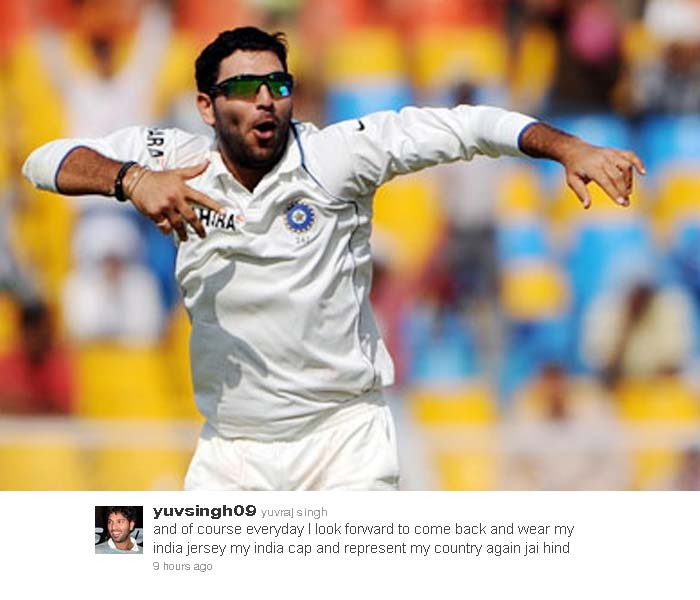 Yuvraj Singh expresses his desire of wearing the Indian jersey again.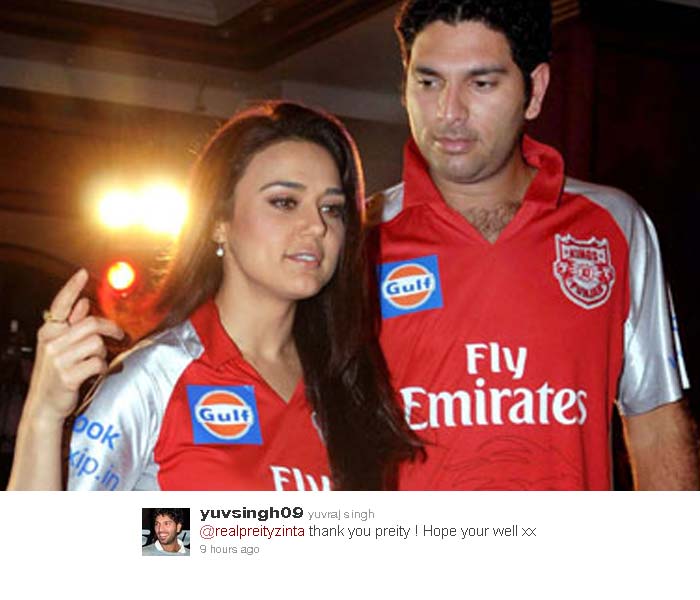 Preity Zinta, the co-owner of the Yuvraj's former IPL side, Kings XI Punjab also wished the Southpaw a speedy recovery.