We will miss you lachu bhai - cricketers on Laxman's retirement
From Sachin Tendulkar to Mahendra Singh Dhoni, from Darren Sammy to Michael Clarke, all have come out to remember a spectacular career. The Very Very special part about all the tweets is the regular mention of the person that Laxman is to everyone.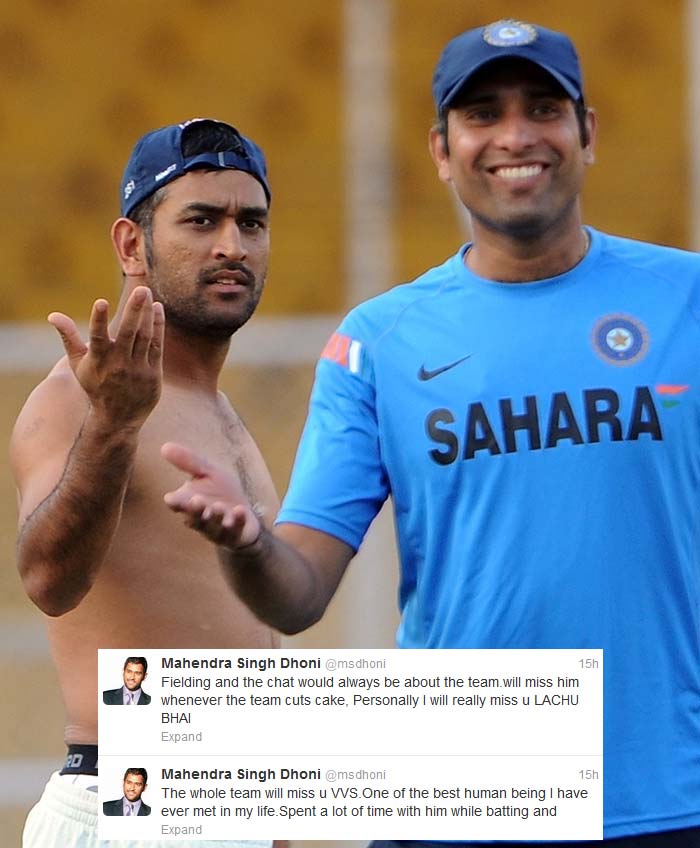 Laxman might have felt that Dhoni was 'out of reach' but the skipper saluted a marvellous career in his own way. <b>Dhoni</b> tweeted: "The whole team will miss u VVS.One of the best human being I have ever met in my life.Spent a lot of time with him while batting and Fielding and the chat would always be about the team.will miss him whenever the team cuts cake, Personally I will really miss u LACHU BHAI" (<i>All AFP Photos</i>)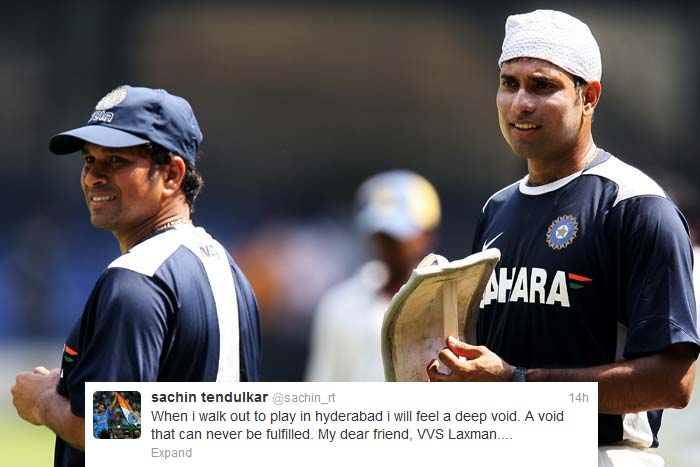 <b>Sachin Tendulkar</b> tweeted "When i walk out to play in hyderabad i will feel a deep void. A void that can never be fulfilled. My dear friend, VVS Laxman.... ..one of the best players indian cricket has seen and i have played with will no longer be with me. It has been an absolute pleasure to..." and did not end here. <br><br> He then said: ".. share some of my greatest cricketing moments with a true legend of the game and a thorough gentleman. VVS, the team & i will miss you... ...I will forever cherish the 16 years we have played together."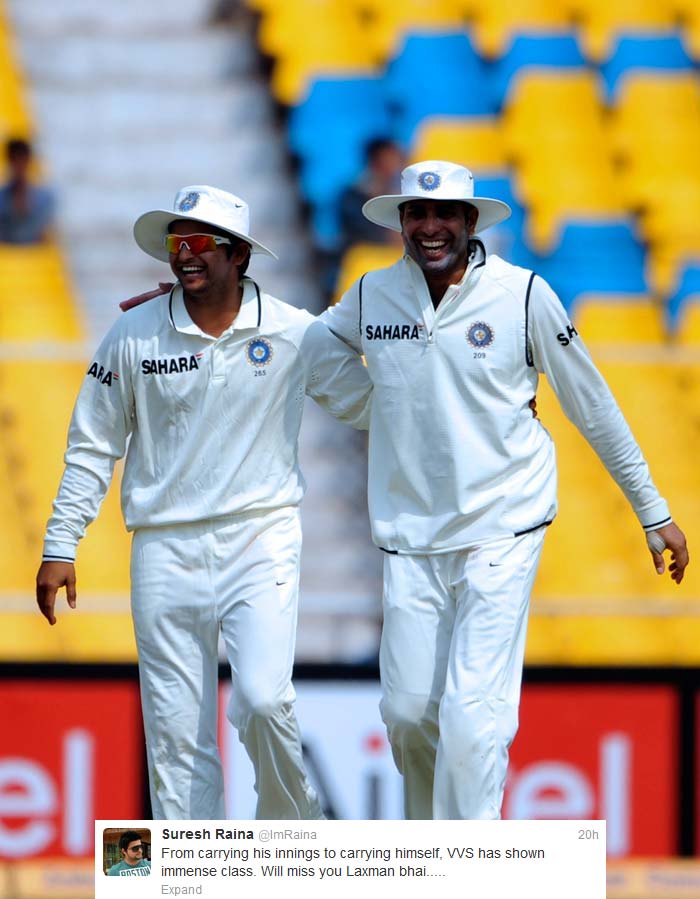 <b>Suresh Raina's</b> tweet was a polite one: "From carrying his innings to carrying himself, VVS has shown immense class. Will miss you Laxman bhai....."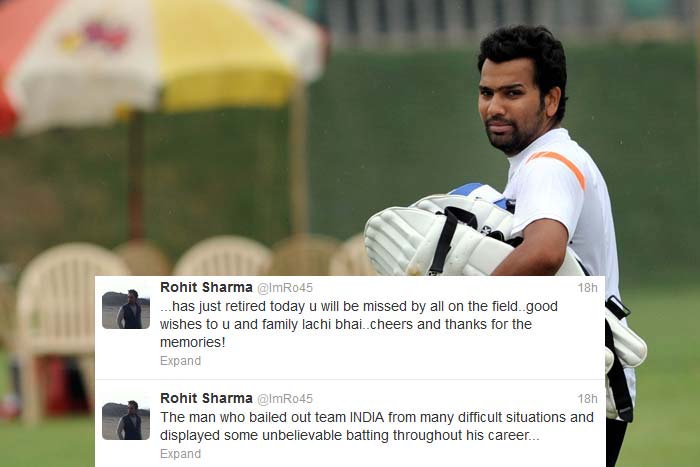 <b>Rohit Sharma</b> was much more forthcoming: "The man who bailed out team INDIA from many difficult situations and displayed some unbelievable batting throughout his career... ...has just retired today u will be missed by all on the field..good wishes to u and family lachi bhai..cheers and thanks for the memories!"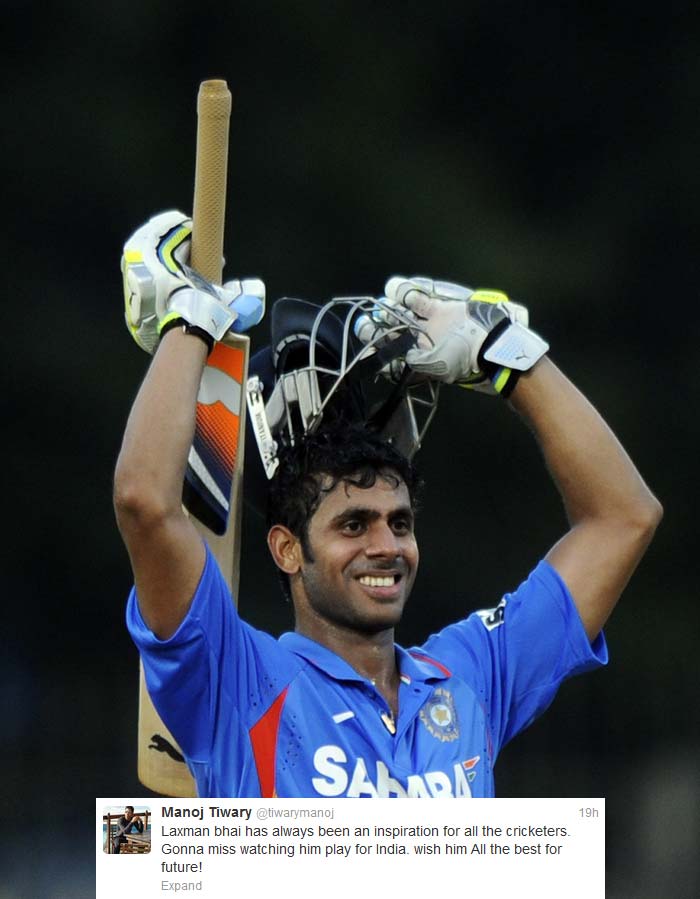 <b>Manoj Tiwary</b> might not have played a lot with the batting maestro but nonetheless showed his appreciation: "Laxman bhai has always been an inspiration for all the cricketers. Gonna miss watching him play for India. wish him All the best for future!"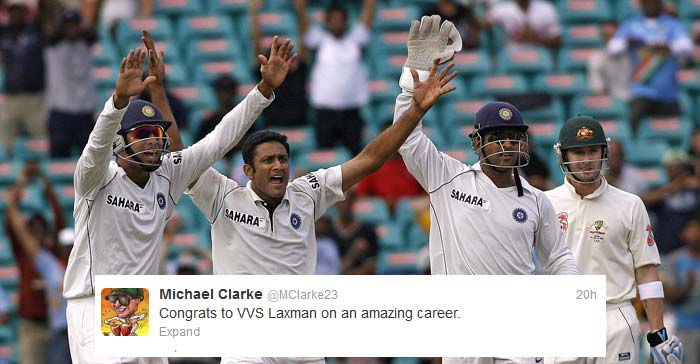 Even Australian skipper <b>Michael Clarke</b> could not hold himself back: "Congrats to VVS Laxman on an amazing career."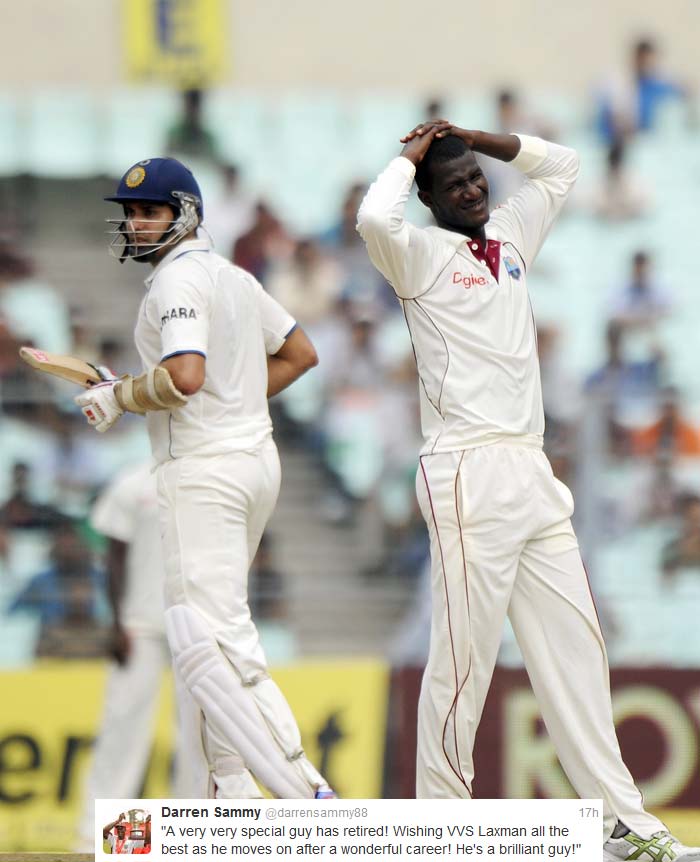 And West Indian captain cool <b>Darren Sammy</b> wished Laxman in style: "A very very special guy has retired! Wishing VVS Laxman all the best as he moves on after a wonderful career! He's a brilliant guy!"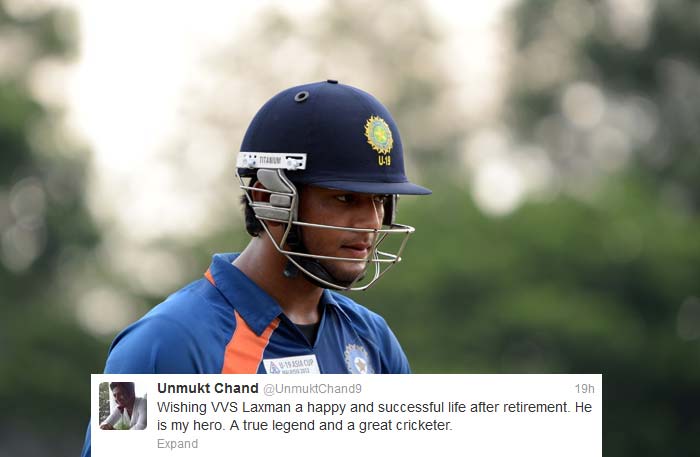 Indian under-19 captain <b>Unmukt Chand</b> had a lot to say: "Wishing VVS Laxman a happy and successful life after retirement. He is my hero. A true legend and a great cricketer." <br><br> "I was fortunate to spend some time wid #vvs laxman at the NCA. All I can say is that he's a superb human being, very grounded and hardwrking" <br> "#vvs laxman. His attitude is infectious. Felt at peace after talking to him. A salute to him for a great career and inspiring many lives."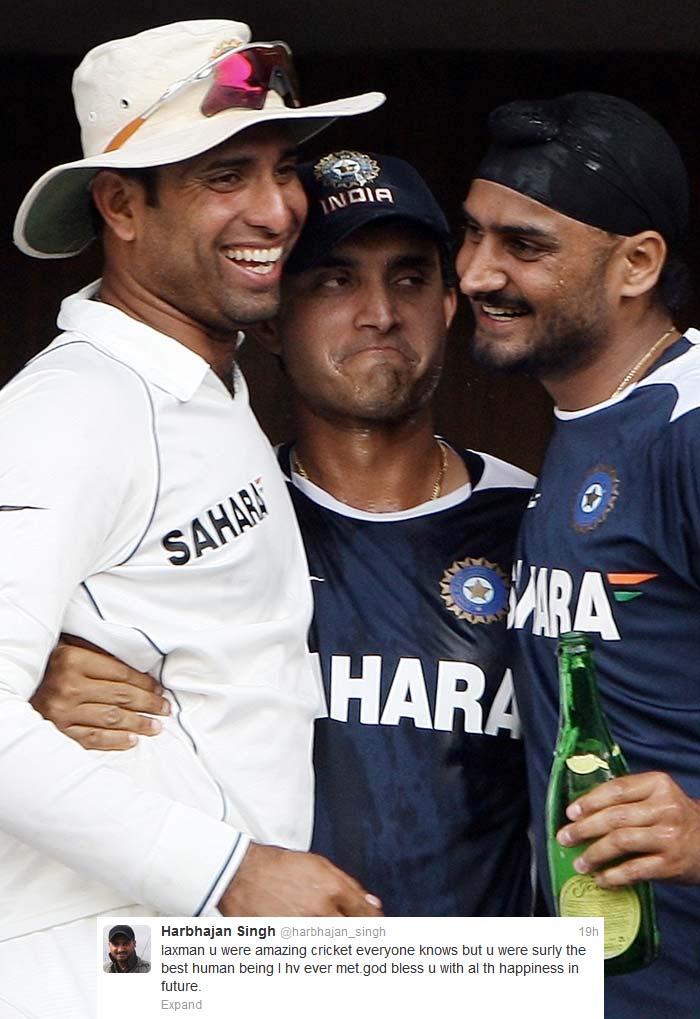 <b>Bhajji</b> too was full of praise for his now former teammate: "laxman u were amazing cricket everyone knows but u were surly the best human being I hv ever met.god bless u with al th happiness in future." <br> "Lax we gona miss u.u r a legend.sending luv and wishes all the way from essex.wish I ws part of ur last test.essex team also sending wishes" <br> "Legend has walked into cricketing sunset. What a player. probably th best man.so many good day spend with him.gonna miss u vvs.god bless"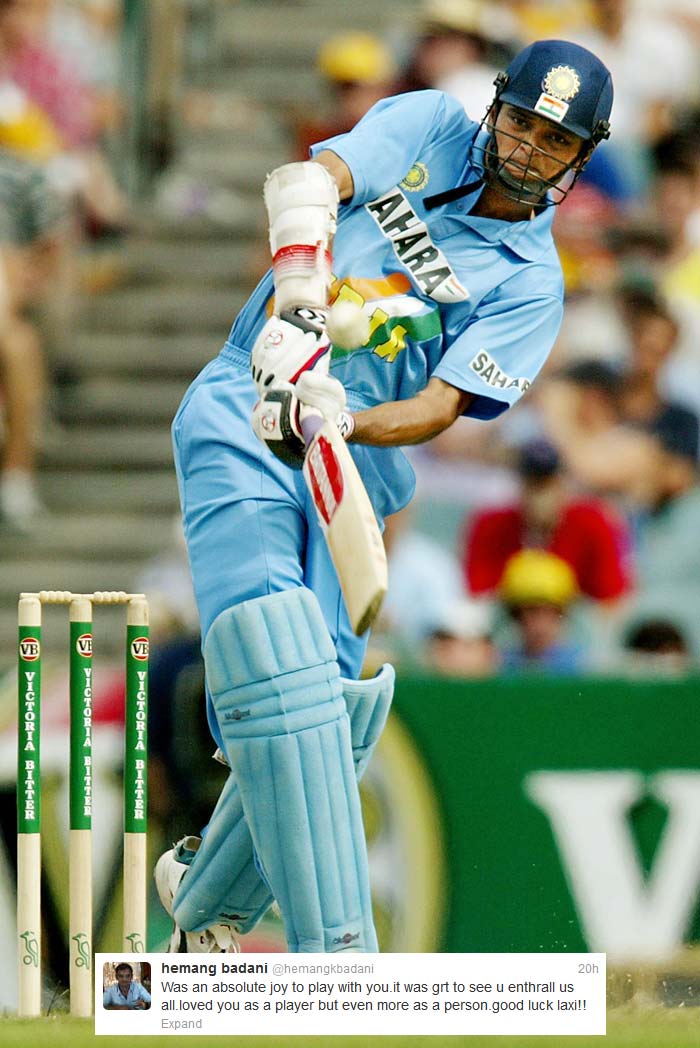 Ex-cricketer <b>Hemang Badani</b> too remembered the old times: "Was an absolute joy to play with you.it was grt to see u enthrall us all.loved you as a player but even more as a person.good luck laxi!!" <br> <br> "Laxi's retirement reminds me of the day before the epic test when i was told that i might make my debut cos he was having bk spasms.life!!" <br> "And am i glad or what it didnt happen.never would have i done what he did that test and we may not witnessed the best test innings ever."
<b>Virender Sehwag</b> rounded it off in his simplistic manner: "VVS is one of the finest human beings to have played cricket. One of the main pillars of the team and a true friend. Words are not enough."