Shane Warne's new look, a hit or a miss?
Shane Warne is widely credited for revolutionising leg spin bowling, but his motivation has not taken a back seat despite his retirement from cricket. The Australian legend has shed 12 kgs to become fitter and now seems a shadow of his former self.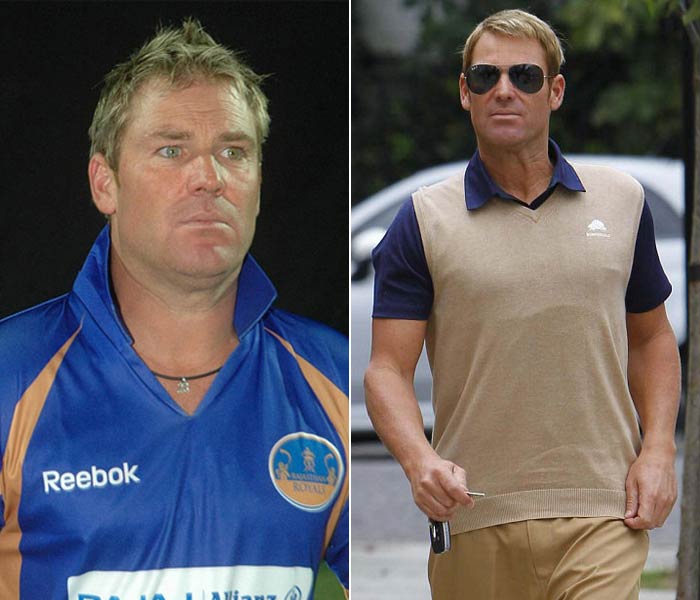 Shane Warne is widely credited for revolutionalising leg spin bowling, but his motivation has not taken a back seat despite his retirement from cricket. The Australian legend has shed 12 kgs to become fitter and now seems a shadow of his former self.
There are no prizes for guessing who Shane Warne's motivation must be. "@ElizabethHurley not the whip again if i have a chip !! standing on my back with those 8 inch heels whilst you make me do 200 push ups-hurts", wrote Warne on Twitter.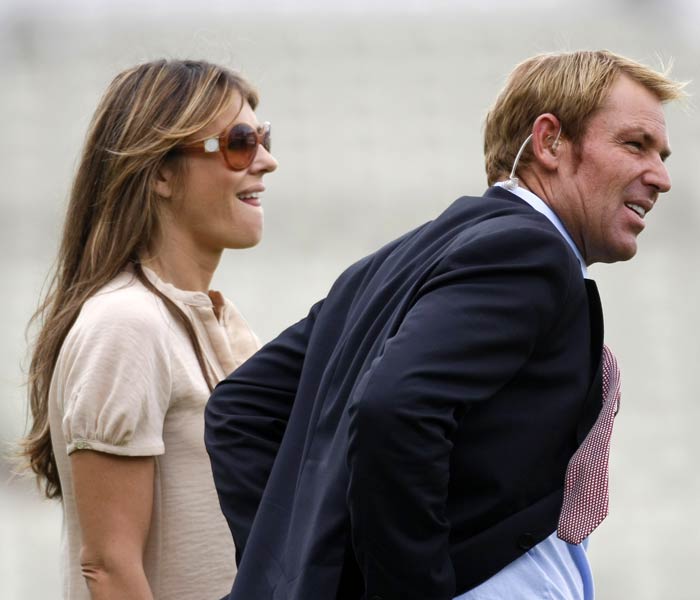 Australian blogs and news sites were awash with chatter about Warne's look after new photographs surfaced showing the noticeably slimmer star, who said he had lost 12 kilograms (26 pounds) in two months on a new diet plan.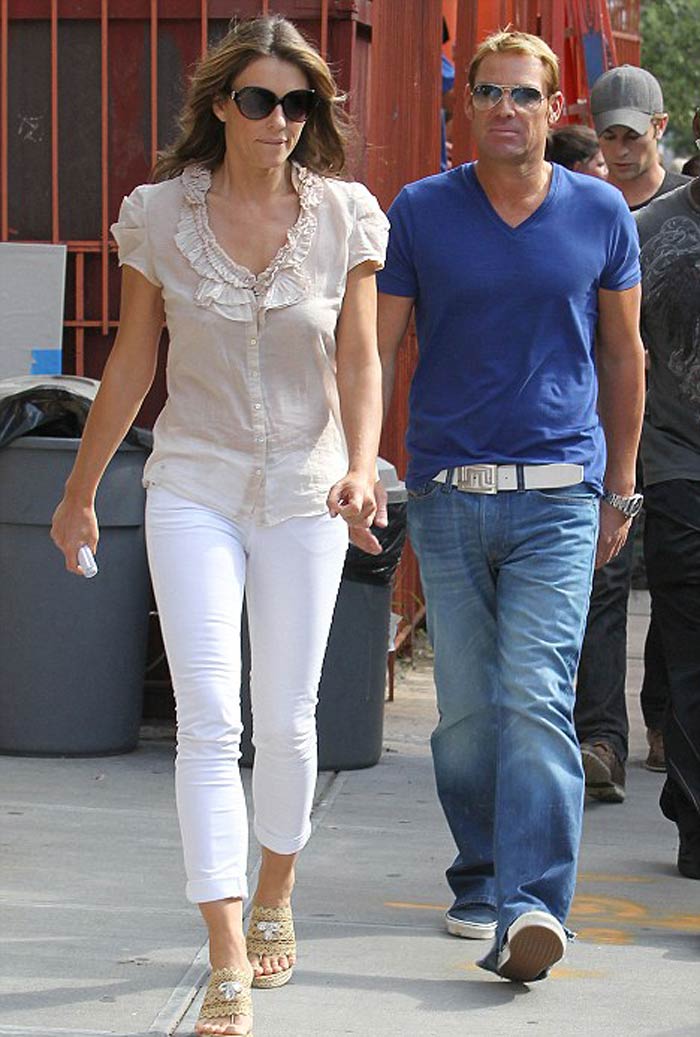 Media reports however, also said that Liz Hurley was tired of Warne's new look. "She loves the fact he's dropped some pounds but now it's all getting a little crazy and she's wondering what he's going to do next", the Femalefirst.co.uk had quoted a source.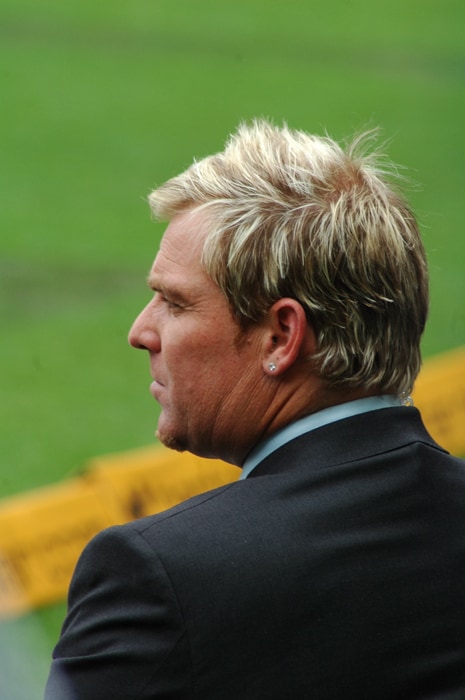 Mark Waugh and Shane Warne were accused of accepting money from "John" or "John the bookmaker", an Indian bookmaker, in return for pitch and weather information. However, the players claimed to have refused to divulge more strategic material, such as team tactics and player selection policies. One of the most publicised of a series of betting controversies in cricket in the 1990s, the matter was initially covered-up by the then Australian Cricket Board (ACB).
One of the very first controversies that Shane Warne was involved in was when he was charged with bringing the game into disrepute.

Warne was charged with bringing the game into disrepute in 1999 following his comments about the Sri Lankan captain Arjuna Ranatunga in a British newspaper column, when he was quoted as saying "There is plenty of animosity between Arjuna and myself. I don't like him and I'm not in a club of one." After this incident, the Australian Cricket Board ruled that newspaper columns by players had to be cleared by the team management before going to print.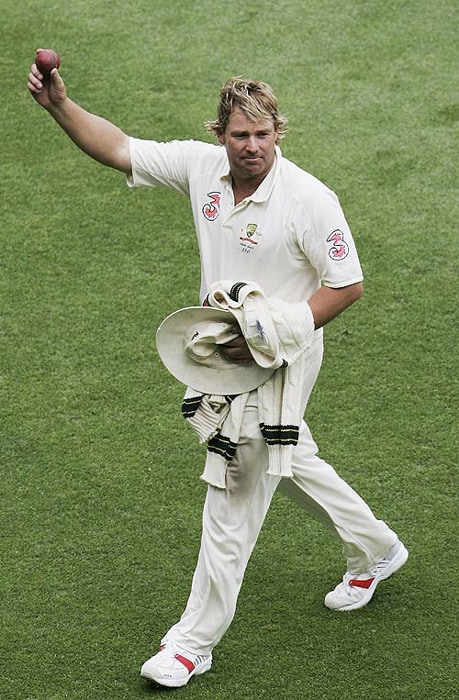 In 2000, he had been stripped of the Australian vice-captaincy after bombarding a British nurse with erotic text messages. He was also involved in an altercation with some teenage boys who took a photo of him smoking; Warne had accepted a sponsorship of a nicotine patch company in return for quitting smoking.
In February 2003, just prior to the start of the 2003 Cricket World Cup, Warne was sent home after a drug test during the recent one-day series in Australia returned a positive result for a banned diuretic. Warne initially claimed that he took only one of what he called a "fluid tablet" – the prescription drug Moduretic — in an attempt to improve his appearance.

In the end, the panel found Warne guilty of breaching the ACB's drug code, and imposed a one-year ban. It was further revealed, and confirmed by Warne in a subsequent television interview, that he had actually taken two of the pills. The substance he took is banned because it can be used to mask the presence of other drugs. The Judge in the case found both Shane Warne and his mother's testimony to be "unreliable".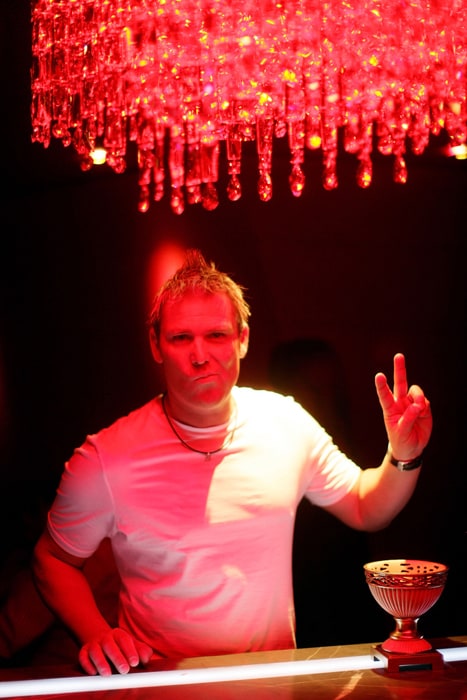 Controversy prone Australian spinner Shane Warne found himself in the midst of another telephone sex scandal with a South African woman accusing the bowler of making lewd calls and sending dirty messages to her.

Helen Cohen Alon, a 45-year-old divorcee and a mother of three, claimed Warne called her up '40 times' saying he 'wanted me' and even sent text messages telling her he was lying in bed next to his wife Simone but thinking 'naughty thoughts about me'.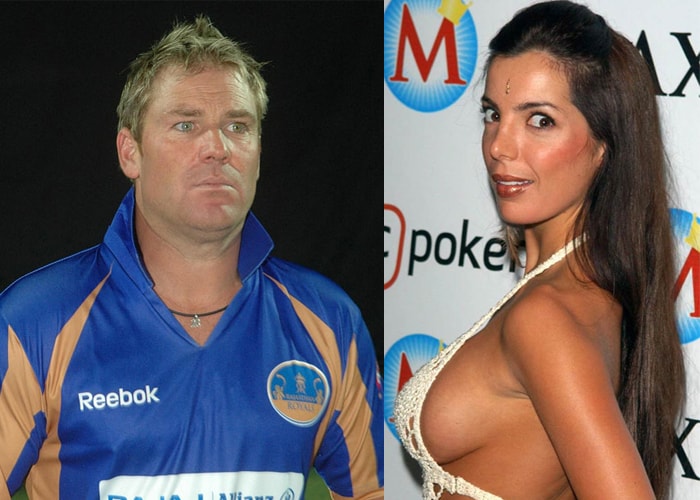 Warne's private life has been beset by scandals and subjected to scrutiny by British tabloid newspapers. He came under criticism for text messaging a woman whilst on tour in South Africa, accused of sending lewd and harassing messages. However, the woman who made the claims (Helen Cohen Alon) was subsequently charged with extortion in her own country.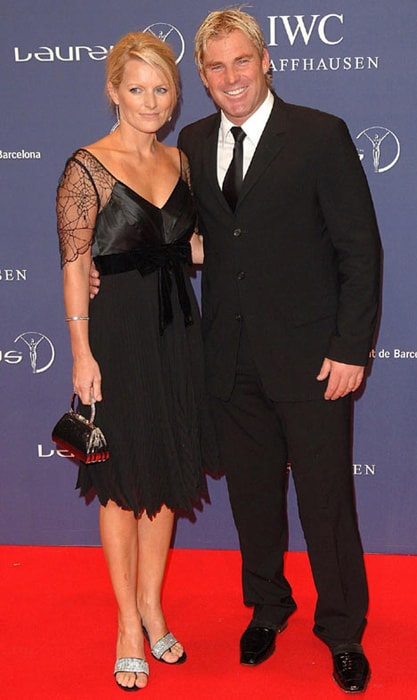 On 1 April 2007, Warne and his wife were reported to be getting back together. However, in September 2007, Simone returned to Australia from England after her husband had accidentally sent a text message meant for another woman to her phone.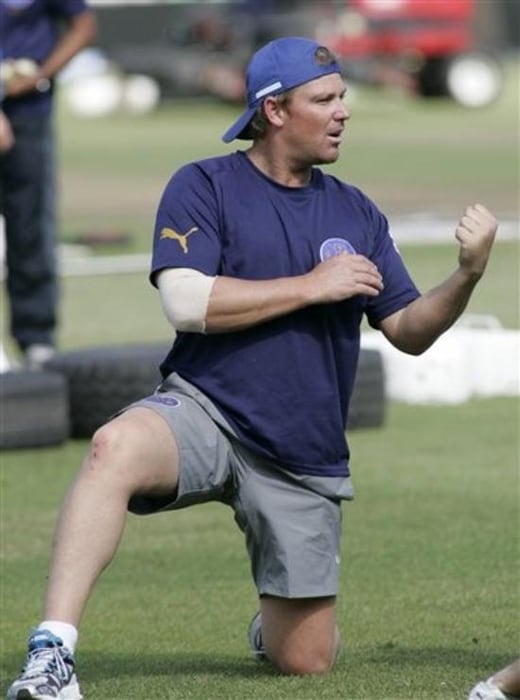 In the IPL 2009, Shane Warne was on the boundary line, when the cameras captured him taking a little sip of beer that was given to him by a spectator.

Nothing happened really; he looked to the crowds, someone offered him a fine glass of cold beer, keeping one eye on the game he slyly took a sip, and then like a gentleman that he is, he returned the glass to the spectator, and carried on.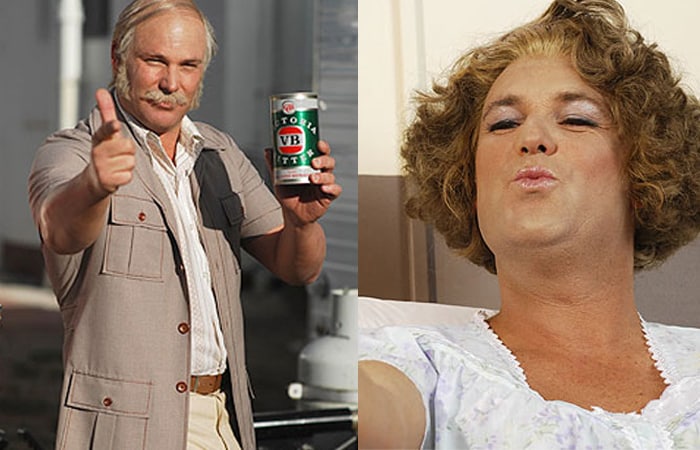 In January 2008, Warne signed a two year agreement with 888 Poker (owned by 888 Holdings PLC, a public listed company in London) to represent them at poker events around the world including the Aussie Millions, World Series of Poker and the 888 UK Poker Open. His twitter account, too, is 'warne888'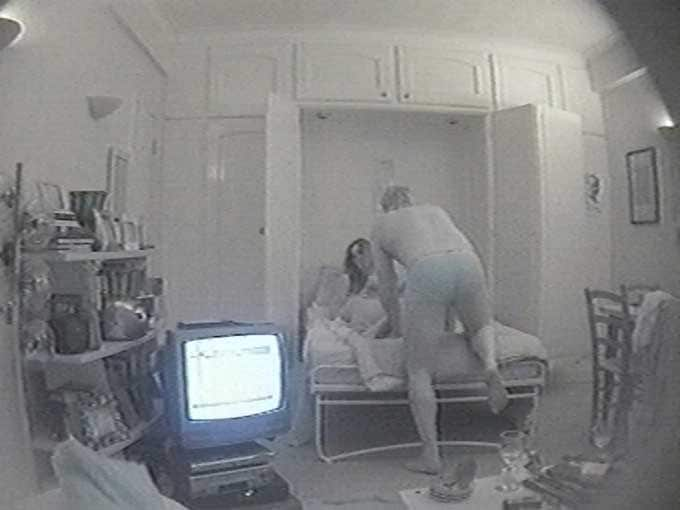 On 7 May 2006, the News of the World tabloid newspaper published pictures of Warne standing in his underwear with a pair of 25-year-old models, as well as explicit text messages allegedly from Warne.

"Shane blew our minds," claimed one of the young ladies, MTV presenter Coralie Eichholtz. "He was so fit. I'd give him top marks for more than satisfying us." Warne's wife, Simone, had by this point filed for divorce, and was unavailable for comment.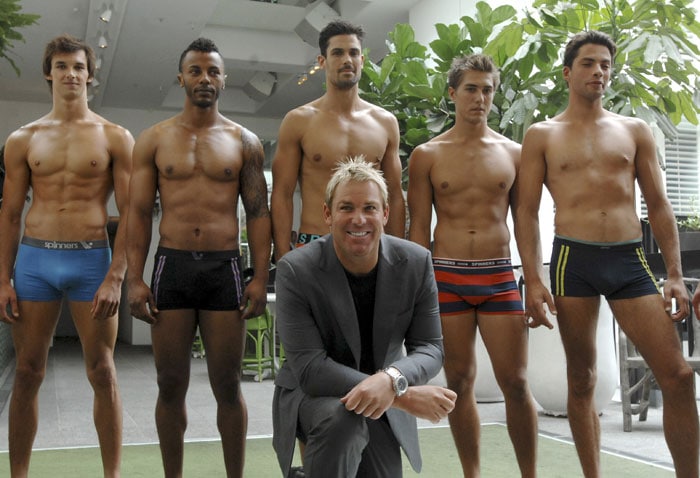 Australian cricketing legend Shane Warne revealed his secret weapon as he spins out his career in India - his own range of underpants. (AP Photo)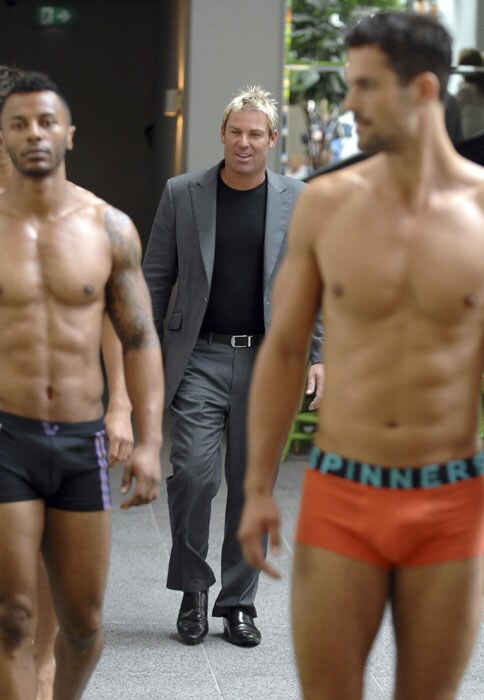 The peroxide blond sportsman, who also promotes a product which prevents baldness by replacing hair loss "strand by strand", said he had long been picky about his clothes. (AP Photo)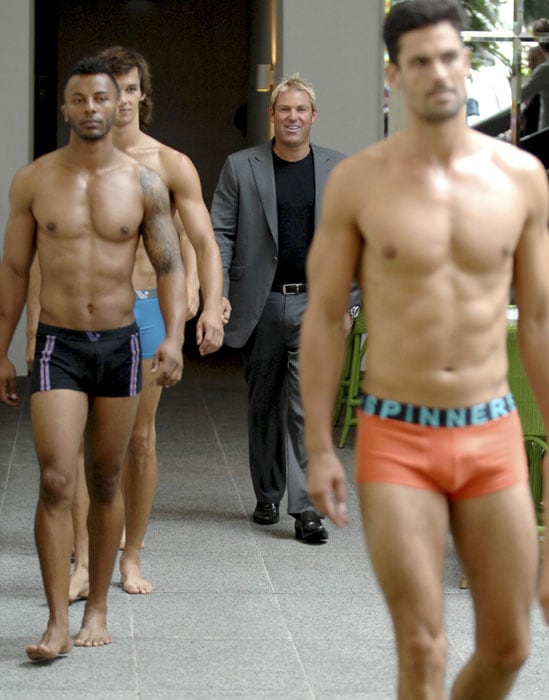 The legendary off-spinner, who retired from international cricket in January 2007 with a then world record 708 Test wickets, is now the captain-coach of Indian Premier League team Rajasthan Royals. (AP Photo)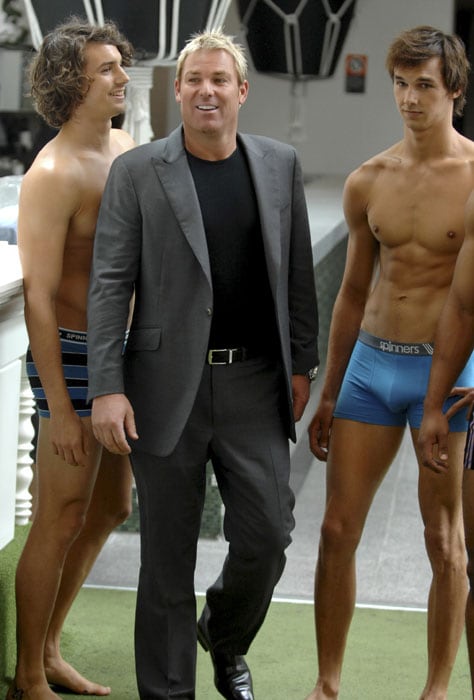 Following in the footsteps of fellow cricketer Michael Clarke, retired swimmer Ian Thorpe and football superstar David Beckham, Warne is launching his own men's range he helped design himself called "Spinners". (AP Photo)