Sachin's year of milestones
Year 2009 saw Team India become the number one team in both ODI and Test rankings. While its stay at the top of the ODI charts was a short one, it will enter the New Year as the numero uno Test side.
Year 2009 saw Team India become the number one team in both ODI and Test rankings. While its stay at the top of the ODI charts was a short one, it will enter the New Year as the numero uno Test side.

And one man contributed immensely in its journey to the top – Sachin Tendulkar. Apart from his contribution in Indian team's success, the Little Master achieved many personal milestones this year to become one of the hottest News Maker of the Year.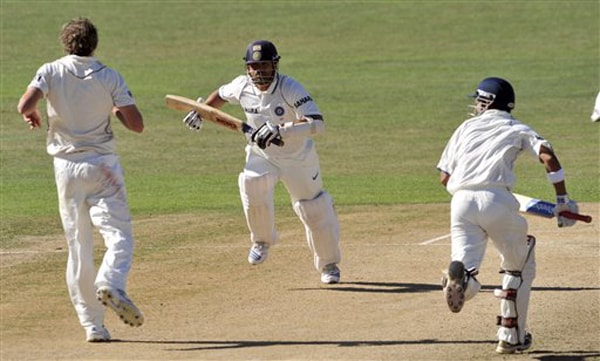 2009 marked the 20th year of Sachin's international career. He had made his debut against Pakistan in 1989 as a 16-year old in Karachi. And during his 20-year long service to the Indian cricket, he represented the passion of a billion and satiated their thirst by winning uncountable matches single-handedly.

Sustaining such a long career is no child's play with most of his contemporaries either retired or moving downhill. Undeterred by every fathomable injury, scrutiny and criticism, Sachin has been consistent and successful all these years. He touched heights beyond anyone's imagination, making and breaking many records.
Sachin Tendulkar, the undisputed run-machine, has been one of the most consistent, aggressive and technically sound batsman of all times. During his 20 year long ODI career, Sachin has given nightmares to bowlers of the world.

He is at the top of the ODI summit and with each run scored and every century raised, he has increased the gap between himself and his contemporaries, and no one's even near his ODI records. In 2009, he completed 45 centuries, 17000 ODI runs.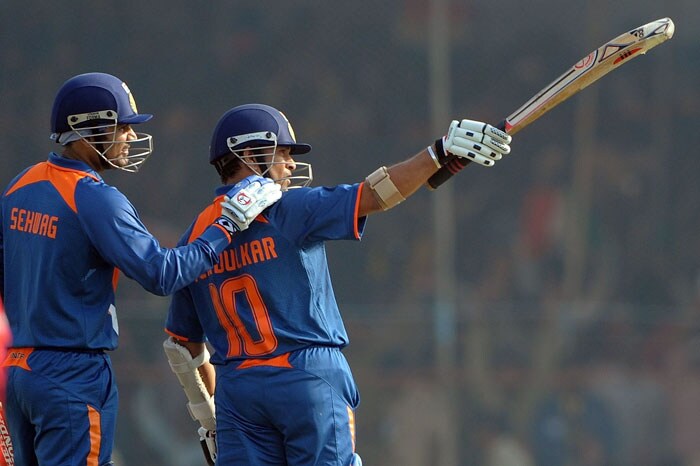 Sachin Tendulkar became the first player to appear in more than 600 international games - the break-up being 437* ODIs, 162 Tests and one Twenty20 International. He achieved this feat when he played the first ODI of the five-match series against Sri Lanka in Rajkot.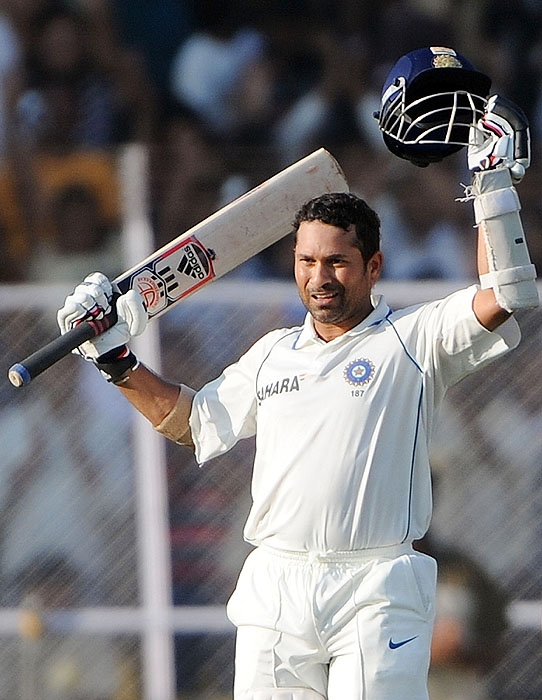 Master Blaster became the first batsman to complete 30,000 international runs when he scored his 35th run in the 2nd innings against Lanka during the first Test in Ahmedabad. After achieving the feat, Sachin added another leaf to his record book as he made 43rd Test hundred on Day 5.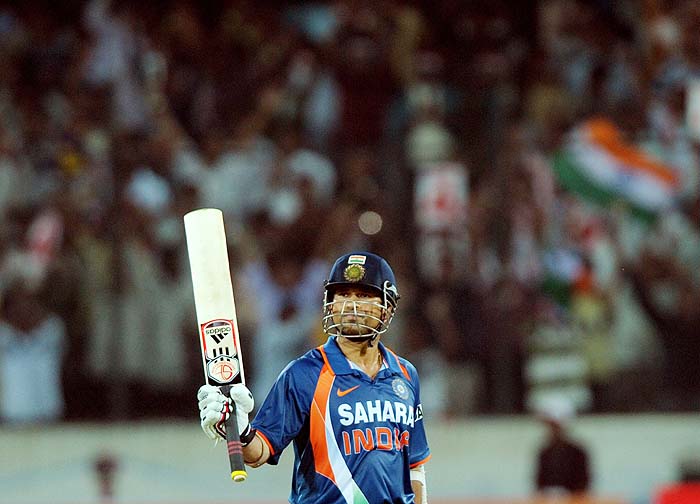 160 vs NZ in 1st Test, his 42nd Test ton: It was long since India recorded a win on the Kiwi soil. When MS Dhoni-led team toured New Zealand earlier this year, everyone was apprehensive of its victorious return. Sachin started the series with a brilliant 160 runs that led India to victory. With next two Tests ending in draw, India clinched the series 1-0.

138 vs SL in Compaq Cup final: On September 14, 2009, Sachin wisely held the Indian innings together and scored 138 runs against the Lankans, at the Premadasa stadium in Colombo to lead India to victory. This win kept one record intact – India has never lost when Sachin scored a century in any series/tournament final.

175 vs Australia in Hyderabad: It seemed like an impossible task. India were chasing 351 runs for victory in the 5th match of the India-Australia ODI series. The middle order crumpled, Sachin stayed on. Probably the most exciting run chase of the year, Saching kept scoring all around the ground. Maximising advantage of an injury hit Aussie bowling attack, Sachin kept hopes of a billion Indians alive by leading India very close to a victory. But the tables immediately turned when Sachin was caught at Short Fine Leg at a score of 175 runs. With the fall of Sachin, fell the hopes of an entire nation, and the mesmerising run chase fell short by just 3 runs.

69 vs Sri Lanka in Rajkot: It was a high-scoring humdinger in Rajkot. Sachin opened the innings with Sehwg, who was in a murderous mood. He slaughtered the Sri Lankan bowlers, while Sachin played a perfect foil. He kept rotating the strike and did not get carried away by the butchering happening at the other end. He laid a solid foundation for India to build a mammoth total of 414 runs.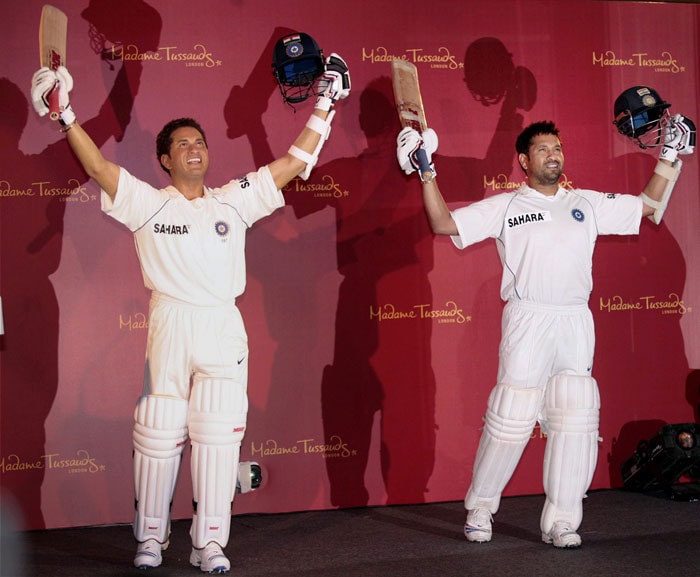 Tendulkar at Madam Tussauds: Sachin Tendulkar became the first Indian sportsman whose wax statue was placed at the famous Madam Tussauds Wax Museum in London. He is only the fifth Indian to get a place there, others being Amitabh Bachchan, Aishwarya Rai, Shahrukh Khan and Salman Khan.

Tendulkar Opus: Sachin joined the league of Roger Federer, Michael Jackson, Walt Disney as he became the first cricketer whose biography was published under the Opus series. The USP of the biography is that it has unseen pictures of the batting maestro and first ten copies contain a drop of his blood.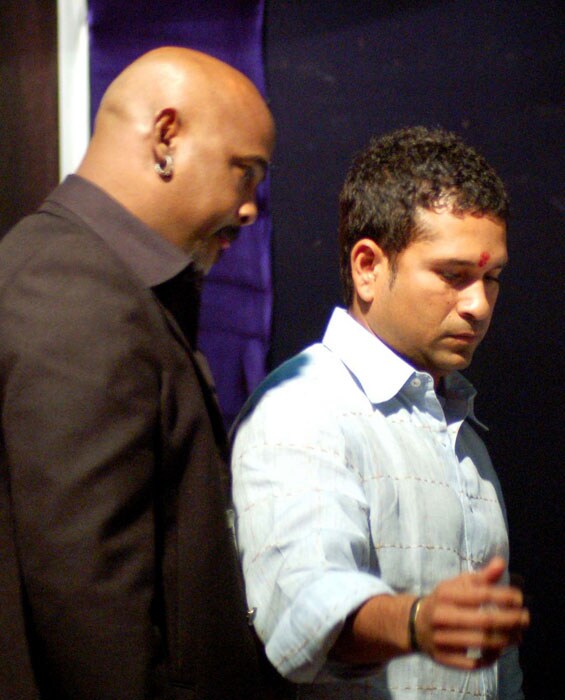 While the man has always kept distance from controversies, he was engulfed in some this year, though not directly.

His childhood friend Vinod Kambli had confessed on a reality show Sach ka Samna that Sachin could have helped him restore his ruined career. While many speculated their relation would turn sour, Sachin met Kambli during a function with old warmth and ease.

Sachin was criticized by Shiv Sena Supremo Bal Thackeray after he said that though he was a proud Maharashtrian, but he was first an Indian and that Mumbai belonged to everyone.

Thackeray told him in a very scathing language that he should keep himself away from political issues. However, the comment got Thackeray bad reviews from every nook and corner.