On Twitter, celebs say Thank You, Sachin
Celebs congratulate Master Blaster Sachin Tendulkar on completing his 100th international ton.

Prime Minister Dr Manmohan Singh: I join the nation in congratulating Sachin Tendulkar on his making history – a hundred centuries. He has made India proud. Tendulkar's long career has been a triumph of class, character and courage. Wish him many more innings and feats to continue inspiring the youth.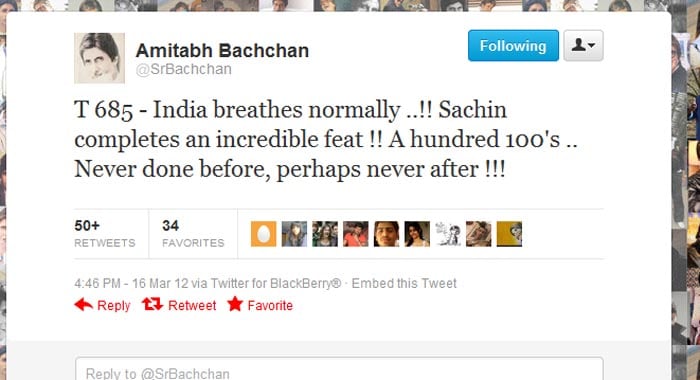 Amitabh Bachchan: India breathes normally ..!! Sachin completes an incredible feat !! A hundred 100's .. Never done before, perhaps never after !!!

T 685 - A lion does not concern himself with the opinions of the sheep ..

T 685 - God's special creation .. Sachin Tendulkar !!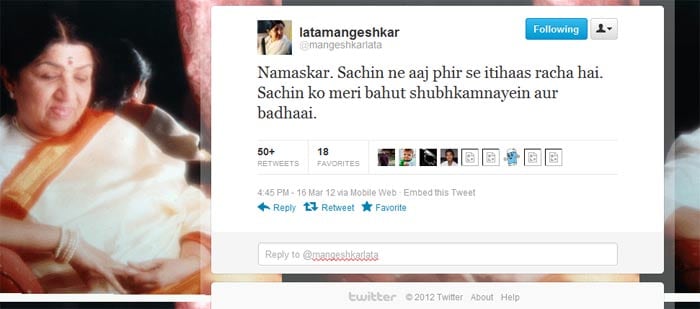 Lata Mangeshkar: Namaskar. Sachin ne aaj phir se itihaas racha hai. Sachin ko meri bahut shubhkamnayein aur badhaai.

Narendra Modi: Moment of pride! Heartiest Congratulations to #Sachin for his 100th century, a historic achievement!

Taslima Nasreen: Bangladesh loves Sachin.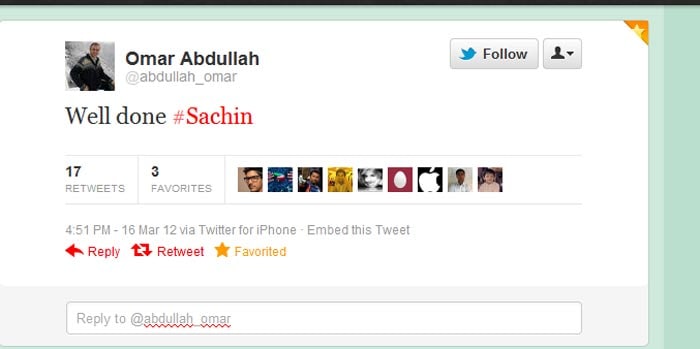 Omar Abdullah: Well done #Sachin

Shashi Tharoor: Stupendous achievement by @sachin_rt. Each of those last 5 singles was run amid mounting tension. Now, a nation rejoices. Cricket wins

Anand Mahindra: Sachin proved the Budget that mattered was his budgeted score.. Bravo, to an authentic legend..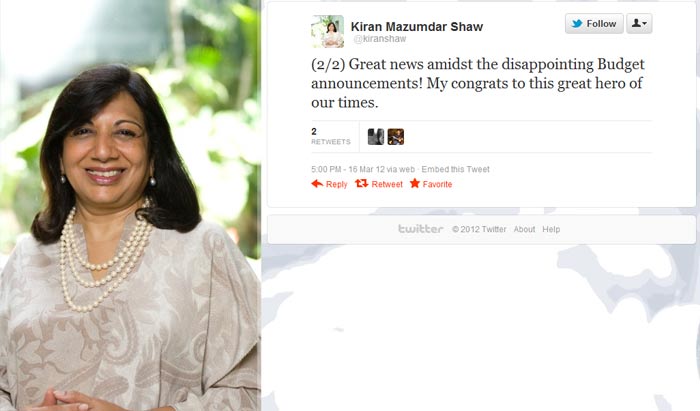 Kiran Mazumdar Shaw: Phew! I am so glad that Sachin got his record of records! (1/2)

(2/2) Great news amidst the disappointing Budget announcements! My congrats to this great hero of our times.
Shobhaa De: Chalo.100th international cricket century in the bag.Congrats!Important milestone and all that.Ek announcement baki hai,bhai:Retirement.

Abhishek Bachchan: CONGRATULARIONS SACHIN!!!! @sachin_rt WOW!!!!

it's an honor to witness this master play. we're lucky. COME ON INDIA!

ok, tried very hard to control myself and not get carried away. NOT POSSIBLE! YYYYYAAAAAAAAAAAAAAAAAAAAAAAAAAAAAAAYYYYYYYYYYY!!!

how good is Sachin? he's the BEST. period! stop analyzing him. stop being cynical. just celebrate him!
Akshay Kumar: Salute to the man who never gave up in spite of all the criticism. Finally he did it. #Sachin creates history in world…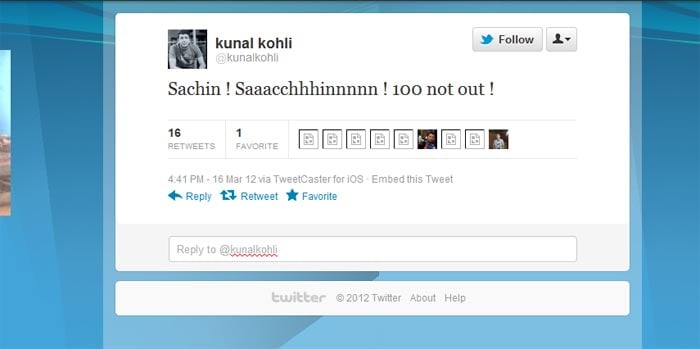 Kunal Kohli: Sachin ! Saaacchhhinnnnn ! 100 not out !

Mahesh Bhupathi: Good morning from California.. I guess chant today goes Sacccchiiiinnnn, Sachhhhhhiiiinnn.. Hmmm I have been chanting that for twenty years.

Riteish Deshmukh: Sachin TON TONNA TON - all those who thought sachin should retire- time for them to retire from making such statements-

Arjun Rampal: Phew!!! Love u Sachin, truly remarkable well deserved, thank you for making us enjoy every one of those Tons. Sooooo happppppyyyyyy.

Anupam Kher: Once again Sachin gives us reason to smile, to celebrate, to dance, to scream with joy and to feel Proud to be an INDIAN. Jai Ho.:)

Dhanush: Hey come-u mama SACHIN !! All hail the god of cricket !! Hail sachin !!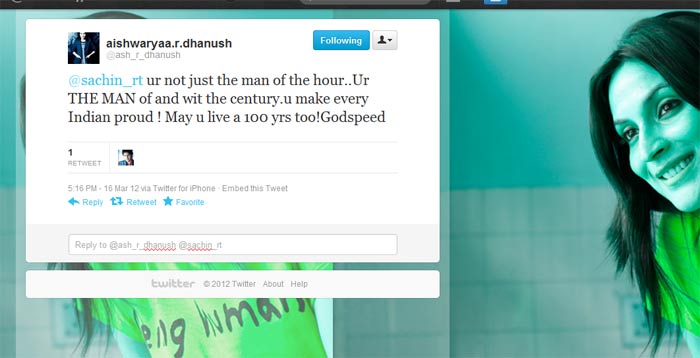 Aishwaryaa R Dhanush: @sachin_rt ur not just the man of the hour..Ur THE MAN of and wit the century.u make every Indian proud ! May u live a 100 yrs too!Godspeed
Bipasha Basu: Saluting The Great Tendulkar fr his 100th 100!We stopped our shoot to see it happen!Jubilant n Ecstatic:)

Lara Dutta Bhupathi: Congratulations Sachin! Even for the humility and grace in acknowledging such an amazing feat!! We celebrate your accomplishment and you!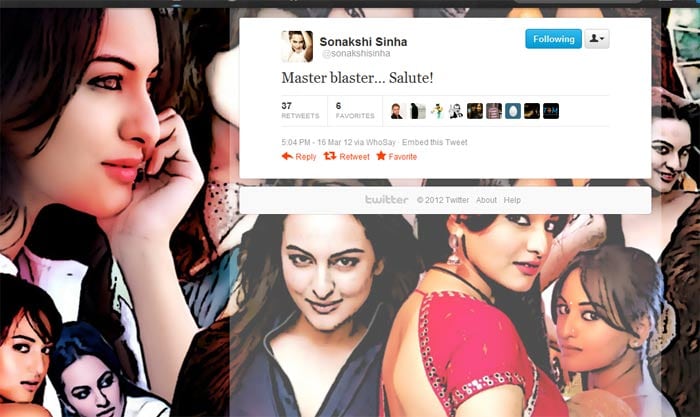 Sonakshi Sinha: Master blaster... Salute!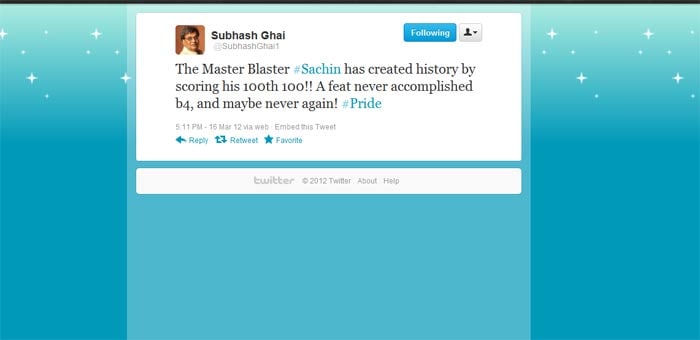 Subhash Ghai: The Master Blaster #Sachin has created history by scoring his 100th 100!! A feat never accomplished b4, and maybe never again! #Pride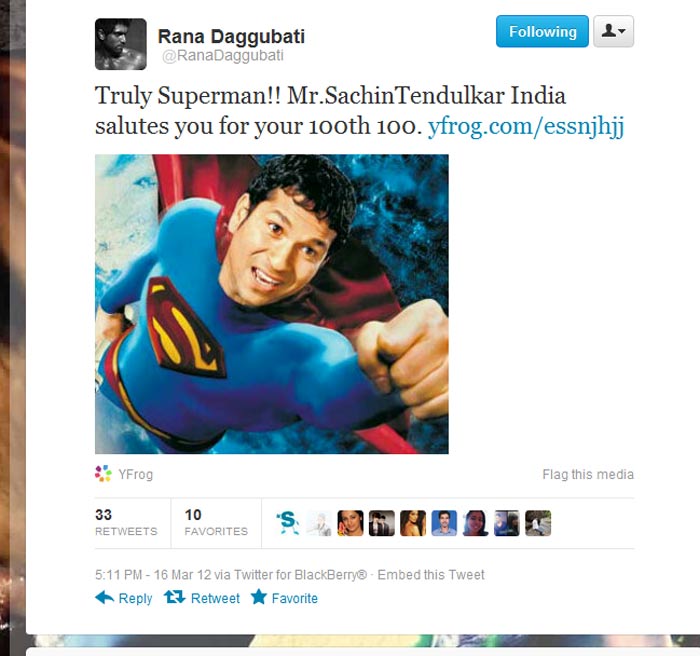 Rana Daggubati: Truly Superman!! Mr.SachinTendulkar India salutes you for your 100th 100.

Madhur Bhandarkar: The god of cricket has proved again y he's called so. Congrats Sachin fr the century of tons. U make us proud always!

Mandira Bedi: 100 100s. Who said it doesn't matter! After a huge sigh of relief that its finally happened, life can finally go on! Brilliant ?! @sachin_rt

Cricket history.. The subject of numerous cricket trivia questions in the years to come! :) :)

Sachins weighing scale must've gone beserk becoz he's suddenly become the 100 ton man!! :D :D

Jeffrey Archer: @sachin_rt - I join millions across the globe in congratulating #Sachin on his 100th 100 - I wonder if it will ever be achieved again?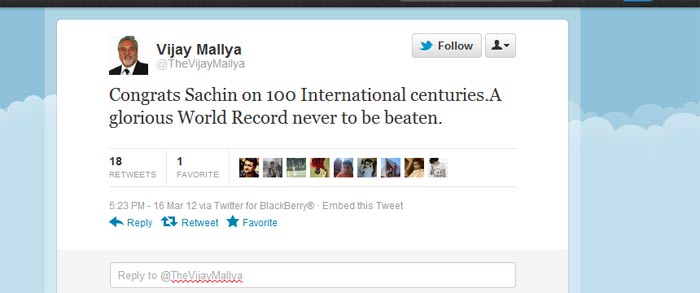 Vijay Mallya: Congrats Sachin on 100 International centuries.A glorious World Record never to be beaten.

Sidhartha Mallya: Congratulations @sachin_rt for his 100th 100!!!! Amazing player, amazing human...what an achievement...

They say records are there to be broken...i don't think this one's going to be broken in a hurry!! Congrats @sachin_rt

Chetan Bhagat: 100 * 100 = 1.2bn sleep in peace. Congrats to sachin!