Amul highlights the end of an era as Viswanathan Anand loses the world chess title
Here is Amul's depiction of Viswanathan Anand mosing to Magnus Carlsen and losing the world chess title.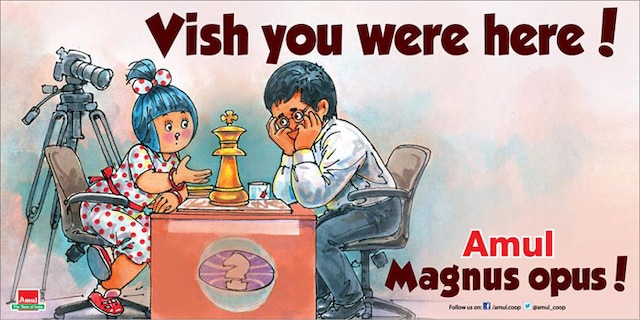 Here is Amul's depiction of Viswanathan Anand mosing to Magnus Carlsen and losing the world chess title. Click below for more Amul updates...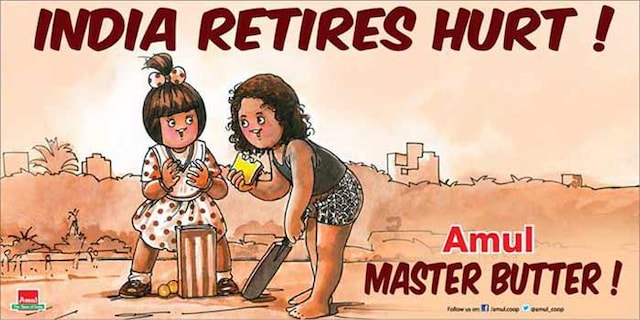 One can never keep Amul away from contemporary issues. This time, they join the nation in saying a warm goodbye to Sachin Tendulkar, the legendary cricketer.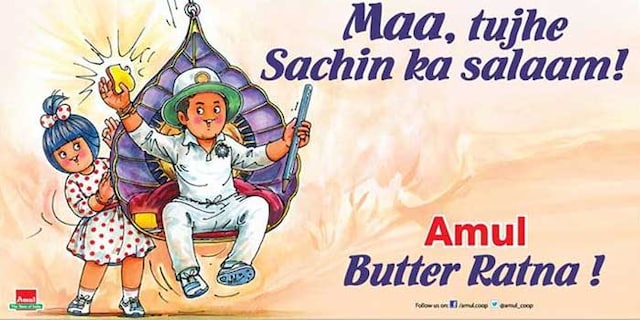 Sachin Tendulkar was conferred with the Bharat Ratna, India's highest civilian honour, soon after his retirement on November 16.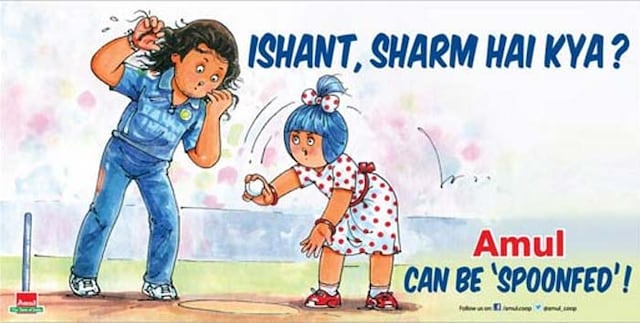 Amul recently saw the lighter side of Ishant Sharma's form after the bowler was whacked for 30 runs in an over by the Australians.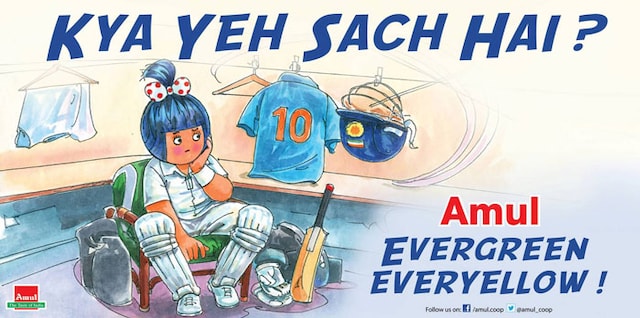 Here is Amul's take on Sachin Tendulkar's retirement from all forms of cricket.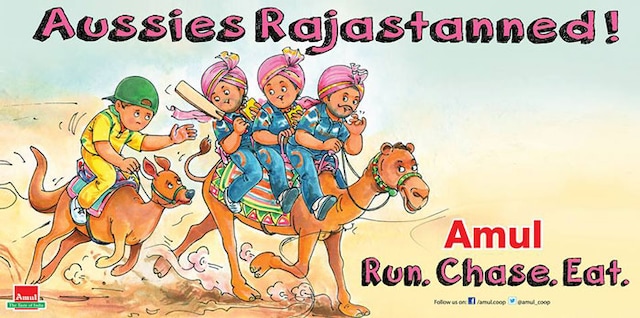 Following India's record-breaking ODI run chase at the Sawai Man Singh in Jaipur vs Australia, Amul shows sympathy for the Kangaroos but proves no match for the rampaging camel.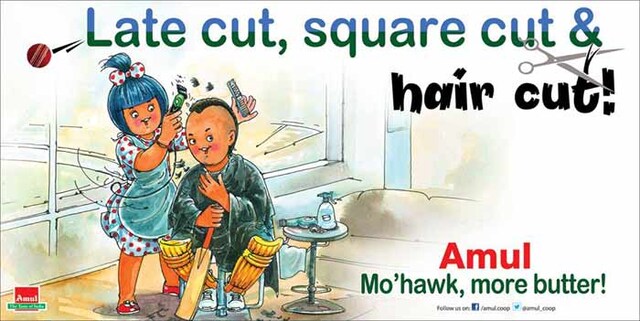 MS Dhoni's brand new haircut also found space in the utterly-butterly animated feature.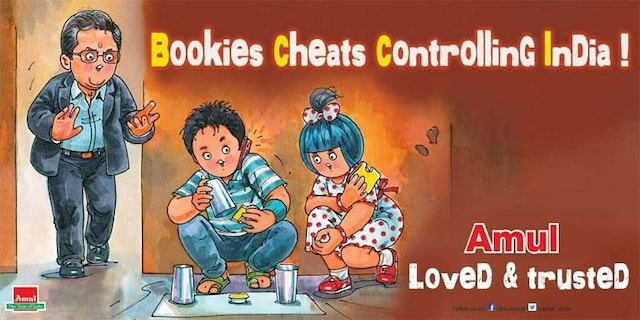 One can never keep Amul away from contemporary issues. This time it takes a dig at Board of Control for Cricket in India
The catchy IPL 6 TV commercial was on everyone's lips. So how can Amul not have a taste of it?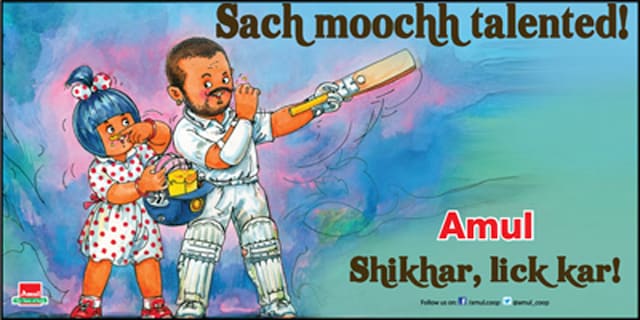 Shikhar Dhawan with his amazing knock of 187 against Australia in Mohali, is not just the talk of the town. All and sundry congratulated him. Amul was not far behind and with a twist of its own.

Click on for more Amul sporty tales...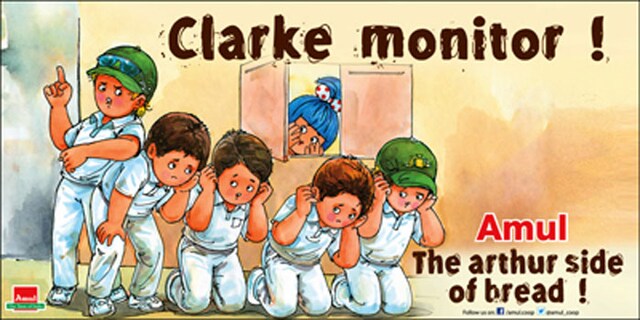 Shane Watson, Usman Khawaja, Mitchell Johnson and James Pattinson were suspended by team management after breaking team protocol.
Amul finds fun where none exists.
Vijender Singh's boxer friend and a drug dealer accused the Indian Olympian of taking 'Heroin'. Vijender kept denying the same.
Amul takes hilarious route on possibly a very serious issue.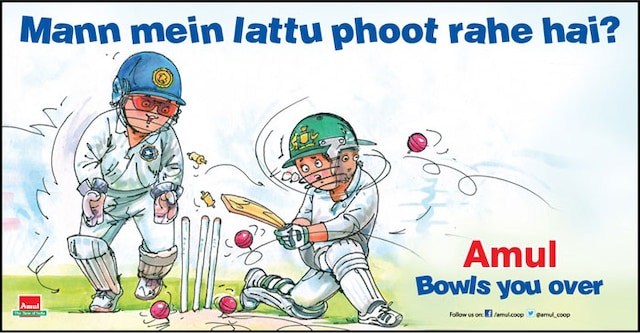 Indian spinners R Ashwin, Ravindra Jadeja and Harbhajan Singh picked up 14 wickets between themselves in India's innings and 135-run win over Australia in the second Test on March 5. Amul depicts the uncertain mindset of an Aussie batsman, while facing the guile of spin bowling.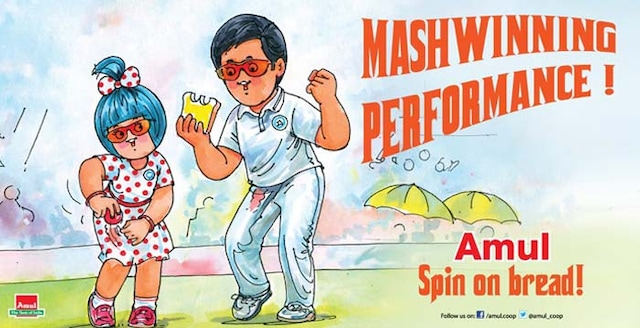 R Ashwin's 12 wickets in the Chennai Test gave India 1-0 lead in the 4-match series against Australia. Ashwin made the Aussie batsmen dance to his spinning tunes, much like the Amul butter spread on bread.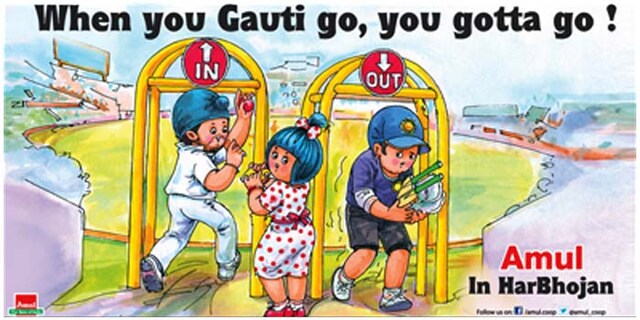 Harbhajan Singh came back into India reckoning after being selected for the 4-Test series against Australia. However, out-of-form Gautam Gambhir was dropped. Amul depicts its version on the latest juggling in the dressing room.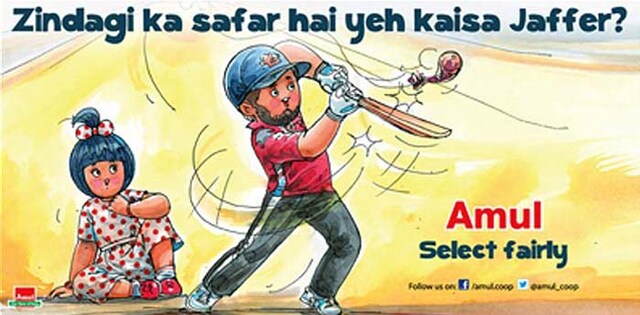 Wasim Jaffer's consistent showings in domestic cricket were not enough for the 35-year-old to make the Indian Test team for the home series against Australia. Amul, apparently, gives its view on selection policies.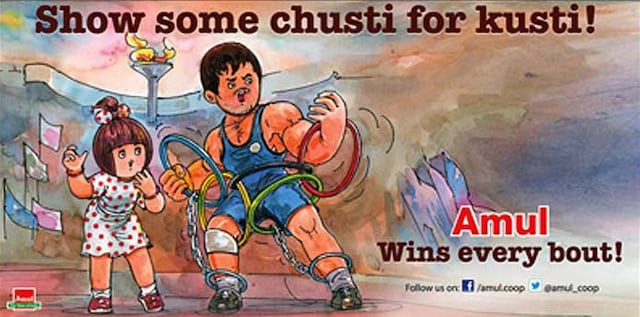 One of the most physical traditional Olympics sport, wrestling was dropped from the list of disciplines for the 2020 Games. Amul, in a recent ad campaign, displays the plight of the wrestlers post the Olympics snub.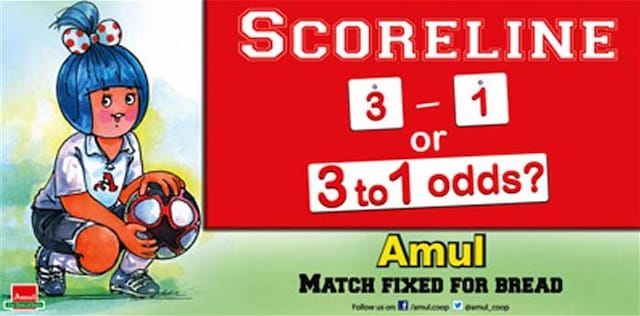 News reports in early February claimed that hundreds of football matches world over were fixed, raising alarm amongst fans and media. Amul, reacts to the whole issue in its own unique style.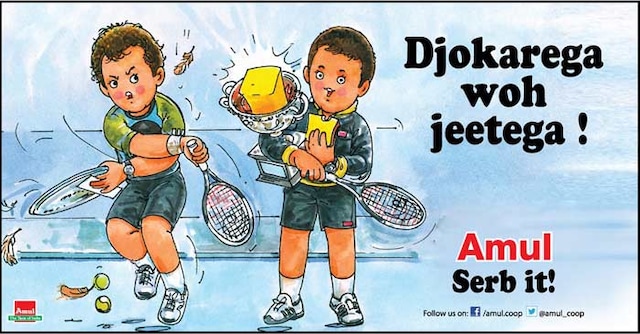 Amul has lavished it's own 'slice' of praise on Novak Djokovic

The Serbian defeated Andy Murray to claim a record number of Australian Open titles. Amul tells you the secret!

Click on for more sporty tales...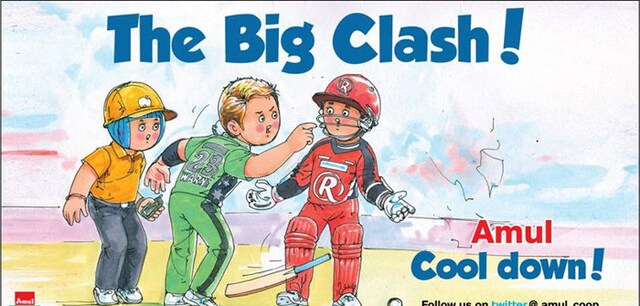 Amul recently came up with this 'cool down' mantra for Warne and Samuels.

It saw the funny side of the ugly spat between the two players in a Big Bash T20 game, where one team won, another lost but the game definitely lost.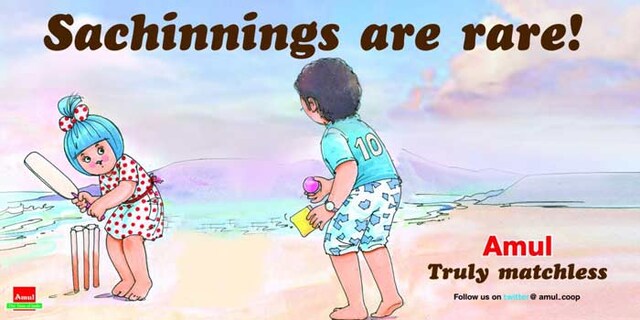 This ad is a tribute to Sachin Tendulkar who retired from ODI cricket recently, after a career spanning 23 years.

Click on for more 'sports-flavored' ads.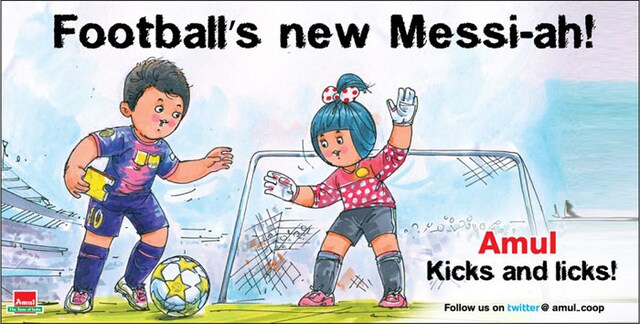 Amul, extremely prompt with its ad campaigns, never misses any contemporary issue.

Its latest ad is a tribute to Lionel Messi who scored his 86th goal this year to break Gerd Mueller's 1972 record of 85 strikes in a year.

Click on for more 'sports-flavored' ads.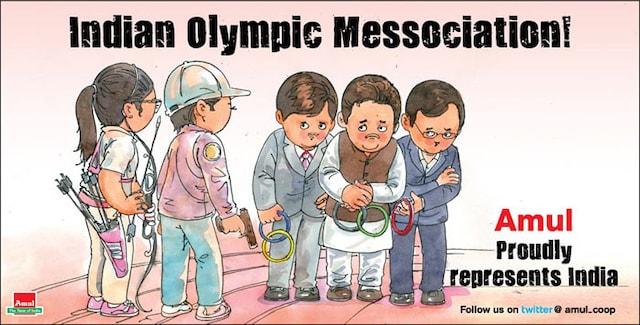 Amul, extremely prompt with its ad campaigns, never misses any contemporary issue.

Its latest ad is an apt description of the mess in Indian sports currently. With the Indian Olympic Association suspended by the international body, the athletes may suffer and the people at the helm will surely be held accountable.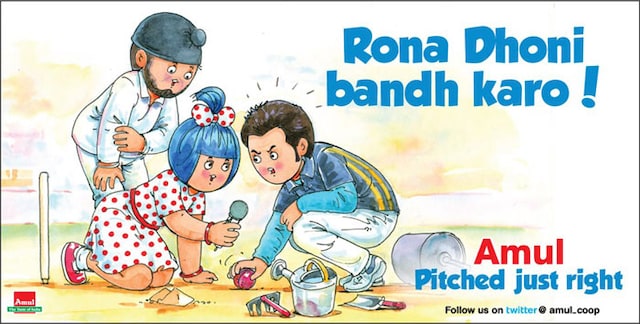 Amul also took a dig at India captain MS Dhoni for his demand for a turning pitch at the Eden Gardens in Kolkata, where India and England will play the third Test. Dhoni has been underfire from a section of media and former cricketer as well as pitch curator Prabir Mukherjee, who alleged Dhoni wants Test matches to end in three days.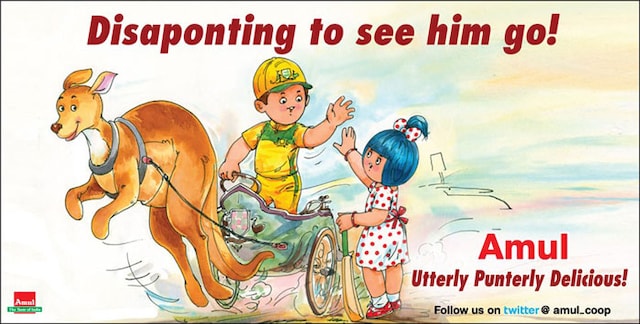 This ad is dedicated to former Australian cricket captain Ricky Ponting, who retired after 17-year Test career. He is the second highest run-getter, behind Sachin Tendulkar, in Tests and ODIs.

Australia, however, failed to give him a winning farewell as the Proteas beat the hosts by 309 runs in Perth.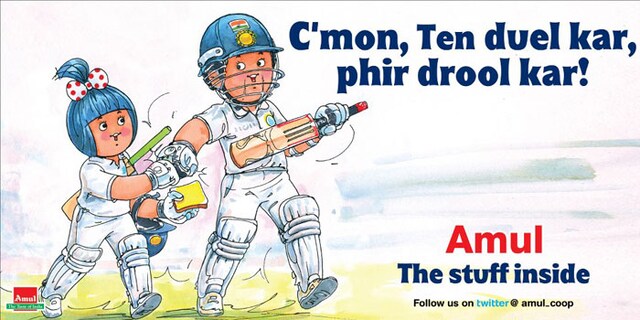 In this ad, Amul has backed master batsman Sachin Tendulkar, whose prolonged poor form has drawn scathing comments from his critics. Some of them have even asked him to retire.

However, a large section of cricket lovers, including some of his current and former teammates like Gautam Gambhir, Anil Kumble and Sunil Gavaskar, have come out in his support.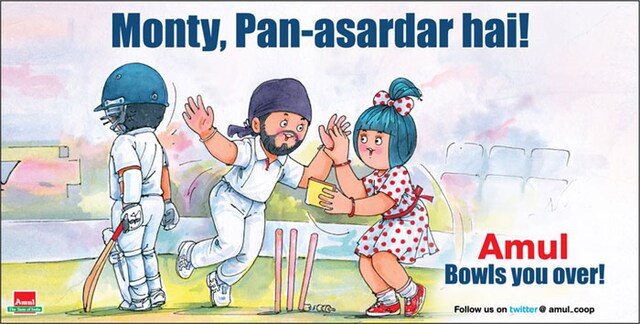 Amul knows how to celebrate everything that is good. So even though India were done in by Monty Panesar's bowling, the spinner surely deserves it all.

Click on for all their previous takes on sports and sports-persons.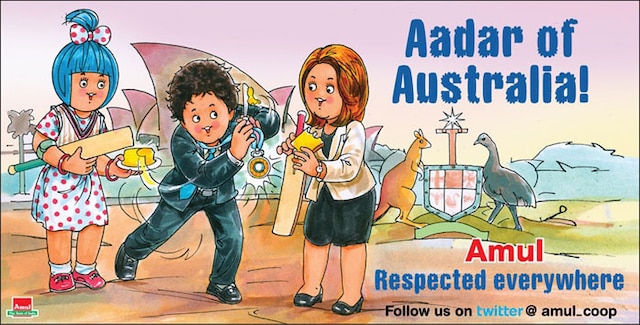 Amul also hailed Sachin Tendulkar earlier when he was chosen for the prestigious 'Order of Australia' honour. The decision might have evoked mixed reaction Down Under, but here in India, everyone's celebrating.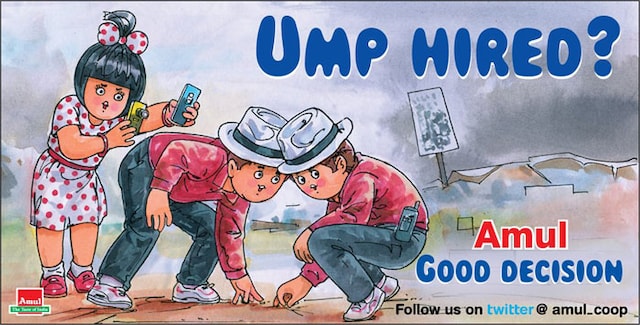 The sting by a TV channel might have led even the ICC to intervene but a lot needs to be done to root the menace out of cricket.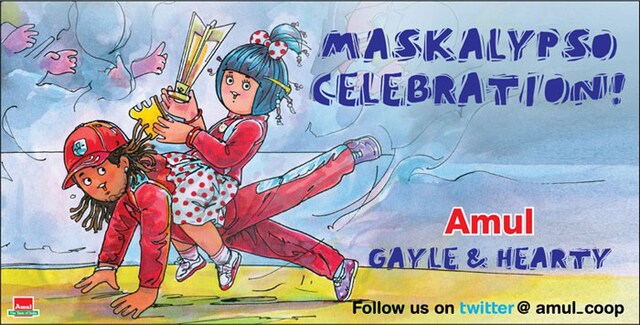 This ad is dedicated to the West Indies team's title win in the World T20. It shows Chris Gayle doing a jig while the Amul girl holds the trophy.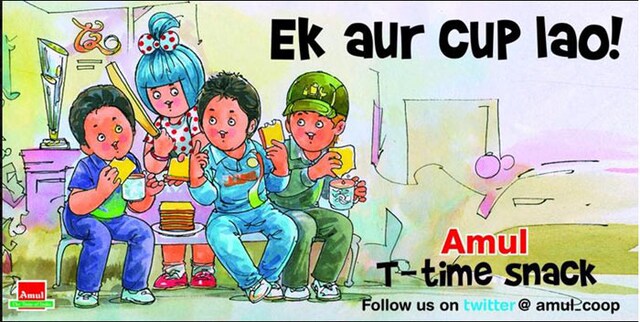 This ad features the Sri Lankan, India and Pakistani captain of the World T20 teams urging them to win the Cup.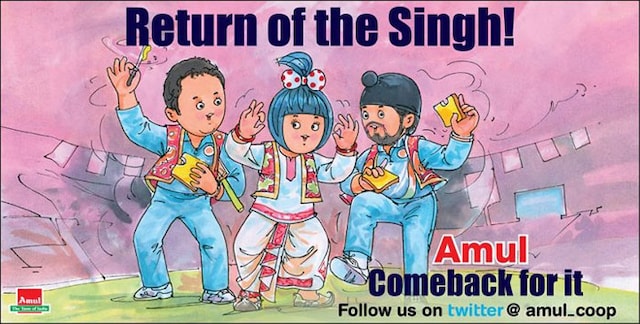 Amul recently featured Harbhajan Singh, who returned to the Indian cricket team after more than a year. He played his first match in 12 months against England in the ICC World T20. His took four wickets and gave away just 12 runs in his four overs.
This ad features McLaren F1 driver Lewis Hamilton who was in Mumbai. The F1 driver wowed crowds with his driving skills which, Amul at least would have you believe, was buttery smooth.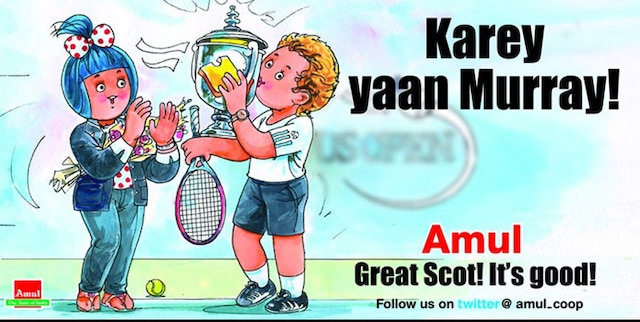 Amul recently featured Andy Murray in an ad as he became the first Britisher to win a Grand Slam in 76 years when he won the US Open 2012 beating Novak Djokovic in a tightly contested final.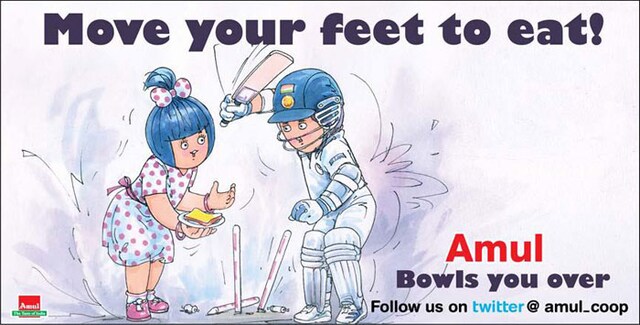 This ad talks about Sachin Tendulkar's poor show in the series against New Zealand. He was Bowled Out thrice in the series with experts like Sunil Gavaskar claiming that the Master Blaster was not really moving his feet and that the gap between his bat and pad was worrying.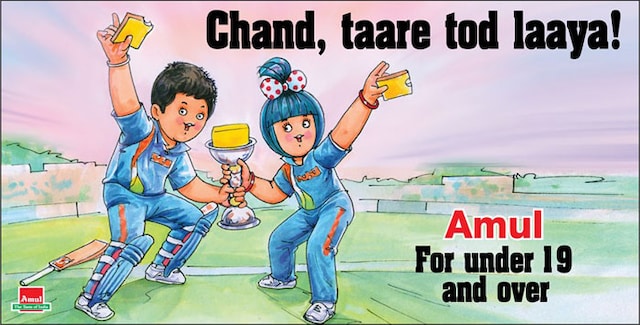 In this ad, they have hailed the U-19 World Cup victory by the Indian team under the leadership of Unmukt Chand.
This ad is dedicated to Indian cricketer VVS Laxman who announced his retirement from the international cricket with immediate effect.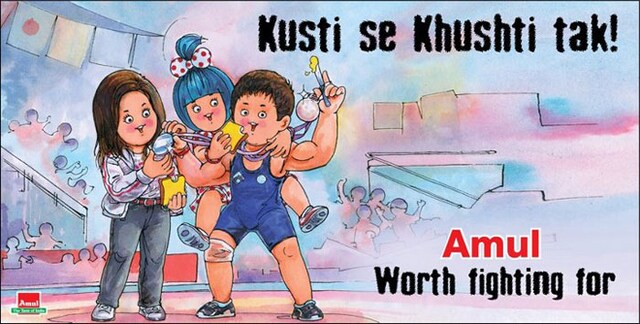 This ad is dedicated to Indian wrestler Sushil Kumar, who won a Silver medal at the London Olympics. He is the only Indian athlete to win back to back Olympic medals. He had won a Bronze medal at the Beijing Olympics in 2008.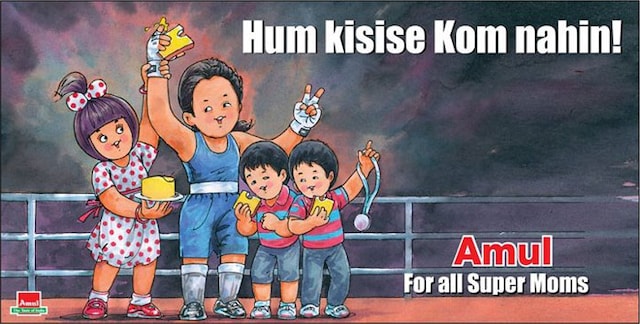 This ad is dedicated to MC Mary Kom, India's first woman boxer to win an Olympic medal. Mary Kom won a bronze medal at the London Olympics in the 51-kg category and won a billion hearts.
Clocking 9.62 seconds in the 100m race, Usain Bolt continues to be the fastest man on the planet. Clinching his second successive Olympic gold, Bolt also silenced his critics who thought he was done and over.

"This really means a lot because a lot of people doubted me. A lot of people were saying I wasn't going to win. There was a lot of talk," Bolt had said.

And Amul joined Bolt in his celebrations with this cheeky Ad.

Coming Up: Best Amul Ads on Sports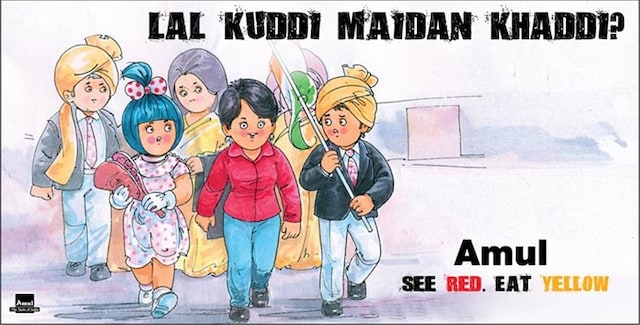 This ad was on the mystery woman who marched with the Indian team during the London Olympics opening ceremony. She walked alongside India's flag bearer Sushil Kumar although she was not a part of the Indian contingent in any which way. She was later recognised as Madhura Nagendra, a Bangalore student, who was one of 10,000 volunteers performing in the ceremony.

Indian officials blasted Olympic security for the lapse. LOCOG chief Sebastian Coe, however, said that Nagendra was not a security threat. He said she was simply "a cast member who clearly got slightly over-excited."

Coming Up: Best Amul Ads on Sports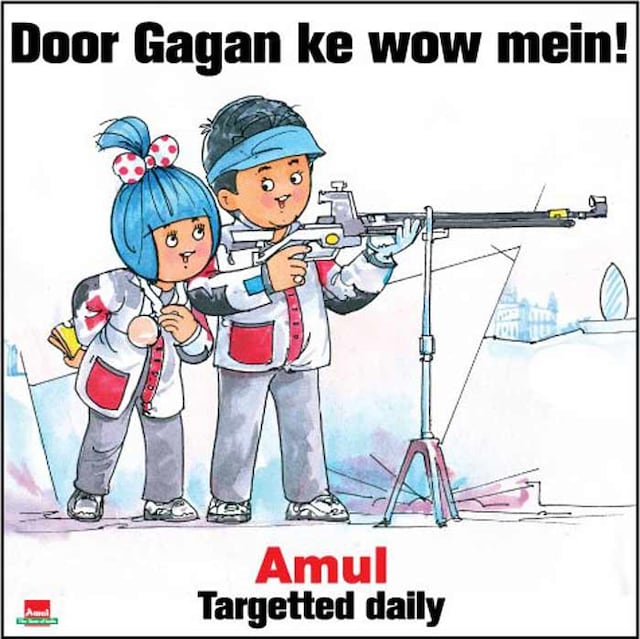 When Gagan Narang became India's first Olympics medalist at the 2012 Games, Amul wished the shooter in their own polite manner.
The Sponsors of the Indian Olympic team, Amul has wished the Indian team to target gold medals. The Ad reads 'On Your Maska, Get Set! Gold!'.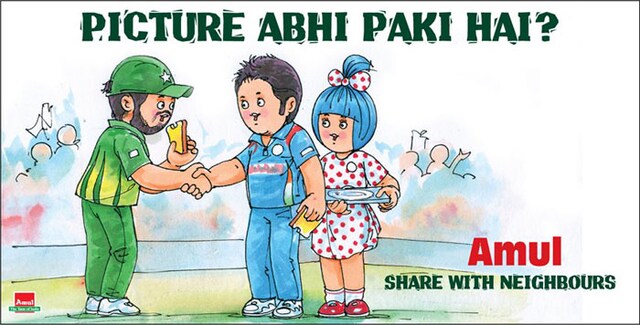 Another addition in the list is the one on India and Pakistan resuming their cricketing ties with an ODI and T20 series in December. This is after a five-year hiatus that there is a bilateral series between the neighbours.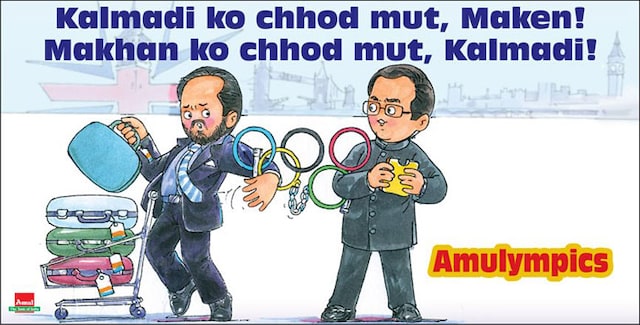 Amul takes a hilarious route in the Kalmadi-Maken saga that has been going on in the run-up to the London Olympics.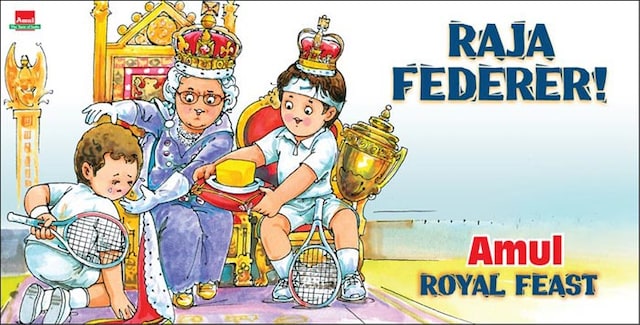 Amul dedicated their ad to Roger Federer who won his seventh Wimbledon title by defeating Britain's Andy Murray. With this win he regained the World No. 1 spot.

Murray, on the other hand, broke down as he failed to end Britain's 76-year long Grand Slam drought.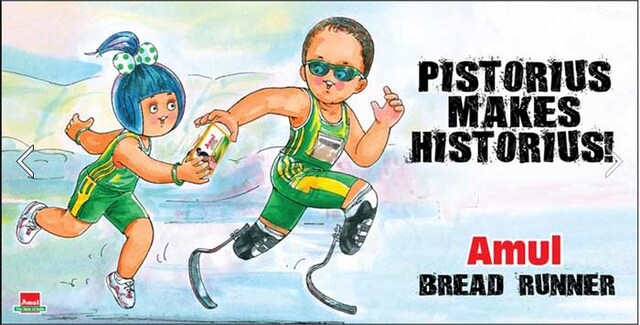 Amul honoured Oscar Pistorius, the first amputee to compete at the Olympic Games.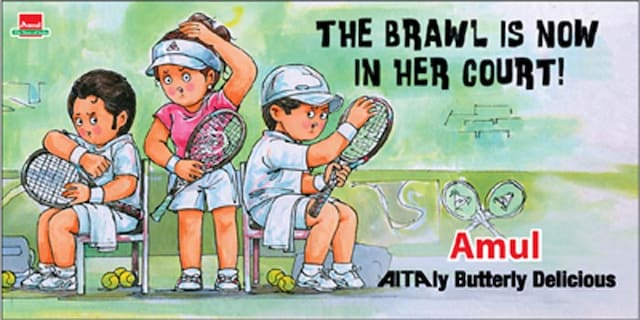 Amul presented a gem of an ad on Sania Mirza's outburst against the tennis association, Leander Paes and Mahesh Bhupathi. She had accused the AITA of using her as a bait to pacify a disgruntled Paes.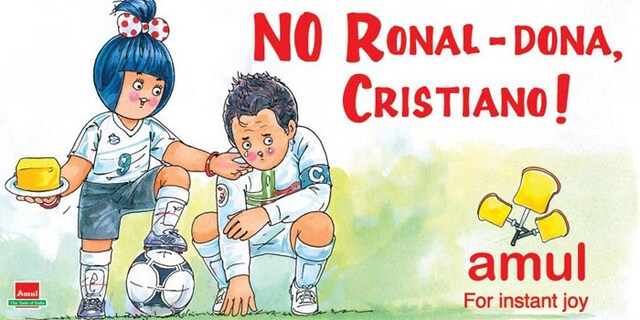 This Amul ad is on Portugal's exit from the European Championships 2012. It shows Portugal captain Cristiano Ronaldo in tears after the defeat against Spain.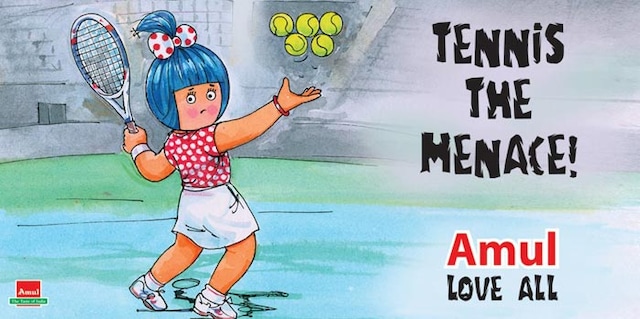 This ad was inspired by the crisis that cropped up after both Mahesh Bhupathi and Rohan Bopanna refused to partner Leander Paes in the men's doubles team for the London Olympics.

Reminding us of a certain 'Dennis', this ad reads 'Tennis the Menace', and ends with the punchline 'Love All'.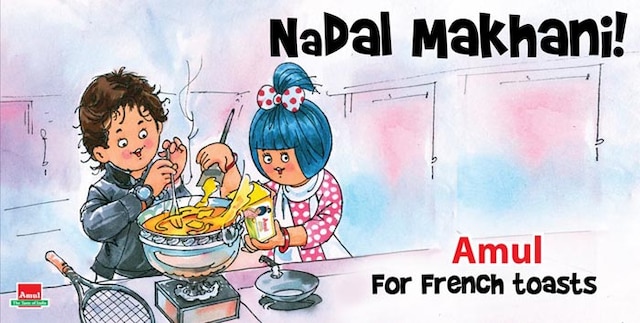 Celebrating Rafael Nadal's historic French Open win, Amul came up with this ad showing the seven-time Roland Garros champion making NaDal Makhni with the Amul girl, who turned 50 recently. It ends with a punchline - 'For French Toasts'.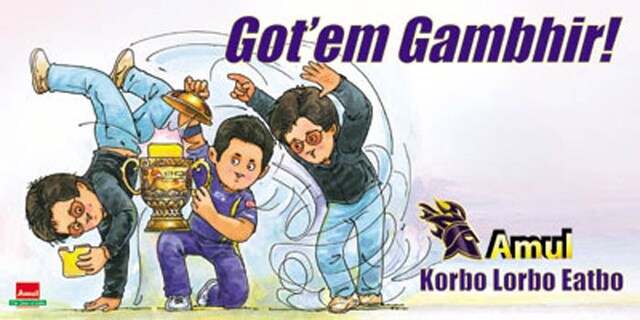 A new Amul Ad inspired by Kolkata Knight Riders' IPL victory reads: "Got'em Gambhir!". It also has team owner Shah Rukh Khan somersaulting.

Amul has tweaked the their logo 'Korbo Lorbo Jitbo' to 'Korbo Lorbo Eatbo'.

Coming Up: Amul Ads on Sports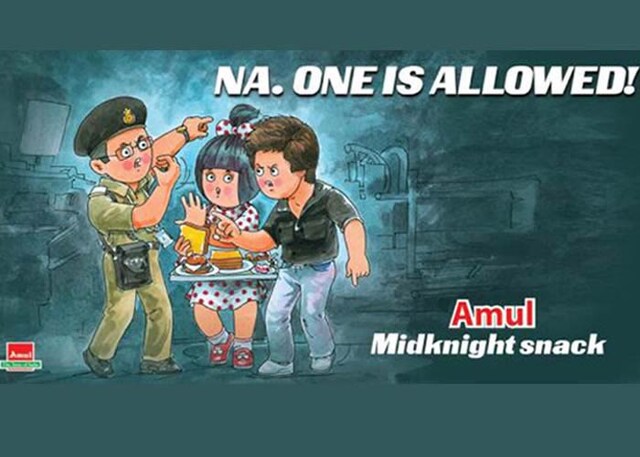 Shah Rukh Khan's controversial brawl at Wankhede Stadium grabbed an Amul spot. The new ad reads: "Na.one is allowed".

SRK has been banned for five years from entering the Wankhede Stadium following an altercation with the stadium security guards and MCA officials.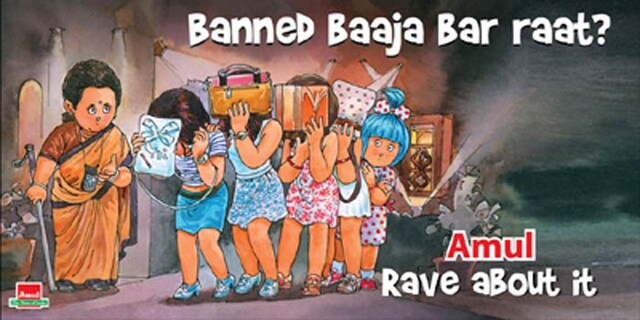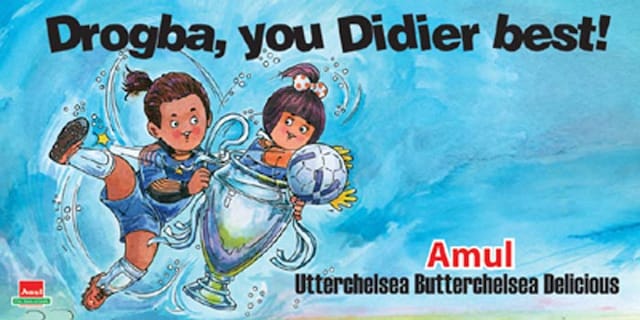 This Amul ad was dedicated footballer Didier Drogba who led Chelsea to Champions League win. It reads: "Drogba, you Didier best!"
This one was on the sting operation conducted by a news channel on alleged spot-fixing in the IPL.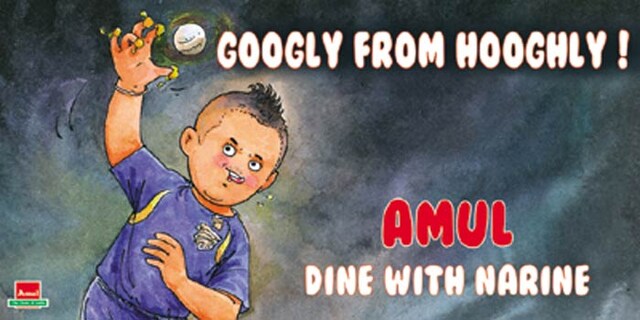 West Indies spinner Sunil Narine, who played for Kolkata Knight Riders in the IPL, was honoured with this masterpiece by Amul.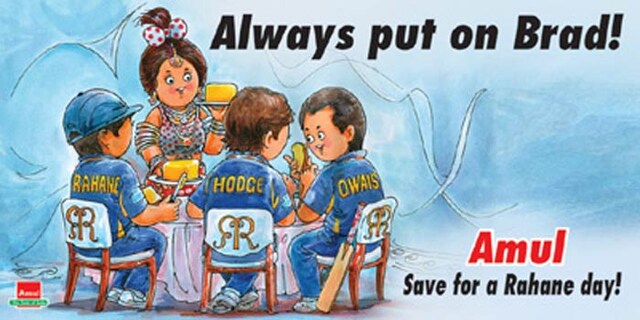 Another great on IPL. Praising the performances of Rajasthan Royals players Brad Hodge, Owais Shah and Ajinkya Rahane in the initial stages of the tournament, Amul came up with this.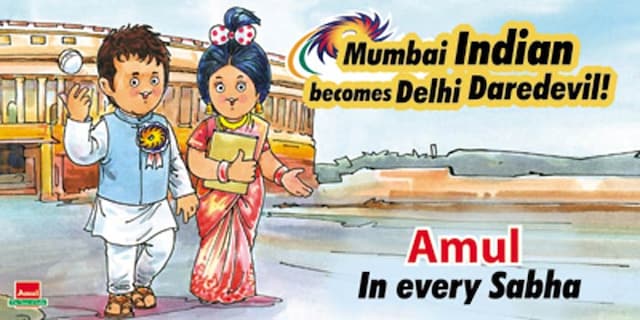 This Amul ad was dedicated to Sachin Tendulkar who was nominated to the Rajya Sabha. He hasn't taken the oath yet as he was busy playing for the Mumbai Indians in the IPL.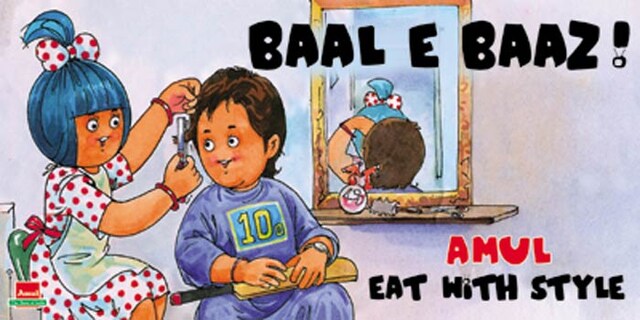 Another one for the master. Sachin grabbed headlines for his straightened hair and Amul made sure they had their slice too.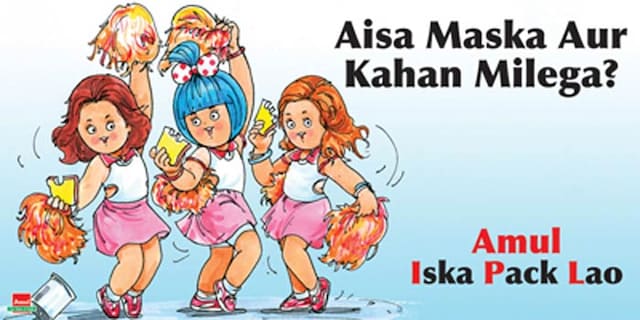 Amul came up this ad when the fifth season of the Indian Premier League (IPL) commenced.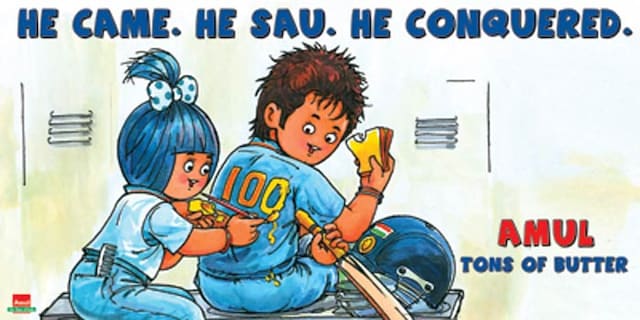 It was dedicated to Sachin when he completed his hundredth international hundred against Bangladesh in March this year.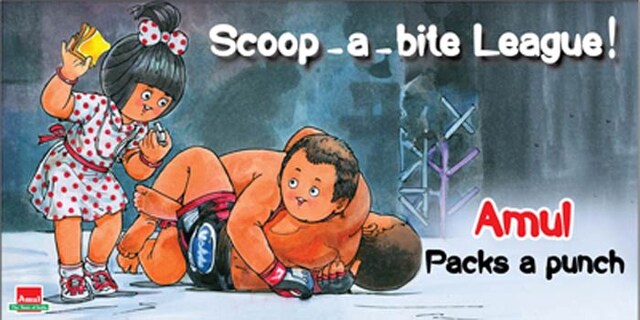 India's first professionally organised mixed martial arts fighting league, the Super Fight League (SFL), promoted by Bollywood actor Sanjay Dutt and NRI businessman Raj Kundra, made its debut in March.
After failing to qualify to the Beijing Olympics in 2008, the Indian hockey team resurrected to make it to the London Olympics. To hail the achievement, Amul came up with this.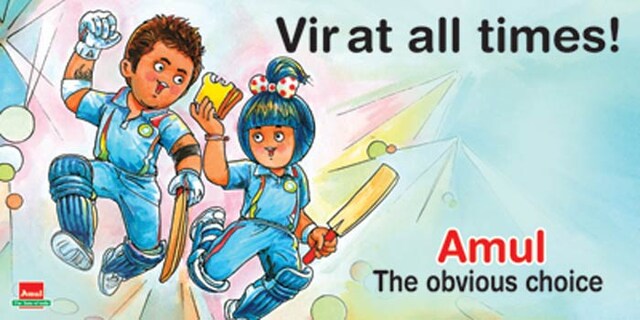 To praise Virat Kohli's performance against Sri Lanka in the CB Series, Amul came up with this advertisement that read: "Vir at all times!".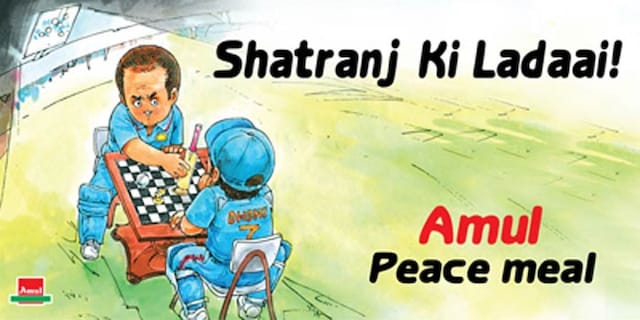 During India's tour to Australia, reports of rift between captain MS Dhoni and his deputy Virender Sehwag came to the fore. The BCCI stepped in to resolve the issue but not before Amul had its take on it.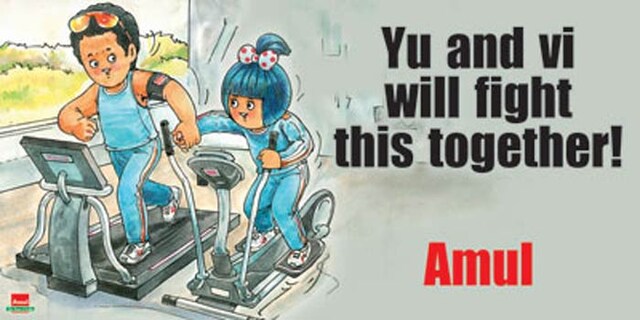 This is perhaps one of the best and most compassionate ads Amul has come up in years. This was a tribute to Yuvraj Singh in February this year who was battling with a rare germ cell cancer. The Indian cricketer was immensely touched by it.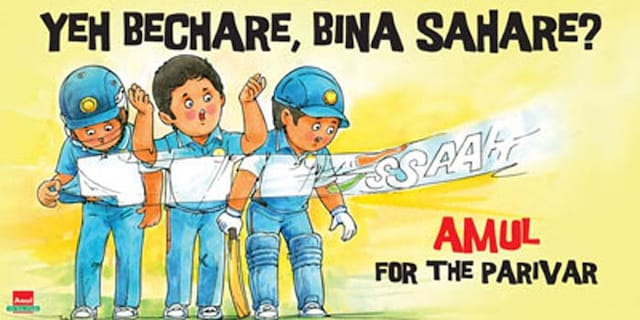 Amul has this uncanny ability to portray even a serious issue in the most humourous way. It came up with this ad when Sahara had withdrawn itself as the sponsor of the Indian cricket team. Later the matter was resolved and Sahara was back as the main sponsor of Team India.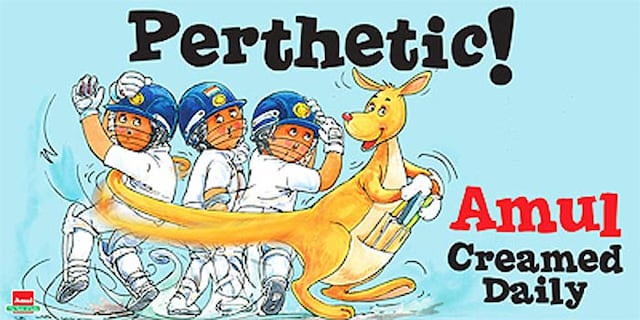 After being whitewashed Down Under, Amul came up this to portray India's dismal performance against Australia in Test cricket.