Roger Federer's Wimbledon odyssey
With Wimbledon, Roger Federer is back to his favourite hunting ground. What better place than his beloved venue, for the Swiss Maestro to hope to break his Grand Slam drought, with his last major win coming at the 2010 Australian Open. We take a look at Federer's journey at this grass court championship.
Wimbledon has been Roger Federer's favourite hunting ground. What could have been the ideal place for the Swiss Maestro to break his Grand Slam drought, ended in yet another disappointment.

A single Wimbledon title stands between Federer and Sampras' record of 7 titles in the Open Era and as things have turned out the Swiss will have to wait for yet another year for a chance to achieve that feat.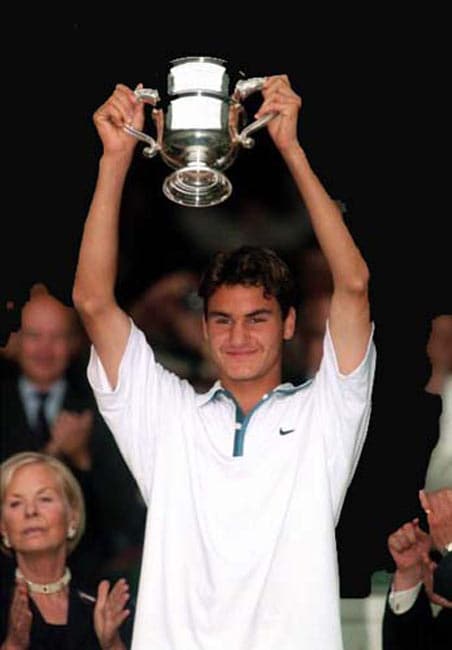 Federer's legend at tennis' greatest championship began in 1998, the year the Swiss star won the junior Wimbledon title. The same year he turned a professional. He was also recognized as the ITF World Junior Tennis champion of the year.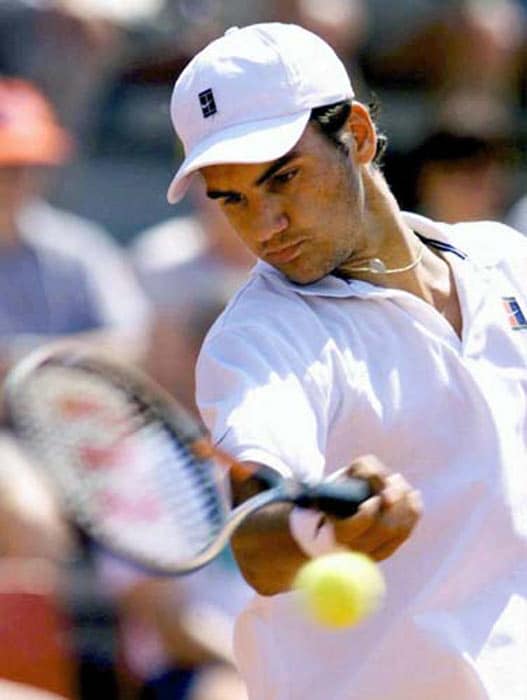 In 1999, he made his first appearance in the Wimbledon men's category, where he got a wildcard entry. After a 5-set first round battle, he lost to Czech player Jiri Novak, who was then ranked 59th. (AFP Photo)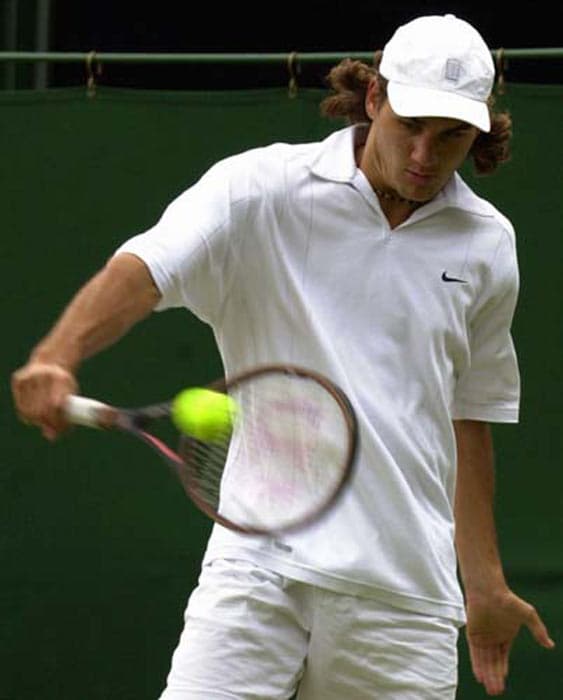 In Wimbledon 2000, Roger Federer crashed out in the very first round after Russia's Yevgeny Kafelnikov beat him 7-5, 7-5, 7-6 (8-6). (AFP Photo)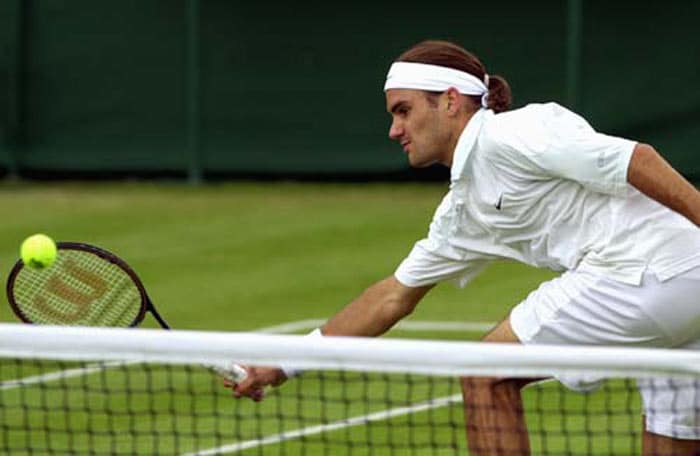 Federer started the 2001 Wimbledon campaign seeded 15th, where he reached the quarterfinals defeating four-time defending champion and seven-time Wimbledon champion Pete Sampras 7-6(7), 5-7, 6-4, 6-7(2), 7-5 in the fourth round in an epic five set match. (AFP Photo)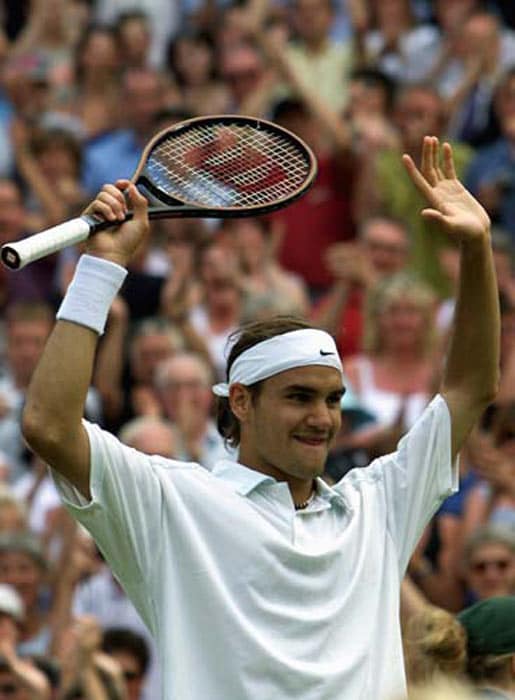 Mario Ancic stunned Federer 6-3, 7-6, 6-3 in their first-ever meeting back in a 2002 opening-round clash at Wimbledon. (AFP Photo)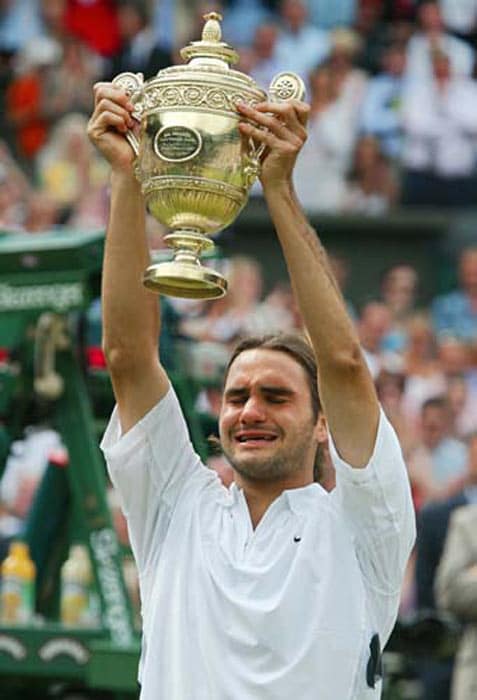 Federer was undefeated on grass in 2003, a victory against Nicolas Kiefer in the final of the tournament in Halle was followed by his first Grand Slam singles title at Wimbledon. He defeated Roddick in the semi-finals 7-6, 6-3, 6-3 and Mark Philippoussis in the final 7-6, 6-2, 7-6 and lost only one set during the tournament, to Mardy Fish in the third round. (AFP Photo)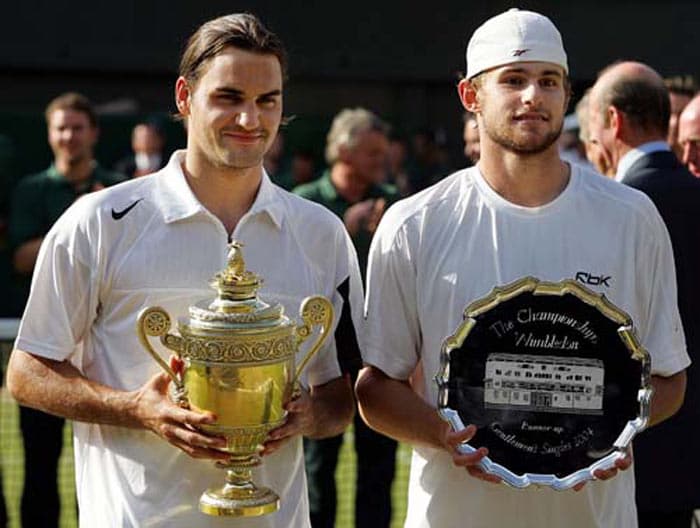 In 2004, Roger Federer successfully defended his Wimbledon singles title, defeating Roddick in the final 4-6, 7-5, 7-6, 6-4. (AFP Photo)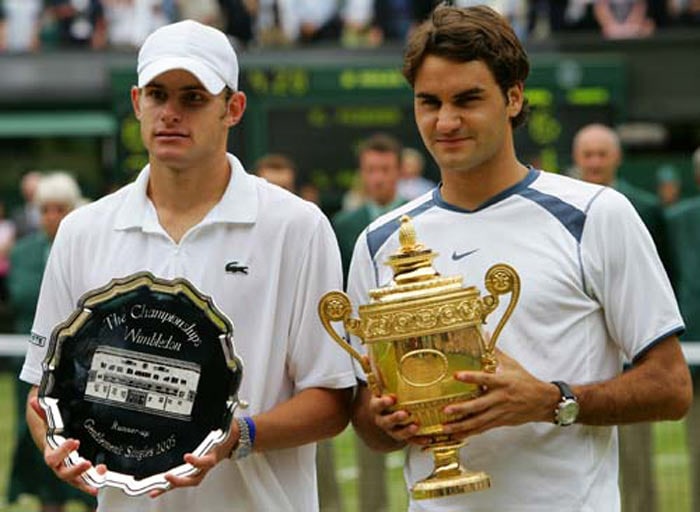 In 2005, Federer successfully defended his Wimbledon title, winning for the third consecutive year by defeating Andy Roddick 6-2, 7-6, 6-4 in a rematch of the previous year's final. (AFP Photo)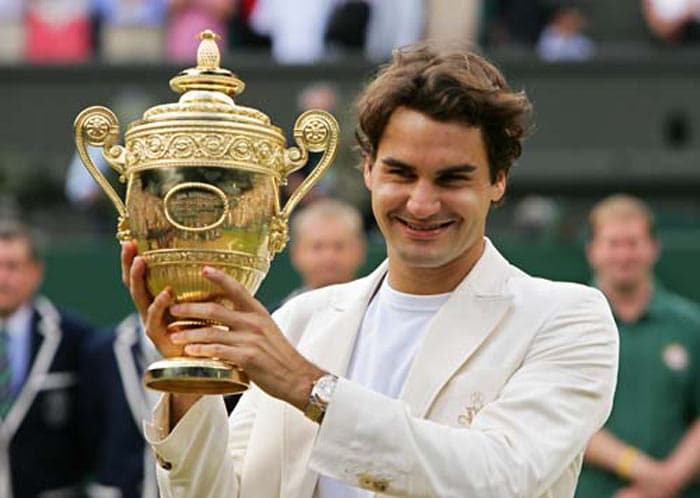 In 2006, Federer entered Wimbledon as the top seed and reached the final without dropping a set. There, Federer beat Nadal in four sets 6-0, 7-6, 6-7, 6-3 to win the championship. This was Federer's fourth consecutive Wimbledon title. (AFP Photo)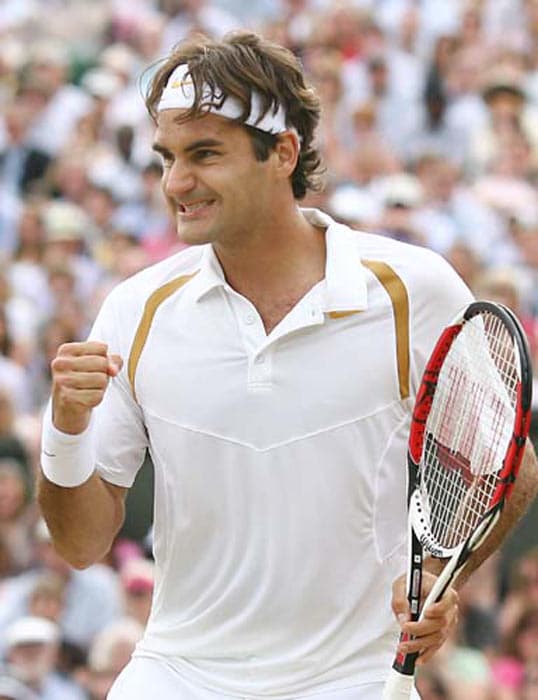 In the year 2007, Roger Federer entered Wimbledon for the first time without having played a warm-up grass-court tournament. Despite this, Federer once again defeated Nadal in five sets 7-6, 4-6, 7-6, 2-6, 6-2 in the final. With the win over Nadal, Federer tied Björn Borg's record of five Wimbledons in a row. (AFP Photo)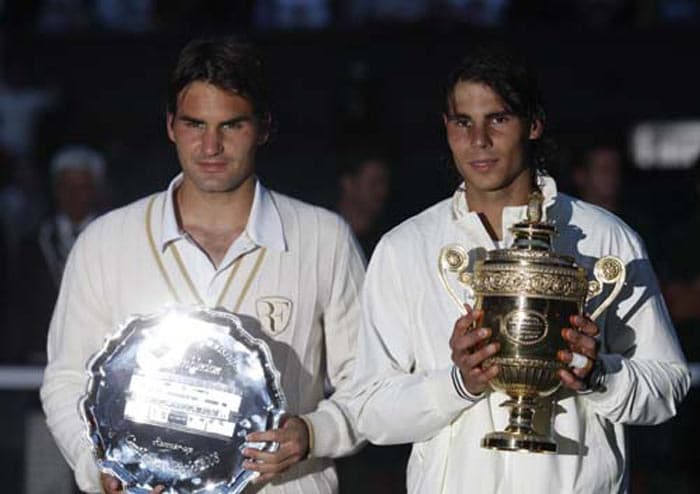 In 2008, at Wimbledon, Federer once again played hitherto World No. 2 Nadal in the final. A victory for Federer would have meant his sixth consecutive Wimbledon singles title, breaking Borg's modern era record and equaling the all-time record held since 1886 by William Renshaw. Federer saved two championship points in the fourth set tiebreak but eventually lost the match 6-4, 6-4, 6-7(5), 6-7(8), 9-7. The rain-delayed match ended in near darkness after 4 hours, 48 minutes of play, making it the longest (in terms of elapsed time) men's final in Wimbledon recorded history. It concluded 7 hours, 15 minutes after its scheduled start. (AFP Photo)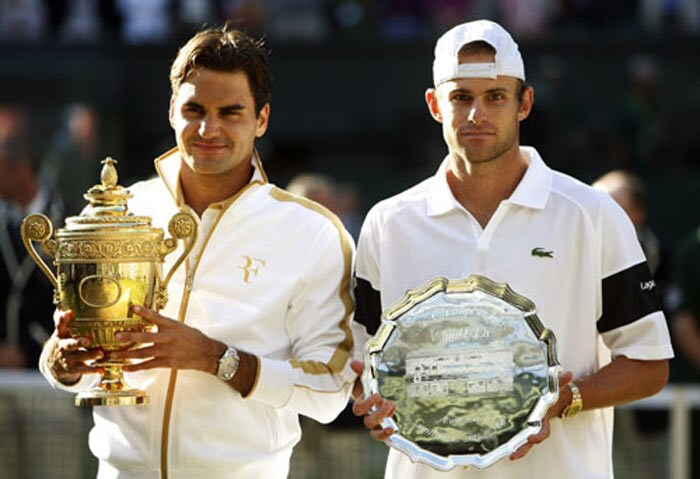 Roger Federer secured a record-breaking 15th grand slam after he finally overcame Andy Roddick in a tense and gruelling five-set men's singles final at Wimbledon. The Swiss player's sixth Wimbledon title takes his overall tally of grand slam wins to 15, putting him ahead of Pete Sampras, who was present on Centre Court to watch Federer's gruelling 5-7, 7-6, 7-6, 3-6, 16-14 victory in what became the longest ever men's singles final at the All England club. (AFP Photo)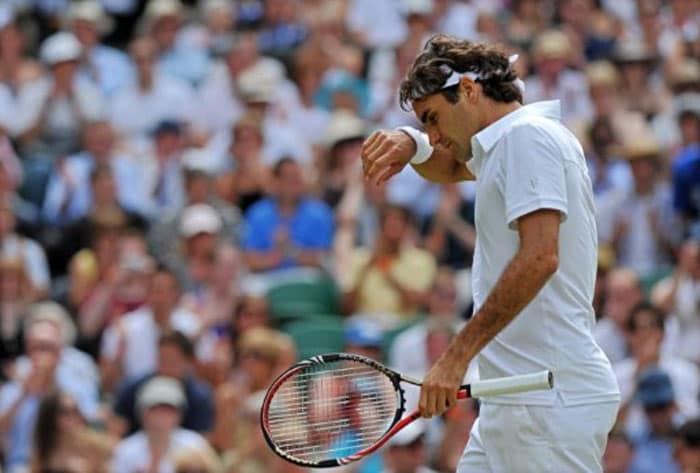 In 2010, Federer suffered a shock upset against Czech Tomas Berdych, losing 4-6, 6-3, 1-6, 4-6 in the quarter-final. It was his earliest loss at Wimbledon since exiting in the opening round at 2002. Between 2003-09, Fed-Ex had reached all the finals (7), winning 6 of them.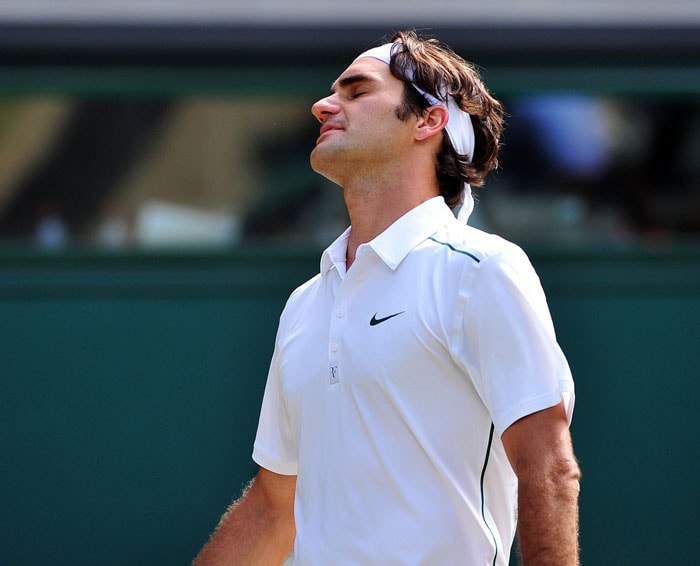 In the 2010 and 2011 editions however, Roger Federer's performances have been quite dismal by his standards. The Swiss lost out in quarter final matches in each of those occasions, after reaching the final seven times in a row from 2003-2009, winning 6 of them and losing once to his arch-rival Rafael Nadal. (AFP Photo)