Tiger's dark secrets out of the woods
Despite the glorious breather, experts believe there are harder times ahead for the Afro-American golfer. A string of sexual adventures has cost Tiger everything he's earned over the years - golf, respect, money and most importantly his family.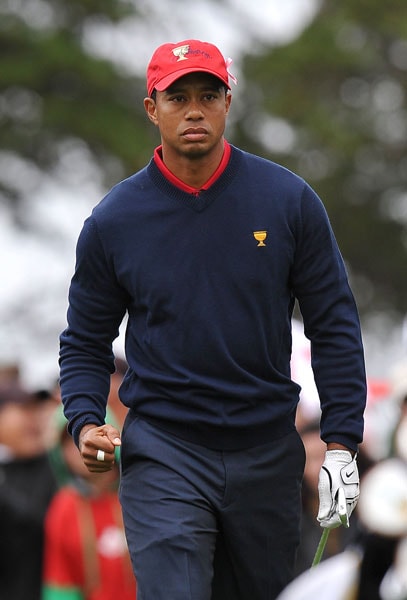 Year 2009 saw the fall of one of the greatest sportspersons of all times - Tiger Woods.

From the one-vehicle crash that touched off a gossip media firestorm through his admission of infidelity and decision to take an indefinite leave from golf, Woods' guarded privacy was shattered. And so were his marriage and squeaky clean image.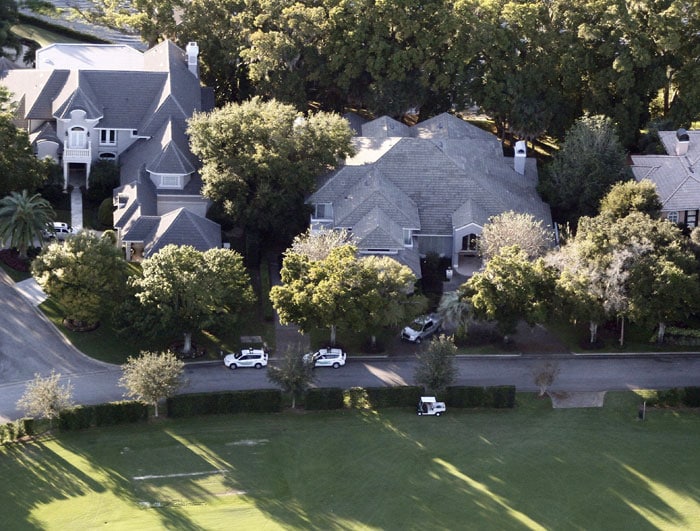 It was an early morning of November 27 when Woods crashed his Cadillac Escalade sports utility vehicle into a tree and fire hydrant just outside his home in bizarre circumstances, triggering speculations.

While Woods said his wife Elin Nordegren, came for his rescue, a section of media said Woods was a victim of domestic violence. He was allegedly chased by his wife with a golf club after she came to know about his affair with Rachel Uchitel, a New York nightclub hostess. And it was just the beginning…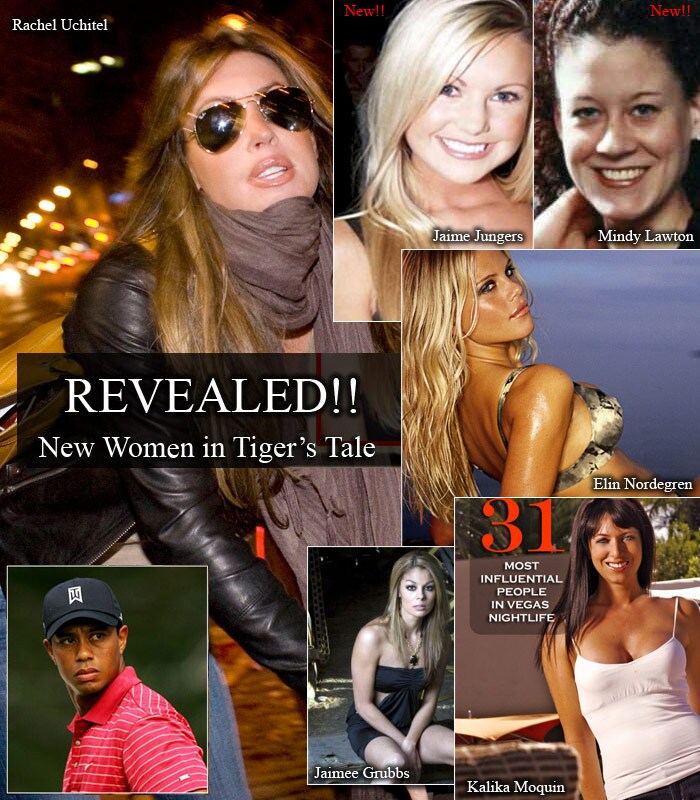 One after other, alleged mistresses of the ace golfer came to the fore. And the number soon surged to ten, leaving his wife and his fans across the globe hurt and shocked. However, if recent claims are to be believed, the list has grown to fourteen.

His list of mistresses include Holly Sampson, a porn star; Jamiee Grubbs, a cocktail waitress; Kalika Moquin, 27, a Las Vegas club manager; model Jamie Jungers, 26; Mindy Lawton, a 33-year-old waitress from Orlando; and three unidentified women, two from British reports and another waitress from Orlando.
Woods, who turns 34 on December 30, was first linked to Uchitel, who denied the affair despite a TMZ report that a friend of Woods arranged her flight to Australia and hotel room when Woods was there for a tournament.

The New York Daily News reported that a new name on the growing list was Cori Rist, a 31-year-old divorced mother who said she met Woods at a New York club.

But a celebrity gossip website 'RadarOnline.com claimed to have found his oldest flame, Theresa Rogers, a beauty with a home in Wellington, Florida. The report said Rogers had an affair with Woods both before and after he got married to Elin.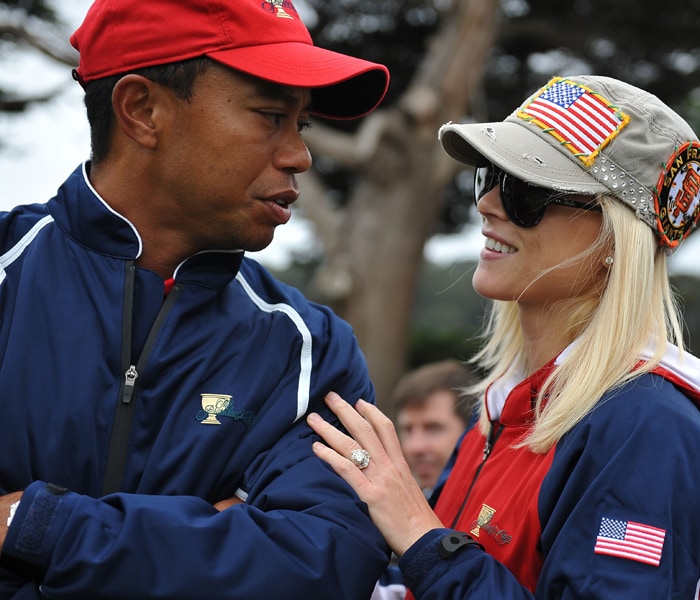 Hurt and humiliated by her husband's infidelities, Elin has moved out of his house and hired divorce lawyers. She has reportedly bought property in her native country, Sweden. She is in talks with her lawyers and could get a major part of Woods' earnings post-divorce. So Woods' marriage of five years with Elin is at its fag end. Though Woods has taken an indefinite break from golf to repair his damaged personal life, it might be just too late.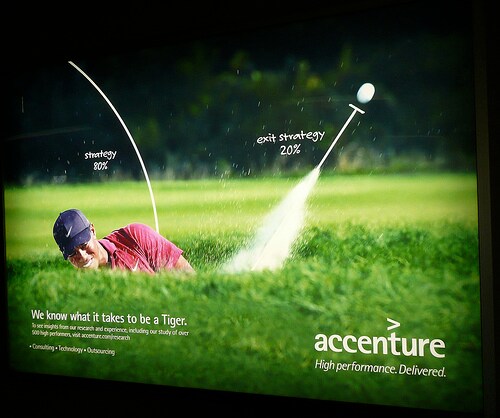 Woods, who is estimated to have earned more than one billion dollars from endorsements and prize money, has drawn extra attention and sponsor support to golf. But following his public disgrace, most of his key sponsors have distanced themselves from him.

The first to drop him was Accenture, a Dublin-based technology and management company.

Accenture, who's ad campaigns once included slogans like "Go on. Be a Tiger," or "We know what it takes to be a Tiger", said Woods was "no longer the right representative for its advertising".

Accenture, which had already removed an image of Woods from its website, said it would immediately launch a new advertising campaign.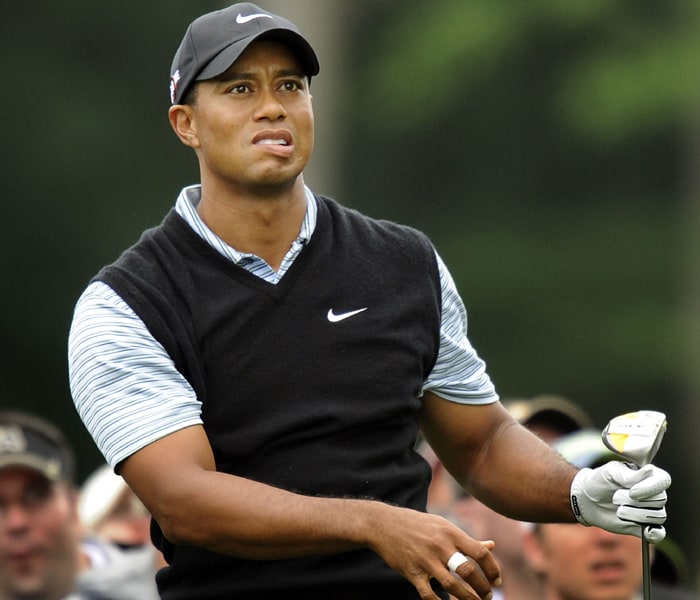 Gillette, a razor making company, also phased him out of advertisements while he took a break from golf. Though Gillette has called it a supportive move.

AT&T, which backs the US PGA Tour, said in a statement, "We are presently evaluating our ongoing relationship with him."

Tag Heuer, a Swiss watchmaker, has also said to have limited Woods' role in its ad campaigns.

Only Nike, which has been associated with him since he turned a pro in 1996, is still backing him. "When his career is over, you'll look back on these indiscretions as a minor blip, but the media is making a big deal out of it right now," Nike chairman Phil Knight said.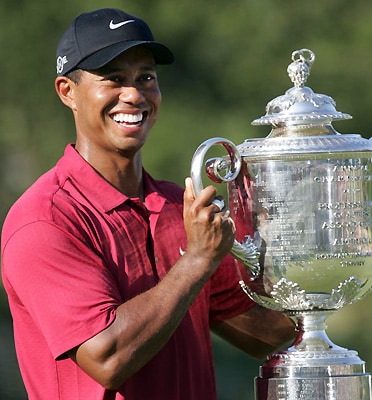 Amid these disgraceful moments, Woods got some glory too after he was named the PGA Tour player of the year for the tenth time in 13 years.

The award is voted on by the players but the PGA declined to release the details of the vote which took place over the past four weeks.

This is the eighth time that Woods has swept all the major PGA Tour awards.
He won the Byron Nelson Award for the lowest adjusted scoring average, Arnold Palmer Award for the money title and Jack Nicklaus Award for player of the year.

Woods won a half dozen tournaments last year, including the FedEx Cup and its 10 million dollar bonus. He captured the earnings title and had the lowest scoring average for the ninth time in his career.

This is just the second time that Woods was voted player of the year in a season where he did not win a major.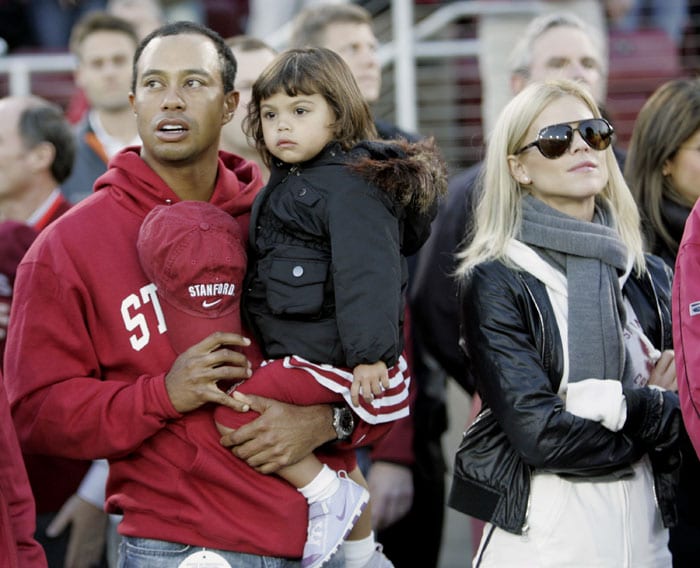 Despite the glorious breather, experts believe there are harder times ahead for the Afro-American golfer. A string of sexual adventures has cost Tiger everything he's earned over the years - golf, respect, money and most importantly his family. According to reports, he's off to Bahamas, away from everyone's glare and scrutiny, lonely and broken…