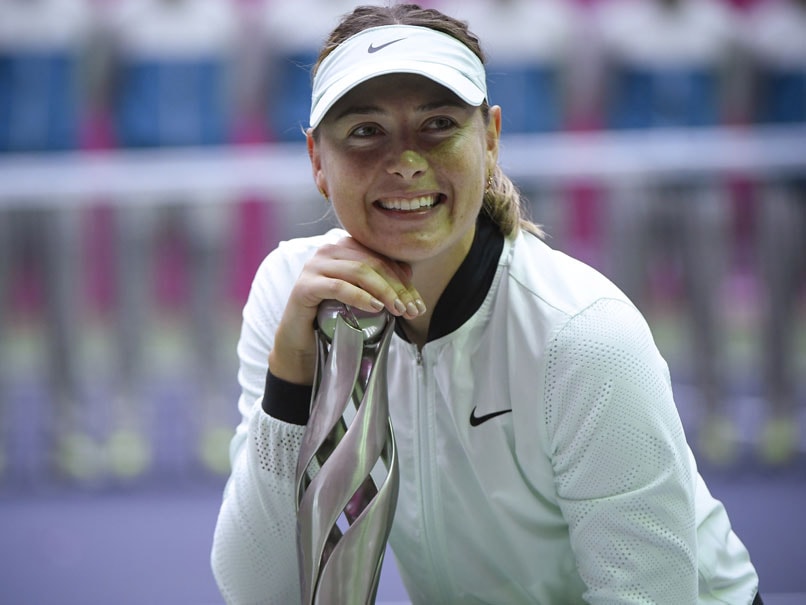 Maria Sharapova has had a stop-start season since her controversial return.
© AFP
World tennis superstar Maria Sharapova was left rather surprised by a fan, who decided to propose to her during an exhibition match in Istanbul. The Russian, who is currently training hard for the next season, was playing local player Cagla Buyukakcay when the incident occurred. As the five-time Grand Slam champion was getting ready to serve, the fan shouted "Maria, will you marry me?" Sharapova paused as the spectators at the Sinan Erdem Hall burst into laughter. Sharapova then decided to play along and answered with a "maybe", drawing more laughs and applause from the fans. Buyukakcay, ranked 161st in the world, was beaten by Sharapova 6-7, 0-6.
Türk seyirciden Maria Sharapova'ya evlenme teklifi! https://t.co/RFRitJhkb6 pic.twitter.com/SK8YR1de69

— Hurriyet.com.tr (@Hurriyet) November 27, 2017
Sharapova has had a stop-start season since her controversial return to the game in April, following a 15-month doping ban.
Sharapova is under investigation by Indian police for cheating and criminal conspiracy after the collapse of a luxury housing project that she endorsed.
The firm behind the development is alleged to have taken millions of dollars from homebuyers before the project folded. Piyush Singh, a lawyer representing one of the buyers, told AFP that police had filed initial charges of cheating and criminal conspiracy against Sharapova as part of a wider case against the firm Homestead Infrastructure Development.
The 30-year-old tennis star travelled to India in 2012 to launch the luxury high-rise apartment complex -- named Ballet by Sharapova -- which prospective buyers were told would house a tennis academy, a clubhouse and a helipad.
The website of the project quotes Sharapova as saying her goal was to "make the owners feel like they own something special and different".
(With AFP inputs)