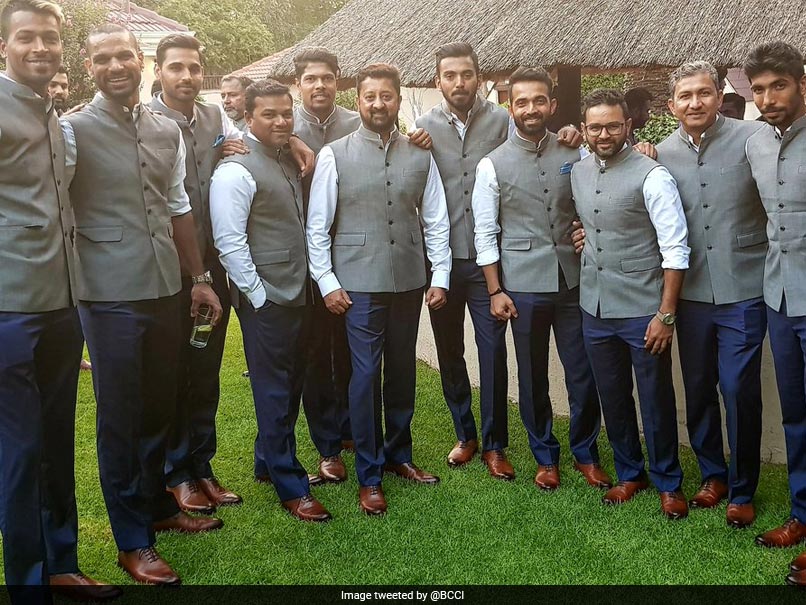 The Indian cricket team members were seen wearing formal outfits.
© Twitter
The Indian cricket team, who are scheduled to play the second Test from January 13, visited the India House at Johannesburg on Thursday. The Board of Control for Cricket in India (BCCI) posted pictures on Twitter and captioned,"#TeamIndia visit India House at Johannesburg." The members of the team also interacted former South African Test cricketer and an administrator of the United Cricket Board of South Africa Ali Bacher. The fans were also seen clicking pictures with Murali Vijay and Hardik Pandya. India opener Shikhar Dhawan also posted a picture of their visit and captioned,"A good outing with the guys at the High Commissioner's house in Johannesburg! Great to see everyone in the new formal outfits."
India's tour of South Africa began with a 72-run loss in the opening Test at Newlands and failure to string big partnerships was one of the main factors behind visiting team's inability to chase down a modest target of 208. After the loss, Indian captain Virat Kohli pointed out that losing wickets in bunches was something that needed to be looked into immediately.
"Losing wickets in bunches is something we have to plug in. We were in the game for the three days and it was a wonderful match to be part of. We would have taken that if someone told 208 would be the target," Kohli said.
A lot of questions were also raised on the playing XI of the Indian team. However, Kohli had defended the decision of playing Rohit Sharma ahead of Ajinkya Rahane.
"Well, we decided to go on current form. Rohit has scored runs in the last three Test matches that he has played, and he was batting well, even in the series against Sri Lanka," he had said.
"These things can always be looked at in hindsight -- thinking what if or what if not. But we decided to go with this combination and current form was definitely the criterion," added Kohli.
The second Test begins at Supersport Park on Saturday. Smarting from their loss, the Indian team held a full-fledged practice session on Thursday, lasting just under four hours.