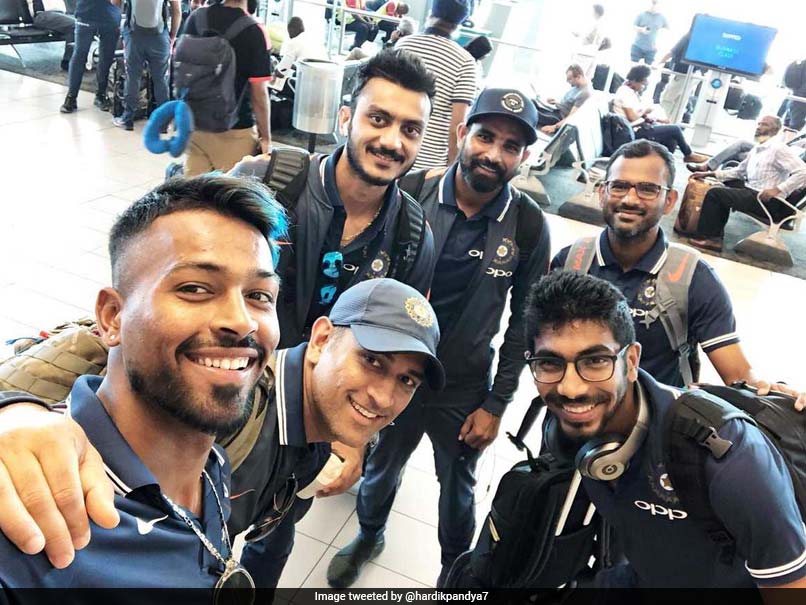 India will press hard to pocket a historic ODI series when they face SA in the fourth ODI.
© Twitter
India were within an inch of winning their first-ever ODI series against South Africa in South Africa in 2010-11 but gave away the chance by a whisker as the Mahendra Singh Dhoni-led team lost the series 2-3. But the current team, led by Virat Kohli, is determined to script history in the Rainbow Nation. Bolstered with confidence after three back-to-back wins, India will press hard to pocket a historic ODI series when they face a depleted South Africa in the fourth match at the New Wanderers Stadium on Saturday. India all-rounder Hardik Pandya took to Twitter and shared a selfie with Dhoni and other team-mates after reaching Johannesburg.
"Cape Town done. Back to Joburg," Pandya's post read.
Apart from Pandya and Dhoni, India pacer Jasprit Bumrah, Mohammed Shami, Axar Patel and fielding coach Ramakrishnan Sridhar featured in the all-rounder's selfie.
Pandya has failed with both bat and ball in the series so far. He scored 17 runs in three matches and failed to take a single wicket.
In a video posted by BCCI, the Baroda cricketer was seen practicing hard at the nets ahead of the fourth ODI.
With an unassailable 3-0 lead in hand, India need just one more win in the six-match series to claim their maiden ODI triumph on South African soil and also cement their place atop the International Cricket Council (ICC) ODI rankings.
Since 1992, India have played 23 ODIs against South Africa in South Africa (bilateral series) and emerged victorious on just seven occasions. South Africa won 14 ODIs while one match ended in no result.