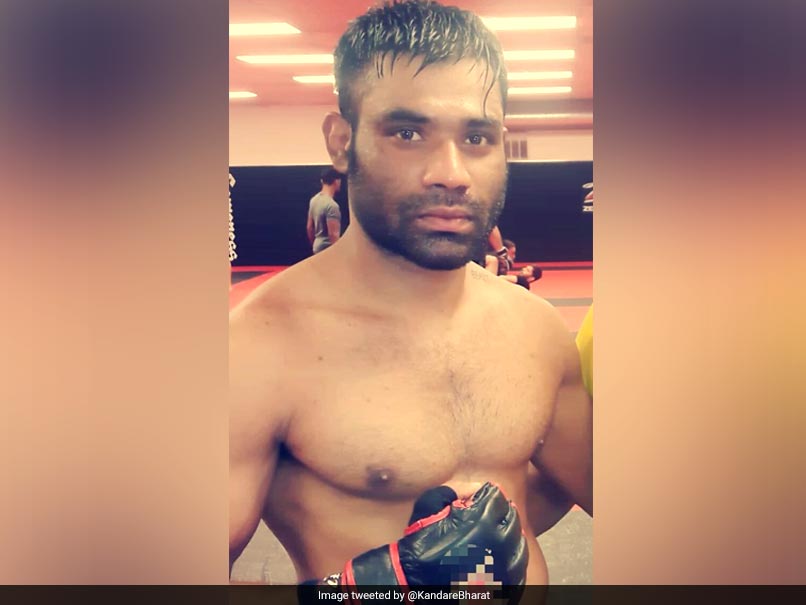 Bharat Khandare has been signed by the Ultimate Fighting Championship.
© Twitter
Ultimate Fighting Championship might already have an Indian-origin fighter in Arjan Singh Bhullar, however, history was made on Saturday as Bharat Khandare became the first India-born fighter to be signed by the MMA promotion. The UFC's aim to take MMA to all parts of the world is well and truly underway and now India can to be added to the list. The UFC India on Saturday welcomed Brave Combat Federation bantamweight fighter Bharat Khandare to the organisation. Khandare will make his debut at UFC Fight Night in Shanghai on November 25th.
Welcome to the UFC, Bharat Khandare

— UFC India (@UFCIndia) November 11, 2017
Twitter hailed the news and sent their best wishes to the Indian MMA fighter. 
Whoa!
A Maharashtrian...finally someone from my home state... Judging by the name, probably a like myself!
Wish you a successful career in the @ufc brother!!

— PRANAV KALE (@PD2091) November 11, 2017
If I am correct, he is the FIRST INDIA BORN fighter to be signed by the UFC...Arjan is of Indian origin, but is Canadian. Nothing to take away from Arjan, I'm his fan, but just giving Bharat his due credit!

— PRANAV KALE (@PD2091) November 11, 2017
Haa bhava maharashtriya ch aahe
Jai maharashtra jai bharat.

— Rohan Salvi (@Rowhunsalvi) November 11, 2017
one more indian welcome bharat khandare wish you a successful career ahead in the UFC !!

— Aarush SRK (@SRKAarush) November 11, 2017
UFC Fight Night will take place at the Mercedes-Benz Arena in Shanghai on November 25. It will be the first UFC event held on mainland China and will air live on UFC Fight Pass in the United States.
As per the latest news, the event will be headlined by former UFC Middleweight Champion Anderson Silva and top UFC middleweight contender Kelvin Gastelum.
According to reports, Khandare was on a five-fight finishing streak before going down to Ahmed Faress at Brave CF 5 in April earlier this year. Meanwhile, Pinguyan Liu will go into the fight against the Indian on a seven-fight win streak.
Arjan Singh Bhullar was the first Indian-origin figter to be signed by the UFC. Bhullar had represented Canada at the 2012 London Olympics London 2012. Among Bhullar's achievments is a gold medal at the Delhi Commonwealth Games in 2010.