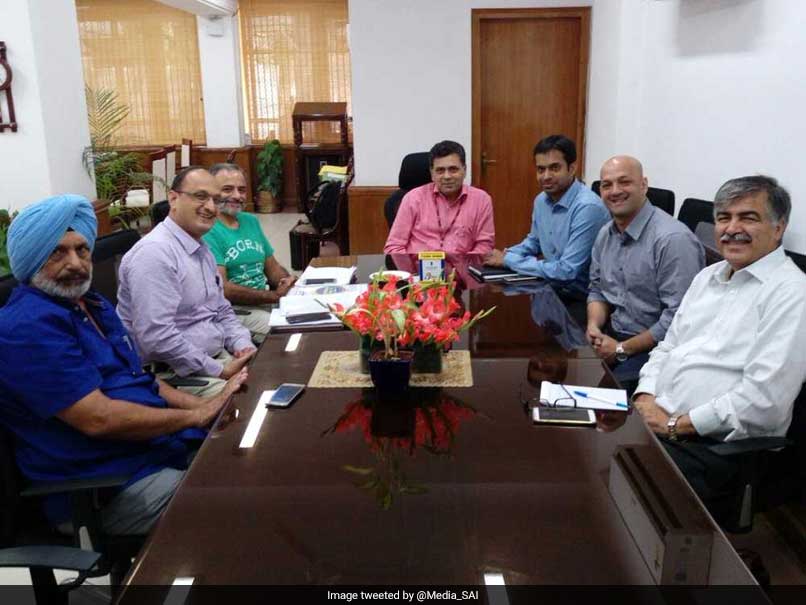 The Olympic task force was set up to prepare an overall strategy for sports facilities
© Twitter
The Olympic Task Force (OTF), Prime Minister Narendra Modi's initiative, on Friday submitted its report to the Government, suggesting a road map to improve India's performance in the next three Olympics. The task force was set up to prepare an overall strategy for sports facilities, training and selection of athletes for the 2020 Tokyo Olympics and also for the 2024 and 2028 Games. The eight-member committee, including national badminton coach Pulella Gopichand and former India hockey captain Viren Rasquinha handed over the extensive document to Union Sports Secretary Injeti Srinivas. The Sports Authority of India tweeted the development and the road map to perform better in Olympics.
"Olympic Task Force (OTF) met Union Sports Secretary Sh Injeti Srinivas, IAS today and submitted its final report to the Government in preparation of 2020 Tokyo Olympics and Paralympic Games, keeping in mind the athlete-centric, coach-led and system-driven as it lays the foundation of the long-term development thats needed for India to win beyond Tokyo," the tweet read.
India had sent a contingent of 118 athletes to the Rio Olympics last year, but could win only two medals - silver and a bronze. The performance of India at the Rio has highlighted the poor facilities and training provided to the most of the country's sportspersons.
Badminton ace PV Sindhu's silver and wrestler Sakshi Malik's bronze ensured India did not return home empty handed from Rio. A heartwarming performance by gymnast Dipa Karmakar, who missed a medal by a whisker, was also a highlight of the Rio Games for India.
But as Dipa was celebrated, attention was also drawn to the fact that for many years the champion had to train on makeshift equipment fashioned out of the parts of an old scooter by her coach.
There was also much criticism since the Games of the influence politicians wield in national and state level sports bodies. Many of these politicians were spotted site-seeing in Rio during the Olympics.