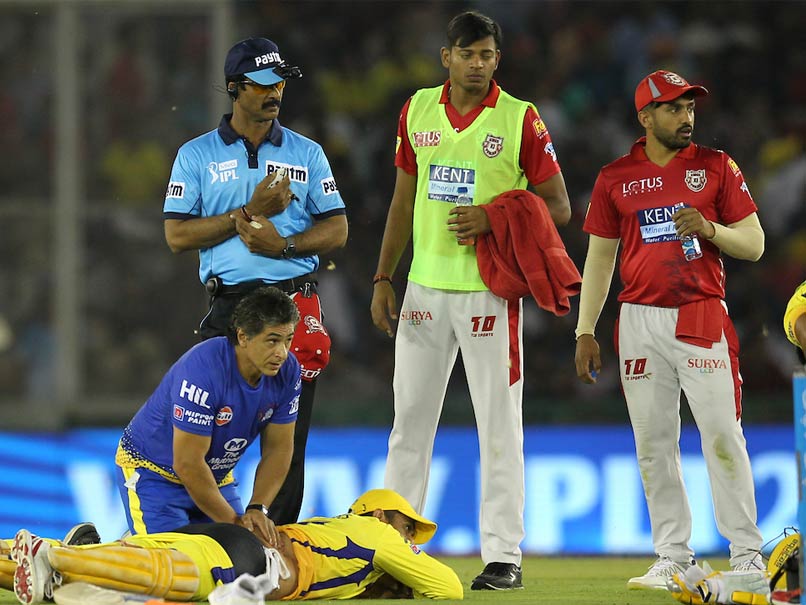 IPL 2018: MS Dhoni was in considerable pain and had to receive treatment on the field.
© BCCI
Mahendra Singh Dhoni is not a stranger to injuries and most of the time, his supreme fitness and pain threshold allow him to play through such situations. But the Chennai Super Kings' (CSK) IPL 2018 match with Kings XI Punjab at Mohali on Sunday saw the CSK skipper suffering as he almost guided his team through to their third win of IPL season 11. However, CSK fell short in the final analysis as the severely hampered Dhoni could not capitalise on the last over of the match. Dhoni was in considerable pain and had to receive treatment on the field, but he did not flag in his efforts till the end.
Dhoni scored an unbeaten 79, which is his highest score in T20 cricket, but CSK still fell short of the former CSK star Ravichandran Ashwin-led KXIP score by four runs.
"It's bad. How bad it is, I don't know," Dhoni said in his post-match television interview.
Asked how he still managed to continue to hit the ball, Dhoni responded, "...God has given me enough power. I don't need to use my back a lot. The hand can do the job.
"We will assess how bad it is. It should not be too bad because I know what really happened. Once you know what kind of injury it is, it becomes slightly easy to get out of it," Dhoni said.
"Also, we have three-four days now before the next game, so (there's) enough time. Also, I am quite used to playing with a few injuries; whether it is back, fingers, elbow or something else. So, you have to be tough and play out the game," he added.
CSK had registered two sensational last wins over Mumbai Indians and Kolkata Knight Riders in IPL 2018 so far and were on the verge of a three-peat before KXIP managed to haul them in.