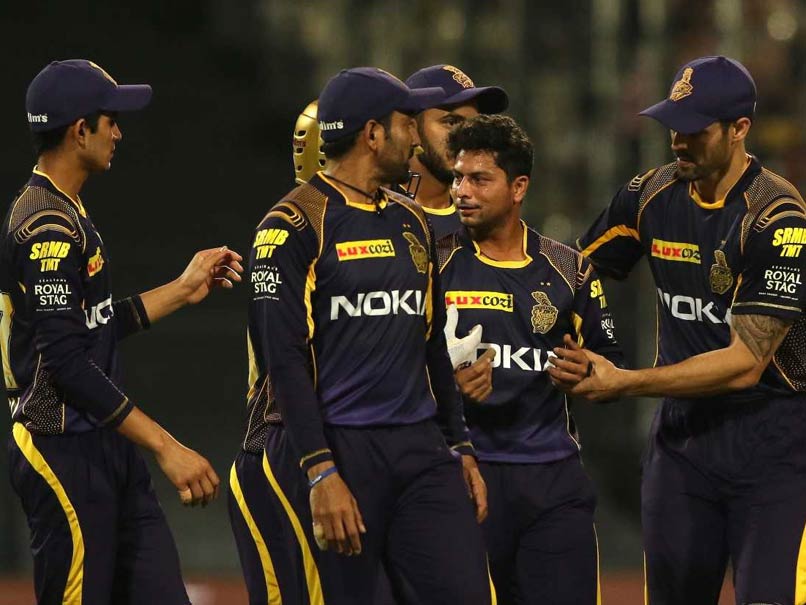 KKR vs DD Highlights: Kolkata Knight Riders beat Delhi Daredevils by 71 runs
© BCCI
Kolkata Knight Riders (KKR) comfortably beat Delhi Daredevils (DD) by 71 runs on Monday in their Indian Premier League (IPL) match at the Eden Gardens. Sunil Narine (3/18) and Kuldeep Yadav (3/32) ensured KKR kept their cool in the match and never gave the chance to the Delhi side get going. Glenn Maxwell (47) and Rishabh Pant (43) were the only batsmen who gave Delhi a chance. However, after their dismissals, Delhi lost the plot completely and succumbed to a good KKR bowling display. Barring Pant and Maxwell, no other Delhi batsmen could muster a double-digit run figure. Lack of partnerships coupled with poor shot selection by Delhi batsmen gave KKR a much-needed victory.
(SCORECARD)
Nitish Rana (59) and Andre Russell (41) powered Kolkata to 200/6 in 20 overs against Delhi in the Indian Premier League (IPL) match at the Eden Garden. After a slow start by KKR, Chris Lynn (31) began hitting the shots to keep the run rate going. Sunil Narine was dismissed for 1 run in the 3rd over. Robin Uthappa took the initiative to hit the big shots and score a quickfire 19-ball 35 runs. Rana played a superb inning and got his fifty. He was ably supported by Russell, who began hitting right from the outset. He hit six sixes in his 12-ball 41 runs. Delhi got back with some decent bowling display by Rahul Tewatia in the last over as they restricted KKR to 200. Trent Boult was the pick of the bowlers for Delhi as he returned with bowling figures of 2/29 and even bowled a maiden over.
IPL 2018 Highlights of Kolkata Knight Riders vs Delhi Daredevils, straight from Eden Gardens, Kolkata
23:22 IST: Thank you for staying with us for the live updates of the KKR and DD match. We will return tomorrow with the 
23:21 IST: Kolkata Knight Riders beat Delhi Daredevils by 71 runs
23:19 IST: OUT! Simple catch for Kuldeep Yadav. Trent Boult departs for a duck. KKR deserving winners after a convincing rout of Delhi.
23:18 IST: Trent Boult is the new man in for Delhi.
23:17 IST: OUT! Shami departs as Delhi lose their 9th wicket. Simple catch for Andre Russell. What a night KKR are having. DD 128/9 in 13.5 overs, need 73 runs in 36 balls. 
23:11 IST: Shahbaz Nadeem and Mohammed Shami are there in the middle for Delhi. DD need 82 runs off 47 balls.
23:08 IST: OUT! LBW. Sunil Narine strikes again. Review taken. The original decision is out for Vijay Shankar. Review lost. Narine striking twice in one over. Delhi lose their 8th wicket. DD 117/8 in 11.5 overs
23:06 IST: OUT! Clean bowled. This is Narine's 100th IPL wicket. Chris Morris tries to hit a maximum but misses it completely. Delhi lose their seventh wicket. DD 116/7 in 11.3 overs
23:03 IST: OUT! Maxwell departs. Another wicket off the short ball for Kuldeep Yadav. Maxwell doesn't get the connection right. Delhi in trouble now. They lose their 6th wicket. Departs for 47 runs. DD 113/6 in 10.5 overs
23:02 IST: SIX! Good shot. Shivam Mavi doesn't get the timing of his jump right. Back-to-back sixes for Maxwell. Maxwell is doing his thing now. Kuldeep Yadav under pressure now. 
23:01 IST: As long as Maxwell is out there, Delhi will fancy their chances.
23:00 IST: Delhi need 102 more runs to win off 60 balls. 
22:57 IST: Vijay Shankar is the new man in. The required rate is climbing every passing ball. DD 98/5 in 9.4 overs
22:55 IST: OUT! Curran gets the wicket. Tewatia departs for 1. Simple catch to Andre Russell. Delhi lose half their side now. DD 97/5 in 9.3 overs
22:54 IST: SIX! Slow ball and Maxwell hammers it for a maximum. Curran went for 12 in the first iver and now six off the first ball. DD 97/4 
22:50 IST: OUT! Good shot but it has found the fielder Piyush Chawla. Rishabh Pant departs for a gritty 43. Delhi in trouble after losing their fourth wicket. DD 86/4 in 8.3 overs
22:47 IST: Kuldeep Yadav is the new bowler for KKR. 
22:44 IST: SIX! What a shot by Maxwell. A leading edge and it gets miles onto the stands. Pressure on the bowler. DD 80/3
22:43 IST: FOUR! Fuller delivery and gets the punishment by Pant. Not a welcming he had hoped ofr.
22:42 IST: Tom Curran comes in for KKR.
22:36 IST: SIX! Remarkable stroke over extra cover for a maximum by Pant. Googly by Chawla and he picks it perfectly. Back-to-back boundaries. Makes the perfect use of the crease. He is timing it to perfection. DD 66/3  
22:33 IST: FOUR! Pant makes the most of his bottom hand. A good shot for a boundary. Back-to-back boundaries for Delhi. DD 55/3
22:32 IST: Narine is the new bowler for KKR. 
22:30 IST: FOUR! Maxwell uses the pace of the ball and slams it to the offside boundary.   
22:25 IST: FOUR! Maxwell hasn't timed it well but still finds the boundary. 14 runs off it. DD 38/3 in 4 overs
22:23 IST: FOUR! Rishabh Pant at his inventive best. Making the most of the power play.
22:21 IST: FOUR! Pant plays a good shot. Perfectly timed. DD 28/3
22:18 IST: Delhi Daredevils lose their third wicket as Gautam Gambhir departs for 8 vs Kolkata. Shivam Mavi clean bowled Gautam Gambhir | DD 24/3 in 3 overs
22:17 IST: FOUR! That's what Pant does. A well timed shot. Good adjustment on his hand, rolled his wrists well. DD 23/2  
22:15 IST: Delhi need something special from these two batsmen. A huge target to reach for both of them. 
22:14 IST: Shivam Mavi is the new bowler for KKR.  
22:10 IST: Delhi Daredevils lose their second wicket as Shreyas Iyer departs for 4 vs Kolkata | DD 13/2 in 1.5 overs
22:08 IST: FOUR! Splendid shot by Shreyas Iyer. Poor bowling by Russell. 
22:07 IST: FOUR! Lovely timing and found the gap as well. Gambhir played that shot really well. Too easier ball to a quality batsman.
22:03 IST: Rishabh Pant comes in. A good start by Chawla. A wicket and four runs off the first over. DD 4/1 in 1 over
22:02 IST: Delhi Daredevils lose their first wicket as Jason Roy departs for 1 vs Kolkata. Superb bowling by Chawla. | DD 3/1 in 0.5 overs
22:00 IST: Gambhir off the mark with a nicely-timed shot. Good way to get off the mark.
21:59 IST: Jason Roy, Gautam Gambhir open for Delhi while Piyush Chawla opens the bowling for KKR.
21:45 IST: Kolkata Knight Riders post 200/9 (Nitish Rana 59, Andre Russell 41) in 20 overs.
21:44 IST: OUT! Tewatia gets the wicket of Tom Curran on the last delivery. What an over this has been for the leg-spinner. Brilliant move from captain Gambhir. Rahul Tewatia ends the match with figures of 3/18 in his four overs.
21:43 IST: OUT! Piyush Chawla, the new man in, aiming to deposit Tewatia in the crowd, dances down the wicket and miscues. Rishabh Pant calls for the catch and takes it easily.
21:41 IST: OUT!! Rahul Tewatia strikes as Gill departs for six. Kolkata 200/7 in 19.2 overs. Tewatia tosses the ball up and wide, Gill goes for the slice, miscues and Chris Morris takes a good diving catch at point.
21:39 IST: FOUR! Morris ends the 19th with a boundary. The bowler goes down the leg side, Shubhman Gill looking to work the ball, misses but the ball brushes his pads and rolls away for a boundary.
21:37 IST: OUT! Morris bowls slower back of a length delivery, Rana looking to go big, miscues and Gambhir at mid-off takes a good catch. A brilliant innings comes to an end. However, Kolkata still on course for big total.
21:35 IST: FOUR! Nitish Rana is taking the attack to the opposition and it seems he is on a mission. Full delivery from Morris, Rana waits deep in his crease and carves the ball for yet another boundary.
21:32 IST: FOUR! Well played. Nitish saw the field and laced it perfectly for a boundary. KKR 187/5
21:32 IST: FOUR! Shubman Gill opens his account with a four. Not a bad ball but a good shot.
21:30 IST: OUT! Russell is clean bowled by Boult as KKR lose their 5th wicket. What a delivery. Russell has played his part and departs for 41 runs in 12 balls. KKR 178/5 in 17.2 overs
21:27 IST: FIFTY UP FOR RANA! Boult is back. Fifty of 30 balls. What an innings by Nitish Rana. Hits his 5th IPL fifty. KKR 178/4
21:26 IST: SIX! Again. He is scoring for fun now. He has now reached 41 in 11 balls.
21:24 IST: SIX! Russell is picking the balls so well. What a shot. He has this amazing ability to flicker his wrists. 102 metres is the distance the ball travelled to the stands. KKR 171/4
21:23 IST: SIX! Slow ball and hammers it towards the square leg boundary. Shami is getting hammered. First ball is a six and the pressure is on the bowler. KKR 164/4
21:17 IST: FOUR! Really smart from Rana. Wonderful shot. KKR 155/4
21:16 IST: Last 8 balls 28 runs for KKR.
21:15 IST: SIX! Impeccable timing by Nitish Rana. These two are turning it on. Its raining sixes at the moment.
21:14 IST: SIX! Another one. That is miles towards the boundary. KKR 145/4 in 15 overs
21:13 IST: SIX! That is some shot. Poor bowling. Russell helped himself with that Shami's delivery. 88 metres is the length of that maximum. KKR 139/4
21:11 IST: SIX! What a shot by Andre Russell. All the way down to the KKR dugout. Powerful hitting by the Windies man.
21:10 IST: Shami is back in the attack.
21:07 IST: SIX! That's gone for six. Nitish Rana makes the ball disappear. Straight into the stands. KKR 123/4
21:06 IST: OUT! Easy catch for Trent Boult. Dinesh Karthik departs for 19 runs as KKR lose their fourth wicket. KKR 117/4 in 13.4 overs
21:04 IST: FOUR! Good shot by Karthik. Pure timing by him on the onside. KKR 117/3 
21:02 IST: Good over by Shami. KKR 108/3 in 13 overs
20:59 IST: NOT OUT! KKR skipper Dinesh Karthik awaits his fate. Review taken. Shami changes his pace, bowls a quicker one. Good use of the DRS by KKR.
20:56 IST: SIX! Superb shot by KKR captain Dinesh Karthik. Patiently waited for the ball and a top edge but still gets enough power on it. KKR 102/3 in 12 overs
20:54 IST: FOUR! Pulled to the on side boundary. Poor bowling but an equally good shot by Nitish Rana.
20:49 IST: OUT! Finally, Lynn departs. Jason Roy makes that catch look easy. Massive wicket for Delhi. Bad timing by Lynn who departs for 31. KKR 89/3 in 10.5 overs
20:47 IST: Swing and a miss for Lynn. Delhi bowlers have executed their plan well to curb Lynn's shot hitting prowess. 
20:47 IST: Lynn and Rana are rebuilding for KKR after Uthappa's loss.
20:45 IST: Mohammed Shami comes into the attack for Delhi in the 11th over.
20:43 IST: NOT OUT! Review taken for leg before. Delhi go for the DRS. Rana awaits his fate. 
A good over for KKR. 14 runs off the over. KKR 85/2 in 10 overs
20:41 IST: SIX! What a shot. Just gets over the top of the fielder Glenn Maxwell. Tries his best but the ball went over him. Back-to-back boundaries for Nitish Rana. Cheeky but a good sweep shot. KKR 84/2
20:38 IST: STRATEGIC TIME OUT!
20:37 IST: SIX! Nitish Rana smokes it over mid on region. What a shot. Shows what he is capable of. Five sixes already this evening. Eden Gardens comes alive.
20:36 IST:  Nitish Rana and Lynn have to build a partnership now.
20:31 IST: OUT! Uthappa caught and bowled by Nadeem. Short ball and Uthappa fails to time the ball. KKR lose their second wicket. KKR 62/2 in 7.3 overs
20:30 IST: Uthappa survives. The ball falls between the two Delhi bowlers. KKR 60/1 in 7 overs
20:28 IST: SIX! Once again Uthappa lodges it to the stands. What a sweet sound of the stick. Snaps the wrists and keeps his balance.
20:27 IST: Rahul Tewatia is the new bowler for Delhi.
20:26 IST: FOUR! Easy pickings by Uthappa. Poor bowling by Nadeem. Gives him room and gets punished. KKR 50/1 in 6 overs
20:25 IST: SIX! That's a very good shot. 14 off 4 balls. Uthappa hits a 77 metres six.  
20:25 IST: SIX! That's big. That's huge. Uthappa is taking the bowler on. Right at the slog and he hits it straight over the leg side region.
20:23 IST: FOUR! Poor fielding. Chris Morris the culprit there. An easy boundary for Lynn. KKR 32/1 in 5 overs
20:22 IST: FOUR! That's bludgeoned by Lynn straight to the long on boundary.
20:22 IST: FOUR! Uthappa goes straight and gets his four runs. Plays it with a straight bat over the bowler's head.
20:20 IST: Boult bowls his third over. Superb bowling by him. Good seam position and maintains his line and length.
20:17 IST: FOUR! Lynn finds the gap. This is his third boundary. Steps back and hammers the ball to the short cover boundary. KKR 19/1 in 4 overs
20:16 IST: Robin Uthappa takes a single off Nadeem's ball.
20:16 IST: TRIVIA! Uthappa has a strike rate of 140 on the powerplay.
20:16 IST: Shahbaz Nadeem is the new bowler for Delhi.
20:15 IST: FOUR! What a shot to end the over. Right on the slog for him. Little room on the offside and he pummels it for a four. KKR 12/1 in 3 overs
20:13 IST: OUT! Narine departs for a single run. Short ball and Narine edges it. A simple catch for Glenn Maxwell. Boult strikes with his second short ball. KKR 7/1 in 2.3 overs 
20:10 IST: Boult is back. Superb first delivery by the pacer. Good start to the second over as well. 
20:10 IST: 7 runs off the second over. Only a six and a single from Morris' over. KKR 7/0 in 2 overs
20:08 IST: Swing and a miss for him. He doesn't need to do this.
20:07 IST: SIX! What a way to open your account. He can make it up very quickly for the dots he has played. 
20:06 IST: Lynn tried to hit the short ball but it went nowhere.
20:05 IST: Narine takes a single to bring back Lynn to the strike. Lynn looks shaky.
20:05 IST: Chris Morris is the new bowler for Delhi Daredevils.
20:03 IST: What a magnificent over. No runs from the first over. Maiden for Boult. KKR 0/0 in 1 over
20:02 IST: Boult spot on with the first two balls. Maintains the shape and length of the ball.
20:00 IST: Chris Lynn and Sunil Narine open the innings for Kolkata Knight Riders while Trent Boult begins proceedings with the ball for Delhi Daredevils.
19:32 IST: TEAMS
Kolkata Knight Riders (Playing XI): Chris Lynn, Sunil Narine, Robin Uthappa, Nitish Rana, Dinesh Karthik(w/c), Andre Russell, Shubman Gill, Shivam Mavi, Tom Curran, Piyush Chawla, Kuldeep Yadav
Delhi Daredevils (Playing XI): Jason Roy, Gautam Gambhir(c), Rishabh Pant(w), Glenn Maxwell, Shreyas Iyer, Vijay Shankar, Chris Morris, Rahul Tewatia, Shahbaz Nadeem, Mohammed Shami, Trent Boult
19:30 IST: Delhi Daredevils captain Gautam Gambhir wins toss, elects to field vs Kolkata Knight Riders
19:13 IST: We are moments away from the toss.
19:12 IST: Delhi Daredevils won their previous match against Mumbai Indians by 7 wickets
19:10 IST: Both Delhi and KKR have won a match each this season
18:50 IST: Hello and welcome to the live match updates of the 13th match between Kolkata Knight Riders and Delhi Daredevils of the Indian Premier League (IPL)
While their five-wicket defeat to Mahendra Singh Dhoni's CSK in a nail-biting game was more down to misfortune, SRH rolled over the purple brigade with bat and ball barring the 12 overs from KKR's spinners which made the modest chase of 139 look difficult. As Karthik rightly pointed out at the post-match press conference on Saturday, KKR's strength lies in their three-pronged spin attack led by mystery spinner Sunil Narine and also has celebrated chinaman Kuldeep Yadav and veteran leggie, Piyush Chawla. Narine was exceptional against SRH on Saturday, conceding just 17 runs in four overs and also taking the timely wickets of Wriddhiman Saha, who looked good for his 15-ball 24 and in-form Shikhar Dhawan (7).
Teams:
KKR: Sunil Narine, Andre Russell, Chris Lynn, Dinesh Karthik (captain), Robin Uthappa (vice-captain), Kuldeep Yadav, Piyush Chawla, Nitish Rana, Kamlesh Nagarkoti, Shivam Mavi, Mitchell Johnson, Shubman Gill, Vinay Kumar, Rinku Singh, Cameron Delport, Javon Searless, Apoorv Wankhade, Ishank Jaggi, Tom Curran.
DD: Rishabh Pant, Shreyas Iyer, Chris Morris, Glenn Maxwell, Kagiso Rabada, Amit Mishra, Shahbaz Nadeem, Vijay Shankar, Rahul Tewatia, Mohammad Shami, Gautam Gambhir (captain), Trent Boult, Colin Munro, Daniel Christian, Jason Roy, Naman Ojha, Prithvi Shaw, Gurkeerat Singh Mann, Avesh Khan, Abhishek Sharma, Jayant Yadav, Harshal Patel, Manjot Kalra, Sandeep Lamichhane, Sayan Ghosh.