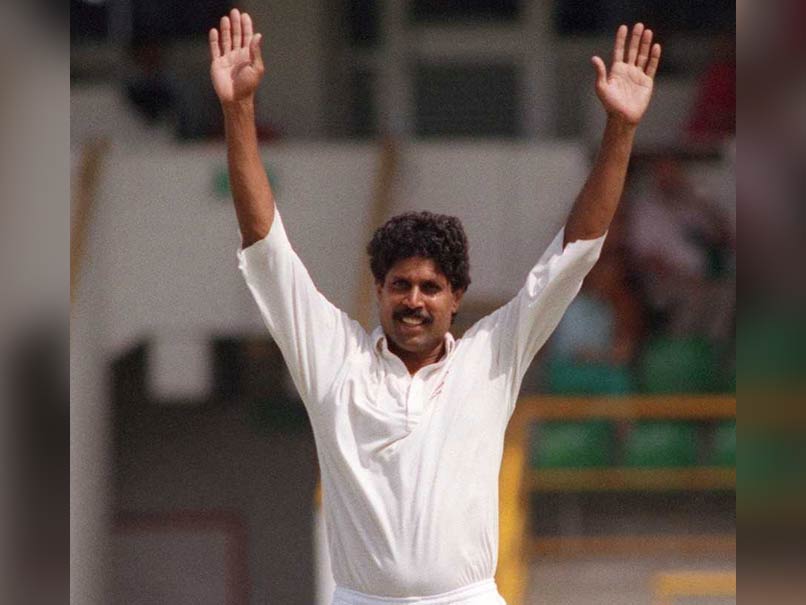 Legend Kapil Dev celebrates after taking a wicket in this file image
© AFP
Cricket has become a batsmen-oriented game but bowlers also have a major role to play. India has produced some terrific bowlers including the likes of World Cup-winning captain Kapil Dev and spin spearhead Anil Kumble. Emerging talents like Kuldeep Yadav and Yuzvendra Chahal are still raw and need conditioning. However, with talents like Ravichandran Ashwin, Ravindra Jadeja and Harbhajan Singh at India's disposal, these youngsters have some great role models to look up to.
Ahead of the series against Sri Lanka, we look at the top Indian bowlers who have shone over the years for team India.
Kapil Dev: One of India's most charismatic captains, Kapil Dev entered cricket folklore after guiding India to its maiden World Cup in 1983. His lethal out-swingers always had batsmen on their toes as they never knew what to expect. He was a lower middle-order batsman who would turn the game into his favour. He has an enviable record to his name.
Kapil Dev is the only player in the history of the game to have taken 400 wickets and scored more than 5000 runs in Test cricket. His performance against Pakistan in 1979-80 both with the bat and ball (32 wickets and 278 runs) helped India win 2 Tests. In the series, he became the youngest player to reach 100 wickets and 1000 runs in Test cricket.
His unbeaten 175 against Zimbabwe in the 1983 World Cup match gave India the momentum and helped them lift the trophy after beating West Indies in the final.
He ended his career with 434 Test wickets and also amassed 5248 runs in the longer format of the game.
Anil Kumble: The only Indian bowler and second overall to have taken all ten wickets of a Test inning, Kumble is no novice in breaking records. He achieved this feat against Pakistan on February 7, 1999 at the Feroz Shah Kotla. India needed to win the second test to level the two-match series and they did it in style.
He is only behind Shane Warne and Muttiah Muralitharan in the list of leading wicket-takers in all formats of the game. His ODI exploits were no less to that of the longer format and he ended up with 337 wickets in the shorter form of the game.
A warrior on field, Kumble went on to take 619 Test wickets in between 1990-2008.
Zaheer Khan: He is one of a selection of left-arm pacers India has produced. His arrival in the scene heralded a new era for Indian bowlers. He could bowl fast and yorkers at the death which troubled the opponent batsmen regularly.
His injury-truncated career never got him the due he deserved. Despite the injuries, he was the second-most successful Indian pace bowler in Test cricket with 311 wickets, behind Kapil Dev. His career-best Test bowling figures of 7/87 came against Bangladesh in 2010 while his best ODI bowling stat of 5/42 came against Sri Lanka in 2007. He retired from all forms of the game in 2015.
Ravichandran Ashwin: Ashwin first came into the limelight after his exploits in the shorter format of the game. After Harbhajan Singh was out of form and favour, Ashwin came to the fore and remained a mainstay in the Indian cricket team. He made his Test debut against West Indies in November 2011 where he took 9 wickets and immediately caught the attention.
There was no stopping him after that for the next 2-3 years. His match-winning figures of 7/59 against New Zealand in 2016 remains his career-best stat. His carrom ball coupled with a smart brain foxed the batsmen every time they tried to outwit him.
He will be spearheading India's spin attack in the upcoming Test series against Sri Lanka.
Harbhajan Singh: He is third in the list of highest Indian wicket-takers in Tests with 417 scalps to his name. He is beyond doubt India's most successful off-spin bowler. He made his Test debut in 1998 against Australia but it was 2001 when he rattled the mighty Australians where he took 32 wickets in three Tests including the first Test hat-trick by an Indian.
Seen as a successor to Kumble, a string of poor performances saw him dropped form the Test team in 2011. Singh was an integral part of the World Cup winning team in 2011.