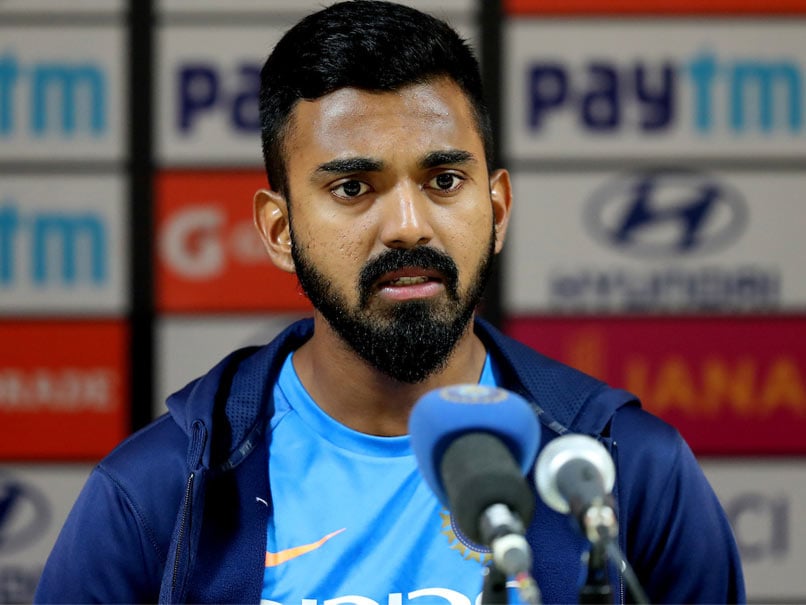 KL Rahul scored a fifty in the 1st T20I vs Sri Lanka.
© BCCI
India batsman KL Rahul echoed the sentiments of Virat Kohli and head coach Ravi Shastri as he answered a question about MS Dhoni's form after India's T20I win over Sri Lanka on Wednesday. "I don't know what form you are talking about but every time I switch on the TV, or play with him, he always seems to get runs," Rahul said strongly backing Dhoni. Rahul (61) and Dhoni (39*) made significant contributions with the bat as India beat Sri Lanka by 93 runs at Cuttack's Barabati Stadium to go 1-0 up in the three-match T20I series. The Karnataka batsman described Dhoni as a match winner for India. "I see him (Dhoni) as motivated in the dressing room as I always have. He's somebody we look up to, he's a match winner and he will always be one," the Karnataka batsman said during the post-match press conference.
In his last outing at the Barabati Stadium, an ODI against England in January this year, Dhoni had smashed a 122 -ball 134 in India's mammoth 381 for six en route to a 15-run victory.
"The last time he was here he got a massive hundred. He's been contributing really well in every game," Rahul said.
Making a return after being dropped in the ODI series, Rahul top-scored for India to grab the opportunity in the absence of regular opener Shikhar Dhawan.
"Every innings is important. With the the kind of competition in the team whatever opportunity you get you need to go out there and make it count," the 25-year-old said.
Rahul said it took him a while to realise he needed to stay true to his game to be successful.
"It took me a long time to realise that I need to stay true to my game. I've been successful when I have kept things simple -- playing cricketing shots that I'm blessed with or I am good at playing," he said.
"It did take me a long time but once I realised that I knew with my game I can still be successful in T20Is. Every player needs that one or two innings to get the confidence in whatever format to realise that he's good enough to be successful in whatever conditions, or at whatever level.
"Once I got that, I tried harder and wanted to be more consistent. That's the key for a player. I try to keep things simple and I'm very happy that it came off today," Rahul added.
Rahul was cleaned up by Thisara Perera who deceived him with a slower one and the Indian batsman attributed it to a wrong shot selection.
"It was not premeditated. We had to step up, it was 15th over. I was the set batsman, I had to accelerate and take some chances. Unfortunately, it was a wrong shot that did not come off," he said.
"Maybe the next time I play the shot it goes for a six. It was the last half of the innings so I had to take some risks, sometime it comes off," Rahul added.
(With inputs from PTI)