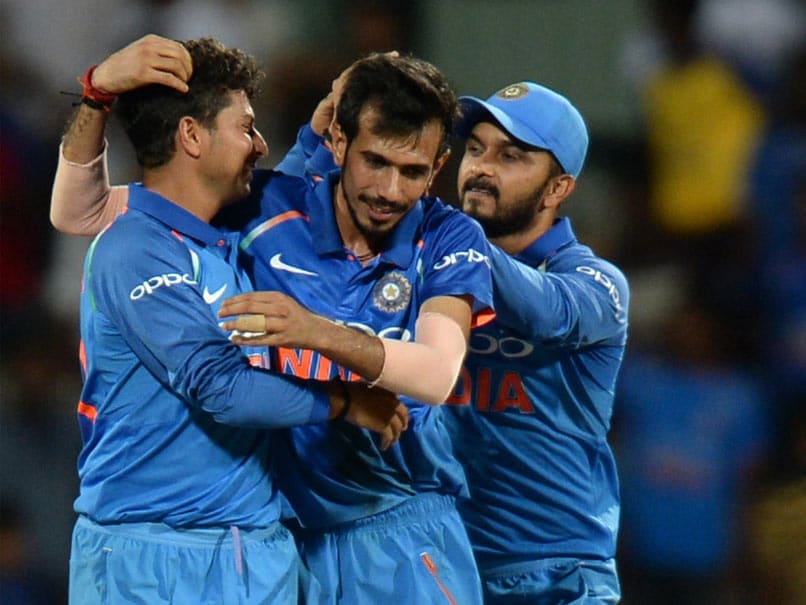 Both Kuldeep Yadav and Yuzvendra Chahal have been instrumental in India's recent wins.
© AFP
New Zealand captain Kane Williamson on Saturday said it would be a difficult task for his team to face the ingenuity of new Indian spin duo- Kuldeep Yadav and Yuzvendra Chahal- in the upcoming three-match One-Day International series (ODI) starting October 22. Reiterating his point, the Kiwi skipper added that both the wrist spinners are very talented and his team is looking forward to the tough challenge against them. Williamson felt that in order to face them successfully, it will be important for the visitors to adapt to the conditions quickly.
"Both (Kuldeep and Chahal) are very talented bowlers. Their exposure in the IPL has been huge for them and pushed their case to play for India. They both have been very successful. We know it will be a tough challenge, but one that guys are looking forward to," Williamson told reporters.
Referring to Kuldeep, Williamson said, "It's not too many Chinaman bowlers going around and those coming in have all been fairly successful. It's a challenge that the guys are looking forward to."
"Obviously their (Kuldeep and Chahal's) skill sets are very good, but it's important how we adapt to the surfaces," he added.
Indian selectors have once again rested veteran spinners Ravichandran Ashwin and Ravindra jadeja for the ODIs and picked Kuldeep, Chahal and Axar Patel ahead of them.
"There are so many quality players within the Indian squad and they have been playing so much cricket lately that it's only natural that certain players are rested at certain times," Williamson remarked on the exclusion of the senior spinners from the team.
"At times, throughout the summer, when we had busy schedules we did the same thing. It's impossible for everyone to play all formats all the time because the schedule is so dense. It's the nature of it, but you always know that the team India put out will be very strong."
Kuldeep impressed in the ODI series against Australia and became the third Indian bowler to take a hat-trick. New Zealand coach Mike Hesson said that his players had faced Kuldeep during the IPL and it was a plus point for the visiting team.
"It's a very individual thing. A number of players have faced Kuldeep during the IPL. Some of them played in the same team (Kolkata Knight Riders), so there's enough information sharing going on there," said Hesson.
"Some guys watch the hand or look at the wrist, or some read it off the pitch, some see it in the air. Everybody is a little different. Wrist spinners also provide scoring opportunities, so we've got to make sure that we're not necessarily jumping in shadows and we're actually playing the ball rather than thinking of them as too much of a mystery spinner," the coach added.
Recalling their 2-3 loss against India on the previous visit last year, Williamson said, "It's always a tough tour coming to India as a lot of oppositions have found in recent times. To be 2-all going into that last game (at Vishakapatnam) a year ago was a good effort.
"We played some good cricket, but I don't think we displayed a complete performance going into the last game. It was disappointing. It's nice to be back here again and the guys are looking forward to the tour."
"A number of guys have had experiences of playing over here which is always helpful, but we still want to prepare well. These two (practice) games (On October 17 and 19) coming up are important for us in our preparation," he added.
New Zealand have picked six players in the squad from their 'A' team which is presently touring India.
Williamson said that the 'A' tour gave exposure to their players about Indian conditions.
"The 'A' tour was fantastic for our side to get exposure in this part of the world. A number of guys coming from that side into the Black Caps. It is nice to have that exposure. Most of those guys haven't experienced this part of the world before," he said.
- ICC's Move To Have Test League A Positive Step -
Visiting New Zealand team skipper Kane Williamson hailed the decision of the International Cricket Council to introduce a Test League, terming it a "positive step".
The ICC is set to start a nine-team Test league and a 13 -team ODI league in 2019 and 2020 respectively, aiming to bring "context and meaning to bilateral cricket".
In the first edition of the league, each side will play four home and four away series each comprising three ODIs, moving to all teams playing each other from the second cycle onwards.
Asked about the ICC's decision at a media conference here, Williamson said, "It's really a positive step forward to have to a championship to give Test cricket a little more meaning and it's great for the viewer as well.
"When we do start that, there will be a lot more clarity around rankings. The viewer can see where teams are progressing and what each game stands for. In the past, although Test cricket is the pinnacle of the game, we're probably guilty of having a volume of cricket that perhaps people haven't quite understood what relevance was on it, where teams went after victories or losses. Now, there will be a lot more clarity around that," he explained further.
The ICC Board had approved a trial of four-day Tests to run through until the World Cup 2019 and Williamson was neither for nor against this decision of the world governing body.
"Four-day first-class cricket is not new to anybody. Everyone in world cricket plays four-day first-class cricket. Time will tell what evolves in that area, but the Test game over five days is still fairly effective. We are seeing so many results these days and the brand of cricket is certainly improving. Whatever way we go, it's important that it benefits the game," he added.
Kiwi left arm pace bowling all-rounder Mitchell McClenaghan had turned down the New Zealand cricket board's contract and, instead, has inked a deal with an Australian Big Bash T20 team.
Asked about it, the visiting team's coach Mike Hesson said they respect the decision taken by the left-arm pacer and did not rule out more cricketers from following this step.
"We could well be confronted with those situations in the future years and it's very much an individual thing. We very much respect Mitch's decision at this stage of his career.
"Certainly, pace bowling is an area where we do have quite a lot of competition. But yes, I think it will affect us further as time goes on," the coach added.
(with PTI inputs)