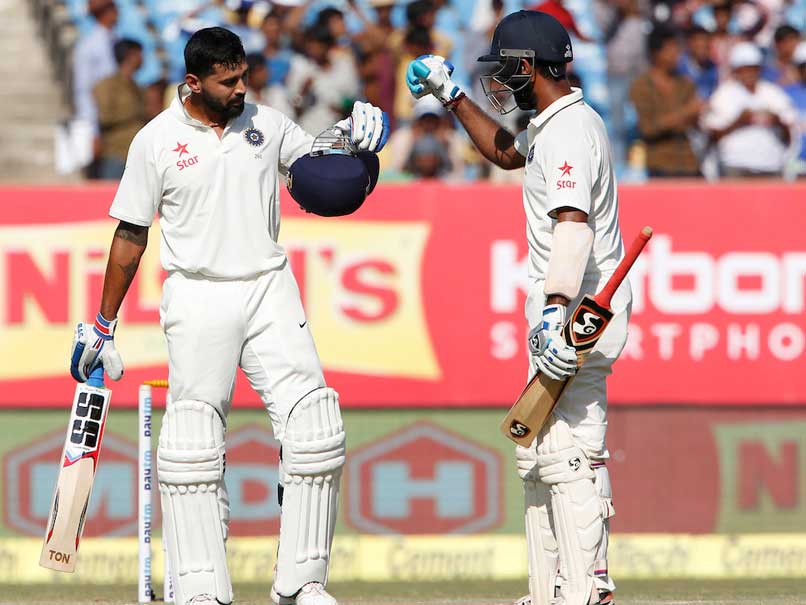 Murali Vijay scored his seventh ton during India vs England 1st Test in Rajkot.
© BCCI
The last time Murali Vijay scored a century, Virat Kohli was only three-Test-old as India's captain. It came against Bangladesh in June, 2015.
He broke the deadlock in the first Test against England in Rajkot on Friday, as Vijay scored his seventh ton to combine with Cheteshwar Pujara and lead the hosts' fightback
Much has changed in between with the Kohli-led team becoming the new world No. 1. However, Vijay's place as one of the top choices for the opening slot has remained constant.
It's not that the lack of centuries meant poor form. There were several half-centuries or even good starts, but none could transform into a triple-figure mark that could stamp his authority.
When it finally came, India needed Vijay's solid performance. England had piled a massive total of 537, with fellow opener Gautam Gambhir departing at 29.
Vijay, however, stayed rock solid and was part of a 209-run stand with Cheteshwar Pujara (124). Vijay's was more an innings of grit, than of flamboyance. Though he hit three sixes and nine fours, Vijay took his time in the middle and frustrated the England bowlers with his dogged defence.
Vijay taking 254 balls to reach his ton might make one believe that he was too slow, but his patience in the face of pressure made his innings special. He eventually fell to an Adil Rashid delivery for a score of 126.