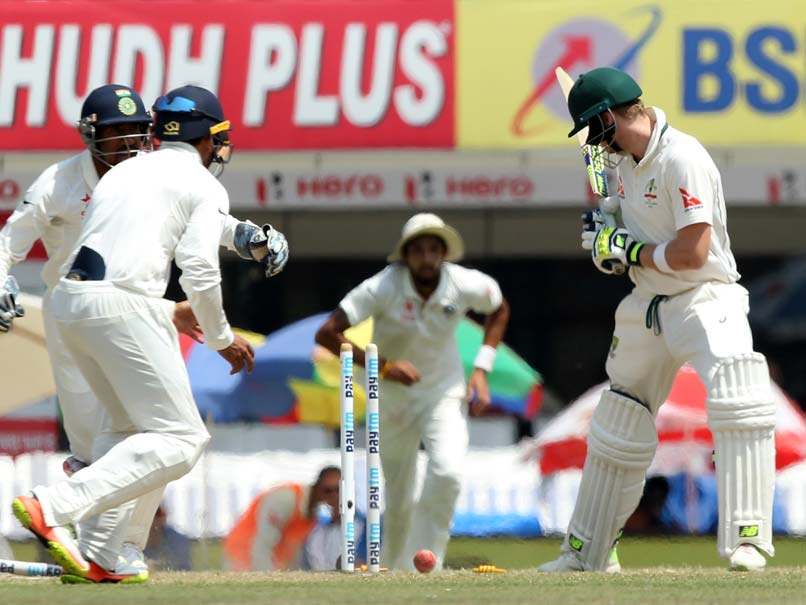 India vs Australia: Steve Smith was cleaned up by Ravindra Jadeja.
© BCCI
India's Ravindra Jadeja took the big wicket of Australian captain Steve Smith to damage the visitors' hopes of salvaging a draw on the final day of the 3rd Test in Ranchi on Monday. Smith's wicket off the left-arm spin of Jadeja created the loudest noise at India's newest Test venue. Smith was on 21 when he tried to pad away a viciously turning delivery from Jadeja that spun from outside leg to knock out the right-handed batsman's off stump. Smith, who scored an unbeaten 178 in the first innings, resisted for 68 balls second time around before Jadeja's successfully exploited the rough created by the bowlers' footmarks.
Smith, who used the word 'brain fade' for the first time during the Bengaluru Test, was trolled by on Twitter after his dismissal.
Steve Smith just had a complete brain fade, or known in the cricketing industry as a "Kohli". #IndvAus #cmonladsdigin

— Ryan Fitzgerald (@FitzySA) March 20, 2017
Cricket Australia to fly Smith back home ... he just had his second #brainfade in 2 weeks!

— Kunal Naithani (@Kundii) March 20, 2017
Steve Smith ...what a big wicket. This has to be the ultimate brain fade this series so far.#IndvAus

— Mohammad Kaif (@MohammadKaif) March 20, 2017
That has to be one of the weirdest dismissals! #stevesmith #brain fade

— Vikram Chandra (@vikramchandra) March 20, 2017
Steve Smith current playlist - Alan walker(FADED) on repeat mode??#brainfade #IndvAus #SirJadeja pic.twitter.com/E4UPddhDHe

— Dr.Flintstones (@Chandravikram3) March 20, 2017
The phrase 'brain fade' trended on Twitter following the DRS controversy in Bengaluru. After being given out LBW Smith was seen seeking an opinion from his dressing room on whether to review his leg-before dismissal during the second innings of the second Test.
The Australian captain later acknowledged his fault at the incident and dubbed it a 'brain fade'.
Virat Kohli later accused the Australian side of other such instances, where they looked towards the dressing room for help in reviewing decisions during the 2nd Test.
(With inputs from PTI)