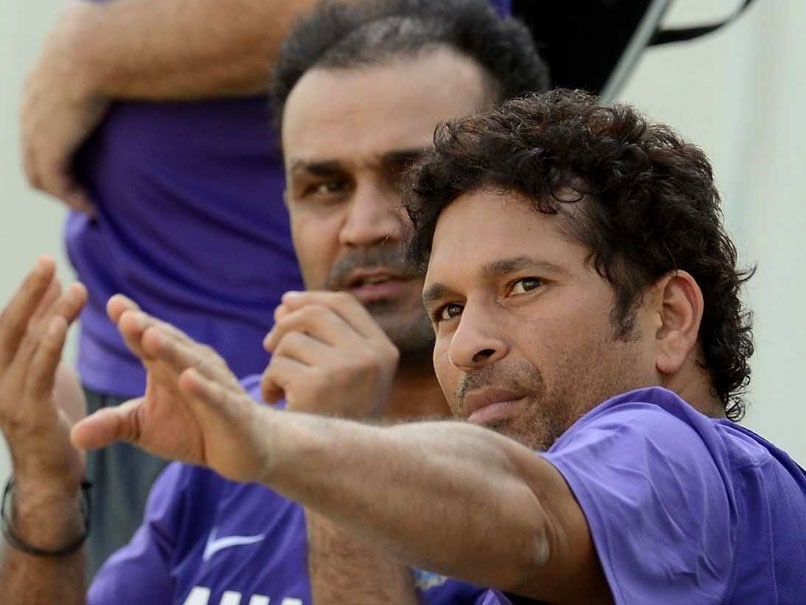 Virender Sehwag recalled Sachin Tendulkar's advice of not losing one's wicket for a single run
© AFP
India captain Virat Kohli is leading the way for the young cricketers in the current team in terms of scoring runs, playing maturely and improving the fitness levels. Though, India continued their dominant performance in ODIs and handed a 4-1 defeat to Australia in the recently concluded five-match series, captain Kohli could not get enough runs under his belt. In the series, Kohli scored 0, 92, 28, 21 and 39 respectively, 180 runs in total. Commenting on Kohli's performance, former India swashbuckling batsman Virender Sehwag said that it is only a matter of time when the right-handed batsman will start scoring runs.
"If you observe his batting techniques in the recently concluded series, Kohli played most of the balls towards third-man region, which he did not play so often previously. There must be a reason for the shot selection and only he will be able to tell about it. But, I think Kohli should have converted his innings of 92 in the second ODI at Eden Gardens into a century as he got dismissed while playing the ball towards third man," Sehwag told India TV.
"Every batsman goes through a rough patch and it is completely normal. In the last series against Sri Lanka, he scored quite a lot of runs and this is where the law of averages comes into play. And hopefully in the coming series against New Zealand and Sri Lanka, Kohli will score runs and convert them to centuries as well," Sehwag added.
Upset with Kohli, Sehwag also mentioned a piece of advice which he always received from the former cricket great Sachin Tendulkar.
Reiterating his point on Kohli's dismissal in search of cheeky singles and playing a lot of shots to the third-man area, Sehwag said, "Tendulkar emphasised time and again that you should not give away your wicket for a single. Your wicket is so precious and can't just waste it in search of that single, that one run holds no value."