Here, set and ready to race
The stars have arrived and so have their mean machines. The inaugural Indian Grand Prix is all set to host the speed demons. A look at who is doing what ahead of raceday. (AFP images)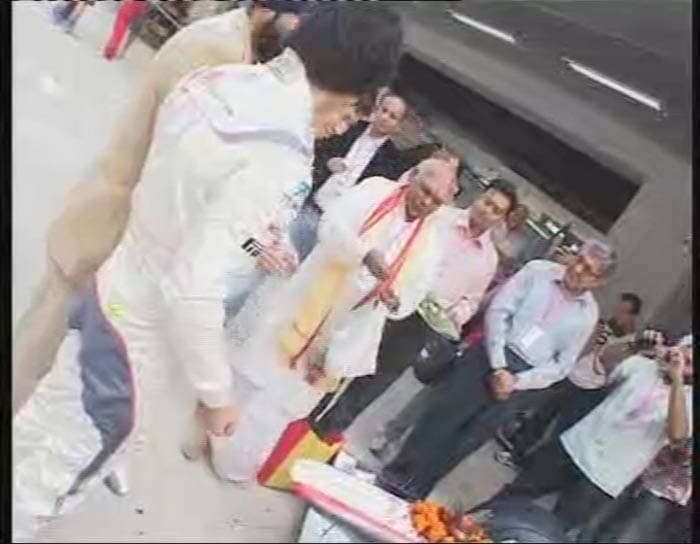 The Sauber team held a puja just before the first practice session of the inaugural Indian Grand Prix.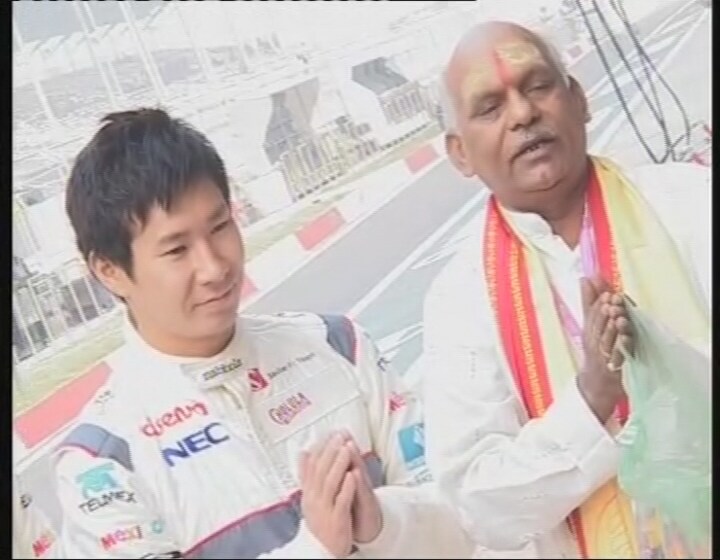 Kamui Kobayashi is seen here with a 'panditji' at the ceremony.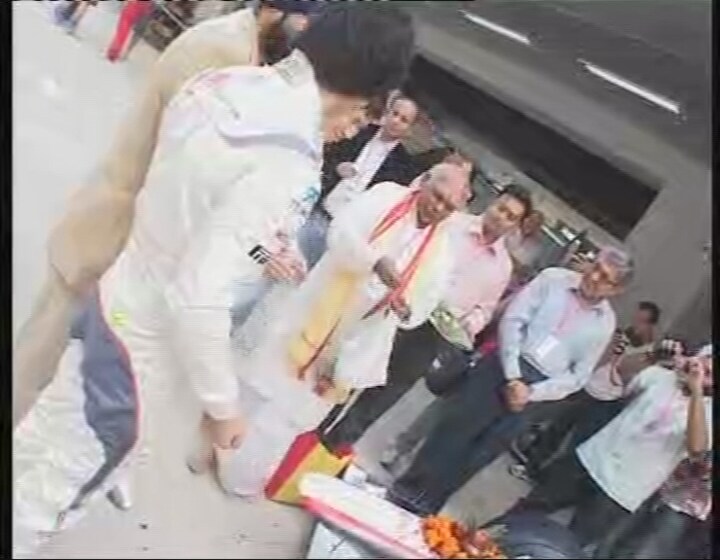 The team needs prayers, luck and skill to finish the race and collect points from it. Potential is not lacking. Click on to know what others have been up to.
The stars have arrived and so have their mean machines. The inaugural Indian Grand Prix is all set to host the speed demons. A look at who is doing what ahead of raceday. (AFP image)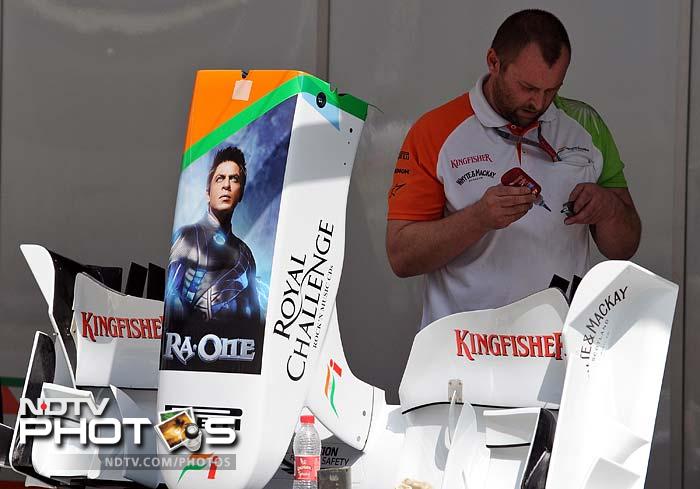 First up - Ra One. Yes, the superhero was one of the first to arrive. Of course, it was on the car of Sahara Force India but the presence could not be ignored. (AFP image)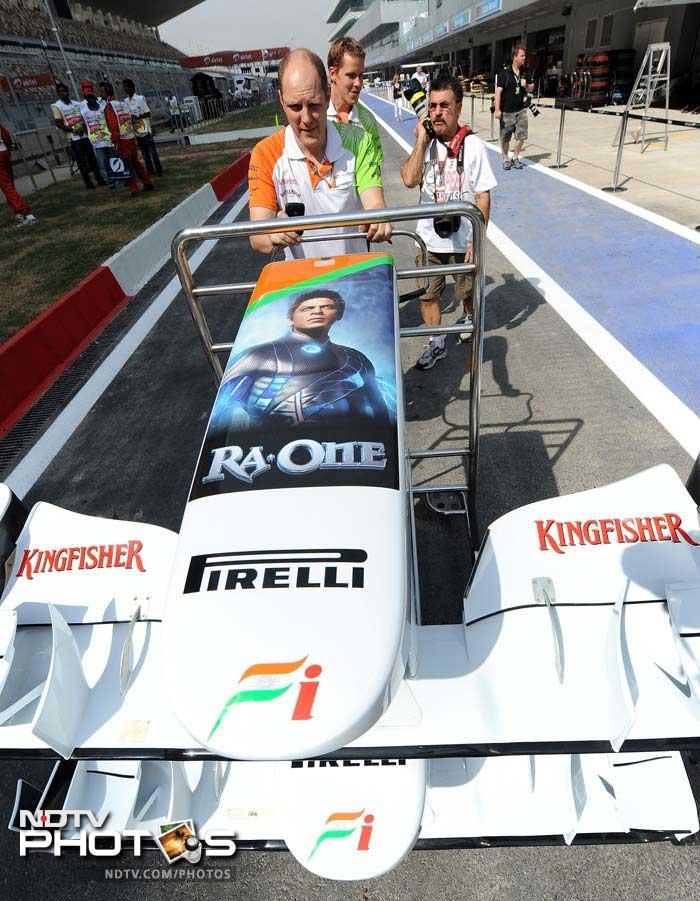 The Bollywood movie, which was released on Diwali, takes a prominent place on the F1 car. (AFP image)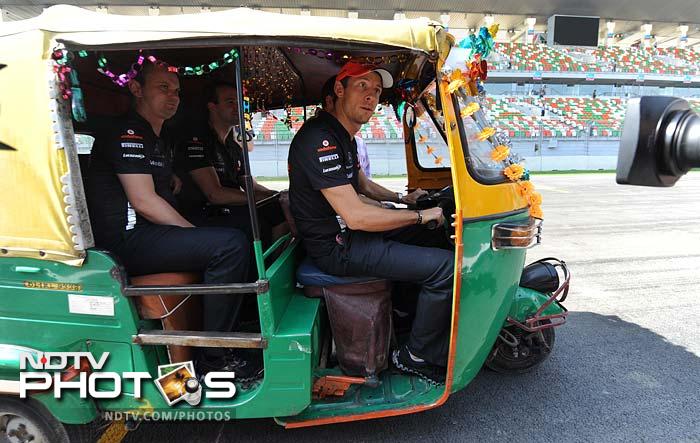 There of course are the real stars of F1 here too. Jenson Button of McLaren takes the drivers seat of, well, it is there for all to see. Wonder what lap-time he recorded on it.?. (AFP image)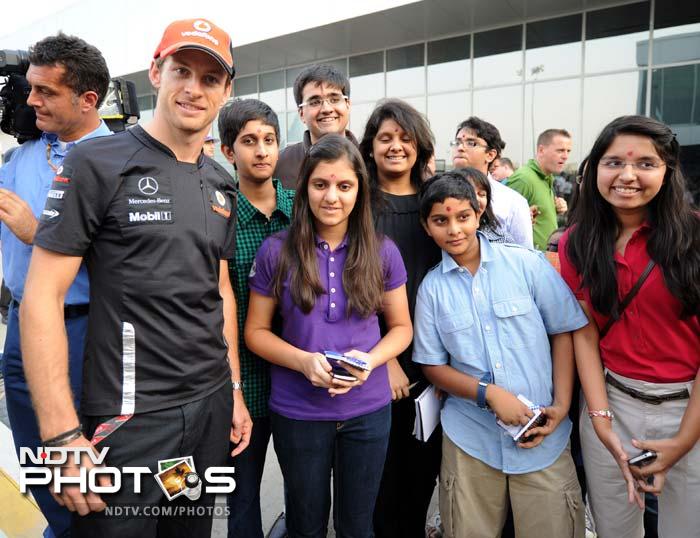 Button wasn't only interested in trying different forms of transportation. Here he is seen posing for the camera with children. The Briton told NDTV that he expects his girlfriend to take him sightseeing as she is in love with India. (AFP image)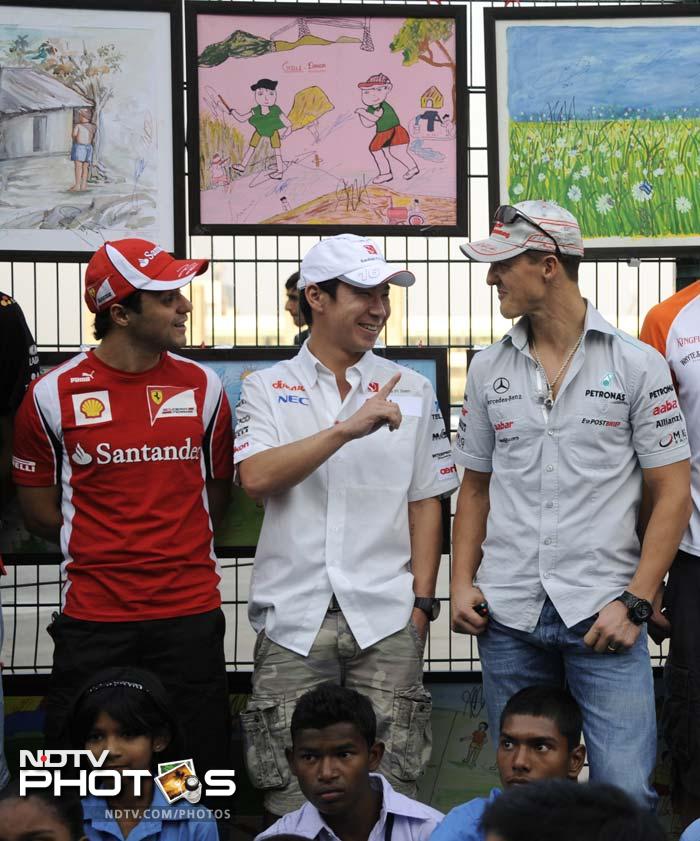 Others like Kamui Kobayashi (C), Felipe Massa (L) and Michael Schumacher also attended an exhibition of paitings made by local school-children. (AFP image)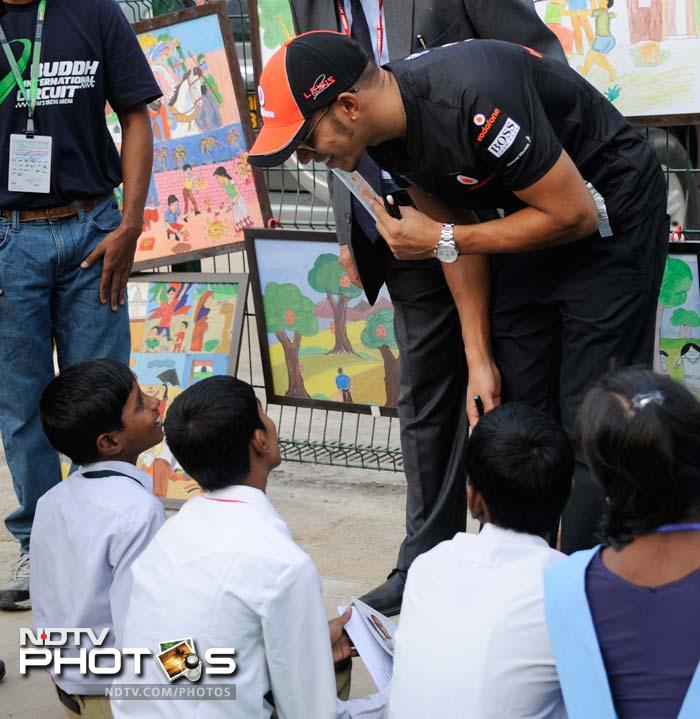 McLaren's Lewis Hamilton was also present and can be seen chatting with some of the children here. (AFP image)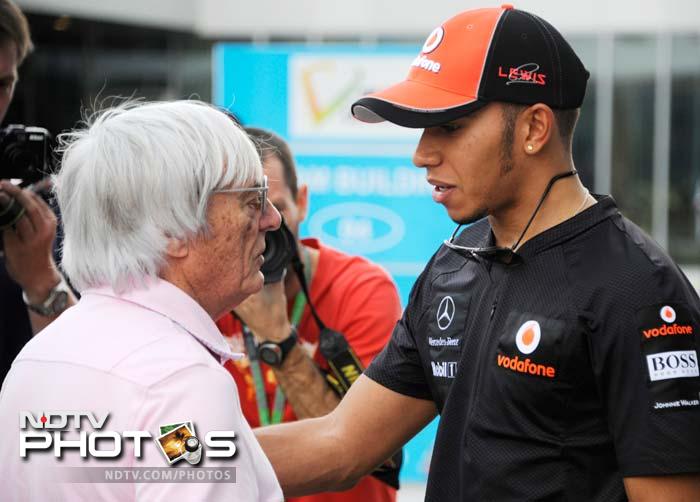 Hamilton also chatted with F1 boss Bernie Eccelstone at the event. (AFP image)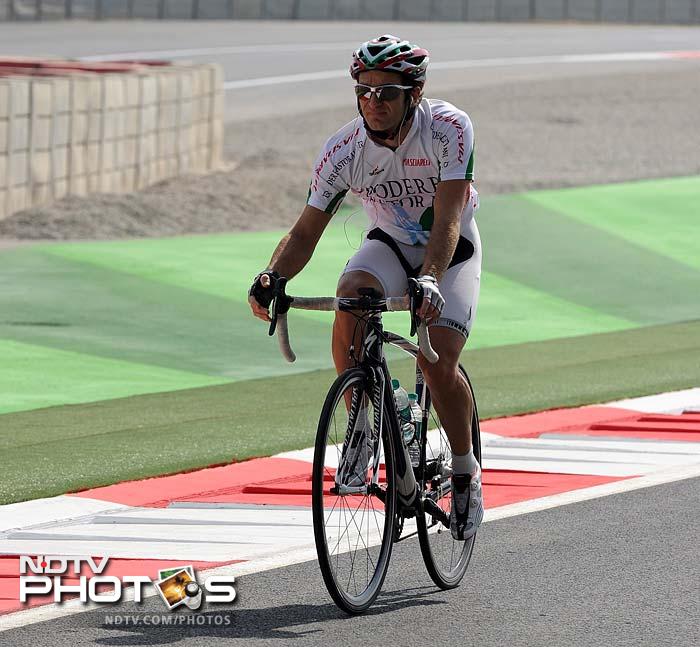 Still others had still other things to do. Team Lotus driver Jarno Trulli is seen here enjoying his cycle on the track. (AFP image)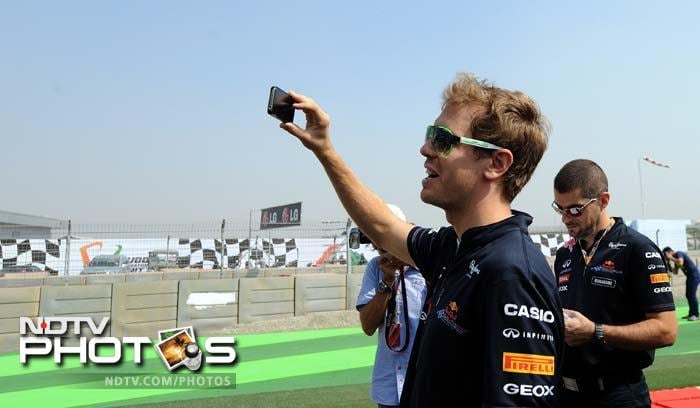 He is currently the most followed and clicked F1 driver but defending champion Sebastian Vettel decides here to be behind the camera than be in front of one. (AFP image)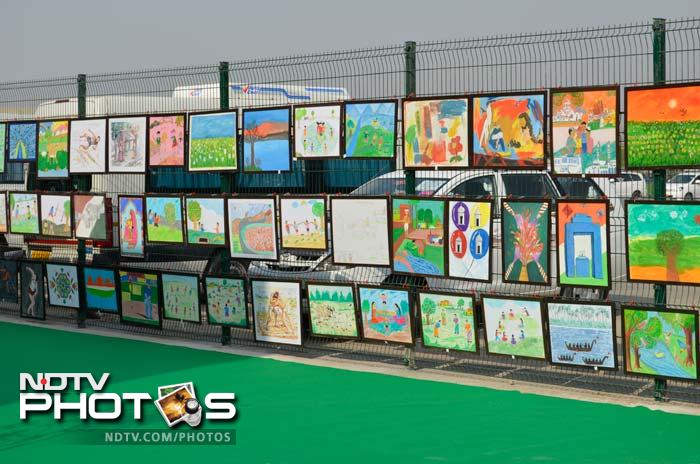 The paintings put on display are seen here. (AFP image)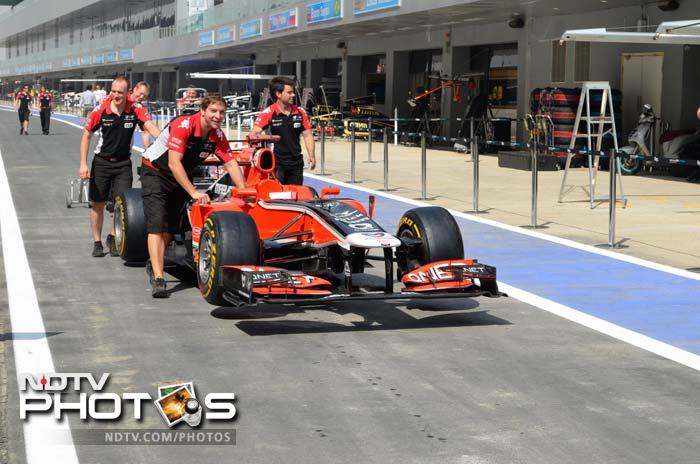 Then there was work and the usual pre-race preparation. Pit staff of Virgin-Cosworth Formula One team bring the car for an inspection. (Sahil Mohan Gupta/NDTV)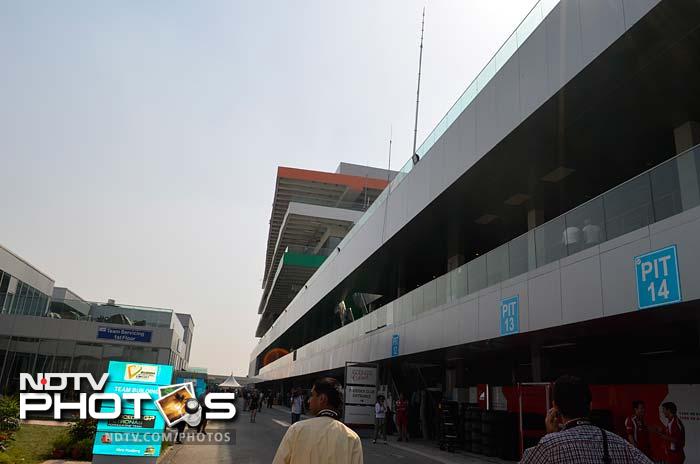 A view of the buildings here amidst the hustle and bustle of F1 activity. (Sahil Mohan Gupta/NDTV)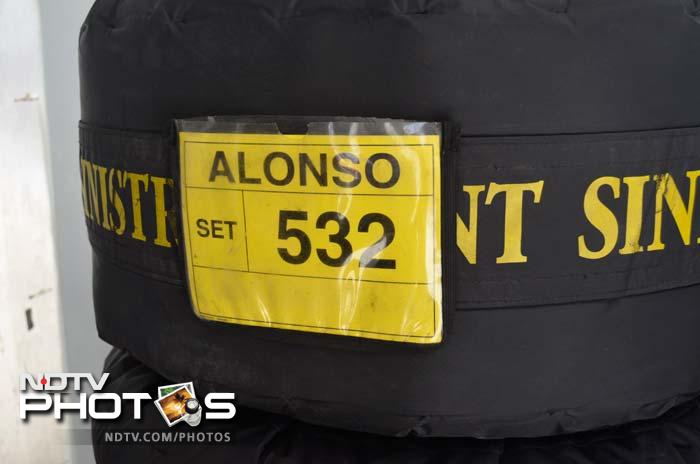 The drivers are here and so are the components that have made them big. Ferrari's Fernando Alonso's set of tyres. (Sahil Mohan Gupta/NDTV)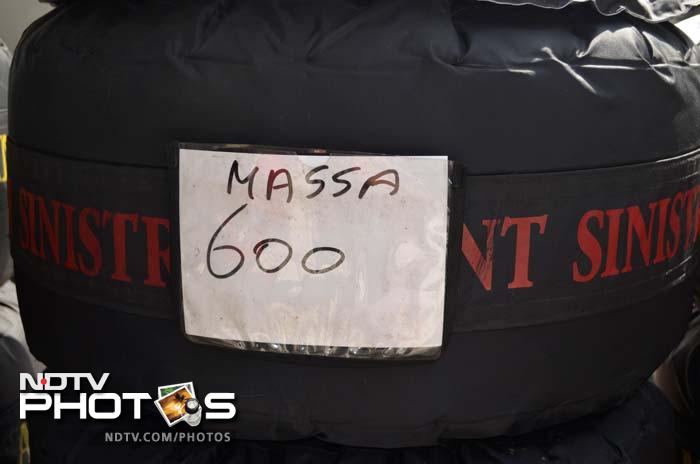 The other Ferrari driver in Felipe Massa will also look to put in a good performance at the Indian Grand Prix. (Sahil Mohan Gupta/NDTV)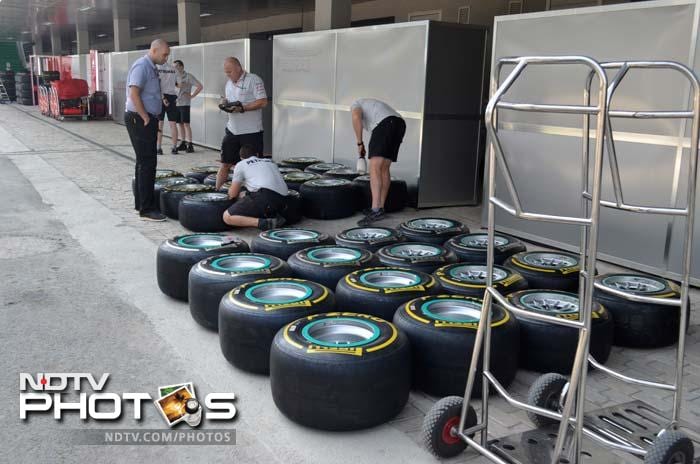 Mercedes GP support and technical staff are seen accounting for the tyres brought for the race. (Sahil Mohan Gupta/NDTV)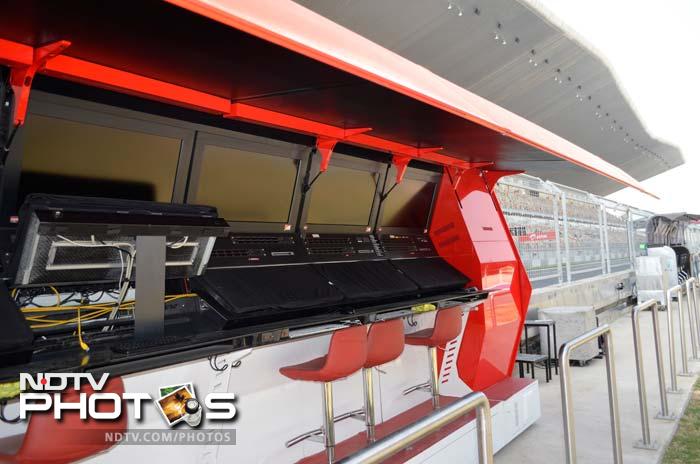 The best place to catch the action but reserved for team members. Expect instructions to come thick and fast to drivers from here. (Sahil Mohan Gupta/NDTV)
Hamilton and members of the McLaren team cover their ears against noise but somehow, at first glance, this appears like the Gandhi's teaching of don't see bad, do not hear bad and do not speak it, represented by three monkeys. No implications here though. (AFP image)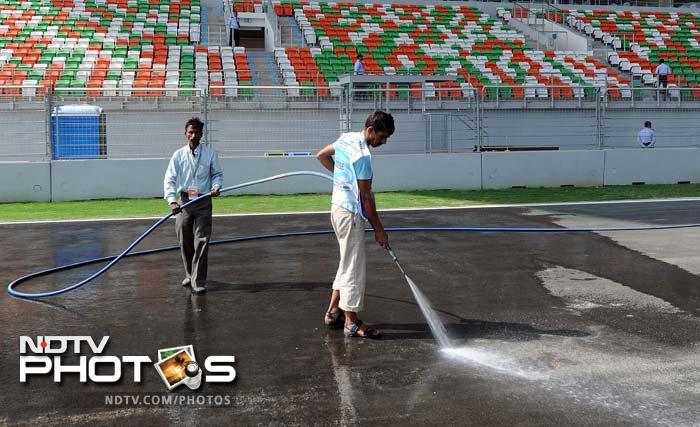 And the 'crew' at the track also work hard to get everything in place. The smallest of details are extremely important in preparing for a F1 race. (AFP image)