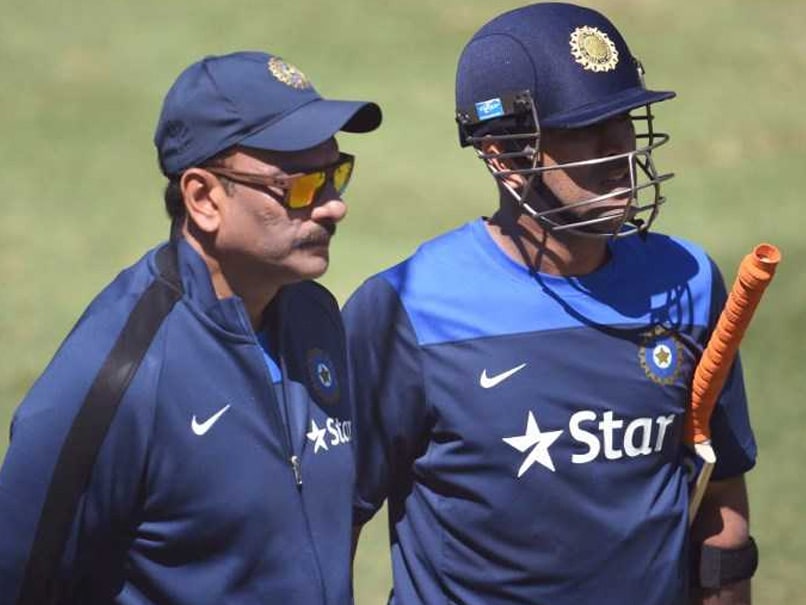 Ravi Shastri heaped high ;praise on MS Dhoni
© AFP
Team India head coach Ravi Shastri heaped high praise on former India captain and limited-overs wicketkeeper Mahendra Singh Dhoni and dismissed doubts about his international future, saying that the team management cannot even think of removing the Ranchi stalwart, considering his current form and fitness. Dhoni, who scored 162 runs with a strike-rate of 82.23 in the series against Sri Lanka was in top form and played match-winning knocks in two matches. The former India skipper, who played his 300th One-day International (ODI) in Sri Lanka, also grabbed eye balls with his quick reflexes behind the wicket, becoming the first wicket-keeper in ODI history to effect 100 stumpings.
Shastri asserted that Dhoni has both fitness and current form on his side and that the team will need him in the next ODI World Cup in 2019.
India head coach also compared Dhoni with the likes of Sunil Gavaskar, Sachin Tendulkar and Kapil Dev and said his achievements need to be respected.
"Where else will you find a legend like MS Dhoni? Dhoni is in the same league as Sunil Gavaskar, Sachin Tendulkar or Kapil Dev. We have to respect his achievements," IANS quoted Shastri as telling a TV channel.
Shastri, who took over as India coach in July this year after Anil Kumble resigned from the post, citing differences with captain Kohli, lauded Dhoni's performance in Sri Lanka and said that there's still a lot to come from him.
The 55-year-old Shastri added that Dhoni remains the best wicket-keeper in India in ODIs.
"A player is evaluated on the basis of his current form and fitness and Dhoni has both. If you see his wicket-keeping, he is the best in ODI cricket. His fitness is superb, he batted well in Sri Lanka. And let me tell you, it was just a trailer what you saw in Sri Lanka now wait for the movie," he said.
Shastri said if Dhoni can continue to perform like this then there's no question of not having him in the 2019 World Cup.
"If he continues to play like this, there no question of not having him in the team for the 2019 world cup. You can't even think of a team without Dhoni," he said.
On inclusion of Yuvraj Singh and Suresh Raina, Shastri said: "Doors are not closed. They will be inducted only after they are declared fit."
The team head coach said: "I have a problem. The amount of cricket that we are playing, we need at least 20 to 25 players. It is very difficult for a single player to play all forms of cricket. Players need rest."
Shastri said he had talked to the Board of Control for Cricket in India (BCCI) officials, seeking rest for the players after the series with Australia.
"It is better that T20 is organised later, since there is hardly any time left between the Sri Lanka series and the South Africa tour."
The head coach said the first two matches against Australia were vital. "We have to win the first two matches. These will decide the fate of the series. Australia will get a tough challenge. Our bowling attack is strong."
At one point of time during the interview, Shastri remarked: "Maybe I will never live to see our team win all matches in Australia or in England, as we did in Sri Lanka."
Shastri had words of praise for skipper Virat Kohli. "An aggressive Virat is good for the team. Virat does not like people who do not speak straight.
"Virat is now fully mature. In cricket, you need to understand your rival team properly, Virat has learnt much and is going to learn more in the next 3-4 years," he added.
Shastri made it clear that he had no say in team selection. "I never interfere in selection. I will prepare the team that I get.
"In the recent Sri Lanka series, we created history, we have to make a new beginning against Australia. If the kangaroos speak loudly, they will get an effective response from us."
(With inputs from IANS)