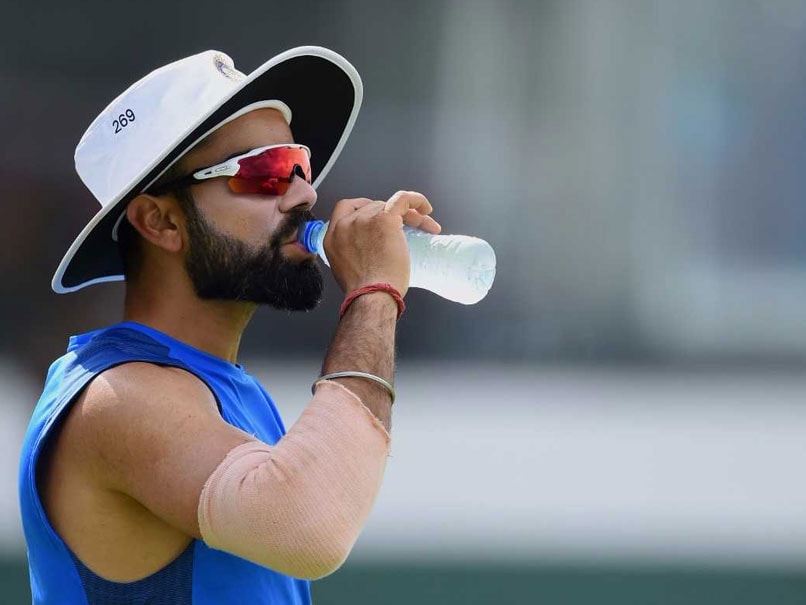 Virat Kohli is one of the fittest Indian cricketers at the moment
© AFP
India skipper Virat Kohli, who has been making the headlines for all the right reasons as his bat does the talking for him, once again grabbed eyeballs by making a move that can inspire a generation. According to a report in The Hindu, the Indian skipper had turned down a multi-crore soft drink endorsement because he doesn't consume aerated drinks. There is no doubt about the fact that Kohli is a youth icon and his every step is closely monitored by people all around the country and this will have an effect. His decision to not accept the deal was plain and simple -- he didn't wish to go ahead with the endorsement as he follows a strict diet which doesn't include any aerated drinks.
Obviously, the Indian skipper preaches what he practices and is leading from the front, at least in terms of fitness. The 28-year-old is one of the fittest cricketers in the world and that reflects in his game in the form of the number of singles he takes and builds an innings when boundaries are hard to come by. In a video published by BCCI, a couple of weeks ago, shows how the Indian captain sweats it out in the gym in order to maintain the level of fitness required to excel at the highest level.
MUST WATCH: What goes into the making of captain @imVkohli's well sculpt body? Find out here: https://t.co/xfZGE4Iyge #TeamIndia pic.twitter.com/2RgxxwOAr8

— BCCI (@BCCI) August 22, 2017
"I first convince myself I can do it and only then ask my teammates to go for it," the Indian skipper once said to one of the reporters of The Hindu.
Just before the Indian team left for Sri Lanka for a bilateral series, the entire unit went through a 'Yo-Yo' endurance test and if reports are to be believed, Kohli, easily the fittest Indian cricketer, scored around 21 in the test while the acceptable 'Yo-Yo' score is 19.5 and upwards. The 'Yo-Yo' endurance test is an advanced version of the 'beep' test that was used by teams of earlier generations. The current Indian team is considered to be the fittest by a fair distance.