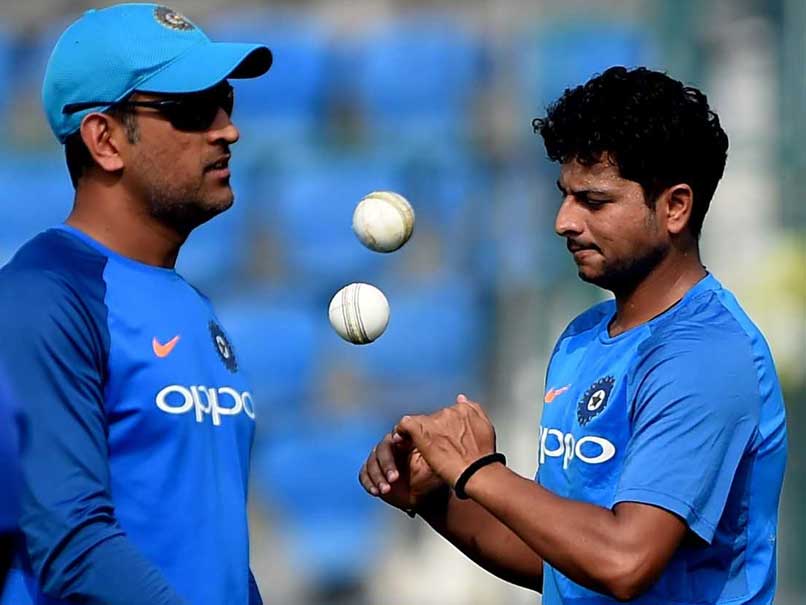 MS Dhoni has played a huge role in Kuldeep Yadav's improvement as a bowler.
© AFP
Spinner Kuldeep Yadav is one of the stars in the current India team set-up. In the recently-concluded One-day International (ODI) series against Sri Lanka, Yadav picked up 17 wickets, courtesy his variations and crafty skill. Yadav disclosed that the former India captain Mahendra Singh Dhoni has played a huge role in his improvement as a bowler and cricketer. Dhoni's instructions to the Indian bowlers are often caught on stump microphones and it is no surprise that the young India spinner is learning the nuances of the game from the very best.
"Mahi bhai is a legend. He has played over 300 ODIs for India and he has given so much to the team. It's a matter of pride for us that we play with him. He motivates us so much from behind the stumps. He looks after everything and you need someone, who guides you all the time," Yadav told India Today in an interview.
Kuldeep further reiterated how the former captain helps him understand the mindset, strength and weakness of the batsmen.
"He never speaks about my skills but always helps and talks about the mindset of the batsman, his strength, mindset and weaknesses. He also talks to me at nets. It's good that we have two legends playing in the team," he added.
The other legend for Kuldeep is current India team captain Virat Kohli. The 24-year-old bowler credits Kohli for changing India's style of playing.
"You learn after seeing someone like Virat. He wants that the team to play like a unit and fight hard. If you look at our team for the past two to three years, we are doing that and India's style has changed and the whole credit goes to Virat Kohli. The way he motivates the team and talks to the youngsters...that is very important," Yadav remarked.
"I've played all my matches under Kohli and he has supported me a lot. Although I made my debut in Tests in his absence, he would come out with drinks and explain things. It feels good if your captain shows belief in you. If your captain believes in you, your work becomes a lot easier," he quipped.