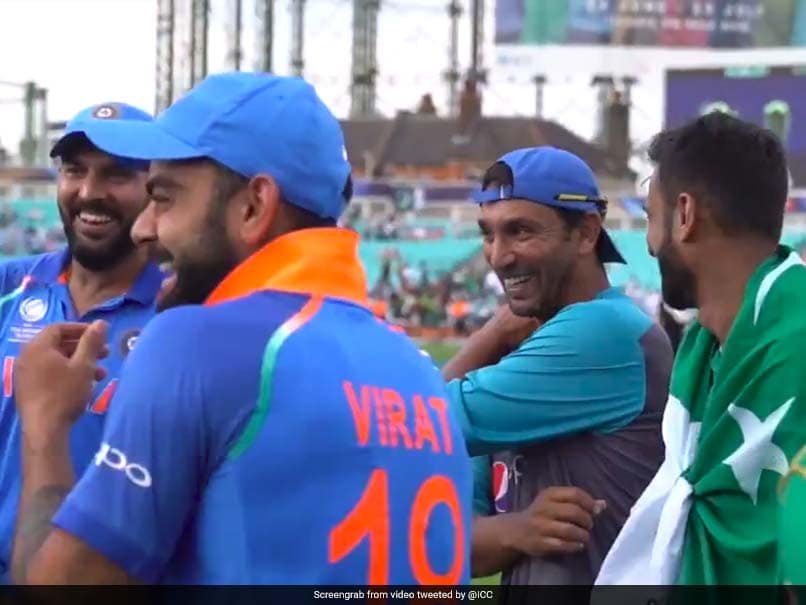 Indian and Pakistani players share a laugh after the ICC Champions Trophy 2017 final.
© Twitter
Matches between India and Pakistan in almost any sport spur massive upheavals of emotions on both sides and cricket is paramount on this front. Every match between the two arch-rivals sees the fans on either side engaged in trolling battles on social media and the result of the match adds even more spice to the exchanges, with the winners having a field day as the losing side faces the music. However, some moments have made these exchanges immortal as rivals as star players like Team India captain Virat Kohli has made overtures towards some Pakistan players which have become extremely popular on both sides of the border.
The International Cricket Council has chosen one such event as the one of the best moments of the 2017 in its 'Spirit of Cricket' campaign. It is a video, on ICC's official Twitter handle, shows Indian and Pakistani players sharing a laugh after the ICC Champions Trophy final in England on June 18, 2017.
#SpiritOfCricket #CT17 #BestOf2017 pic.twitter.com/C9IPjaehFR

— ICC (@ICC) December 7, 2017
The much-hyped final was one of the biggest moments in the international cricket calendar of 2017. India had won the league match and were strong favourites to win the final as well.
However, Pakistan had the last laugh as they beat India by 180 runs to lift the trophy.
But as the video shows, Kohli and Yuvraj Singh are seen having a laugh with Pakistani veteran Shoaib Malik and bowling coach Azhar Mahmood among others, showing that there is no ill-feeling among the cricketers.
Kohli had also made waves by acknowledging Pakistan fast bowler Mohammed Amir as one of the best in the business.
Amir had reciprocated by saying that he had become a better bowler by bowing to batsmen like Kohli.
Kohli had praised Amir earlier too and had last year gifted the 25-year-old pacer a bat before the India-Pakistan contest in the World T20 in 2016.