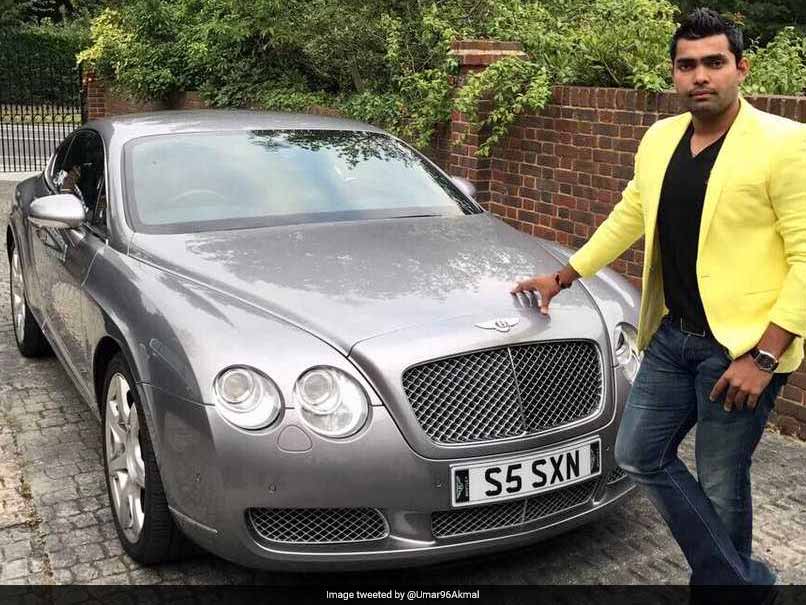 Umar Akmal posted this picture on his official Twitter handle.
© Twitter
Umar Akmal has time and again split opinion right down the middle in Pakistan with his inconsistent performances over the years. Dubbed as the next big thing to come out of Pakistan cricket, the right-handed batsman has failed to live up to his billing and realise his potential. On July 12, Umar Akmal's career suffered another major setback after he was omitted from Pakistan Cricket Board's (PCB) list of players that received national contracts. The Pakistan batsman has been spending time in England, working hard on his fitness. The 27-year-old posted a picture on micro-blogging site Twitter, standing next to a Bentley, however, the post didn't get the positive reaction he would have hoped for.
Akmal, who has played has played in 16 Tests, 116 ODIs and 82 T20Is, failed to find a place in Pakistan's Champions Trophy squad.
He has been sharing videos of him training hard and on July 13 posted a picture standing next to a silver Bentley with the caption: "Enjoying London after hard work".
Enjoying London after hard work pic.twitter.com/N6U05mgAse

— Umar Akmal (@Umar96Akmal) July 13, 2017
Twitterati didn't take too kindly to the post and instead trolled Umar Akmal for not getting a national contract and his fitness issues. 
Tu aur hardwork .. hahaha

— latif ur rehman (@latifurrehman90) July 16, 2017
From where did you get money to buy a BENTLEY ?????
I think you just clicked a pic with someone's car

— Jai Krishnan (@ImJK93) July 16, 2017
Konsa hard work contract tu tuje mila nahi fitness teri hai nahi #HardWork

— Mushi Mush (@iMudassirAnsari) July 16, 2017
can you tell me what the reason you didnt get centrel contract ?

— ali (@AliMansoor27) July 15, 2017
Mango man!
Work Hard to get a job there as a Cab Driver as Ur future in Cricket is no more..
U don't deserve any place in the Team Now!!

— Khurram Abbasi (@khurramabbasi01) July 15, 2017
nowadays you have nothing else to do except such cheap activities if you are not focused on your cricket..

— Muhammad Ashraf (@Muhamma12761316) July 14, 2017
Umar Akmal even tweeted on his post asking fans not to make negative comments, but that had no effect as fans continued to unleash their wrath on the Pakistani cricketer.
I Love all my fans. A humble request to all fans please refrain from negative comments. Your prayers and support is always appreciated

— Umar Akmal (@Umar96Akmal) July 14, 2017
Umar Akmal was the highest-profile casualty in the new contract list for Pakistan that has seen several retirements in the past 12 months, including of legendary veterans Younis Khan and captain Misbah-ul-Haq.
Pakistan splits their central contracts into four categories, with the A group the elite, and most well-paid, players.